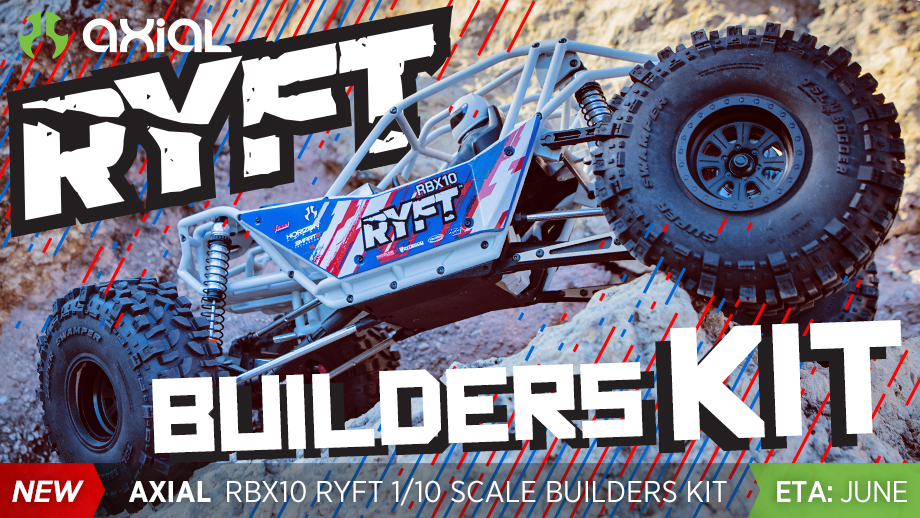 Product Overview
Axial introduces another first with the 1/10 scale RBX10 Ryft 4WD, a kit that allows intermediate level RC drivers to experience the thrills of rock bouncer off-road action. Full-size rock bouncers refuse to stop - or even back down on the throttle - when facing steep climbs and massive rocks. So does the RBX10 Ryft 4WD. This ground-up new Axial vehicle handles lots of abuse and loads of power!
The RBX10 Ryft 4WD's robust, custom tube chassis is engineered from a high-strength composite plastic that withstands the hard knocks of RC off-roading - even while moving at high speeds over difficult off-road terrain. Both the front and rear axles boast a durable one-piece, moulded plastic, solid axle design and realistic metal differential covers. Officially licensed Interco TSL Super Swamper Bogger tyres on Raceline Monster wheels do their part to tame wild tracks, aided by a 4-link suspension and adjustable, long travel front and rear oil shocks. These features, plus a full-time 4WD transmission, make the RBX10 Ryft an exciting vehicle to take on tough challenges at full throttle.
The Ryft kit comes with a clear body for finishing in your favourite colours, plus decals and realistic interior details. Many option parts are also included: spool/locker, rear aluminium link plates, rear sway bar, and parts for a 2-speed or single-speed transmission setup (servo not included). Build and finish the kit as you wish and complete it with your choice of radio system, motor, ESC and battery. Then, enjoy rock bouncing off-road driving over trails, dirt, gravel, rocks and more, with an RC vehicle that's engineered to take it - the Axial RBX10 Ryft 4WD.
Product Features
Strong tube chassis design
Full-time 4WD transmission
Solid front and rear axles with realistic metal differential covers
Hardened steel universal axle set
Long travel front and rear oil-filled shocks
Strong tube chassis design
Full-time 4WD transmission
Solid front and rear axles with realistic metal differential covers
Hardened steel universal axle set
Tough, large diameter WB11 Wildboar driveshafts
4-Link suspension system
Long travel front and rear oil-filled shocks
Officially licensed Raceline Monster wheels
Simulated disc brakes for extra realism
Interco Super Swamper TSL (Three Stage Lug) Bogger tyres
Kit also includes option parts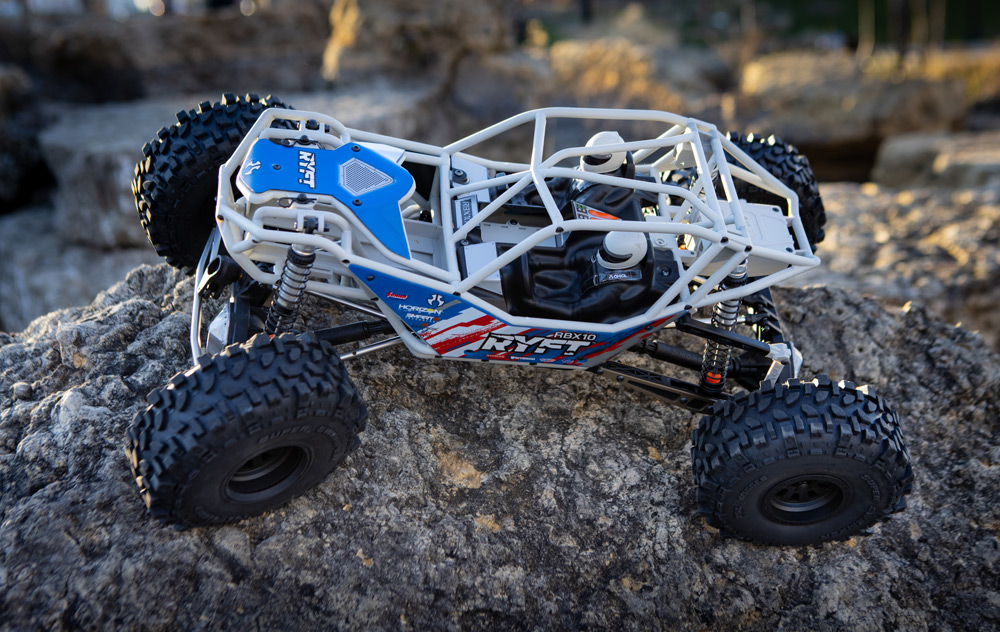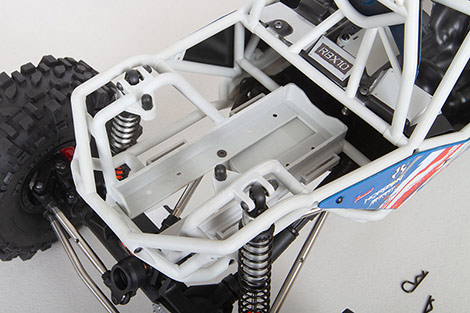 Front Load Battery Compartment
Located under the swing up hood is an easy-to-access battery compartment that fits most 2S and 3S LiPo battery packs.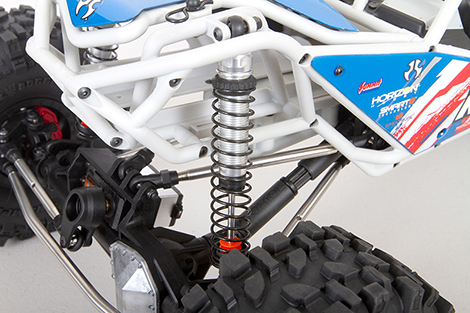 Aluminium Long Travel Shocks
The oil-filled shocks feature threaded bodies and a single coilover spring, plus an aluminium shock cap and pre-load adjustment for tuning the suspension to achieve the best dampening rate. The 12mm bore size allows more fluid volume for better performance.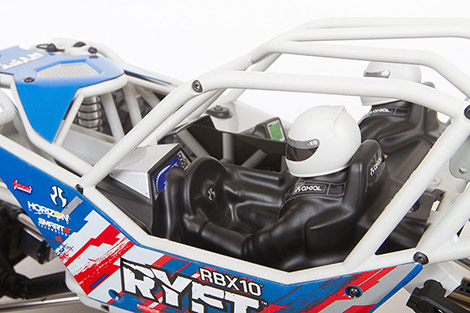 Scale Details
The Ryft includes details such as an interior set with two drivers, gauge and navigation decals, molded plastic helmets, and simulated front and rear slotted and cross-drilled disc brakes!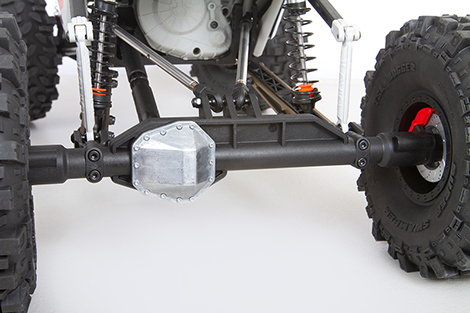 Front and Rear Solid Axles
The RBX10 Ryft 4WD is engineered to carry a lot of power over punishing off-road tracks - as evidenced by the durable one-piece, moulded plastic, solid axle design of its front and rear axles. The axles also feature realistic metal differential covers in a raw, unfinished appearance.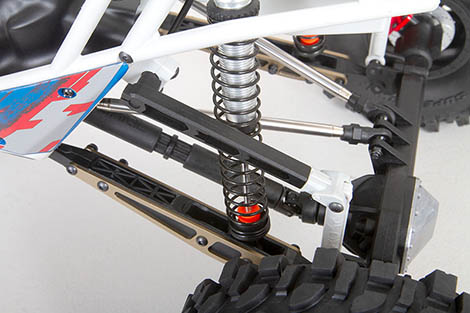 Long Travel Rear Sway Bar
This unique torsion bar design with long pivot arms used in conjunction with the long travel suspension is designed to help control the torque twist associated with massive power. This system also helps reduce body roll and adds stability at high speeds.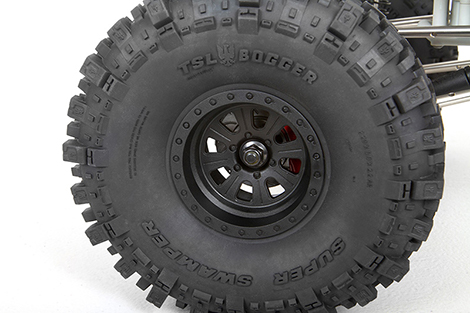 Raceline Monster Wheels
In full-size, Raceline is the most popular wheel for extreme off-road duty - with a show-quality finish and proven ability to take abuse. Officially licensed Raceline Monster wheels give the 1/10 scale Ryft authentic looks and the strength to handle anything you can dish out.
Interco Super Swamper TSL Booger Tyres
The Ryft 4WD's licensed replica Bogger tyres feature a directional tread pattern with the patented Interco TSL lug design. The custom siping follows a pattern used by many professional competitive rock bouncers who want an aggressive tyre that performs as good as it looks.
What's in the Box?
(1) Axial RBX10 Ryft 1/10 4WD Kit
(1) Optional 2-Speed Set
(1) Optional Sway Bar Set
(1) Optional Differential Spool
(1) Optional Lower Link Plate Rear
(1) Product Manual
Needed to Complete
(1) Radio System
(1) Steering Servo
(1) ESC and Motor
(1) LiPo Battery and Compatible Charger
(1) Micro Metal Gear Servo (for 2-speed configuration)
Recommended Completion Items

Download a Flyer
Download an A4 flyer to print off and display in store. No trade prices shown - just a summary of this issue of Logic RC News. Right click the image on the right and select 'Save link as...' to save the pdf locally so you can print at your convenience.