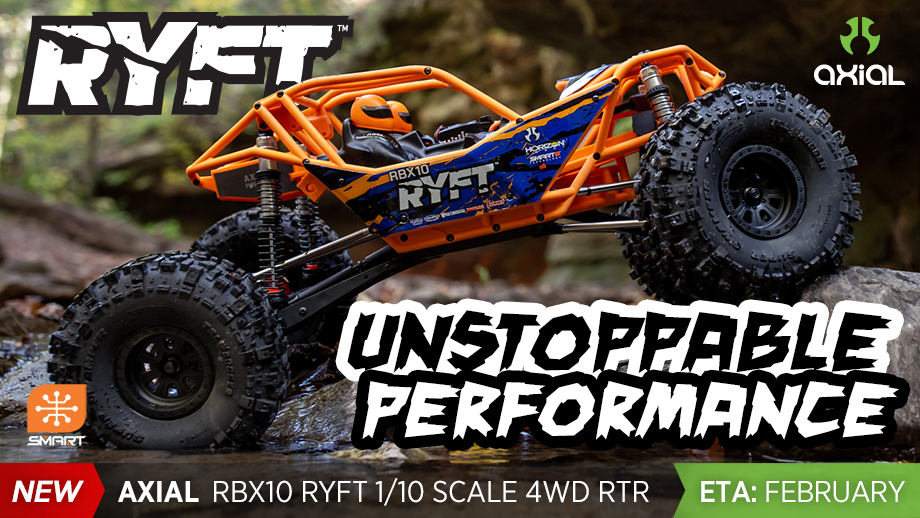 Product Overview
Axial introduces another first with the 1/10 scale RBX10 Ryft 4WD. This ready-to-run vehicle lets any RC driver experience the thrills of rock bouncer off-road action. Full-size rock bouncers refuse to stop - or even back down on the throttle - when facing steep climbs and massive rocks. So does the RBX10 Ryft 4WD. This ground-up new Axial vehicle handles lots of abuse and loads of power!
The RBX10 Ryft 4WD's robust, custom tube chassis is engineered from a high-strength composite plastic that withstands the hard knocks of RC off-roading - even while moving at the high speeds produced by a strong powertrain featuring a 4S-capable, 2200Kv brushless motor. Both the front and rear axles boast a durable one-piece, molded plastic, solid axle design and metal differential cover. Licensed Interco TSL Bogger tyres on Raceline wheels, aided by long travel front and rear shocks, do their part to tame wild off-road tracks. These features, along with a full-time 4WD transmission, make the RBX10 Ryft a fun vehicle to send over the trails at full throttle.
Exclusive Spektrum technologies, such as Smart telemetry and AVC traction control, help even new RC drivers enjoy unstoppable performance from the RBX10 Ryft 4WD. Its Spektrum DX3 radio uses DSMR technology for superior range, response, and interference resistance. The radio is also fully compatible with the Smart telemetry potential of the vehicle's Spektrum Firma 130A Smart ESC. When using a Spektrum Smart LiPo battery, you'll stay aware of on-board battery capacity with only a glance at the transmitter's handy voltage level indicator. When the voltage gets low, an alarm will sound.
The DX3 radio and SR6100AT receiver also support the on-demand traction control of Spektrum AVC (Active Vehicle Control) technology - included here for the first time in an Axial RTR vehicle. With an AVC system, you can dial in extra stability as needed when climbing hills or launching ledges without backing off the power. You have full-throttle freedom over rough terrain, slick surfaces and loose dirt!
The Axial RBX10 Ryft 4WD is ideal for beginner to intermediate RC enthusiasts who are interested in the rock bouncing style of off-road driving over trails, dirt, gravel, rocks and more. It's available with a striking orange or black factory-applied finish and requires nothing except a battery and charger.
Features
Solid axles front and rear with universal axle joints
Robust tube chassis design
Strong powertrain with 4S-capable brushless motor
Full-time 4WD transmission
Licensed Raceline wheels and Interco TSL (Three Stage Lug) Bogger tyres
Long travel front and rear shocks
Waterproof 15kg servo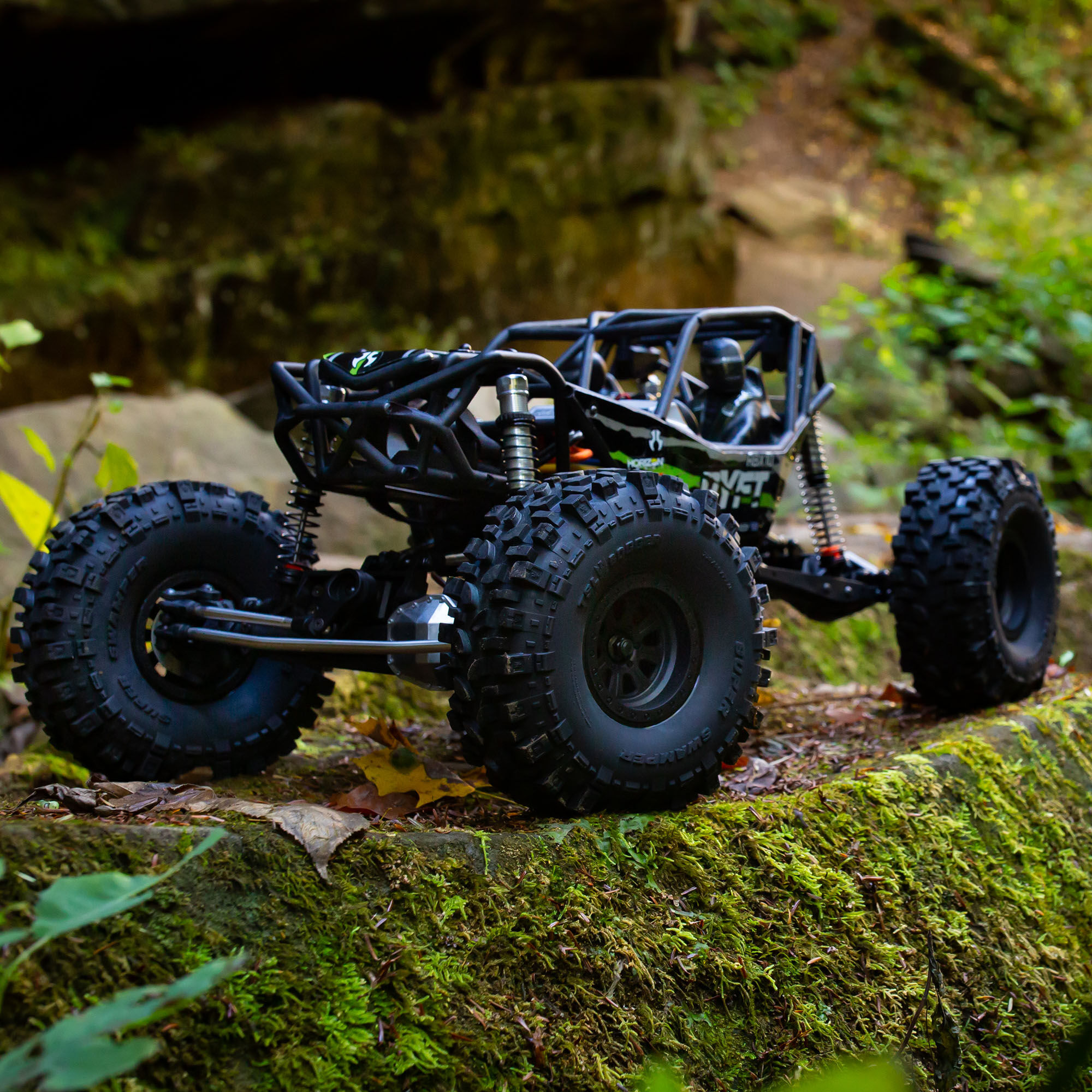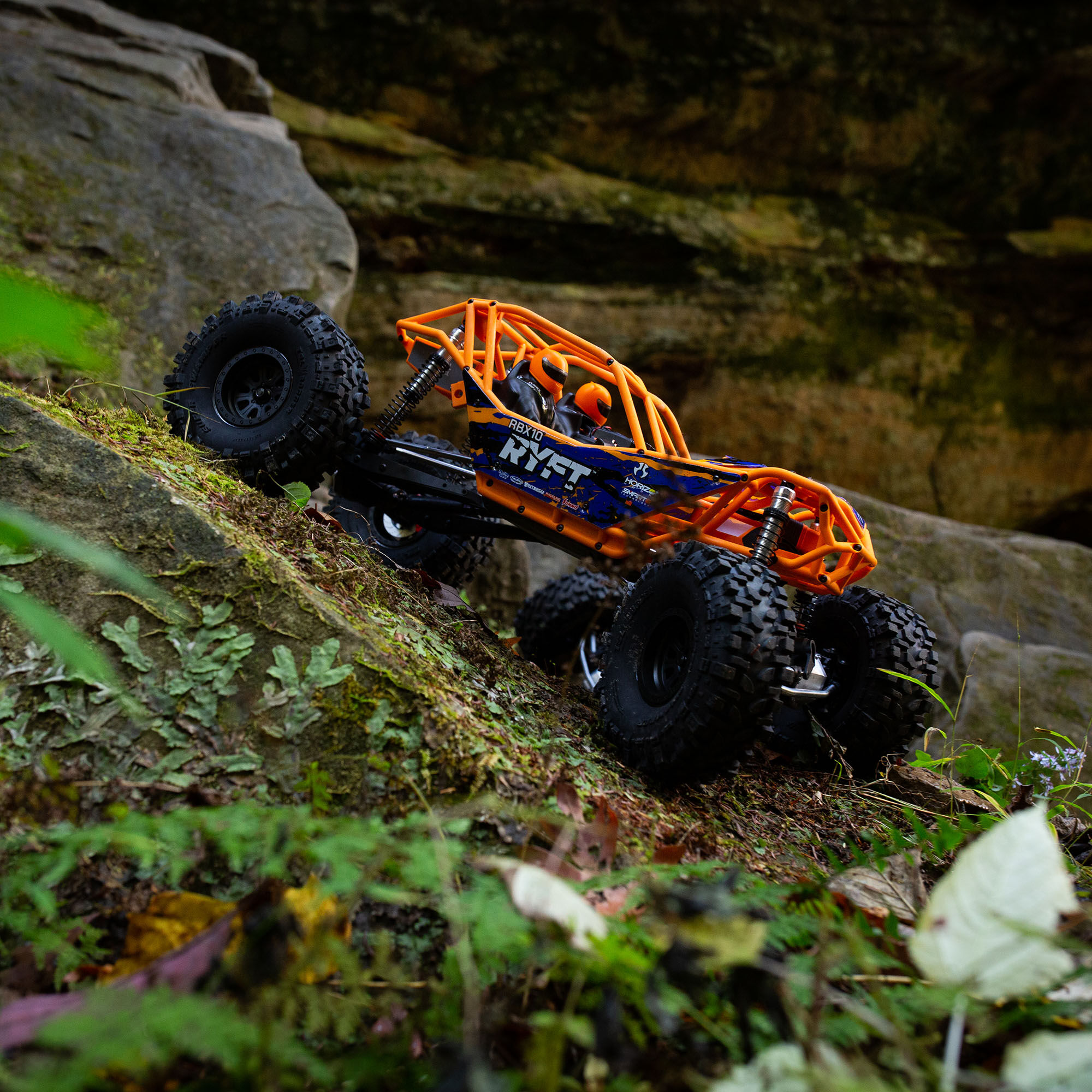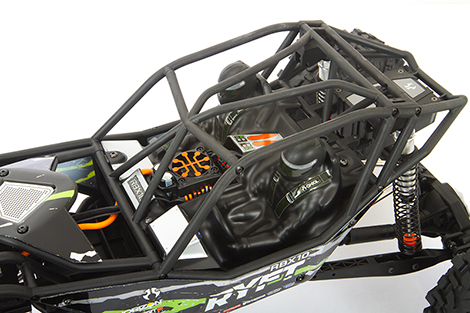 Custom Tube Chassis
The Axial RBX10 Ryft uses the fastest, most widely recognised tube chassis in RC off-roading. Its proven, high-strength composite plastic is engineered to withstand the hard knocks of rock racing.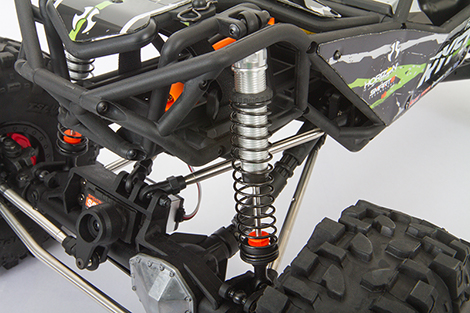 Aluminium Long Travel Shocks
The oil-filled shocks are hard anodised, threaded bodies, with a single coilover spring, plus an aluminium shock cap and pre-load adjustment for tuning your suspension. The shocks are tunable for achieving the best dampening rate. The 12mm bore size also creates more fluid volume for better performance.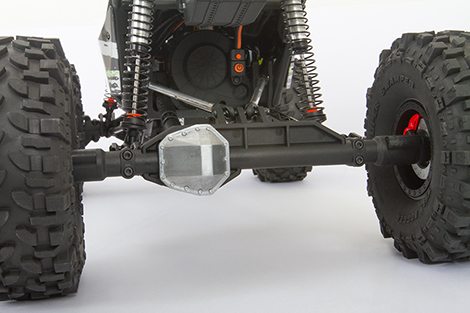 AR14B Front and Rear Solid Axels
The RBX10 Ryft 4WD is engineered to carry a lot of power over punishing off-road tracks - as evidenced by the durable two-piece, moulded plastic, solid axle design of its front and rear axles. The front, centre and rear differentials are the same, keeping things simple and easy when performing maintenance or repairs.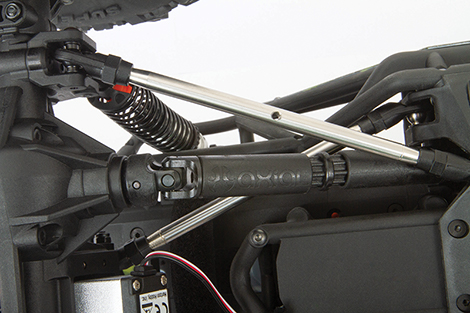 WB11 Wildboar Driveshafts
Larger diameter WB11 Wildboar driveshafts are necessary on this truck due to the extreme power delivered by the 2200Kv brushless motor.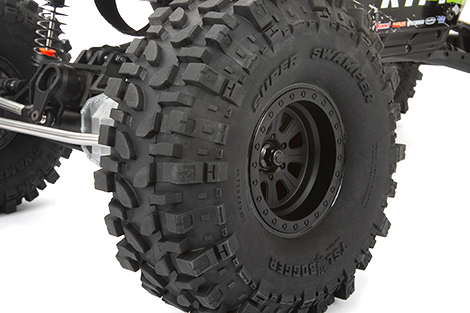 Interco Super Swamper TSL Bogger Tyres
Boggers feature a directional tread pattern with the patented Interco TSL (three stage lug) design and simulated custom siping for performance! Boggers are the go-to tyre for professional off-roaders who want an aggressive, off-road tire that performs as good as it looks.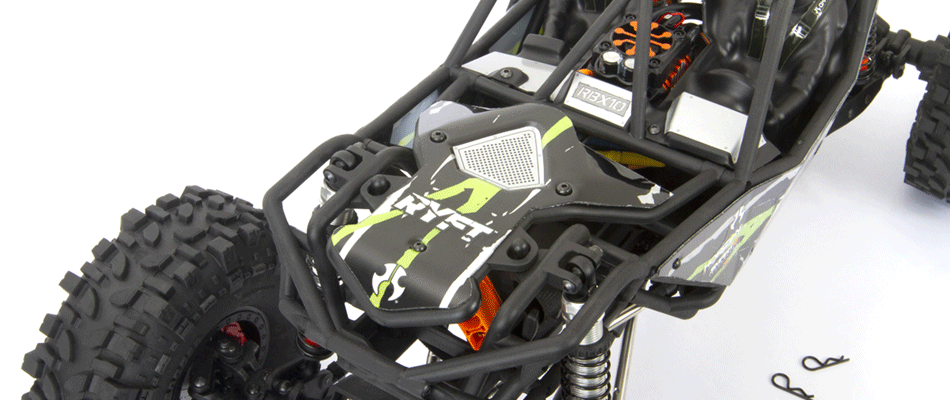 Front Load Battery Compartment
Located under the swing up hood is an easy-to-access battery compartment.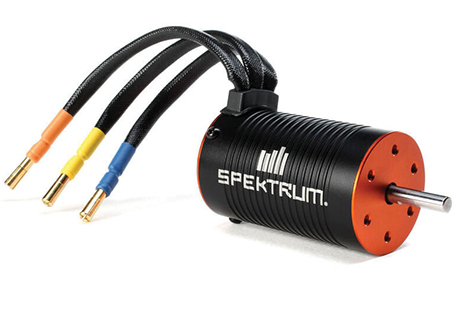 Spektrum 2200Kv Brushless Motor
The Spectrum Firma 2200Kv motor delivers massive horsepower and torque to drive the Ryft up the steepest of hills and launch up and over big ledges. Supporting 3S and 4S and paired with the Firma ESC, this motor really packs a punch and can be custom tuned to driver preference.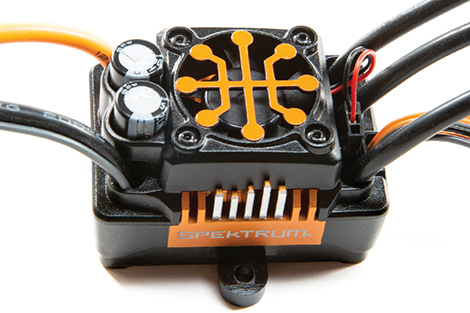 Spektrum Firma 130A Smart ESC
The feature-packed, waterproof Firma 130A Smart ESC delivers power and intelligence all-in-one - no additional vehicle modules or links required. Compatible with 2S to 4S LiPo or 5-12C NiMH input, this brushless ESC gives your RBX10 Ryft the ultimate drive while feeding important telemetry data straight to your DX3 transmitter in real time.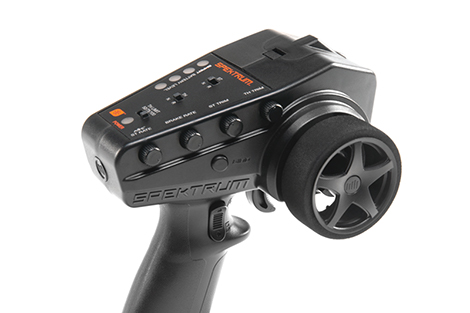 Spektrum DX3 Transmitter
The included Spektrum DX3 radio features exclusive DSMR technology for superior range, response, and interference resistance. It's also fully compatible with the Smart telemetry potential of the vehicle's installed Spektrum Firma 130A Smart ESC. Use a Spektrum Smart LiPo battery and you can follow its capacity at a glance on the DX3 transmitter's voltage level indicator. When the battery level gets low, an alarm will sound.

What's in the Box?
(1) Axial RBX10 Ryft 1/10 4WD RTR
(1) Spektrum DX3 3-Channel 2.4GHz DSMR Radio Transmitter
(1) Spektrum SR6100AT 6-Channel DSMR AVC/Telemetry Receiver
(1) Spektrum Firma 130A Smart ESC
(1) 2200Kv Brushless Motor
(1) Product Manual
Recommended Completion Items
Download a Flyer
Download an A4 flyer to print off and display in store. No trade prices shown - just a summary of this issue of Logic RC News. Right click the image on the right and select 'Save link as...' to save the pdf locally so you can print at your convenience.