Product Overview
Inspired by the muscle cars that shaped the American auto industry in the 1960s and 70s, the 1/7 scale FELONY 6S BLX 4WD RTR tops off a tough and powerful ARRMA brushless platform with stunning retro style - ideal for intermediate-level drivers who are eager to experience street bashing or drag racing at 80+ MPH speeds (achievable in optimum conditions using a 6S LiPo and the included speed pinion gear). With its sleek muscle car body and large rear tyres, the FELONY 6S BLX looks right at home blasting at high speeds on-road, over dirt roads and on oval tracks.
The multi-part, undercut muscle car body design with an aerodynamically adjustable wing delivers standout street bashing style. It can also be customized with the included accessory kit and decals to provide scale muscle car looks the way YOU want them. The FELONY 6X BLX Street Bash RTR's eye-catching appearance extends to the realistic 5-spoke wheels mounted with dBoots Hoons all-road tyres. For authentic muscle car handling, ARRMA engineers have included regular front and larger rear tyres, with the front and rear gearbox ratios matched to the tyre sizes.
Underneath those streamlined Street Bash looks is a chassis which proves to the world, once again, that ARRMA builds the most durable bashers. The 6061-T6 anodised aluminium chassis houses a heavy-duty drivetrain with steel driveshafts plus all-metal diff outdrives and gearbox internals. Its toughness is reinforced with a centre chassis brace. The adjustable, oil-filled, anodised aluminium shocks are mounted on strong, black-anodised aluminium shock towers. Push the throttle to the max - the FELONY 6S BLX Street Bash RTR is made to take it.
Features
Spektrum 3-Channel DX3 2.4GHz DSMR radio and SR6110AT Receiver with AVC (Active Vehicle Control)
ARRMA ADS-15M Servo
Spektrum Firma 150A Smart ESC
Spektrum Firma 4074 2050Kv Brushless Motor with Safe-D input gears
Muscle car handling with regular front and larger rear tyres
Front and rear gearbox ratios matched to tyre sizes
Customisable scale muscle car looks
Includes interchangeable accessory kit and decals
Multi-part undercut body design
Adjustable front and rear body mounts
Aerodynamically adjustable wing
3mm Plate, 6061-T6 anodised aluminium chassis
Centre brace for maximum durability
Heavy-duty drivetrain with durable steel driveshafts throughout
High-speed centre driveshaft support
Three oil-filled metal gear diffs
All-metal diff outdrives and gearbox internals
Oil-filled, adjustable, anodised aluminium shocks
Black-anodised aluminium front and rear shock towers
Front bumper and splitter
Rear diffuser with exhaust detailing
Waterproof* receiver box
Large battery trays
Five-spoke wheels
Durable wheel hubs
dBoots Hoons all-road tyres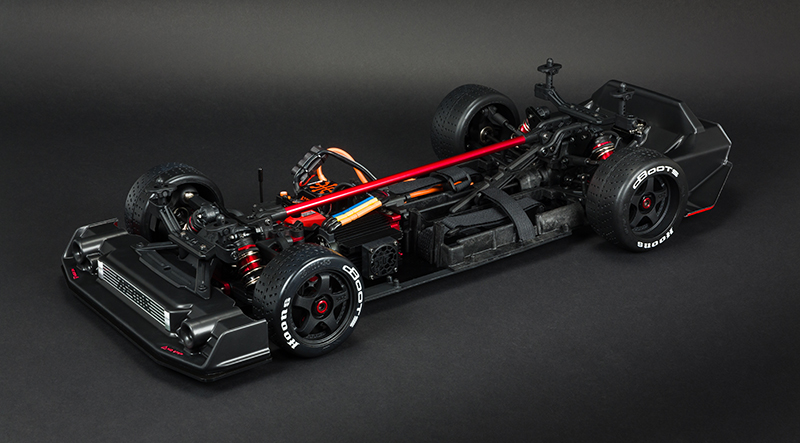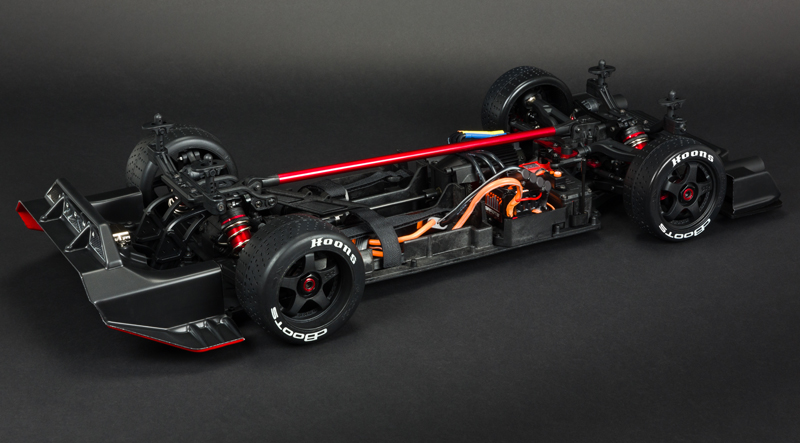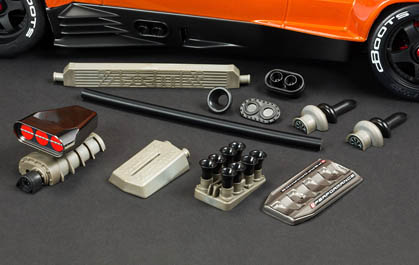 Customise Your Ride
Change the look of your model with the included engine intake and cooling accessories pack.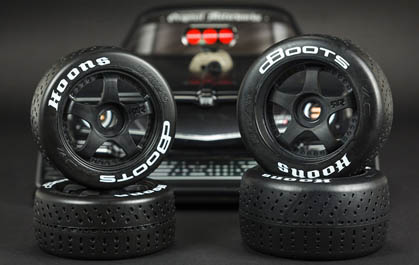 All-Road Aggression
dBoots HOONS tyres designed for extreme all-road action. Classic 5-spoke wheels.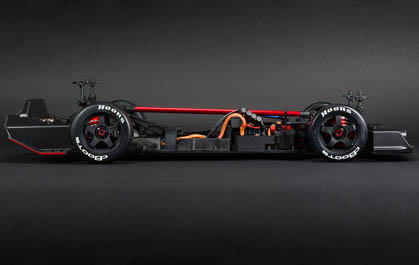 Bigger Tyres in the Back
Wider and larger diameter rear tyres add to te resto-mod muscle car style. Front and rear gearbox ratios are matched to the tyre size.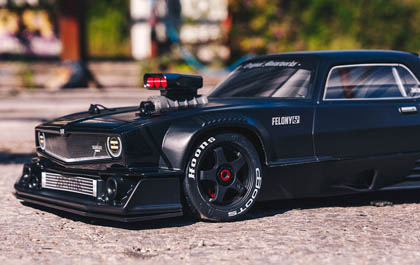 Classic Muscle
Awesome resto-mod muscle car styling.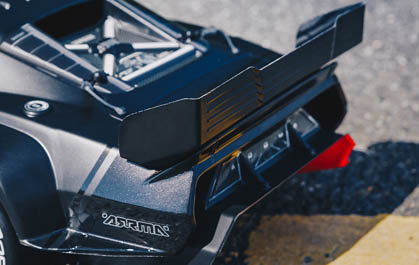 Tunable Aero
Tune your wing's aerodynamic stability how you want it

Spektrum Smart technology is about offering a higher connection to your hobby. It's a connection that puts you in complete control, makes you more aware and more confident about the capability of your equipment-all while making vital components of your model easier to use than ever. The combined result is a sense that will make you wish everything about your hobby was smarter.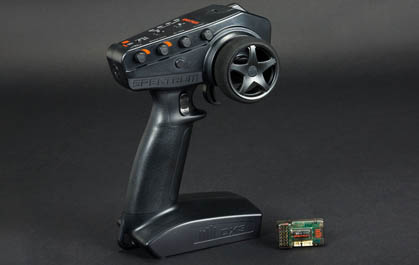 DX3 Radio System
The ergonomic design of the DX3 transmitter provides a feel that any driver will appreciate. Its overall low weight allows all-day driving with minimal fatigue. The control layout is amazingly intuitive - the servo reversing switches, steering and throttle trim dials, AVC/steering rate dial and 3-position throttle limiter are all perfectly positioned to be quickly accessible when needed and out of the way when not in use.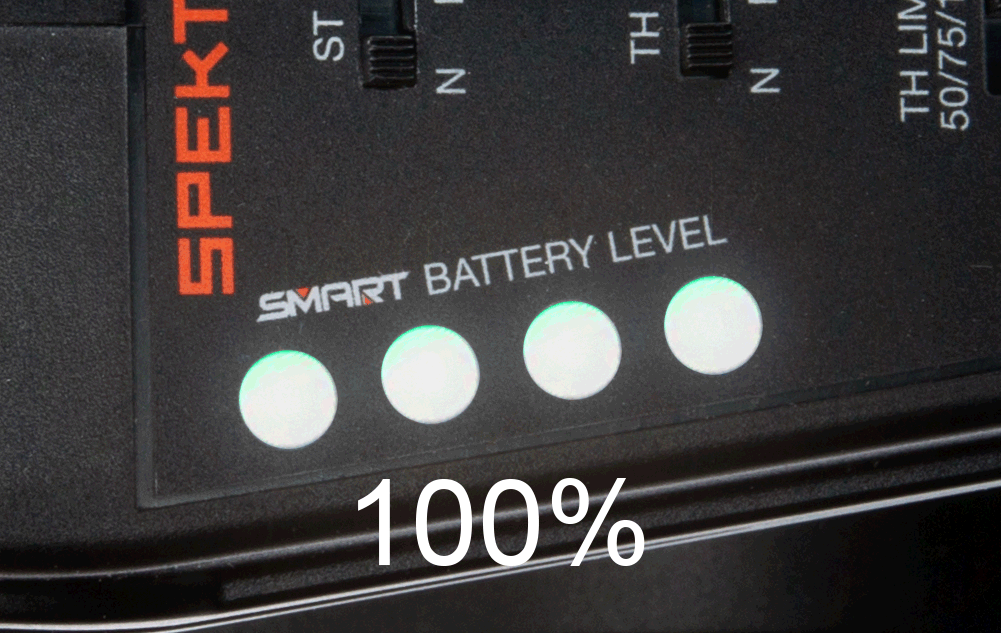 Smart Battery Level Indicator and Alarm
Integrated into the face of the DX3 Smart is a helpful Smart Battery voltage indicator. Drivers can easily find out the charge of their Smart battery with a quick glance and once the battery level gets low, an alarm will sound.(Smart Battery required).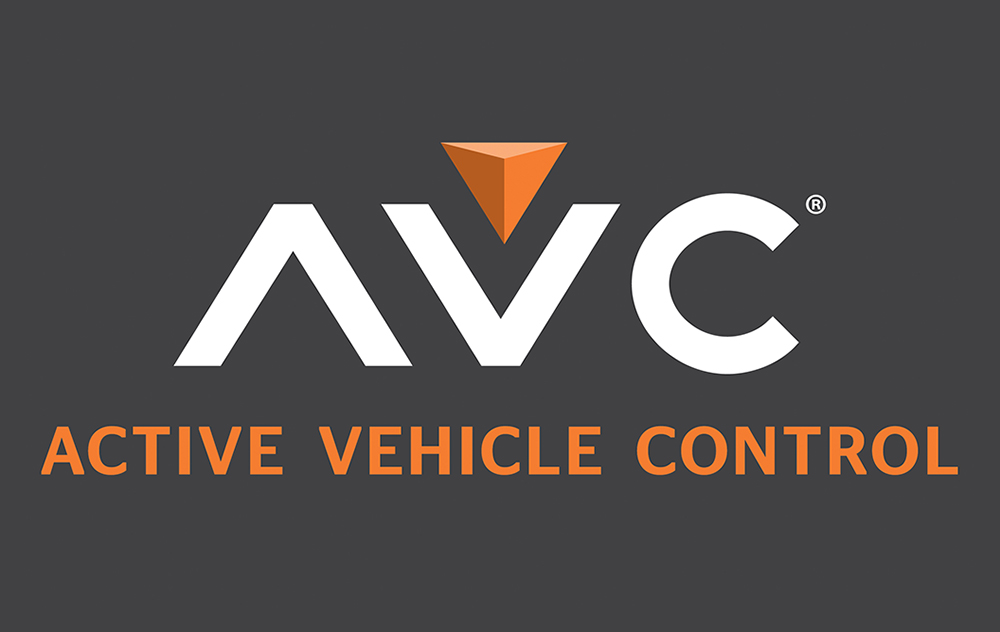 Active Vehicle Control
With an AVC system, you can dial in extra stability as needed to carve corners or nail jumps without backing off the power. When you don't want the extra traction, just dial back the stability and get loose. The DX3 transmitter's AVC system works behind the scenes, making hundreds of minute steering and throttle adjustments per second to keep you precisely on the line you want to hold.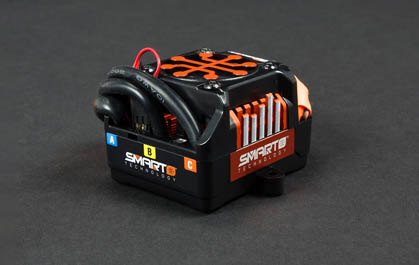 Spektrum Firma ESC
Waterproof, dustproof design
150A, 6S LiPo ready (3S, 4S, & 6S compatible)
Spektrum Smart Technology
Fitted with reliable IC5 connectors (EC5 compatible)
Integrated fan for reduced heat during extreme running
High Quality 10awg wires
Low voltage cut-off and thermal overload protection
User programmable punch, brake, BEC, LVC sensitivity, reverse speed, and motor timing settings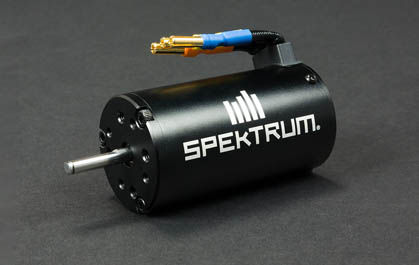 Spektrum Firma Motor
2050Kv 4074 size 6S brushless motor
Beautifully etched aluminium can
4-pole construction for smooth, consistent power
4mm gold bullet connectors for reliable and efficient connection
Black anodised aluminium motor can for increased heat dissipation
Super strong 5mm shaft
Groove at the end of the motor shaft allows the installation of a pinion retaining E-clip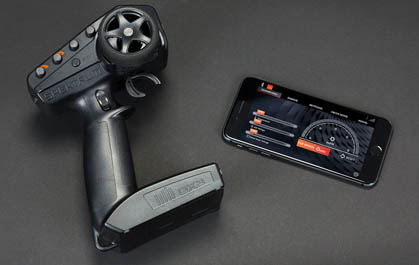 Active Vehicle Control
DX3 Radio system can be equipped with the Spektrum Dashboard.
Requries:
Spektrum Bluetooth Module *
DX3 Smart Phone mount *
Smart Phone with the free Spektrum Dashboard App *
Download the free Spektrum Dashboard app for your smart phone at your preferred app store* Optional items that need to be purchased separately.


Needed to Complete
(2) 2S or 3S LiPo batteries
Compatible charger
Safe LiPo charging bag
(4) AA transmitter batteries
What's in the Box?
(1) 1/7 FELONY Resto Mod Street Bash 6S BLX 4WD RTR
(1) Spektrum Firma 150A Smart ESC (installed)
(1) Spektrum Firma 4074 2050Kv Brushless Motor (installed)
(1) ARRMA ADS-15M Waterproof* Servo (installed)
(1) Spektrum SR6110AT AVC Receiver (installed)
(1) Spektrum DX3 DSMR Radio
(1) Product Manual
* For details on waterproof standards, please refer to the product instruction manuals
Recommended Completion Items and Accessories
Download a Flyer
Download an A4 flyer to print off and display in store. No trade prices shown - just a summary of this issue of Logic RC News. Right click the image on the right and select 'Save link as...' to save the pdf locally so you can print at your convenience.