SMAP:
Trade:
Barcode:
0605482168868
Features
Pick your power source: 3S or 4S LiPo battery pack, or 12-18V DC Power Supply
Independent Front & Rear temperature settings
Precise temperature control (68-176°F / 20-80°C)
Removable front & rear tire warmers
Full coverage warming elements completely wrap most 1/10th and 1/8th scale tires
8 available alarm tones
Celsius or Fahrenheit selectable display
2 or 4 hr Safety timer
User Friendly Interface
Large LCD Display Screen
Input voltage LVC (Low Voltage Cutoff) based on input setting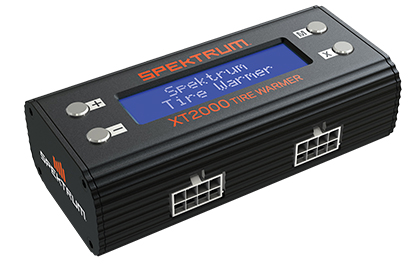 LIGHTWEIGHT AND COMPACT DESIGN
More compact and lighter than other popular tire warmer systems, the Spektrum Tire Warmer needs very little space at the pits and is light enough to carry with you to keep your tires warm while in line to start your race.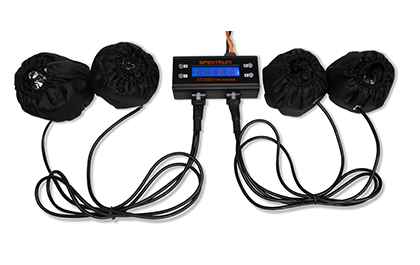 DESIGNED FOR 2WD AND 4WD 1/10TH AND 1/8TH SCALE MODELS AND DRAG RACERS
On-demand heat for 2 tires or 4, the Spektrum Tire Warmer can independently set the desired temperature for your rear and front times for optimal traction and track control. Great for no prep drag racing, short course, oval, 1/10 and 1/8 buggy applications.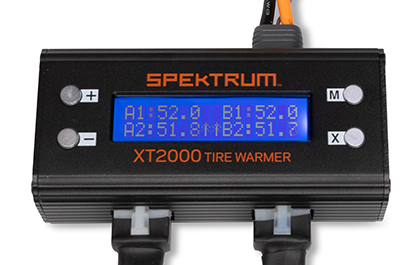 EASY TO USE INTERFACE WITH HELPFUL ALARMS AND SAFETY FEATURES
The Spektrum Tire Warmer features a simple step by step interface that allows drivers to get started easily and hassle free. Plus, it automatically shuts down after a set period of time to prevent overheating or damage to your tires and components.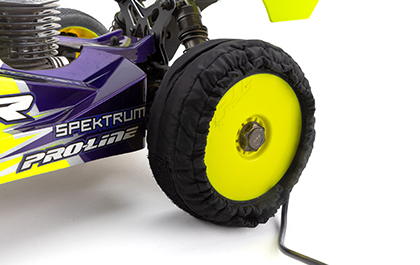 FULL COVERAGE TIRE WRAP
Featuring a tight yet expandable tire wrap that not only wraps the tread but also the sides of your 1/10 or 1/8th scale tires, providing a consistent and even heating element for your models tires so you can be confident you're race ready at any time.
---
Related Items
Used In
Image
Item Id
Name
Trade
SSP
Order
Now
C-ARA4103SV4T1
Senton Boost 4X2 SC 1/10 RTR Mega w/8.4v Batt/USB Chg Green
£219.99
C-ARA4103SV4T2
Senton Boost 4X2 SC 1/10 RTR Mega w/8.4v Batt/USB Chg Blue
£219.99
C-ARA4103V4T1
Senton Boost 4X2 SC 1/10 550 Mega (no Battery/Charger) Green
£189.99
C-ARA4103V4T2
Senton Boost 4X2 SC 1/10 550 Mega (no Battery/Charger) Blue
£189.99
C-ARA8306
TLR Tuned Typhon 1/8 4WD Roller (Pink/Purple)
£469.99
C-ARA8406
1/8 TLR Tuned Typhon 6S 4WD BLX Buggy RTR, Red/Blue
£739.99
C-ARA8606V5
Typhon 6S 4WD BLX 1/8 RTR
£599.99
C-LOS03022T1
22S SCT 1/10 2WD RTR MagnaFlow
£274.99
C-LOS03022T2
22S SCT 1/10 2WD RTR Kicker
£299.99
C-LOS03035T1
69 Camaro 22S Drag Car, BL RTR, Summit: 1/10 2WD
£439.99
C-LOS03035T2
69 Camaro 22S Drag Car, BL RTR, Blue: 1/10 2WD
£439.99
C-LOS03041
22S No Prep Drag Roller: 1/10 2WD Drag Car
£309.99
C-LOS03045T1
68 F100 22S Drag Car, BL RTR, Magnaflow: 1/10 2WD
£469.99
C-LOS03045T2
68 F100 22S Drag Car, BL RTR, Losi Gar: 1/10 2WD
£479.99
C-LOS04010V2
1/8 8IGHT 4WD Nitro Buggy RTR, Red/Yellow
£539.99
C-TLR03022
22 5.0 DC ELITE Race Kit: 1/10 2WD Dirt/Clay
£459.99
C-TLR03026
1/10 22X-4 ELITE 4WD Buggy Race Kit
£649.99
C-TLR04009
8IGHT XT/XTE Race Kit 1/8 4WD Nitro/Electric Truggy
£859.99
C-TLR04012
1/8 8IGHT-X/E 2.0 Combo 4WD Nitro/Electric Race Buggy Kit
£839.99