SMAP:
Trade:
Barcode:
0605482153543
Product Details
The 22X-4 won the 2021 ROAR Nationals and we've already found ways to improve it! The Team Losi Racing
®
22X-4 ELITE Race Kit has everything that made the 22X-4 a podium pleaser and more.
Key Features
Centre Diff Included
Aluminium Option Parts Included
Geometry Updates
Tab Style Battery Mount
Centre Diff Fan Mount
In The Box
(1) TLR® 1/10 22X-4 Elite Race Buggy Kit
(1) Product Manual
Needed to Complete
(1) Transmitter and Receiver
(1) Steering Servo
(1) 2S LiPo or LiHV Battery
(1) Compatible Battery Charger
(1) 48P Pinion Gear
(1) Motor
(1) ESC
(1) Tyre Glue
(4) Tyres
Polycarbonate Paint
Tools (Please reference the manual for more details)
Features
Center Diff Included
Pro Level Ready
Aluminum Option Parts Included
Geometry Updates
Tab Style Battery Mount
Center Diff Fan Mount
Titanium Turnbuckles
G3 V2 3mm Shaft Shocks
Gear Diffs
Adjustable Inner Pivots
V2 Floating Servo Mount
Optimized Composites
Adjustable Motor and Battery Position
22X-4 Lightweight Body
Carbon Fibre Optimized
All Metric Hardware
TLR 6.5" Rear Wing
Easy Access Diffs
Destined For Greatness
Even though the 22X-4 won the ROAR Nationals, the next generation is hot on its heels. The Team Losi Racing® 22X-4 Elite Race Kit has everything that made the 22X-4 a podium pleaser and more. The Elite level kit includes popular option parts like a centre diff, aluminium drag link, carbon fibre electronic mounting plates, carbon wing washer, aluminium locknuts, and titanium turnbuckles to lighten and optimize the 22X-4 to maximize performance. Designed to win straight out of the box, the 22X-4 ELITE Race Kit is tough to beat with features and performance destined for the top of the podium.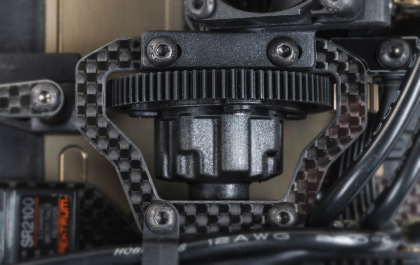 Center Diff Included
The most popular tuning option for the 22X-4 has been the change to a centre diff, especially for dirt and clay tracks. So of course, the 22X-4 ELITE would not be truly ELITE without the centre diff included.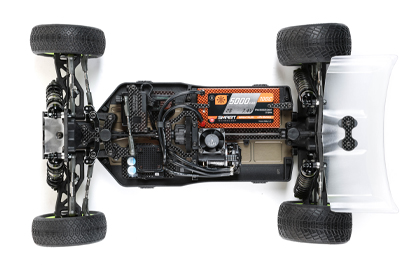 Pro Level Ready
Including all of the key option parts that our factory team uses to win races across the world, the 22X-4 ELITE is truly Pro Level Ready from a kit build right out of the box... more so than any 4wd buggy kit ever offered. Parts include Carbon Fibre, Black Anodized Aluminum and Titanium turnbuckles. The option parts and upgrades included value at £100.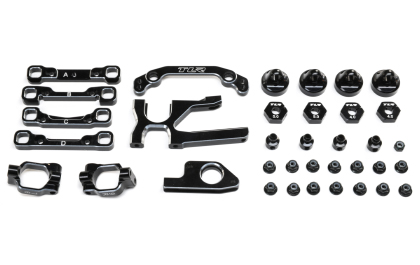 Aluminum Option Parts Included
As the team has found many of the optional aluminium parts for the 22X-4 to improve maintenance or performance, we've included those in the kit as well. Aluminum parts included are the drag link, caster blocks, all four inner pivots, motor mount, front and rear hexes, ball stud washers, and aluminium nuts throughout.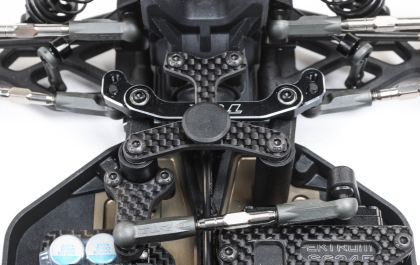 Geometry Updates
The 22X-4 was an all-new car, and after racing it around the world for the last couple years, we've found ways to make it even better. Additional shock mounting locations, inner camber link locations, smoother ackermann and steering gain locations all just keep getting the 22X-4 ELITE easier and easier to drive faster and faster.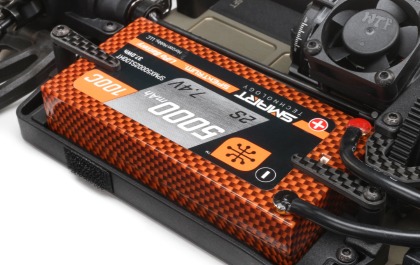 Tab Style Battery Mount
Keeping the battery in while you're running, and getting it out easy when it's time to charge is just something we thought we could do better. Carbon tabs hold the battery down, with adjustable height to accommodate any battery, thin or standard height. Easy in, secure while running, easy out, done.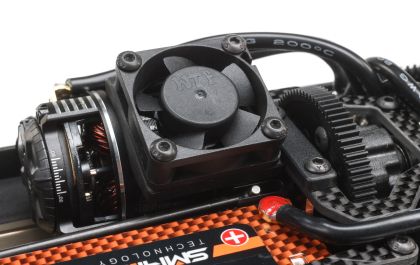 Center Diff Fan Mount
The prevalence of high grip tracks and the 13.5 4wd class have led to the need for many racers to run motor fans to keep temperatures in check. Rather than an aluminium mount, or double-sided tape, the 22X-4 ELITE includes a moulded fan mount secured to the centre diff to blow air directly down into the motor for the coolest temps the most power.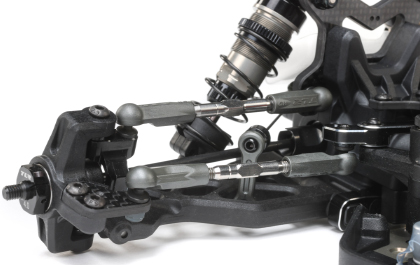 Titanium Turnbuckles
Titanium turnbuckles have always been a premium upgrade for race vehicles, and we just couldn't do the 22X-4 ELITE without them. Included are titanium turnbuckles throughout the buggy to save weight and increase performance.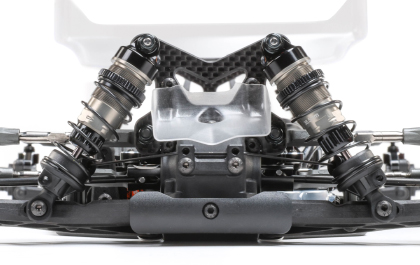 G3 V2 3mm Shaft Shocks
The G3 V2 shocks give the 22X-4 the plush handling and consistent, leak-free bleed with some ease of use improvements. No more e-clips as the pistons are now secured by screws, new shock caps and shock bodies increase the spring collar height by 3mm to accommodate lower ride heights, new eyelets and spring cups provide -3mm, 0mm and +4mm spring cup off-sets and paired with all new eyelets will never pop off with the screw in feature.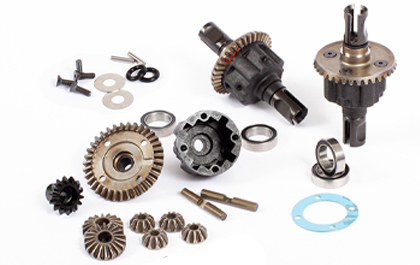 Gear Diffs
Designed to be light and durable, the 22X-4 is designed with large volume bevel gear diffs for the ultimate in performance and durability. The kit includes all metal diff internals and ring gear, but TLR has you ready also with composite diff internals and ring & pinion gears available as option parts.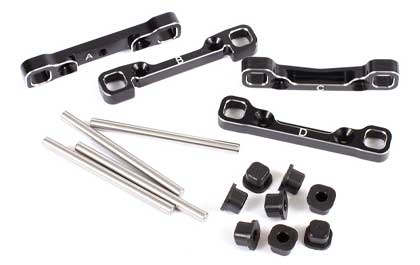 Adjustable Inner Pivots
Included for the front and rear, the adjustable inner pivots give multiple adjustments for anti-squat, kick up, toe, sweep, pivot width, and roll centre. This gives the 22X-4 ELITE the windows needed to get it dialed in for any driver, any track and any surface.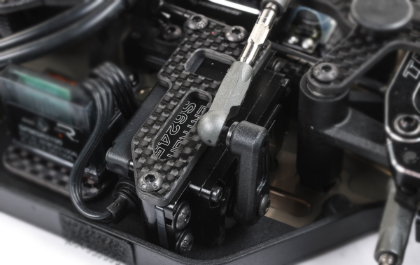 V2 Floating Servo Mount
To keep the servo mounting from affecting the chassis flex, the servo is mounted hanging above the chassis. The mount only secures to the chassis near the chassis centreline, then uses rigid 2.5mm carbon fibre to support the weight and leverage of the servo to optimize steering performance and chassis flex. The V2 version also accommodates all servo off-sets.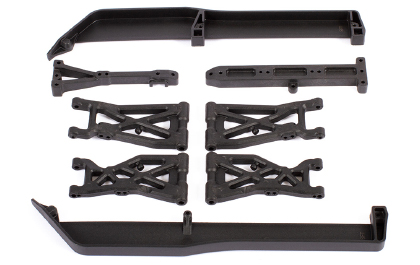 Optimized Composites
The balance and consistency of the 22X-4 ELITE can be tuned using different composite materials in key parts throughout the vehicle. The kit included the parts the race team prefers: Standard front and rear suspension arms, soft mudguards, and standard chassis braces.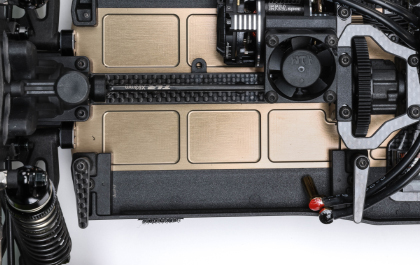 Adjustable Motor and Battery Position
Continuing the theme of maximum adjustment, the 22X-4 ELITE allows for the centre differential and motor mount assembly to be mounted in either front and rear positions, with 7mm of adjustment between them. The battery also has an additional 9mm of adjustment for solid changes to front/rear weight balance without the need to increase the static weight.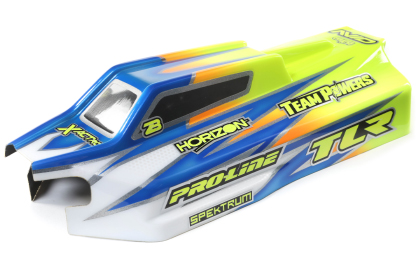 22X-4 Lightweight Body
Sleek, stylish, and lightweight, the 22X-4 body design is the perfect match to the chassis. It looks sleek and fast, is nice and low but provides excellent balance and stability - the best of all worlds.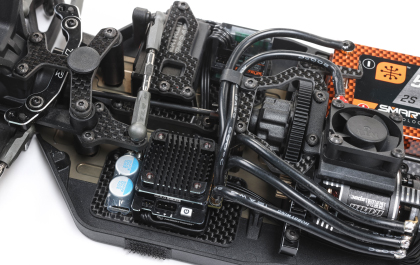 Carbon Fibre Optimized
Carbon fibre is extremely light and very rigid, giving it a great strength to weight ratio. It is optimal for many parts of an r/c car, the and 22X-4 ELITE has it mounted in all the key spots: Front Shock Tower, Rear Shock Tower, Center Diff Mount, Front Chassis Brace, Rear Chassis Brace, Front Steering mount, Servo Mount, and Electronics Mounting Plates.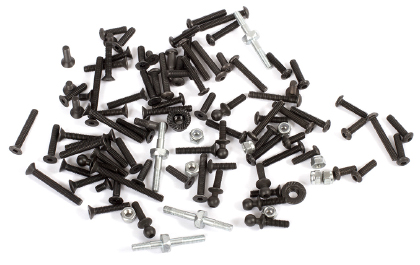 All Metric Hardware
Using all metric hardware make it easy to find replacement screws, nuts and washers, and helps to limit the number to tools required in the toolbox.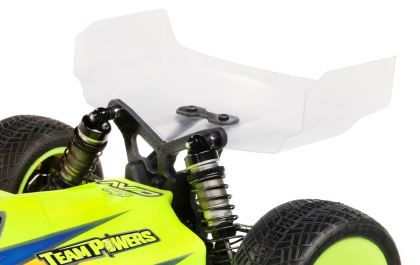 TLR 6.5" Rear Wing
Pulled from ultra-durable 1.2mm polycarbonate, the TLR 6.5" rear wing isn't new for the 22X-4 ELITE. Instead, this wing has proven itself as the longest lasting and most stable rear wing available for 1/10 buggies over the past few years - and it comes in your kit.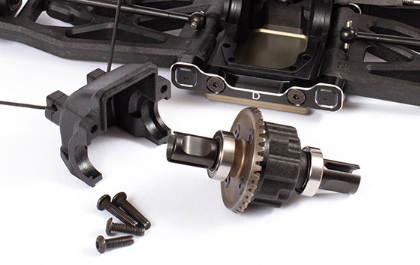 Easy Access Diffs
Designed to be user-friendly, the 22X-4 ELITE allows the front and rear diffs to both be removed by only removing 4 screws and loosening 2 set screws. Out in less than a minute, and back in just as quickly.

Video Gallery
Support
Exploded Views
Click here to view available exploded views.
---
Related Items
13.5 Completion Guide
6.5 Completion Guide
Replacement Parts
Optional Parts
Replacement Parts
Image
Item Id
Name
Trade
SSP
Order
Now
T-LOSA6945
8x14x4 Rubber Sealed Ball Bearing (4)
£18.99
T-LOSA6955
5 x 13mm HD Clutch Bearings (2):8B/8T
£10.99
Z-DYN2267
Servo Tape, Black; 1 1/2
£8.99
Z-LOS235009
Flat Head Screws M2.5 x 8mm (10)
£7.99
Z-LOS235011
Set Screws, M3 x 3mm Cup Point(10)
£7.99
Z-LOSA6943
10 X 15mm Sealed Ball Bearing (2): 22
£10.99
Z-TLR230002
6.5 Medium Downforce Wing, Clear, Precut (2)
£19.99
Z-TLR230003
Hook and Loop Body Mounting, 10 x 20mm: (8)
£9.99
Z-TLR230016
Lightweight Body & Wing, Clear: 22X-4
£32.50
Z-TLR230018
Front Scoop, Clear: 22X-4
£10.99
Z-TLR231078
Steering Hardware Set: 22 5.0
£19.99
Z-TLR231084
Mud Guard Set, Soft/SFT: 22X-4
£19.99
Z-TLR231086
Chassis, 2.5mm: 22X-4
£79.99
Z-TLR231087
Chassis Brace Set: 22X-4
£10.99
Z-TLR231089
Composite Steering Set: 22X-4
£11.99
Z-TLR231091
Body, Antenna, Wire, Fan Mount Set: 22X-4
£10.99
Z-TLR231093
Front Bumper (2): 22X-4
£9.99
Z-TLR231094
Wing Mount & Washers: 22X-4
£10.99
Z-TLR231096
Carbon Spindle Arm Set, #1: 22X-4
£10.99
Z-TLR231098
Steering Posts (2): 22X-4
£11.99
Z-TLR231101
Center Diff Fan Mount: 22X-4
£10.99
Z-TLR231102
Carbon Tab Battery Mount Set: 22X-4
£19.99
Z-TLR231103
Carbon Bell Crank Plate, V2: 22X-4
£10.99
Z-TLR231104
Carbon Chassis Brace Supports, 1.5 & 3.5mm: 22X-4
£39.99
Z-TLR232002
Solid Drive Pin Set(8): 22/T/SCT
£7.99
Z-TLR232102
CVA Driveshaft Bones, 67mm (2): 22X
£19.99
Z-TLR232103
CVA Driveshaft Bones, 68mm (2): 22X
£19.99
Z-TLR232104
CVA Driveshaft Bones, 74mm (2): 22X
£19.99
Z-TLR232105
CVA Driveshaft Bones, 68mm/93mm: 22X
£19.99
Z-TLR232107
Front CVA Axle (2): 22X-4
£19.99
Z-TLR232108
Rear CVA Axle (2): 22X-4
£19.99
Z-TLR232109
Pinion CVA Axle (2): 22X-4
£19.99
Z-TLR232110
Pinion Mounting Hardware (4): 22X-4
£9.99
Z-TLR232111
Wheel Hex, 12mm x 4.0mm (2)
£19.99
Z-TLR232113
Wheel Hex, 12mm x 5.0mm (2)
£19.99
Z-TLR232118
78T Spur Gear, Center Diff: 22X-4
£9.99
Z-TLR232119
81T Spur Gear, Center Diff: 22X-4
£9.99
Z-TLR232123
Motor Mount and Adapter: 22X-4
£39.99
Z-TLR232124
Center Bulkhead: 22X-4
£9.99
Z-TLR232125
Carbon Center Bulkhead Brace: 22X-4
£19.99
Z-TLR232126
Pinion Gear, Steel: 22X-4
£10.99
Z-TLR232127
Ring Gear, Metal: 22X-4
£10.99
Z-TLR232128
Diff Housing (2): 22X-4
£9.99
Z-TLR232129
Diff Gear & Cross Pin Set, Metal: 22X-4
£11.99
Z-TLR232130
Diff Seal & Hardware Set: 22X-4
£10.99
Z-TLR232131
Outdrive Set (2): 22X-4
£19.99
Z-TLR232132
CVA Sleeve, Composite (8): 22X
£9.99
Z-TLR232133
Front Gear Box Set: 22X-4
£10.99
Z-TLR232134
Rear Gear Box Set: 22X-4
£10.99
Z-TLR232135
Center Diff Cover: 22X-4
£10.99
Z-TLR233025
Shock Body, 36mm, G3 (1)
£10.99
Z-TLR233026
Shock Body, 42mm, G3 (1)
£19.99
Z-TLR233030
Spring Cup Set, G3 (4ea)
£10.99
Z-TLR233031
Shock End Set, G3 (4ea)
£10.99
Z-TLR233032
Threaded Spring Collar, G3 (2)
£10.99
Z-TLR233043
Shock Hardware, G3 (4)
£10.99
Z-TLR233053
Yellow Front Springs, Low Frequency, 12mm (2)
£10.99
Z-TLR233058
Pink Rear Springs, Low Frequency, 12mm (2)
£10.99
Z-TLR233060
Seal Set, X-Rings, G3 V2 (4 shocks)
£10.99
Z-TLR233061
Shock Seal Bushings, Machined, G3 V2 (4)
£10.99
Z-TLR233062
Shock Travel Spacer Set: 22
£10.99
Z-TLR234107
HD Ball Cup Set: All 22
£10.99
Z-TLR234112
Front Arm Set: 22X-4
£11.99
Z-TLR234113
Rear Arm Set: 22X-4
£11.99
Z-TLR234116
Front Spindle Set: 22X-4
£10.99
Z-TLR234117
Spindle Bushing Set, Aluminum (8): 22X-4
£10.99
Z-TLR234119
Caster Block Set, 9 deg, Aluminum: 22X-4
£39.99
Z-TLR234121
VHA Hub Body, Composite (2): 22X-4
£10.99
Z-TLR234124
Hinge Pin Set, Polished: 22X-4
£10.99
Z-TLR234125
Sway Bar Set, 1.0/1.2/1.4mm (3): 22X-4
£10.99
Z-TLR234127
Sway Bar Mount Set (2): 22X-4
£10.99
Z-TLR234128
A Pivot Block, Aluminum: 22X-4
£19.99
Z-TLR234129
B Pivot Block, Aluminum: 22X-4
£19.99
Z-TLR234130
C Pivot Block, Aluminum: 22X-4
£19.99
Z-TLR234131
D Pivot Block, Aluminum: 22X-4
£19.99
Z-TLR234132
Insert Set, Adjustable Pivot, V2: 22
£11.99
Z-TLR234133
Carbon Front Shock Tower, V2: 22X-4
£32.50
Z-TLR234134
Carbon Rear Shock Tower, V2: 22X-4
£32.50
Z-TLR235003
Flat Head Screws, M2.5 x 6mm (10)
£7.99
Z-TLR235007
Flat Head Screws, M2.5 x 10mm (10)
£7.99
Z-TLR235008
Flat Head Screws, M3 x 6mm (10)
£7.99
Z-TLR235010
Screw, G3 Shock Cup (8)
£7.99
Z-TLR235012
Set Screw, M3 x 20mm (8)
£7.99
Z-TLR235015
Button Head Screws, M3 x 4mm (10)
£7.99
Z-TLR236013
Bearing Spacer, 1.3mm (2)
£7.99
Z-TLR237000
5x8x2.5mm Bearings (2)
£10.99
Z-TLR331037
Carbon Wing Washer (2): 22 5.0
£19.99
Z-TLR331048
Carbon Electronics Mounting Plate: 22X-4
£19.99
Z-TLR331052
Drag Link, Aluminum: 22X-4
£32.50
Z-TLR331057
Carbon Front Top Brace, Medium Flex: 22X-4
£19.99
Z-TLR331060
Carbon Receiver Mounting Plate: 22X-4
£10.99
Z-TLR332074
VHA CVA Rebuild Set (2): 22 5.0
£9.99
Z-TLR333011
Shock Shaft, 42.7mm, TiCN, G3 (1)
£10.99
Z-TLR333012
Shock Shaft, 48.7mm, TiCN, G3 (1)
£10.99
Z-TLR333014
Machined Shock Pistons, Thin, 2 x 1.6mm, G3 (2)
£10.99
Z-TLR333016
Machined Shock Pistons, Thin, 2 x 1.7mm, G3 (2)
£10.99
Z-TLR333021
Domed Bleeder Shock Caps Aluminum G3 (2)
£19.99
Z-TLR334074
VHA Camber Link Mount, Black: 22 5.0
£32.50
Z-TLR334076
VHA Hinge Pin Insert Set: 22 5.0
£9.99
Z-TLR334077
HD Turnbuckle Kit, Titanium: 22X-4
£39.99
Z-TLR336000
4mm Aluminum Serrated Lock Nuts, Black (6)
£10.99
Z-TLR336003
M4 Aluminum Serrated Nuts, Low Profile, Black (4)
£10.99
Z-TLR336004
M3 Aluminum Lock Nuts, Black (10)
£10.99
Z-TLR336005
M3 Flanged Aluminum Lock Nuts, Black (10)
£10.99
Z-TLR336007
M3 Caster Block Alum Washer Set, Black (4ea)
£10.99
Z-TLR336010
Shock Standoff, Carbon Tower, Titanium (2): 22 5.0
£19.99
Z-TLR5086
Shock Cap: Bottom (2): 22
£10.99
Z-TLR5092
Upper Shock Bushing: 22 (4)
£7.99
Z-TLR5280
Silicone Diff Fluid, 5000CS
£10.99
Z-TLR5281
Silicone Diff Fluid, 7000CS
£10.99
Z-TLR5901
Button Head Screws, M3 x 6mm (10)
£7.99
Z-TLR5902
Button Head Screws, M3 x 8mm (10)
£7.99
Z-TLR5903
Button Head Screws, M3 x 10mm (10)
£7.99
Z-TLR5904
Button Head Screws, M3 x 12mm (10)
£6.99
Z-TLR5909
Button Head Screws, M3 x 16mm (10)
£7.99
Z-TLR5910
Button Head Screws, M3 x 14mm (10)
£7.99
Z-TLR5961
Flathead Screws, M3 x 8mm (10)
£7.99
Z-TLR5962
Flathead Screws, M3 x 10mm (10)
£7.99
Z-TLR5963
Flathead Screw, M3 x 12mm (10)
£7.99
Z-TLR6023
BallStud, 4.8 x 10mm (4): 22
£10.99
Z-TLR6024
BallStud, 4.8 x: 8mm (4): 22
£10.99
Z-TLR6025
Ball Stud, 4.8mm x 6mm (4): 22
£10.99
Z-TLR6312
Locknut, M2.5 x .45 x 5mm (6)
£10.99
Z-TLR6352
Washers, M3 (10)
£7.99
Z-TLR6932
5x10x4mm HD Bearings (2)
£10.99
Z-TLR72003
Shock Tools, Composite: All 22
£6.99
Z-TLR74010
Silicone Shock Oil, 40 Wt, 2 Oz
£10.99
Z-TLR74011
Silicone Shock Oil, 42.5wt, 2oz
£10.99
Z-TLR75009
Silicone Diff Fluid 500000CS
£10.99
Z-TLR76009
TLR Lok Threadlock Blue
£10.99
Z-TLR77000
High-Pressure Black Grease, 8cc
£7.99
Z-TLR8202
Body Clips, Black (12): 22
£6.99
Optional Parts
Image
Item Id
Name
Trade
SSP
Order
Now
G-PRO2736-02
1/10 Velocity Rear 2.2" 12mm Buggy Wheels (2) Yellow
£11.99
G-PRO2736-04
1/10 Velocity Rear 2.2" 12mm Buggy Wheels (2) White
£11.99
G-PRO2767-02
1/10 Velocity 4WD Front 2.2" 12mm Buggy Whls (2) Yllw: XB4 a
£11.99
G-PRO2767-04
1/10 Velocity 4WD Front 2.2" 12mm Buggy Whls (2) Wht: XB4 an
£11.99
G-PRO3545-25
1/10 Axis Light Weight Clear Body: TLR 22X-4
£29.99
G-PRO6031-00
Pro-Line Tire Glue
£10.99
G-PRO6320-17
1/10 Pre-Cut Air Force 2 HD Clear Rear 6.5" Buggy Wing (1)
£19.99
G-SPMXT2000
XT2000 Tire Warmer
£159.99
G-TLR7100
Rear Wheel, White (2): 22
£9.99
G-TLR7101
Rear Wheel, Yellow (2): 22
£9.99
O-DYNC0176
5mm Low Profile Bullet Connectors (4)
£11.99
O-SPMX37002S100HT
3700mAh 2S 7.4V 100C Smart LiPo Short HC 5mm Tubes
£54.99
O-SPMXC2020I
S1200 Smart G2 AC Charger, 1x200W EU
£154.99
P-SPM5025
DX5 Pro 2021 DSMR TX w/SR2100
£469.99
P-SPM9067
6245 Mount 22x-4/B74, Black
£19.99
P-SPMR5025
DX5 Pro 2021 DSMR TX Only
£379.99
P-SPMSS6240
S6240 High Torq High Speed Digital WP Servo-Metal Gear
£99.99
P-SPMSS6245
S6245 High Speed/Torque Servo
£149.99
T-DYN2516
Straight Body Scissors
£9.99
T-DYN2814
Hex Driver: 1.5mm
£5.99
T-DYN2815
Hex Driver: 2mm
£5.99
T-DYN2816
Hex Driver: 2.5mm
£5.99
T-DYN2900
Machined Hex Driver, Red: 1.5mm
£10.99
T-DYN2901
Machined Hex Driver, Red: 2.0mm
£10.99
T-DYN2902
Machined Hex Driver, Red: 2.5mm
£10.99
T-DYN2904
Machined Hex Driver Metric Set, Red
£27.50
T-DYNT2030
Machined Hex Driver Set (4) Met
£29.99
T-TLR99102
Turnbuckle Wrench, 22,8B, 8T
£11.99
Z-DYN2267
Servo Tape, Black; 1 1/2
£8.99
Z-DYNF1055
Infrared Temp Gun/Thermometer w/ Laser Sight
£34.99
Z-TLR230017
Ultra Lightweight Body & Wing, Clear: 22X-4
£32.50
Z-TLR230019
6.5" Lightweight Rear Wing, Clear, Precut (2)
£19.99
Z-TLR231085
Mud Guard Set, Stiffezel/SZL: 22X-4
£19.99
Z-TLR231088
Carbon Chassis Brace Support Set: 22X-4
£32.50
Z-TLR231100
Servo Mount Set, V2: 22X-4
£32.50
Z-TLR232106
CVA Driveshaft Bones, 61mm/100mm: 22X
£19.99
Z-TLR232112
Wheel Hex, 12mm x 4.5mm (2)
£19.99
Z-TLR232114
Wheel Hex, 12mm x 5.5mm (2)
£19.99
Z-TLR232115
Wheel Hex, 12mm x 6.0mm (2)
£19.99
Z-TLR232137
Slipper Assembly, Complete: 22X-4
£69.99
Z-TLR233051
Purple Front Springs, Low Frequency, 12mm (2)
£10.99
Z-TLR233052
Sky Blue Front Springs, Low Frequency, 12mm (2)
£10.99
Z-TLR233054
Gold Front Springs, Low Frequency, 12mm (2)
£10.99
Z-TLR233056
White Rear Springs, Low Frequency, 12mm (2)
£10.99
Z-TLR233057
Yellow Rear Springs, Low Frequency, 12mm (2)
£10.99
Z-TLR233059
Red Rear Springs, Low Frequency, 12mm (2)
£10.99
Z-TLR234114
Front Arm Set, Stiffezel: 22X-4
£10.99
Z-TLR234115
Rear Arm Set, Stiffezel: 22X-4
£10.99
Z-TLR234117
Spindle Bushing Set, Aluminum (8): 22X-4
£10.99
Z-TLR234118
Caster Block Set, 6 deg, Aluminum: 22X-4
£39.99
Z-TLR234120
Caster Block Set, 12 deg, Aluminum: 22X-4
£39.99
Z-TLR234126
Sway Bar Set, 1.6/1.8/2.0mm (3): 22X-4
£10.99
Z-TLR331049
Carbon Front Steering/Gearbox Brace: 22X-4
£19.99
Z-TLR331050
Clamping Servo Horn, Aluminum, 23T: 22X-4
£19.99
Z-TLR331051
Clamping Servo Horn, Aluminum, 25T: 22X-4
£19.99
Z-TLR331055
22X-4 Chassis Protective Tape Printed Precut
£10.99
Z-TLR331056
Carbon Fiber Chassis, 2.5mm: 22X-4
£129.99
Z-TLR331059
Carbon Wing Riser, 4mm: 22 5.0
£19.99
Z-TLR331061
Drag Link, Aluminum, V2: 22X-4
£19.99
Z-TLR332016
Pinion Gear 16T, 48P, AL
£10.99
Z-TLR332017
Pinion Gear 17T, 48P, AL
£10.99
Z-TLR332018
Pinion Gear 18T, 48P, AL
£10.99
Z-TLR332019
Pinion Gear 19T, 48P, AL
£10.99
Z-TLR332020
Pinion Gear 20T, 48P, AL
£10.99
Z-TLR332021
Pinion Gear 21T, 48P, AL
£10.99
Z-TLR332022
Pinion Gear 22T, 48P, AL
£10.99
Z-TLR332023
Pinion Gear 23T, 48P, AL
£10.99
Z-TLR332025
48P Aluminum Pinion Gear, 25T
£10.99
Z-TLR332026
Pinion Gear 26T, 48P, AL
£10.99
Z-TLR332027
Pinion Gear 27T, 48P, AL
£10.99
Z-TLR332078
CVA Sleeve, Aluminum (2): 22X
£10.99
Z-TLR332079
Center Bulkhead, Aluminum: 22X-4
£32.50
Z-TLR332080
Center Diff Cover, Aluminum: 22X-4
£19.99
Z-TLR332081
LCD Drive Set (2): 22X-4
£49.99
Z-TLR332083
Ring and Pinion Set, Composite: 22X-4
£10.99
Z-TLR332084
Internal Diff Gear Set, Composite: 22X-4
£19.99
Z-TLR332085
Center Diff Complete, Metal: 22X-4
£49.99
Z-TLR332086
Front/Rear Diff Complete, Metal: 22X-4
£49.99
Z-TLR333011
Shock Shaft, 42.7mm, TiCN, G3 (1)
£10.99
Z-TLR333013
Machined Shock Pistons, Thin, 2 x 1.5mm, G3 (2)
£10.99
Z-TLR333015
Machined Shock Pistons, Thin, 1.6/1.7 Split G3 (2)
£10.99
Z-TLR333017
Machined Shock Pistons, Thin, 2 x 1.8mm, G3 (2)
£10.99
Z-TLR333022
Machined Shock Pistons, 2.3mm, 2 x 1.5mm, G3 (2)
£10.99
Z-TLR333023
Machined Shock Pistons, 2.3mm, 2 x 1.6mm, G3 (2)
£10.99
Z-TLR333024
Machined Shock Pistons, 2.3mm, 2 x 1.7mm, G3 (2)
£10.99
Z-TLR333025
Machined Shock Pistons, 2.3mm, 2 x 1.8mm, G3 (2)
£10.99
Z-TLR334078
VHA Hub Set, Aluminum: 22X-4
£39.99
Z-TLR336001
4mm Aluminum Serrated Lock Nuts, Blue (6)
£15.99
Z-TLR43021
Front Wheel, Yellow (2): 22X-4
£10.99
Z-TLR43022
Front Wheel, White (2): 22X-4
£10.99
Z-TLR5279
Silicone Diff Fluid, 3000CS
£10.99
Z-TLR5280
Silicone Diff Fluid, 5000CS
£10.99
Z-TLR5281
Silicone Diff Fluid, 7000CS
£10.99
Z-TLR5282
Silicone Diff Fluid, 10,000CS
£10.99
Z-TLR5283
Silicone Diff Fluid, 15,000CS
£10.99
Z-TLR5284
Silicone Diff Fluid, 20,000CS
£10.99
Z-TLR5285
Silicone Diff Fluid, 30,000CS
£10.99
Z-TLR5288
Silicone Diff Fluid, 125,000CS
£10.99
Z-TLR6030
Titanium Ball Stud, 4.8 x 6mm (2)
£10.99
Z-TLR6032
Titanium Ball Stud, 4.8 x 10mm (2)22/22T
£10.99
Z-TLR70007
TLR Team Foam Pit Mat
£32.50
Z-TLR72000
Ball cup wrench, 4.8mm, 22/T/SCT
£19.99
Z-TLR74006
Silicone Shock Oil, 30wt, 2oz
£10.99
Z-TLR74007
Silicone Shock Oil, 32.5 wt, 2 oz
£10.99
Z-TLR74008
Silicone Shock Oil, 35 Wt, 2 Oz
£10.99
Z-TLR74009
Silicone Shock Oil, 37.5wt, 2oz
£10.99
Z-TLR74010
Silicone Shock Oil, 40 Wt, 2 Oz
£10.99
Z-TLR74011
Silicone Shock Oil, 42.5wt, 2oz
£10.99
Z-TLR74012
Silicone Shock Oil, 45wt, 2oz
£10.99
Z-TLR74013
Silicone Shock Oil, 50wt, 2oz
£10.99
Z-TLR74031
Silicone Shock Oil 47.5wt 2oz
£10.99
Z-TLR75001
Silicone Diff Fluid, 40,000CS
£10.99
Z-TLR75005
Silicone Diff Fluid, 12,500CS
£10.99
Z-TLR75006
Silicone Diff Fluid, 4000CS
£10.99
Z-TLR75007
Silicone Diff Fluid 6000CS
£10.99
Z-TLR75008
Silicone Diff Fluid 200000CS
£10.99
Z-TLR76006
Tire Glue, 1oz, THIN
£10.99
Z-TLR76007
Tire Glue 1oz STANDARD
£10.99
Z-TLR77002
Shock O-ring Grease, 8cc
£7.99