SMAP:
Trade:
Barcode:
0605482691205
Features
TEN 4WD Platform
Spektrum™ 130A Brushless SMART ESC and 4-Pole 1900kv 550 Motor
Spektrum DX3™ 2.4GHz radio system with AVC® and optional telemetry
Waterproof Components
12mm race inspired threaded aluminium bodied shock absorbers and shock caps

Officially-licensed Lasernut Racing Scale Body & Cage
Officially-licensed BFGoodrich® Mud-Terrain T/A® KM3 Tyres
Officially-licensed Raceline 2.2 Wheels
Sway bars
Three Oil Filled Gear Differentials
Overview
The TEN 4WD platform is recognized all over the world as the personification of strength and durability. The Losi® Lasernut U4 1/10-scale 4WD Rock Racer (RR) RTR with Spektrum™ Smart builds on the TEN design and adds items rock racers demand such as aluminium shocks, sway bars and adjustable turnbuckles. Plus, it includes a full metric hardware package for worldwide compatibility. The Lasernut is currently the only complete Unlimited U4 FIS (Full Independent Suspension) racer on the market featuring all the technological advances drivers demand including the Spektrum Smart 130A Brushless ESC and Spektrum 4-Pole 1900kv 550 motor providing greater efficiency improving run times with increased power. Of course, the ESC is waterproof, completely programmable and comes pre-wired with a high-current IC5™ connector. Drivers stay in control with a DX3™ transmitter, a Spektrum AVC® receiver with steering priority, and an officially-licensed Lasernut race-inspired scale U4RC body/roll cage with two different graphics and color variations. Working together with BFGoodrich Tyres, the Lasernut U4 has scaled down KM3 tyres that have an aggressive tread pattern capable of handling any terrain. The Losi Lasernut Rock Racer is the ultimate U4 racer with scale looks, insane speeds and performance, and Spektrum Smart Technology.
Needed to Complete
3S or 4S Hardcase LiPo Battery with IC5/EC5 Connector
3S/4S Compatible LiPo Charger
Protective LiPo Storage/Charging Case
What's in the Box?
(1) Lasernut U4 4WD Brushless RTR Vehicle with:

(1) Spektrum™ Firma 130A Brushless SMART ESC (installed)
(1) Spektrum™ 4-Pole 1900kv 550 Motor (installed)
(1) Spektrum™ SR6100AT Receiver with AVC

(1) Spektrum DX3™ 2.4GHz Radio Transitter
(1) Product Manual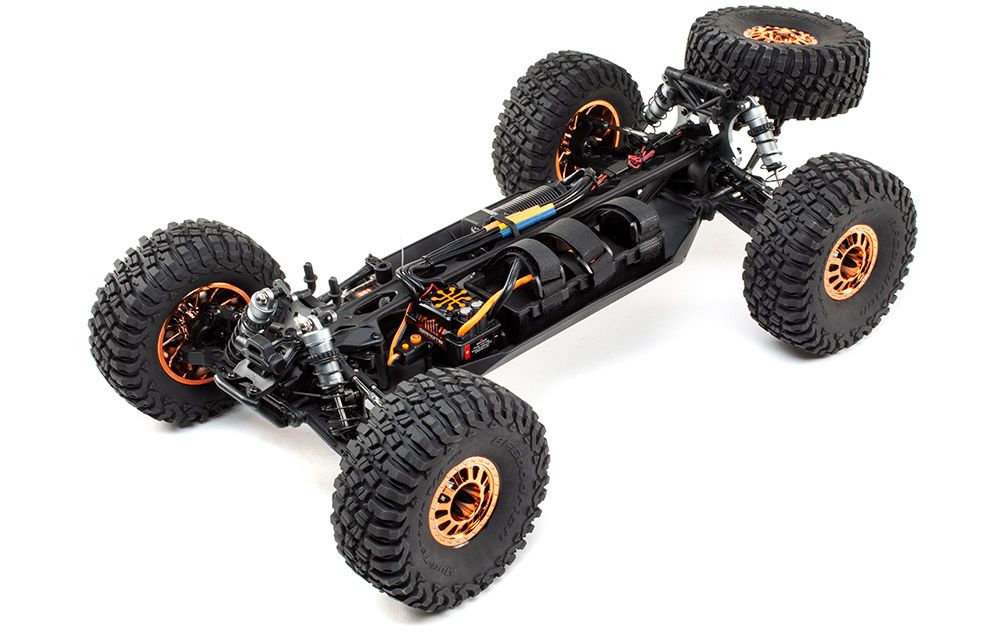 Legendary TEN Platform
The legendary, high-performance TEN platform features a super-tough aluminium chassis and the ability to adjust the Lasernut U4 independent suspension and drivetrain for any condition.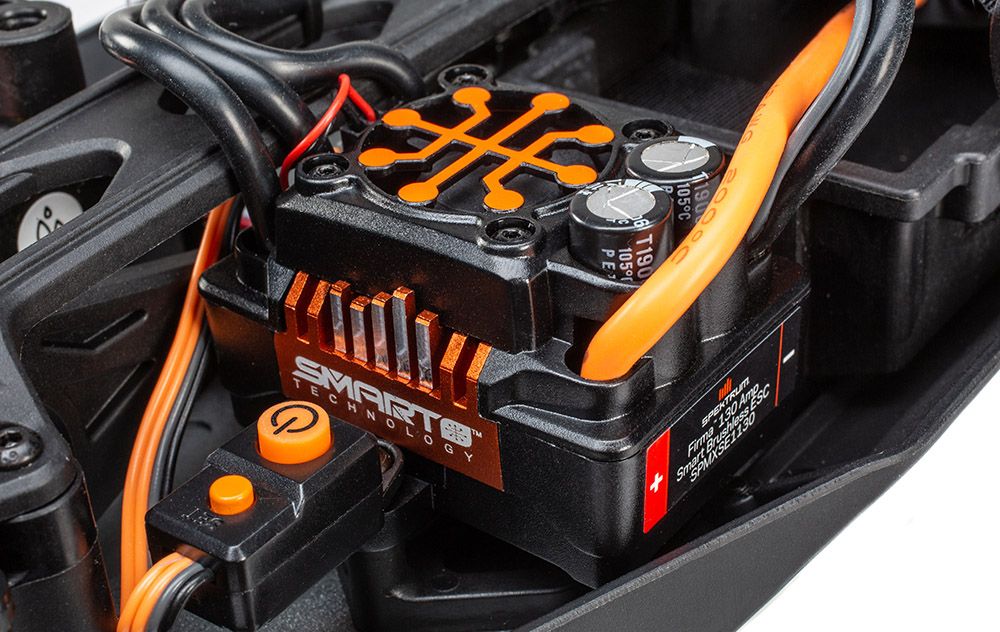 Spektrum SMART ESC
The ESC is waterproof, completely programmable and comes pre-wired with a high-current IC5 connector. The ESC will work with most sensorless brushless motors and is 3S-4S Li-Po compatible.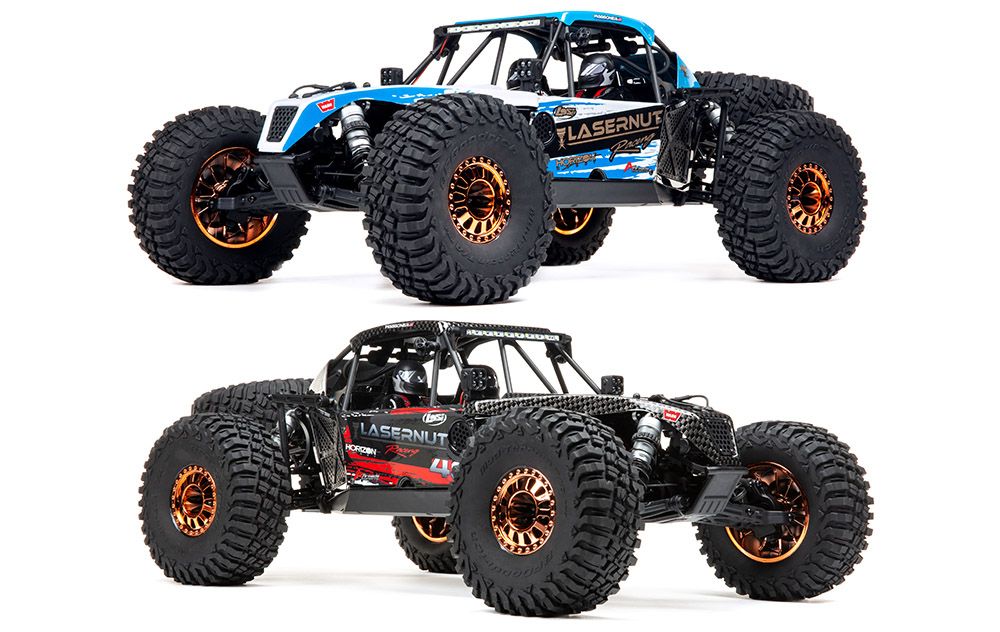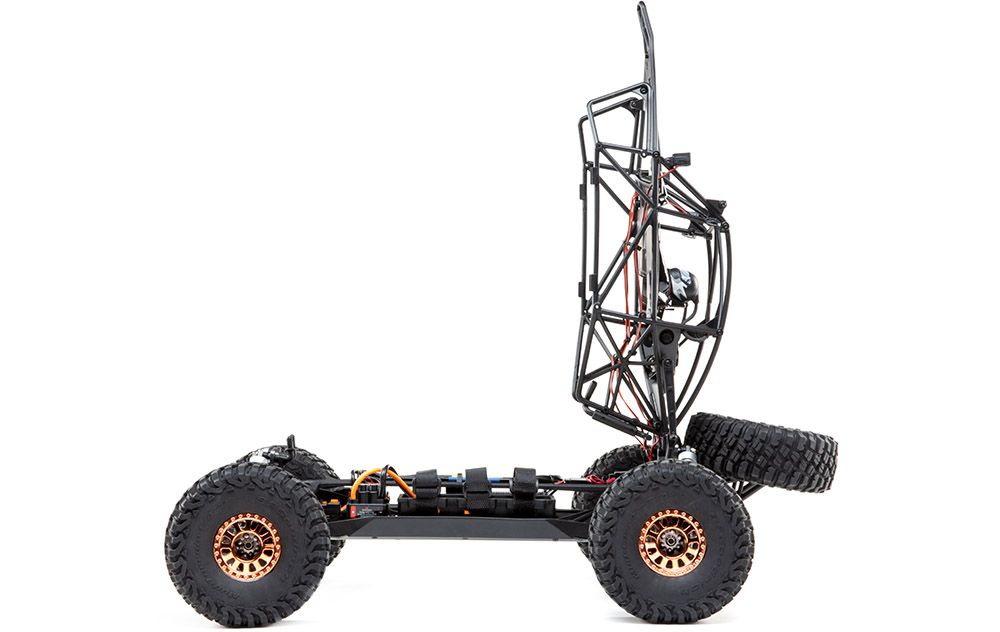 Officially Licensed Scale Body and Roll Cage
A Lasernut Licensed race inspired scale U4RC body/roll cage with exciting graphics offered in two different color variations with a flip up cage for easy access to the battery.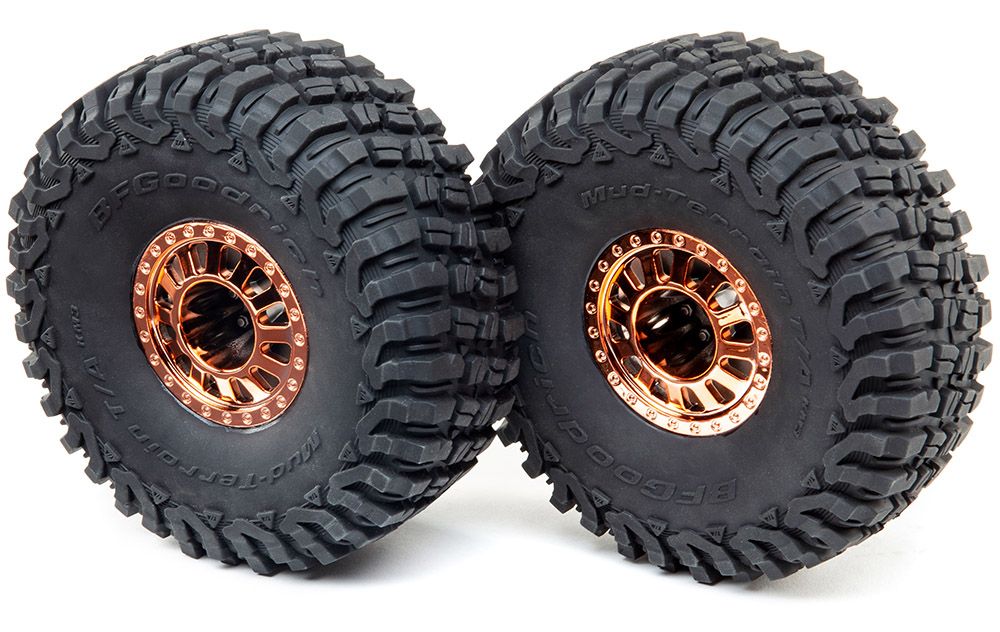 Officially Licensed Wheels and Tyres
The included scale licensed Raceline 2.2 racing wheels and BFGoodrich KM3 tyres feature an aggressive tread pattern that handles any terrain and good looks while out on any course.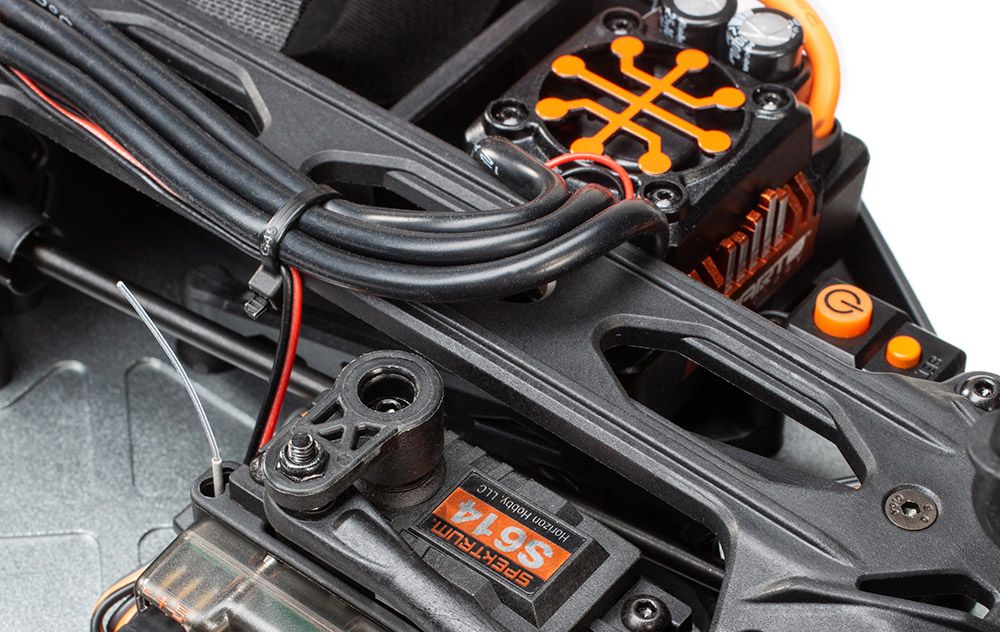 Waterproof Electronics
The Lasernut U4 is loaded with waterproof electronics including the receiver, servo and ESC. Everything is sealed against the elements allowing you to splash in the rain, spin in the mud and make tracks in the snow. It's full-throttle freedom to run anytime, rain or shine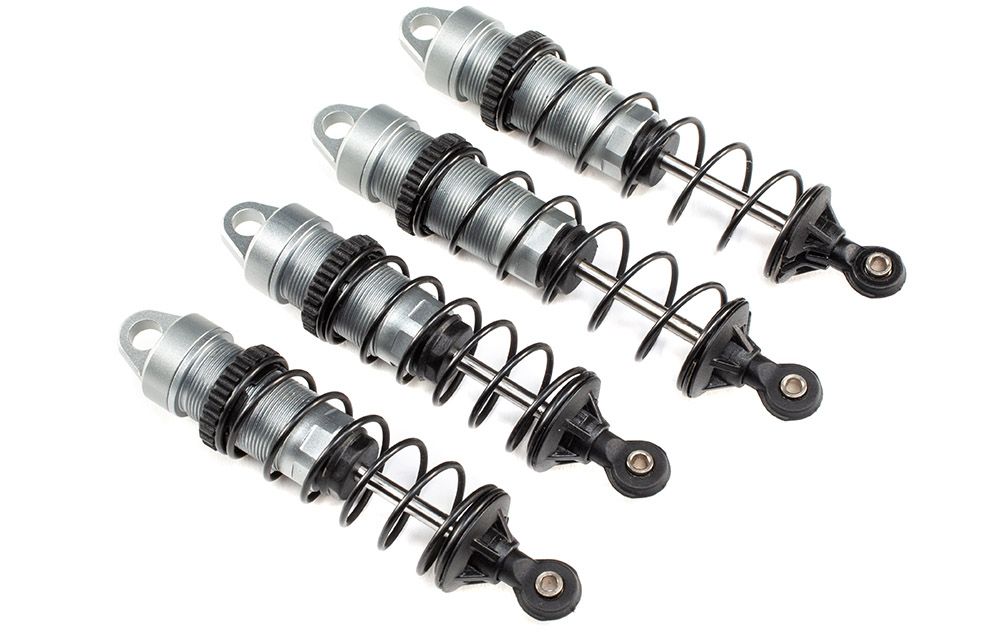 Coil-Over Oil Filled Shocks with Pre-Load Adjustment
Adjustable oil filled coil-over shocks on all four corners soak up the gnarliest terrain. The aluminium threaded 12mm shocks are fully-adjustable and allow you to tune the handling of the Lasernut U4 to maximize performance and dominate anywhere.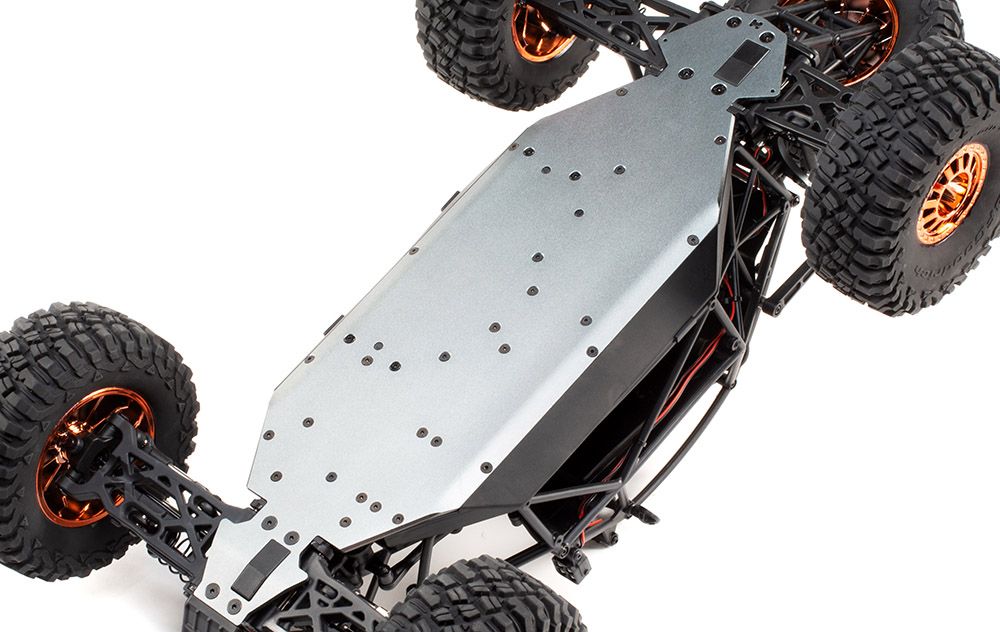 Aluminium Chassis
The foundation of the Lasernut U4 consists of a 3mm, anodised aluminium chassis plate with a 4mm upper deck. Whether you are hitting the rocks, getting huge air, or just wide open, the 3mm chassis just keeps asking for more!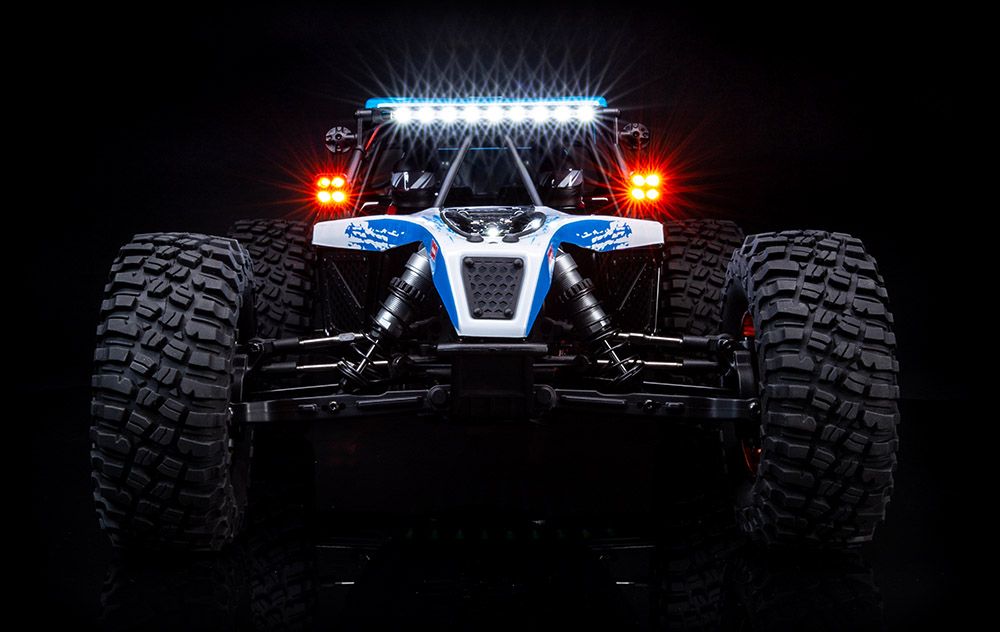 LED Light Bar and Pod Lights
The fun doesn't stop even when the sun goes down with the Lasernut U4. A brilliant LED lights on the integrated light bar cast more than enough illumination for running at night. The pod lights are amber.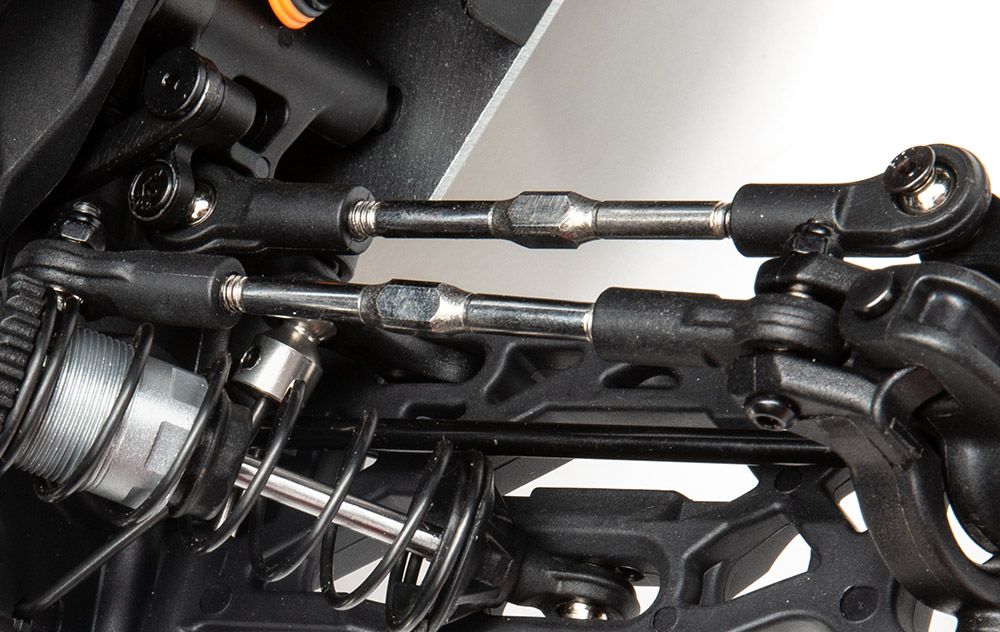 Adjustable Turnbuckles
For added adjustability and tune-ability, adjustable turnbuckles come standard on the Lasernut U4.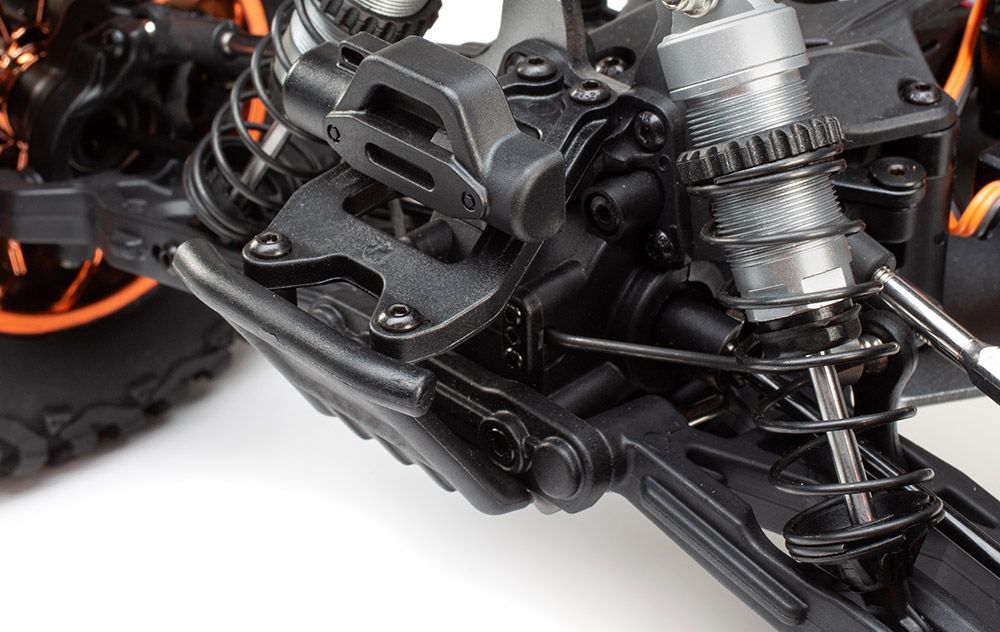 Adjustable Sway Bars
The included sway bars are fully adjustable and help you push the Lasernut U4 to its limits.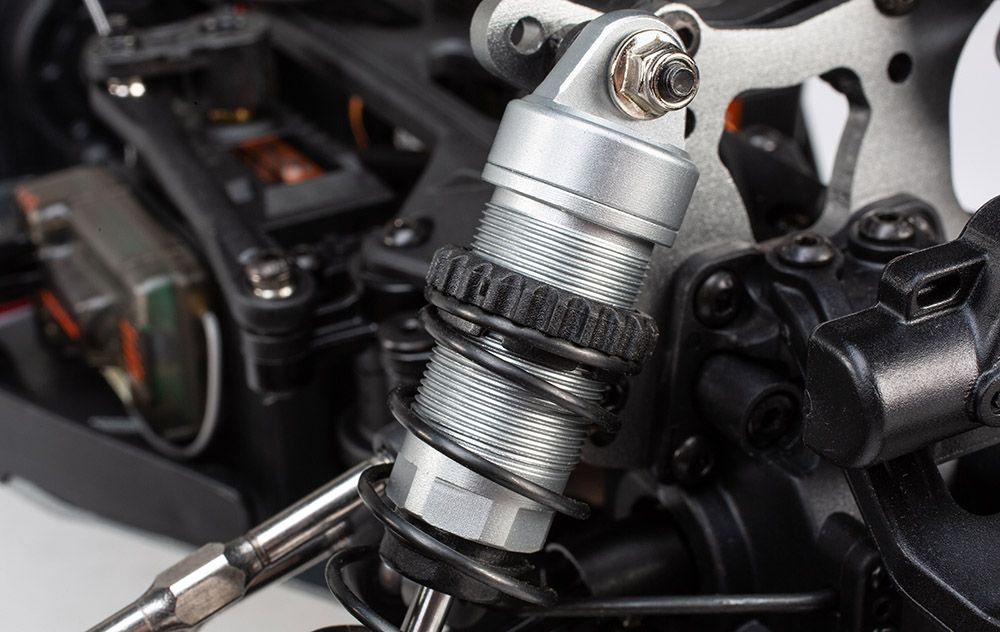 Adjustable Shock Towers
4mm 6061-T6 Aluminium shock towers are built tough to withstand the punishment the font end of the Lasernut U4 will receive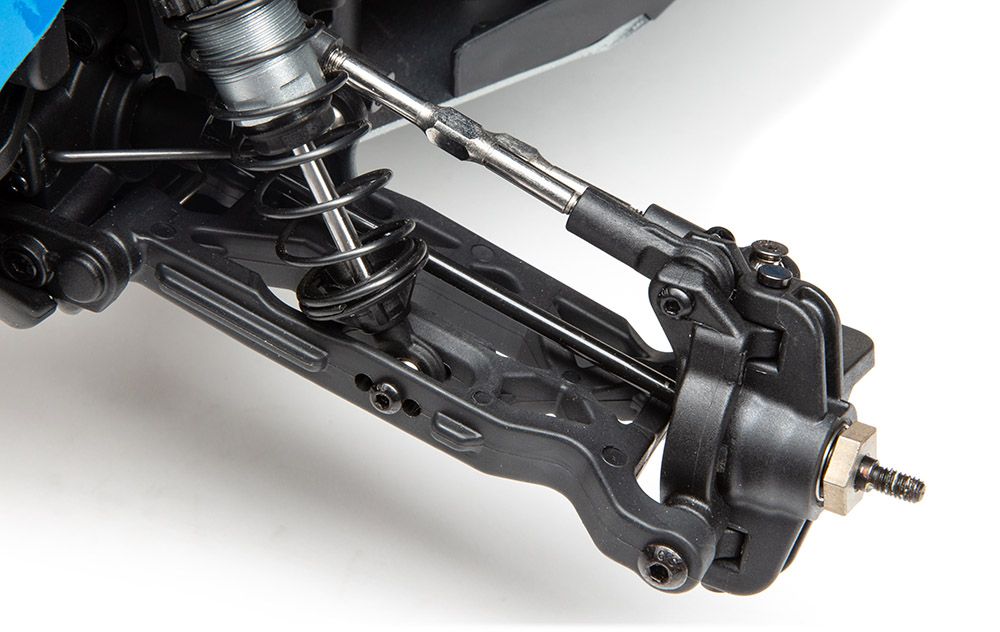 Independent Front and Rear Suspension
The front and rear suspension provide amazing handling with a consistent feel and the ability to soak up bumps. It all adds up to a buggy that's dialed in for maximize performance right out of the box.
4x4 Driveline with Adjustable Differentials
Full-time four-wheel drive provides increased traction and handling. The front, center (aluminium) and rear differentials can also be tuned for various conditions.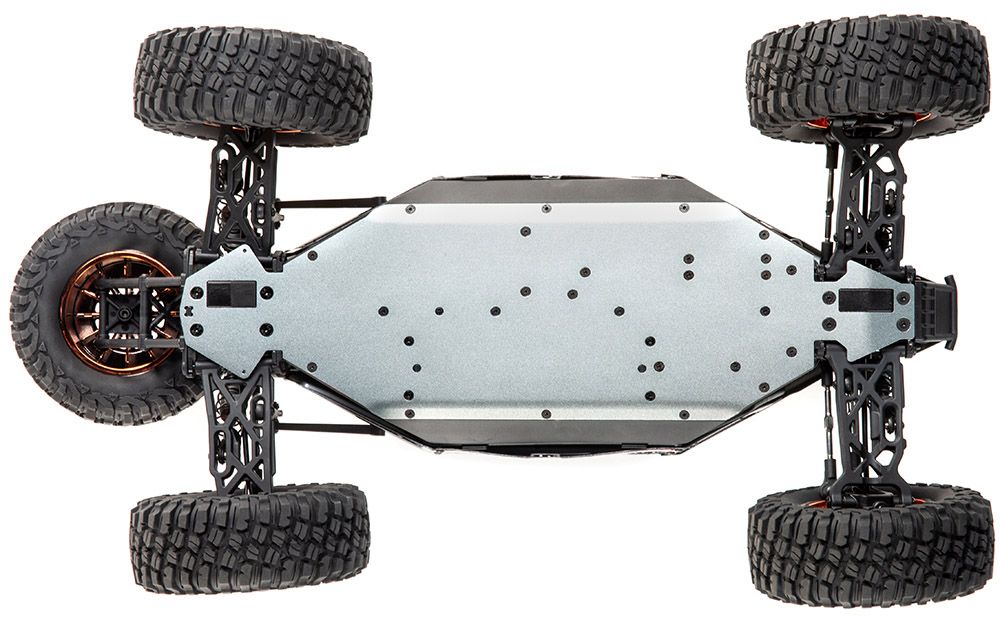 Metric Hardware
Complete metric hardware is featured throughout the Lasernut U4, including bearings, screws and nuts.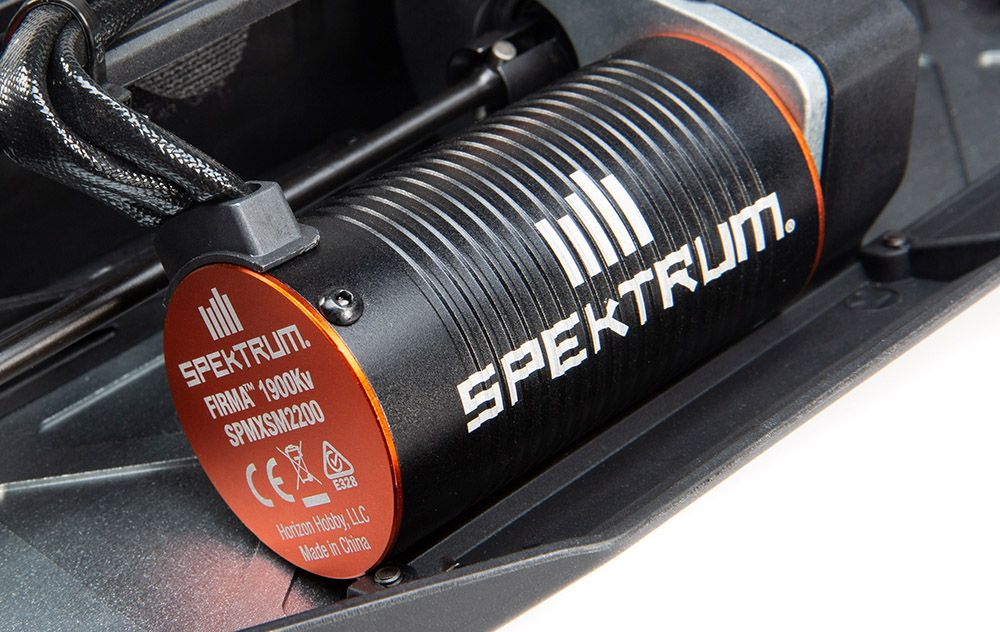 50+ MPH Firma Motor
The brushless Spektrum Firma 4-Pole 1900kv 550 Motor will provide excellent power (50+ MPH) with a 4 cell Lipo (not included).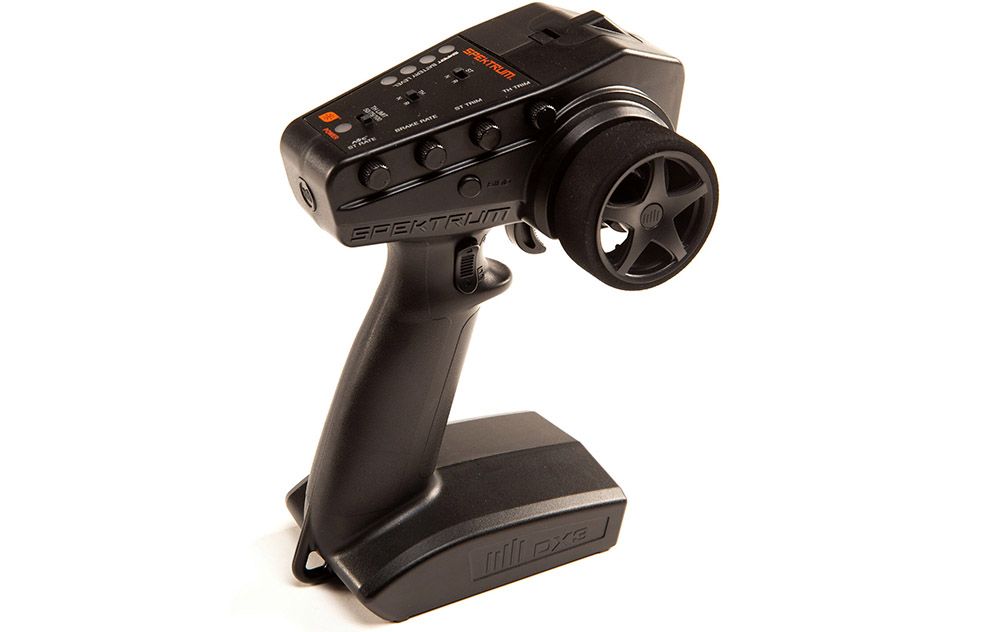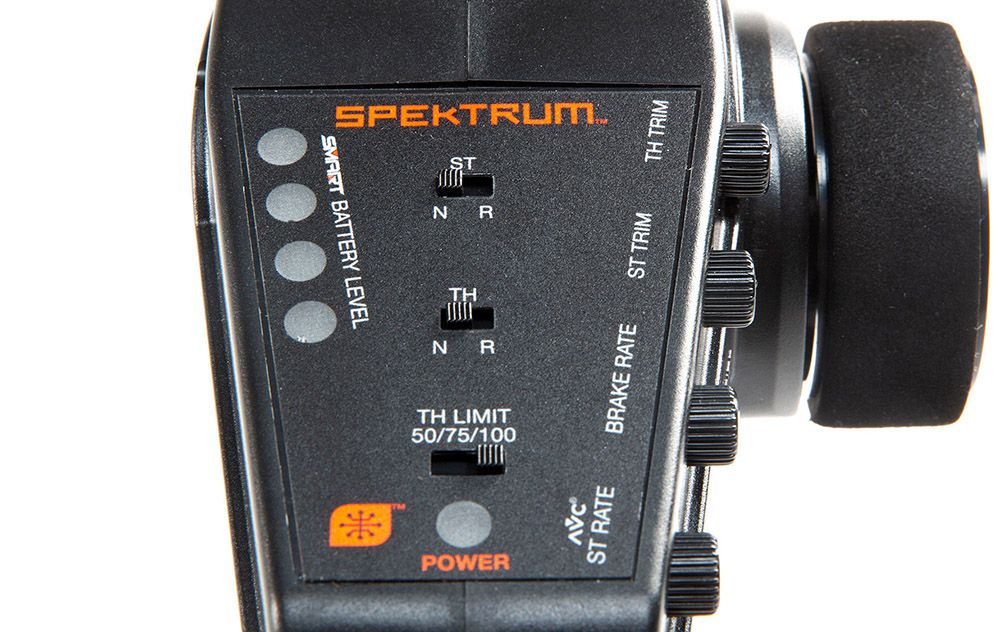 Spektrum™ DX3™ Radio System
The Spektrum™ DX3™ radio system offers advanced features like AVC control, a 3-position throttle limiting switch and travel adjust.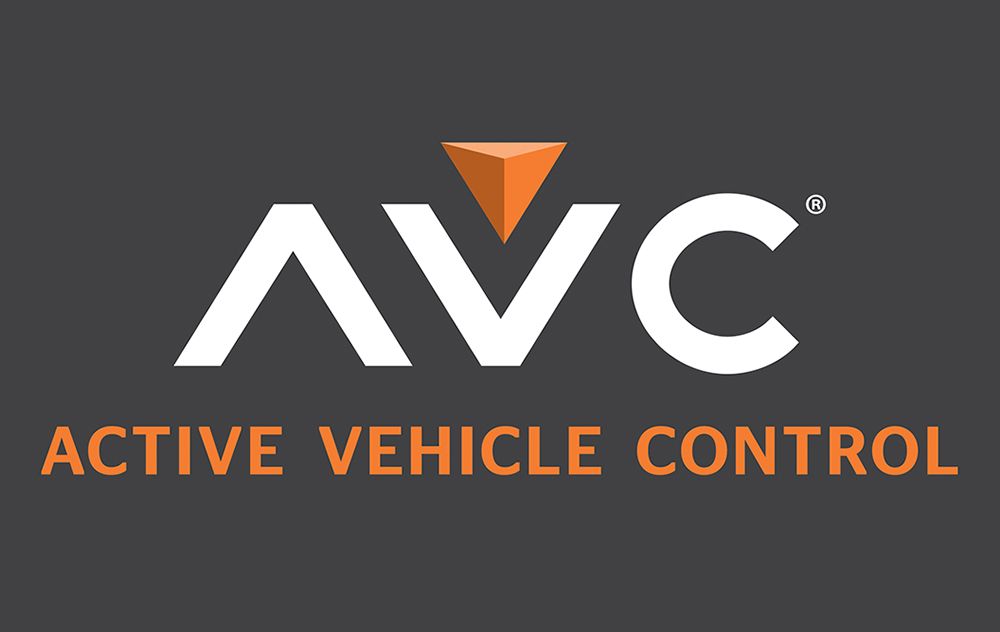 The Full-Throttle Freedom of AVC® Technology
The receiver's built-in AVC® (Active Vehicle Control®) traction control system works behind the scenes, making hundreds of throttle and steering adjustments per second, so more of the motor's power is translated into ballistic speed and acceleration instead of just flying dirt. The patent-pending AVC system adds a level of performance that simply cannot be found with any vehicle from any manufacturer other than Horizon Hobby. Like traction control in your full-scale vehicle, you can activate or deactivate the system on the fly and adjust the level of stability based on driving conditions. Any RC vehicle can go fast and with AVC you can go faster while maintaining optimum stability in all driving conditions.
| Spec | Data |
| --- | --- |
| Scale | 1/10 |
| Battery type | Sold Separately |
| Motor type | Spektrum Firma Brushless |
Video Gallery
Support
Exploded Views
Click here to view available exploded views.
---
Related Items
3S Smart Completion Guide
4S Smart Completion Guide
Optional Parts
Replacement Parts
3S Smart Completion Guide
4S Smart Completion Guide
Optional Parts
Image
Item Id
Name
Trade
SSP
Order
Now
G-PRO10134-00
1/10 BFG KO2 M2 Front/Rear 2.2"/3.0" Short Course Tires (2)
£29.99
G-PRO10191-03
1/10 Trencher Predator Front/Rear 2.2" Rock Crawling Tires (
£39.99
G-PRO10191-14
1/10 Trencher G8 Front/Rear 2.2" Rock Crawling Tires (2)
£39.99
G-PRO10195-03
1/10 Hyrax U4 Predator Front/Rear 2.2"/3.0" Rock Racing Tire
£39.99
G-PRO2745-03
1/10 ProTrac F-11 Front/Rear 2.2"/3.0" 12mm SC Wheels (2) Re
£29.99
G-PRO6352-00
2" Ultra-Slim LED Light Bar Kit 5V-12V (Straight)
£27.50
G-PRO6352-01
4" Ultra-Slim LED Light Bar Kit 5V-12V (Straight)
£32.50
G-PRO6352-02
5" Ultra-Slim LED Light Bar Kit 5V-12V (Curved)
£37.50
G-PRO6352-03
6" Ultra-Slim LED Light Bar Kit 5V-12V (Curved)
£39.99
M-SPMXSM1000
Firma 3150Kv Brushless Motor
£74.99
M-SPMXSM1300
FIRMA 3300KV BRUSHLESS MOTOR
£54.99
M-SPMXSM1400
FIRMA 4000KV BRUSHLESS MOTOR
£54.99
M-SPMXSM2800
Firma 6500Kv Brushless Motor
£42.50
M-SPMXSM2900
Firma 3800Kv 4-Pole BL Motor
£74.99
M-SPMXSM3300
Firma 3900Kv 4-pole Brushless Motor
£119.99
O-DYN1405
LiPo Charge Protection Bag, Large
£19.99
O-DYNB5045H5
14.8V 5000mAh 4S 50C LiPo, Hardcase: EC5
£109.99
O-SPMX40002S50H3
4000mAh 2S 7.4V Smart LiPo Battery 50C; IC3
£54.99
O-SPMX50002S100H3
5000mAh 2S 7.4V 100C Smart LiPo Hardcase; IC3
£79.99
O-SPMX50002S100H5
5000mAh 2S 7.4V 100C Smart LiPo Hardcase; IC5
£74.99
O-SPMX50002S30H3
5000mah 2S 7.4V 30C; HC, IC3
£54.99
O-SPMX50002S30H5
5000mah 2S 7.4V Smart LiPo 30C; Hardcase, IC5
£54.99
O-SPMX50002S50H3
5000mAh 2S 7.4V 50C Smart LiPo Hardcase; IC3
£64.99
O-SPMX50002S50H5
5000mAh 2S 7.4V 50C Smart LiPo Hardcase; IC5
£64.99
O-SPMX50003S100H3
5000mAh 3S 11.1V 100C Smart LiPo Hardcase; IC3
£99.99
O-SPMX50003S100H5
5000mAh 3S 11.1V 100C Smart LiPo Hardcase; IC5
£94.99
O-SPMX50003S30H3
5000mah 3S 11.1V 30C; HC, IC3
£74.99
O-SPMX50003S30H5
5000mah 3S 11.1V Smart LiPo 30C; Hardcase, IC5
£74.99
O-SPMX50003S50H3
5000mAh 3S 11.1V 50C Smart LiPo Hardcase; IC3
£89.99
O-SPMX50003S50H5
5000mAh 3S 11.1V 50C Smart LiPo Hardcase; IC5
£84.99
O-SPMX50004S50H5
5000mAh 4S 14.8V 50C Smart LiPo Hardcase; IC5
£104.99
O-SPMX52S100H3
7.4V 5000mAh 2S 100C Smart G2 Hardcase LiPo Battery: IC3
£79.99
O-SPMX52S100H5
7.4V 5000mAh 2S 100C Smart G2 Hardcase LiPo Battery: IC5
£79.99
O-SPMX52S30H3
5000mAh 2S 7.4V SMART G2 30C IC3
£54.99
O-SPMX52S30H5
5000mAh 2S 7.4V SMART G2 30C IC5
£54.99
O-SPMX52S50H3
5000mAh 2S 7.4V SMART G2 50C IC3
£64.99
O-SPMX52S50H5
5000mAh 2S 7.4V SMART G2 50C IC5
£64.99
O-SPMX53S100
11.1V 5000mAh 3S 100C Smart G2 LiPo Battery: IC5
£99.99
O-SPMX53S100H3
11.1V 5000mAh 3S 100C Smart G2 Hardcase LiPo Battery: IC3
£99.99
O-SPMX53S100H5
11.1V 5000mAh 3S 100C Smart G2 Hardcase LiPo Battery: IC5
£99.99
O-SPMX53S30
11.1V 5000mAh 3S 30C Smart LiPo G2: IC5
£74.99
O-SPMX53S30H3
5000mAh 3S 11.1V SMART G2 30C IC3
£74.99
O-SPMX53S30H5
5000mAh 3S 11.1V SMART G2 30C IC5
£74.99
O-SPMX53S50H3
5000mAh 3S 11.1V SMART G2 50C IC3
£84.99
O-SPMX53S50H5
5000mAh 3S 11.1V SMART G2 50C IC5
£84.99
O-SPMX54S100H5
14.8V 5000mAh 4S 100C Smart G2 Hardcase LiPo Battery: IC5
£119.99
O-SPMX54S30H5
5000mAh 4S 14.8V SMART G2 30C IC5
£94.99
O-SPMX54S50H5
5000mAh 4S 14.8V SMART G2 50C IC5
£109.99
O-SPMXC1020
Spektrum S120 USB-C Smart Charger, 1x20W
£22.50
O-SPMXC1050
S1500 DC Smart Charger 1 x 500W
£144.99
O-SPMXC2000I
S2100 G2 2x100W AC Smart Charger (EU Cord)
£209.99
O-SPMXC2010I
S2200 Smart G2 AC Charger 2x200W
£269.99
O-SPMXC2020I
S1200 Smart G2 AC Charger, 1x200W EU
£154.99
O-SPMXC2040I
S1400 Smart G2 AC Charger 1x400W
£219.99
O-SPMXC2050I
S155 G2 1x55W AC Smart Charger, International
£74.99
O-SPMXC2080I
S1100 G2 1x100W AC Smart Charger
£124.99
O-SPMXC2090
S100 1x100W USB-C Smart Charger
£42.50
O-SPMXCA300
Smart Lipo Bag, 16 x7.5 x 6.5 cm
£22.50
O-SPMXCA501
IC5 Battery Connector (2)
£12.99
O-SPMXCA502
IC5 Device and Battery Connector (1 of each)
£12.99
O-SPMXCA503
IC5 Device Connector (2)
£13.99
O-SPMXCA507
IC5 Device Connector to IC3 Battery Conn 4" / 100mm; 10 AWG
£11.99
O-SPMXPS4I
Spektrum Smart PowerStage Bundle 2 x 2S 5000mAh IC5
£289.99
O-SPMXPSS300I
Smart Powerstage Surface Bundle: 5000mAh 3S LiPo Batt/S155EU
£169.99
P-SPMR5025
DX5 Pro 2021 DSMR TX Only
£379.99
P-SPMR5200GEU
DX5 Rugged 5ch DSMR Tx Only. Green
£269.99
P-SPMS614S
S614S 15kg Steel Gear WP Servo 23T
£39.99
P-SPMSLT300
SLT3 3-Ch Radio System w/SR315 Dual Protocol (SLT/DSMR) Rx
£89.99
P-SPMSLT350
SLT3 3CH 2.4Ghz with SLR300 RX
£69.99
P-SPMSR215
SR215 DSMR 2 Ch Sport Rec
£39.99
P-SPMSR315
SR315 DSMR 3 Ch Sport Rec
£59.99
P-SPMSR515
SR515 DSMR 5 Ch Sport Rec
£69.99
P-SPMSR6110AT
SR6110AT 6ch AVC/Tele Surf RX
£109.99
P-SPMSR6200A
6200A 6CH AVC Surface RX
£79.99
P-SPMSS6170
S6170 Mid Torq Mid Speed Digital WP Servo-Plastic Gear
£39.99
P-SPMSS6230
S6230 Ultra Torq Mid Speed Digital WP Servo-Metal Gear
£99.99
P-SPMSS6240
S6240 High Torq High Speed Digital WP Servo-Metal Gear
£99.99
P-SPMSS6245
S6245 High Speed/Torque Servo
£149.99
P-SPMSS6250
S6250 Ultra Torque High Speed Digi WP Servo-Metal Gear
£129.99
P-SPMSS6260
S6260 High Torque High Speed Digi HV Servo-Metal Gear
£129.99
P-SPMXSE1150
Firma 150 Amp Brushless Smart ESC 3-6S
£189.99
P-SPMXSEF2
Firma Smart 150A ESC Replacement Cooling Fan
£12.99
T-DYN2814
Hex Driver: 1.5mm
£5.99
T-DYN2815
Hex Driver: 2mm
£5.99
T-DYN2816
Hex Driver: 2.5mm
£5.99
T-DYN2834
Startup Tool Set: Metric
£32.50
T-DYN2900
Machined Hex Driver, Red: 1.5mm
£10.99
T-DYN2901
Machined Hex Driver, Red: 2.0mm
£10.99
T-DYN2902
Machined Hex Driver, Red: 2.5mm
£10.99
T-DYN2904
Machined Hex Driver Metric Set, Red
£27.50
T-DYNT2030
Machined Hex Driver Set (4) Met
£29.99
Y-SPM9070
DX3 Cell Phone Mount
£24.99
Z-LOS331012
Machined Aluminum Motor Mount: Tenacity
£19.99
Z-LOS334011
Aluminum Rear Hubs (2): Tenacity
£49.99
Z-LOS334012
Aluminum Front Spindle (2): Tenacity
£39.99
Z-LOS334013
Aluminum Spindle Carrier (2): Tenacity
£39.99
Z-LOS43011
Desert Claws Tires with Foam, Soft (2) BAJA REY
£32.50
Z-LOS70000
LOSI Foam Pit Mat, 24"x 68"
£32.50
Z-LOSA3573
1.0 Module Pitch Pinion, 13T: 8E,SCTE
£10.99
Z-LOSA3576
1.0 Module Pitch Pinion,16T: 8E,SCTE
£10.99
Z-LOSA3578
1.0 Module Pitch Pinion, 18T: 8E,SCTE
£10.99
Z-LOSA99172
Camber Gauge
£19.99
Z-LOSA99173
Ride Height Gauge
£19.99
Z-LOSA99174
Car Stand: 8IGHT/T
£19.99
Z-LOSB3493
Aluminum Clamping Wheel Hex (2): TEN-SCTE
£19.99
Z-TLR336000
4mm Aluminum Serrated Lock Nuts, Black (6)
£10.99
Z-TLR336001
4mm Aluminum Serrated Lock Nuts, Blue (6)
£15.99
Z-TLR5062
Bleeder Shock Caps, Aluminum (2): TEN
£32.50
Z-TLR74006
Silicone Shock Oil, 30wt, 2oz
£10.99
Z-TLR74010
Silicone Shock Oil, 40 Wt, 2 Oz
£10.99
Replacement Parts
Image
Item Id
Name
Trade
SSP
Order
Now
M-SPMXSM2200
Firma 1900Kv 550 Brushless Motor
£84.99
P-SPM2340
DX3 3Ch DSMR Radio w/SR315
£109.99
P-SPMSR6100AT
SR6100AT 6 Channel AVC/Telemetry Surface Receiver
£109.99
P-SPMXSE1130
Firma 130A Brushless Smart ESC, 2S-4S
£164.99
Z-LOS230072
Body Clip Leash(4)
£6.99
Z-LOS230075
Body Set, Blue, Painted: Ultra 4
£89.99
Z-LOS230076
Body Set, Red, Painted: Ultra 4
£89.99
Z-LOS230077
Body Set, Clear: Ultra 4
£89.99
Z-LOS230078
Cage Set: Ultra 4
£24.99
Z-LOS230079
LED, Cage Parts: Ultra 4
£32.50
Z-LOS230080
Spare Tire Rack: Ultra 4
£11.99
Z-LOS231026
Steering Bellcranck Set: TENACITY ALL
£10.99
Z-LOS231027
Steering Posts/Tubes & Hardware: TENACITY ALL
£19.99
Z-LOS231030
Chassis Support Set: TENACTY SCT,T
£10.99
Z-LOS231031
Motor Mount: TENACITY ALL
£19.99
Z-LOS231033
Steering Drag Link & Hardware: TENACITY ALL
£11.99
Z-LOS231057
Rod Ends & Links: Tenacity Pro
£32.50
Z-LOS231062
Aluminum Chassis: Ultra 4
£64.99
Z-LOS231063
Side Guards: Ultra 4
£10.99
Z-LOS231064
Top Deck, Battery Mount: Ultra 4
£24.99
Z-LOS231065
Grid Set: Ultra 4
£10.99
Z-LOS232023
Diff Case Set: TENACITY ALL
£19.99
Z-LOS232024
Center Drive Coupler: TENACITY ALL
£19.99
Z-LOS232025
40T Spur Gear, Mod 1: TENACITY ALL
£11.99
Z-LOS232026
Diff Housing, Integrated Insert: TENACITY ALL
£10.99
Z-LOS232027
Front Ring & Pinion Gear Set:TENACITY ALL
£39.99
Z-LOS232028
Rear Ring & Pinion Gear Set: TENACITY ALL
£39.99
Z-LOS232029
Diff Gear Set w/Hardware: TENACITY ALL
£10.99
Z-LOS232030
Outdrive, Diff (2): TENACITY ALL
£10.99
Z-LOS232031
Wheel Hex Set (4): TENACITY ALL
£11.99
Z-LOS232032
Fr/R Driveshafts (2): TENACITY ALL
£39.99
Z-LOS232033
FR Center Dogbone (2): TENACITY SCT,T
£11.99
Z-LOS232054
Center Dogbone Set: Ultra 4
£10.99
Z-LOS232055
Aluminum Diff Case: Tenacity
£39.99
Z-LOS233011
Shock Plastics Set: TENACITY ALL
£19.99
Z-LOS233013
Spring Set: TENACITY ALL
£10.99
Z-LOS233014
Rear Shock Shaft (2): TENACITY ALL
£10.99
Z-LOS233015
Front Shock Shaft (2): TENACITY ALL
£10.99
Z-LOS233025
Adjuster Nut: Tenacity Pro
£7.99
Z-LOS233026
Aluminum Shock Caps: Tenacity Pro
£10.99
Z-LOS233027
Aluminum Front Shock Bodies: Tenacity Pro
£19.99
Z-LOS233028
Aluminum Rear Shock Bodies: Tenacity Pro
£19.99
Z-LOS234016
Front Arm Set: TENACITY ALL
£19.99
Z-LOS234017
Rear Arm Set: TENACITY ALL
£19.99
Z-LOS234018
Front Spindle & Carrier Set: TENACITY ALL
£19.99
Z-LOS234019
Front/Rear Pin Mount Cover Set: TENACITY ALL
£11.99
Z-LOS234020
Rear Hubs Set: TENACITY ALL
£10.99
Z-LOS234021
Hingepin & Kingpin Set: TENACITY ALL
£19.99
Z-LOS234023
Pivot Pin Mount Set, Steel (4): TENACITY ALL
£10.99
Z-LOS234035
Aluminum Front Shock Tower: Tenacity Pro
£11.99
Z-LOS234036
Aluminum Rear Shock Tower: Tenacity Pro
£11.99
Z-LOS234037
Sway Bar Set: Tenacity Pro
£10.99
Z-LOS234038
Rear Sway Bar Set: Ultra 4
£32.50
Z-LOS234042
Spring Set: Ultra 4
£11.99
Z-LOS235011
Set Screws, M3 x 3mm Cup Point(10)
£7.99
Z-LOS235012
Set Screw, M4 x 4mm Cup Point(10)
£7.99
Z-LOS235024
Button Head Screws M3x25mm (10)
£11.99
Z-LOS235025
Button Head Screws M3x30mm (10)
£11.99
Z-LOS235026
Set Screws, M3 x 4mm Cup Point(10)
£10.99
Z-LOS235027
Set Screws, M3 x 10mm Cup Point(10)
£10.99
Z-LOS236000
E-Clips 2.5mm (12)
£9.99
Z-LOS237000
12x18x4mm Ball Bearing (4)
£19.99
Z-LOS237001
10x15x4mm Ball Bearing (4)
£19.99
Z-LOS237002
5x11x4mm Ball Bearing (4)
£19.99
Z-LOS43028
Wheel w/BFG Tire, Copper: Ultra 4
£64.99
Z-LOSA3572
1.0 Module Pitch Pinion, 12T: 8E,SCTE
£10.99
Z-LOSA3574
1.0 Module Pitch Pinion, 14T: 8E,SCTE
£10.99
Z-LOSA6940
6x12mm Sealed Ball Bearing (4)
£10.99
Z-SPMS614
S614 Metal Gear Servo 23T WP
£37.50
Z-TLR235007
Flat Head Screws, M2.5 x 10mm (10)
£7.99
Z-TLR255008
Button Head Screws, M4x16mm (10)
£7.99
Z-TLR256005
Nylock Nut, M4 (10)
£7.99
Z-TLR336005
M3 Flanged Aluminum Lock Nuts, Black (10)
£10.99
Z-TLR5901
Button Head Screws, M3 x 6mm (10)
£7.99
Z-TLR5902
Button Head Screws, M3 x 8mm (10)
£7.99
Z-TLR5903
Button Head Screws, M3 x 10mm (10)
£7.99
Z-TLR5904
Button Head Screws, M3 x 12mm (10)
£6.99
Z-TLR5905
Button Head Screws, M3 x 18mm (10)
£7.99
Z-TLR5908
Button Head Screws, M3 x 44mm (4)
£7.99
Z-TLR5909
Button Head Screws, M3 x 16mm (10)
£7.99
Z-TLR5910
Button Head Screws, M3 x 14mm (10)
£7.99
Z-TLR5911
Button Head Screws, M3 x 20mm (10)
£7.99
Z-TLR5932
Cap Head Screws, M3 x 10mm (10)
£7.99
Z-TLR5933
Cap Head Screws, M3 x 12mm (10)
£7.99
Z-TLR5963
Flathead Screw, M3 x 12mm (10)
£7.99
Z-TLR5964
Flathead Screw, M3 x 16mm (10)
£7.99
Z-TLR5965
Flathead Screw, M3 x 20mm (10)
£7.99
Z-TLR6313
Locknut, M3 x .5 x 5.5mm (10)
£7.99
Z-TLR6352
Washers, M3 (10)
£7.99
Z-TLR74008
Silicone Shock Oil, 35 Wt, 2 Oz
£10.99
Z-TLR8202
Body Clips, Black (12): 22
£6.99