SMAP:
Trade:
Barcode:
0605482826638

A must-have for any RC pilot, the Ultra StickT sport plane is widely popular for its unmatched versatility and simplicity. The design makes it possible to choose from wide range of power systems, from electric to internal combustion, without compromising its rock solid handling or ability to perform a wide variety of tasks. The Hangar 9⌐ Ultra Stick 10cc sport plane is simply a joy to fly. Like its big 30cc cousin, this compact version takes full advantage of any power system in its class and allows you to fly from one extreme to the other-fly crazy 3D flight one minute then hand the transmitter over to your buddy in the same flight who wants touch-n-go practice. Nothing compares with an Ultra Stick.
The Hangar 9⌐ Ultra StickT 10cc ARF makes it possible to fly sport, high-speed, aerobatic precision and 3D, all in the same flight. The proven design delivers a robust platform that uniquely combines simplicity and versatility with modern updates that include top-shelf materials, quality craftsmanship and superior engineering. At the bench, final assembly is the pleasure you deserve. A special firewall template helps you mount any of the recommended power systems with precision whether it's gas, glow, two-stroke, four-stroke or electric. All the hardware you need is included so nothing can keep you from getting the build done. Large, double-bevel hinged control surfaces allow the Ultra Stick to explore a wide range of maneuvers while the fully-symmetrical wing offers excellent penetration in wind and a stable platform across a wide speed range. Quad-surface wing controls change the game by making blinding roll and loop rates possible. Landings are so predictable you'll rush to get up into the air again. Plus, you can do it all over water too by simply bolting on the optional lightweight float set. The Hangar 9 Ultra Stick 10cc delivers sport flight versatility so easy, it's undeniably fun.
Video Overview
Needed to Complete
(1) 10cc two- or four-stroke gas/petrol engine or equivalent electric motor system
(1) Full-range, 6+ channel transmitter and receiver
(7) Standard-size servos (6 for the electric power option)
(2) Batteries for receiver and engine ignition (for the gas power option)
(1) Propeller
What's in the box?
(1) Hangar-9 Ultra Stick 10cc ARF
(1) User Manual
Lightweight Construction
Laser-cut, lightweight balsa and plywood construction that's expertly built to exacting standards gives the simple Ultra Stick design exceptional durability. Genuine Hangar 9⌐ UltraCote⌐ covering, factory applied with precision, provides an easy-to-maintain finish that's vivid no matter how you look at it.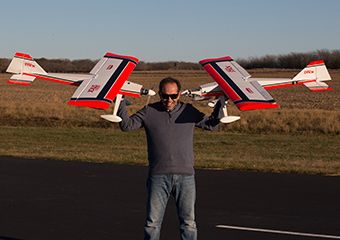 Wide Flight Envelope
Its low wing load and practical design combine with large control surface areas that can be setup with long surface deflections making the Ultra Stick an ideal airplane for growing your pilot skills. Operational flaps allow its versatile flight envelope to open even wider, plus you can create radio program mixes and maneuvering capability impossible to do with standard sport models.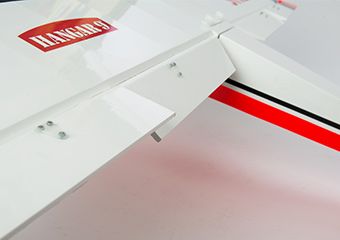 Ready for Floats
The optional Carbon-Z⌐ float set and wire mounting strut set exactly fit into the factory installed hard points located in the belly of the Ultra Stick 10cc. Once assembled, conversion from wheels to floats takes only minutes to complete.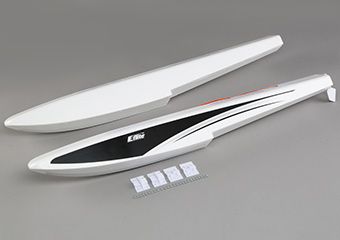 Dressed to Impress
You might not think to put wheel pants on a sport airplane, but the Ultra Stick simply deserves it. Big wheels handle just about any flying field condition, plus there's nothing like having an airplane that does it all and looks great while doing so.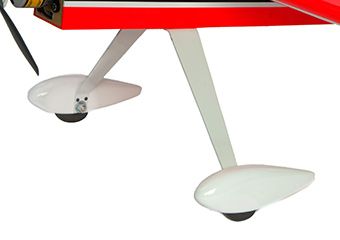 Power It the Way You Want It
The Ultra Stick 10cc is designed to accept the Evolution⌐ 10GX, 10cc gas engine, an 11cc four-stroke or brushless electric power plant equivalents. Hardware for either of those options is included along with an electric motor mount so you can get in the air faster.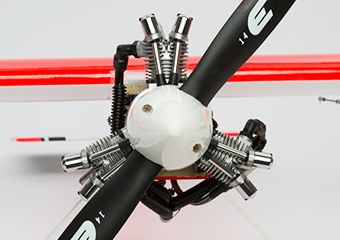 ---
Related Items
2 Stroke Glow Completion Guide
Brushless Completion Guide
Optional Floats
Optional Parts
Pit/Field Tools
Replacement Parts
2 Stroke Glow Completion Guide
Brushless Completion Guide