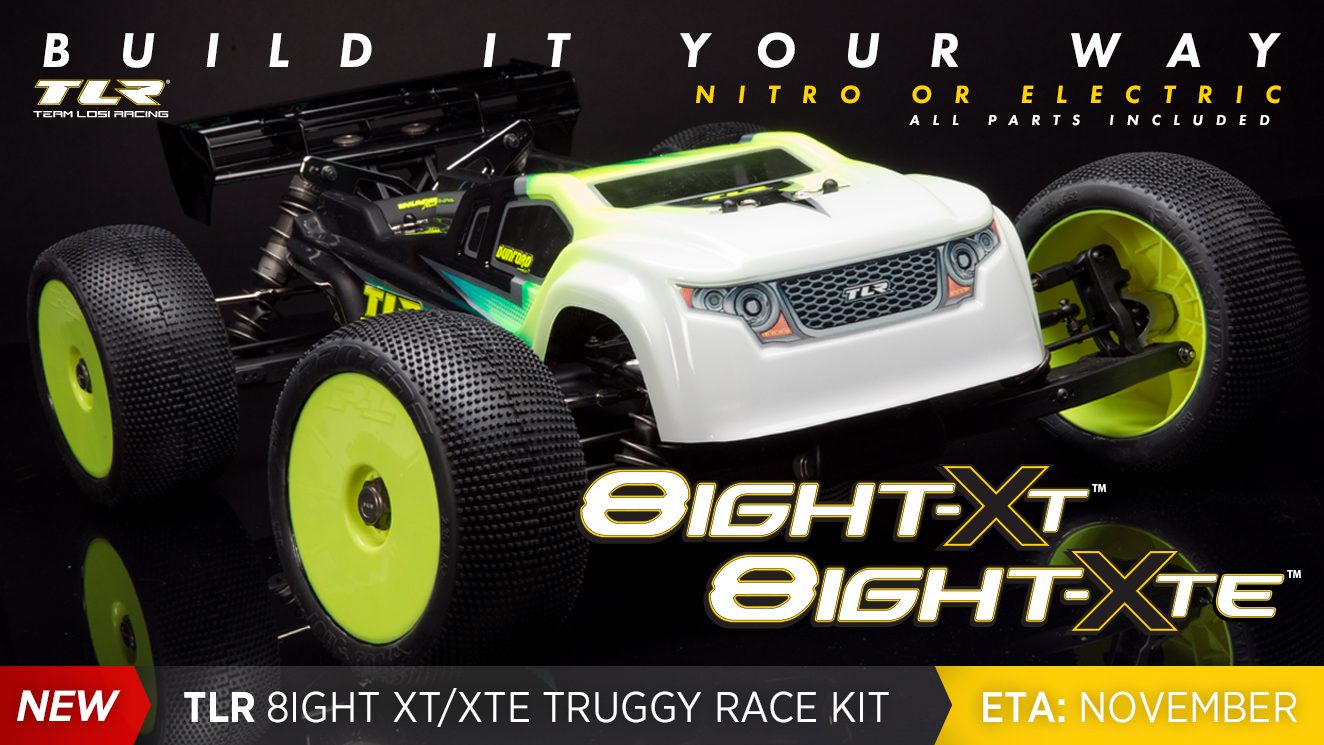 Product Overview
The new Team Losi Racing 8IGHT-XT Next Generation Truggy builds on the championship-winning heritage of its predecessors with updates to the suspension geometry and drivetrain as well as the chassis layout that make it both easier to drive and tougher to beat. Plus, it includes Nitro and Electric in one box! The 8IGHT-XT has a combination of features second-to-none including large footprint engine mount, 3mm chassis, cab forward body, machined Aluminium shock caps, and so much more. Designed to win straight out of the box, the 8IGHT-XT expands performance and is ready for the winner's circle.
Features
Improved Suspension Geometry
Suspension Arms
Wide 3mm Chassis
Larger Pinion Bearing
Cab Forward Style Body
Chassis Side Guards
Large Footprint Engine Mount
One Piece Motor Mount
Adjustable Castor Blocks
Bleeder Shock Caps
Chassis Balance
Steering Rack
Shock Towers
Better Diff Access
Sway Bar System
Equalized driveline
Updated Radio Tray
Optimized Shocks
Ball Bearing Throttle and Brake Actuator
Nitro and Electric parts included
Large Bearing Spindles and Carriers
Shorter Wheelbase
Lipo/LiIon Compatible Battery Box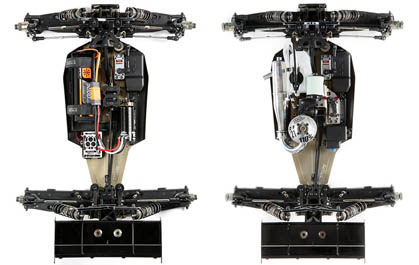 Nitro and Electric parts included
All of the items to run either nitro or electric included in one box.
Cab Forward Style Body
Cab forward design helps with overall down force, which improves steering and overall stability.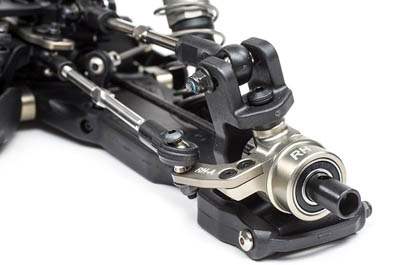 Adjustable Caster Blocks
17.5 deg caster blocks that allow the height of the spindle to be adjusted.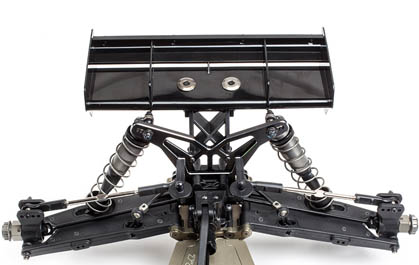 Improved Suspension Geometry
The 8IGHT-XT/XTE Next Gen suspension geometry has been completely revamped making a truck that is fast, nimble, and easy to drive. This includes a myriad of updates including wider front pivot with less scrub radius, narrower rear pivot, longer front and rear arms, and updated hub offset.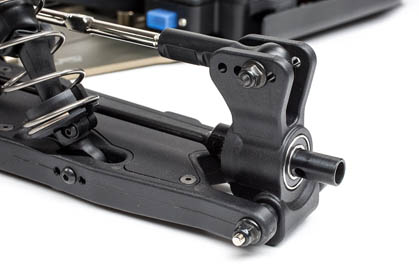 Flex Tune Suspension Arms
All new suspension arms have been designed to accept stiffener plates that will allow racers to tune the flex of the suspension. The kit will include moulded plates with optional carbon fiber plates available separately.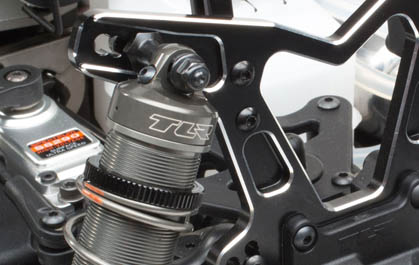 Bleeder Shock Caps
Machined aluminium shock caps with threaded bleeder holes for easy and consistent bleeding of oil.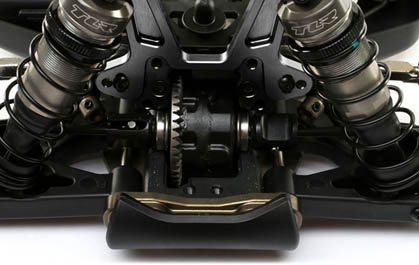 Better Diff Access
The front and rear diff case have been altered to allow easier access to the differentials without removing the bulkheads from the vehicle.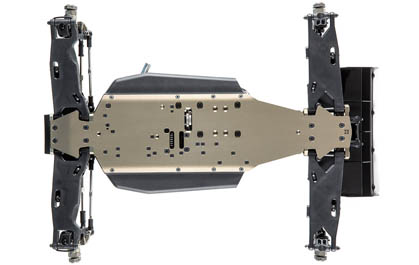 Wider 3mm Chassis
Chassis width has been increased to aid in stability and give the truggy a more neutral feel as well as equalized side to side for equal torsional flex and thinned down to 3mm for weight savings.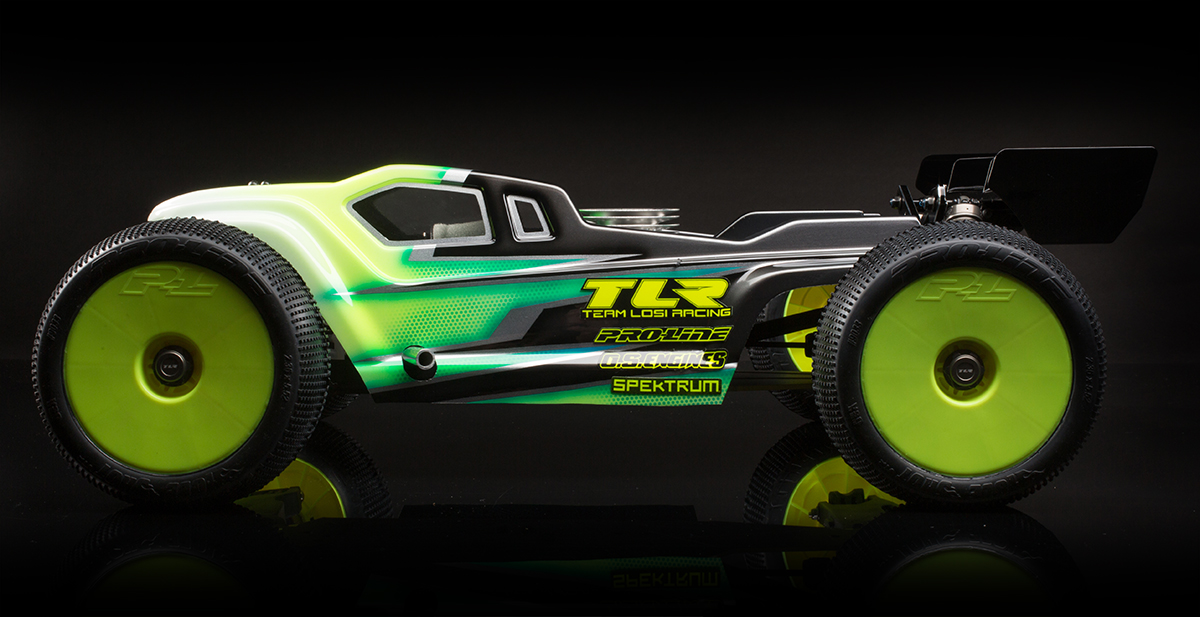 Needed to Complete
Electric Truggy
Electronic Speed Controller and Motor power system
Battery and Charger
Steering Servo


Nitro Truggy
Engine, Manifold and Exhaust Pipe
Nitro Fuel, Fuel Bottle, Glow Ignitor
Steering and Throttle Servo
Receiver Battery Pack and Charger
Starter Box


Both
Transmitter and Receiver
Tools
Tyres and CA Glue
Polycarbonate Paint
What's in the Box?
(1) TLR 8IGHT XT/XTE Nitro/Electric Truggy Race Kit
(1) Product Manual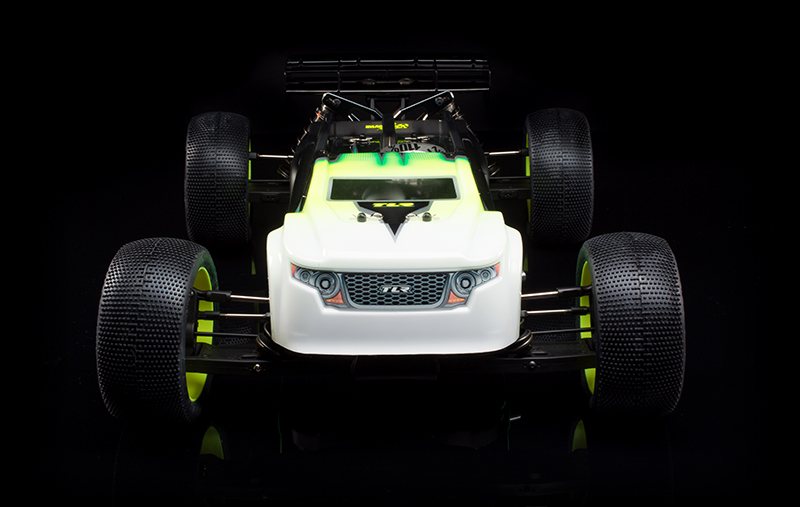 Recommended Completion Items and Accessories
Download a Flyer
Download an A4 flyer to print off and display in store. No trade prices shown - just a summary of this issue of Logic RC News. Right click the image on the right and select 'Save link as...' to save the pdf locally so you can print at your convenience.