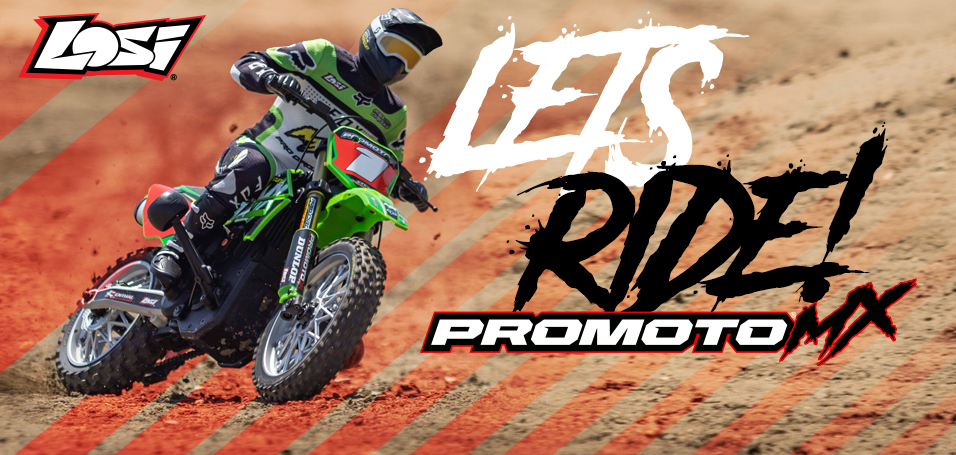 New
Losi
1/4th Promoto-MX Motorcycle RTR
ETA: August 2023
The Losi Promoto-MX isn't the first scale RC motorcycle that's ever been sold. But it is the very first one that accurately reproduces the full experience - and pure fun - of riding a real motorcycle. It's the long-awaited dream of RC hobbyists and dirt bike fans alike.

The unprecedented realism of the Promoto-MX goes much deeper than its faithfully detailed looks - the narrow frame, rider gear, and officially licensed graphics. Even more impressive is how successfully it captures true dirt bike performance, a breakthrough accomplished through a unique hybrid of mechanical and electronic technology developed specifically for the Promoto-MX. It's how these technologies work together that makes all the difference.

Promoto-MX electronics include a 2700Kv motor and steel flywheel that are both mounted in the centre of the frame. The motor spins the flywheel at over 22,000 rpm to create a gyroscopic force for unparalleled stability. Meanwhile, patent-pending Spektrum MS6X technology takes your input from the DX3PM transmitter and commands the Promoto-MX to lean, turn, and control wheelies with unprecedented balance and finesse.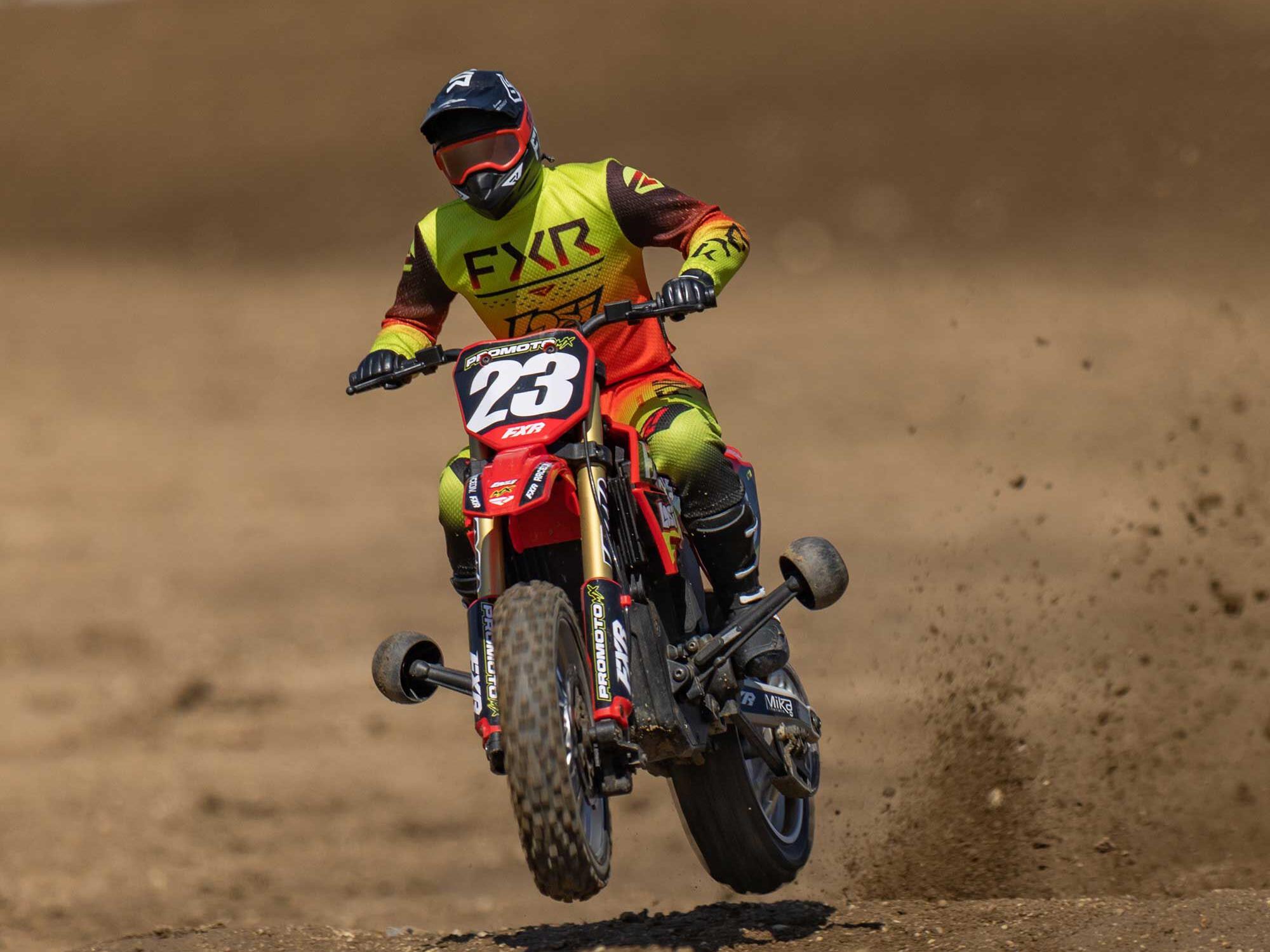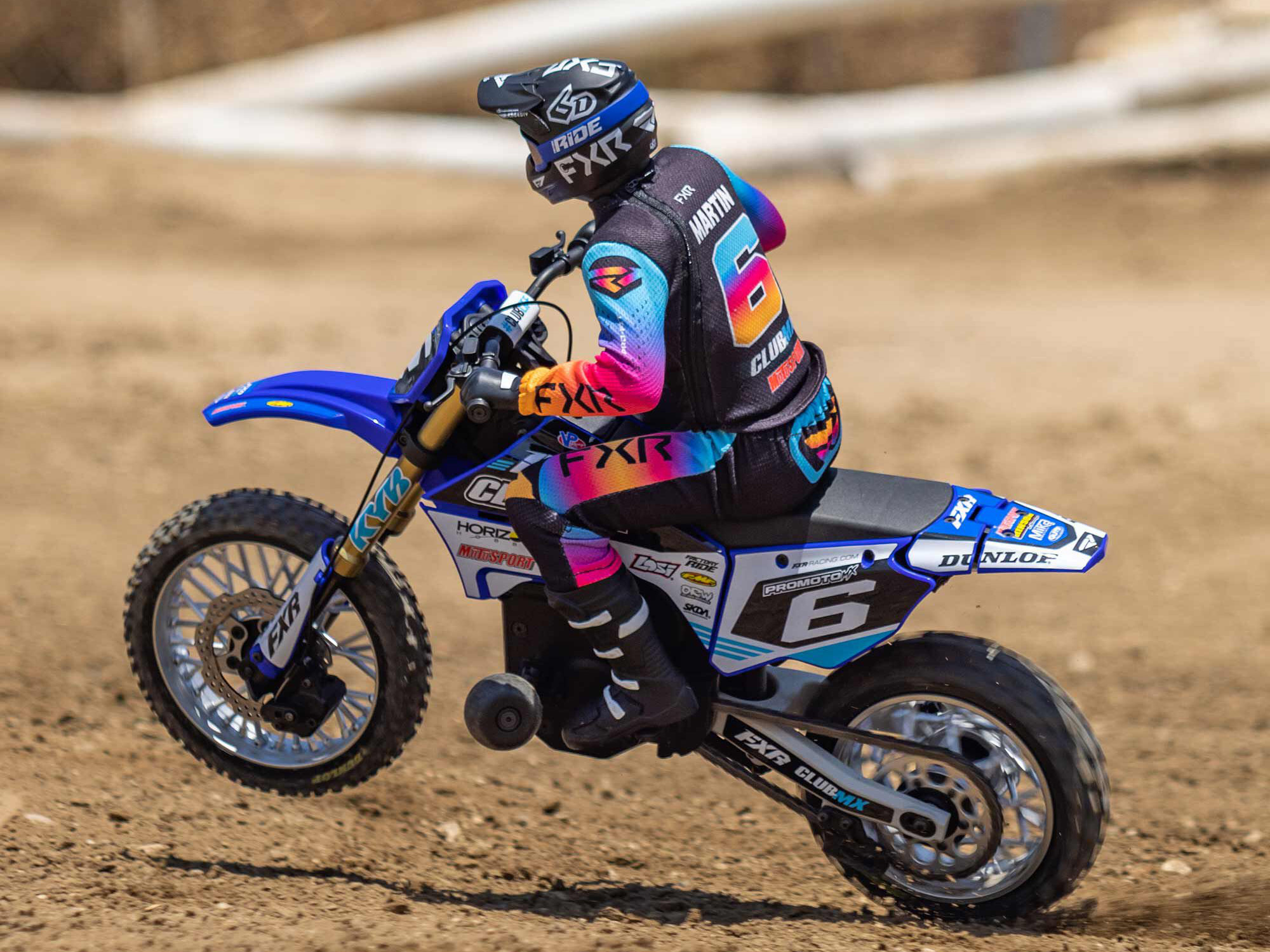 The mechanical technology is equally impressive. Losi's product development team studied full-size motorcycle suspension geometry to give the Promoto-MX the same terrain handling characteristics. A rising rate rear suspension provides superior grip and prevents bottoming out in landings. The completely new front fork design, with an internal spring and dampener, can be tuned by changing the silicone dampening fluid and also allows ride height adjustments. An innovative front and rear wheel braking system gives the bike impressive stopping power, cutting the stopping distance in half compared to rear brake only.

Both technologies, electronic and mechanical, are why the Promoto-MX performs better at high and low speeds than any previous RC motorcycle. For dirt bike fans, the "feel" of the Promoto-MX will be instantly familiar. RC car enthusiasts will discover a new way to drive that pulls you deep into the heart of the action - carving berms, skimming whoops, holding wheelies, and throwing roost.

Finally. An RC dirt bike that really works! Anytime and anywhere, just grab your Losi Promoto-MX, get in the zone, commit to your line, and begin to be the bike.
The best-looking and best-performing RC dirt bike ever made
Innovative, patent-pending Spektrum MS6X technology
Frame-integrated, high-RPM flywheel
Officially licensed FXR Racing graphics and rider gear
Officially licensed Dunlop MX53 Tyres
Rising rate rear suspension
Powerful brushless system with 40+ mph speeds
Dirt, Street, and Wheelie Control drive modes
Collapsible front crash structure
Realistic rider figure with authentic riding gear
Functional, cable-driven front disc brake
Chain drive with dual disc performance slipper clutch
Hands-free starting stand included
Keyed bike stand included
Fully assembled and ready-to-run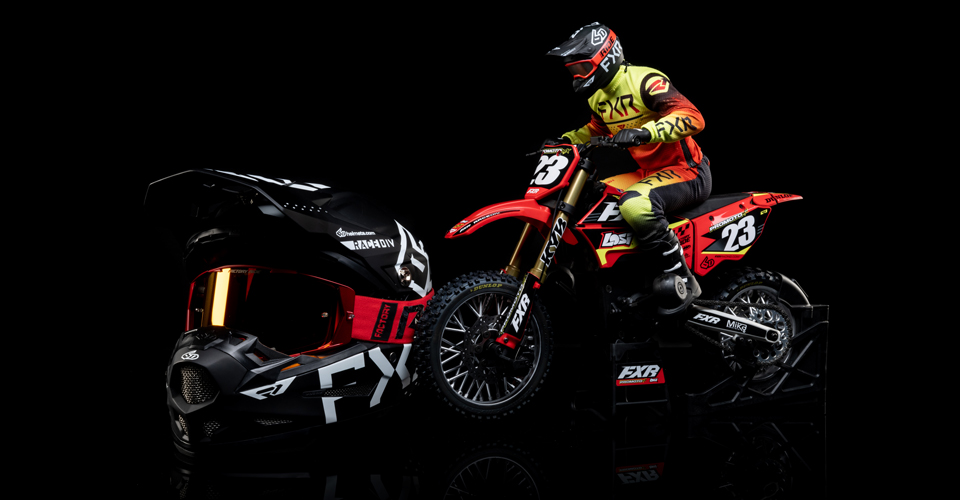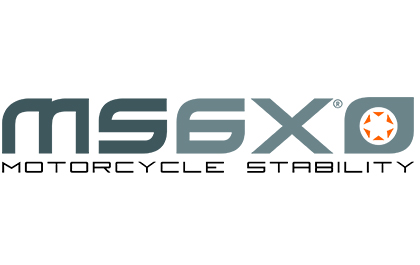 Spektrum MS6X Technology
The upgraded Spektrum DX3PM transmitter and SR6300PM receiver combine with patent-pending MS6X technology for unprecedented control. Promoto-MX drivers can maintain balance at high or low speeds and over jumps and whoops, then give simple steering inputs to carve around tight berms and straighten up heading into the next rhythm section. For more aggressive driving, use the MS6X knob to increase the lean angle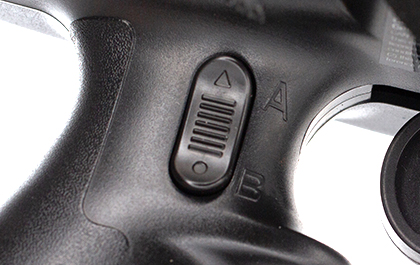 "On the Fly" Drive Modes
The DX3PM has three preprogrammed drive modes that you can toggle between "on the fly" using your thumb on the A/B rocker switch.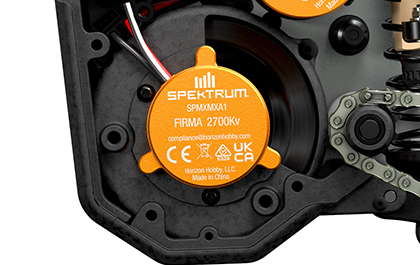 Flywheel Unit
The gyroscopic stabilization force created by its heavy steel flywheel - spinning at over 22,000 rpm with the 2700Kv motor - does wonders for the motorcycle's stability. Mounted as low and as far forward as possible in the frame, the flywheel unit enables the Promoto-MX to pivot around its centre point to improve jumping, changes of direction, and the accuracy of the bike's performance.
Technology
Losi product developers teamed up with the engineers at Spektrum RC, innovators of AS3X and SAFE, to reinvent those stabilization technologies not only for a surface vehicle, but one with only two wheels that requires balance to work. Patent-pending Spektrum MS6X continuously calculates bike's positioning relative to gravity, takes into account the inputs from the transmitter, and gives the proper outputs to throttle and steering to push the bike towards the correct desired positioning. The mechanical technology is just as impressive. For example, stopping distance was cut in half by joining the traditional rear-wheel brake with a cable-driven front braking system. The new technology all works behind the scenes to give the Promoto-MX performance superior to any previous RC motorcycle.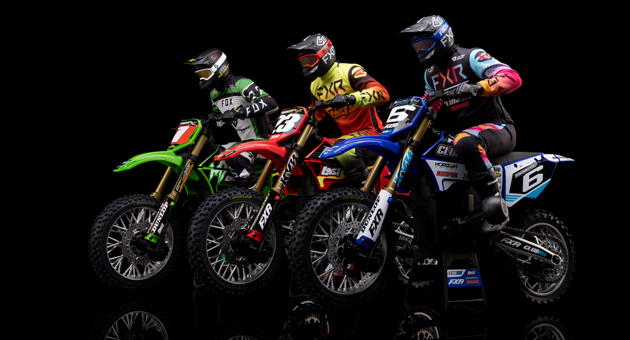 Scale Realism
The Promoto-MX turns your dirt bike racing dreams into reality by capturing the thrill of riding full-size bikes with unprecedented accuracy. The Losi product development team went the extra mile to successfully reproduce true dirt bike performance using innovative mechanical and electronic technologies that are new not only to RC motorcycles, but to the entire RC industry. The detailed scale appearance of the Promoto-MX heightens the excitement with a realistic rider figure, officially licensed graphics, true to scale chain drive, officially licensed Dunlop MX53 tyres on spoke wheels, and much more.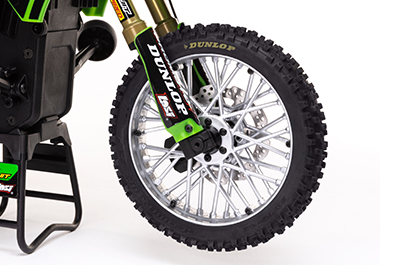 True-Spoke Wheels
Its realistic, true-spoke wheels are another first for the Promoto-MX. No other RC manufacturers have been able to create proper-looking spoked wheels with the durability needed for a dirt bike. It took the determination and expertise of the Losi product development team to make it happen.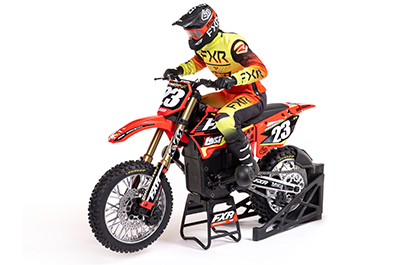 "Display/Maintenance & Starting Stand
Working on a real dirt bike is easier with a proper bike stand. So the Promoto-MX had to have one, too! The included stand for maintenance and display is modeled after a real bike stand, complete with graphics. To keep the bike balanced on the stand, the Promoto-MX keys into the bike stand. Taking it a step further, a hands-free starting stand is also included. This starting stand cradles the rear Tyre and holds the bike upright and ready for a gate-style start.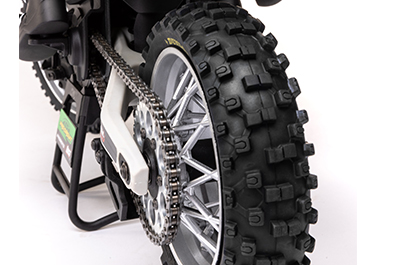 Licensed Dunlop Geomax MX53 Tyres
Just as any real dirt bike rider would want, the Promoto-MX comes equipped with the most popular Dunlop dirt bike tyre tread, the Geomax MX53. It's officially licensed by Dunlop for scale accuracy and performance. The MX53 delivers on full-scale moto tracks around the world, and it provides high grip and long tyre life for the Promoto-MX.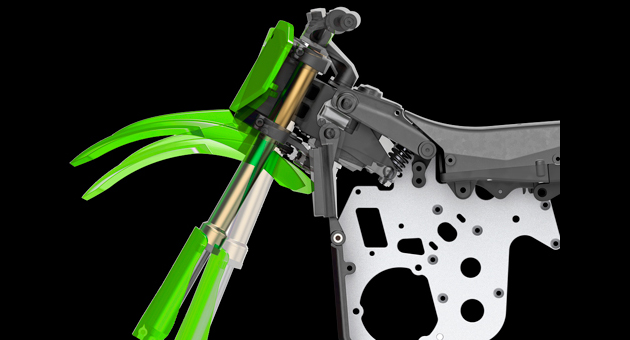 Durability
Knowing the Promoto-MX would exceed three and a half kilograms, the Losi product development team "overdesigned" critical areas so it would have the extra support needed to withstand hard-hitting dirt bike action. The innovative front crash structure is rigid during normal running, but absorbs front impacts by compressing until the front tire bottoms into the chassis frame. That protects the front fork tubes from bending, keeping them safe and true. Included skid plates guard critical components from rocks and debris, and a twin aluminum plate chassis shields all of the bike's electronics.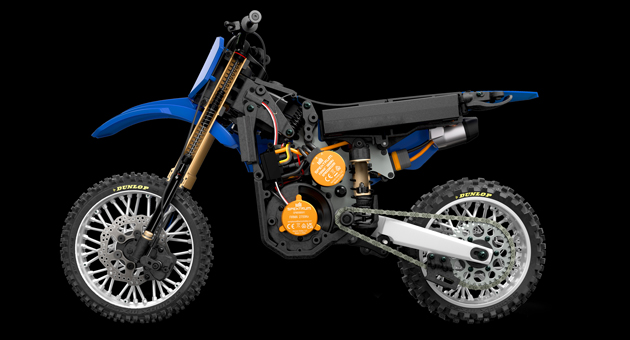 Suspension
No other RC product on the market has a suspension like the Promoto-MX. Losi studied the suspension geometry and technology of full-size motorcycles to give it the same terrain handling characteristics. The front suspension takes a unique approach to RC shocks with a front fork and internal dampener and spring. It's adjustable, rebuildable, and looks like the real deal. The Promoto-MX also has a rising rate rear suspension, just like a real motorcycle. It starts soft around ride height but stiffens as the shock goes deeper into its travel, keeping the bike from bottoming out on flat landings.
Rear Fender
Wheelies happen. A normal, rigid-mounted rear fender would really take a beating. But the Promoto-MX has the solution - a hinged elastomer sprung rear fender that can deflect out of the way during wheelies to expose a durable nylon rear bumper. It substantially increases the durability of the rear fender.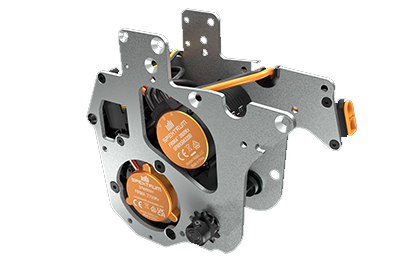 Twin Aluminium Plate Chassis
Twin aluminium chassis plates house and protect all of the bike's electronics and help to give the Promoto-MX its realistically narrow appearance. They also give the frame the rigidity and durability required for harsh impacts.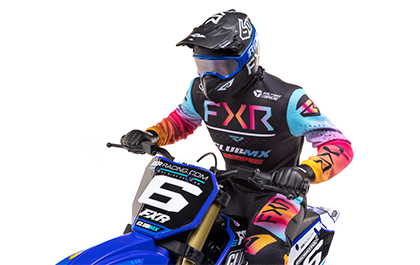 Realistic Rider Figure
Complete with boots, brain bucket, and riding gear, the rider figure is ready for all of the same dirt bike-style action as you - to jump, wheelie, carve berms, and throw roost.

LOS06000T1/T2 - IN THE BOX
(1) Losi Promoto-MX Pro Circuit RTR Motorcycle
(1) Spektrum Smart DX3PM Transmitter
(4) AA Transmitter Batteries
(1) Bike Stand
(1) Starting Stand
(1) 1/4 Promoto-MX Motorcycle RTR Product Manual
(1) Quick Start Guide
Chain Lube
Tuning Parts
Fork and Shock Tools
LOS06000T1/T2 - NEEDED TO COMPLETE
(1) 2S 7.4V 5000mAh LiPo with EC5 or IC5 Connector
(1) Compatible LiPo Charger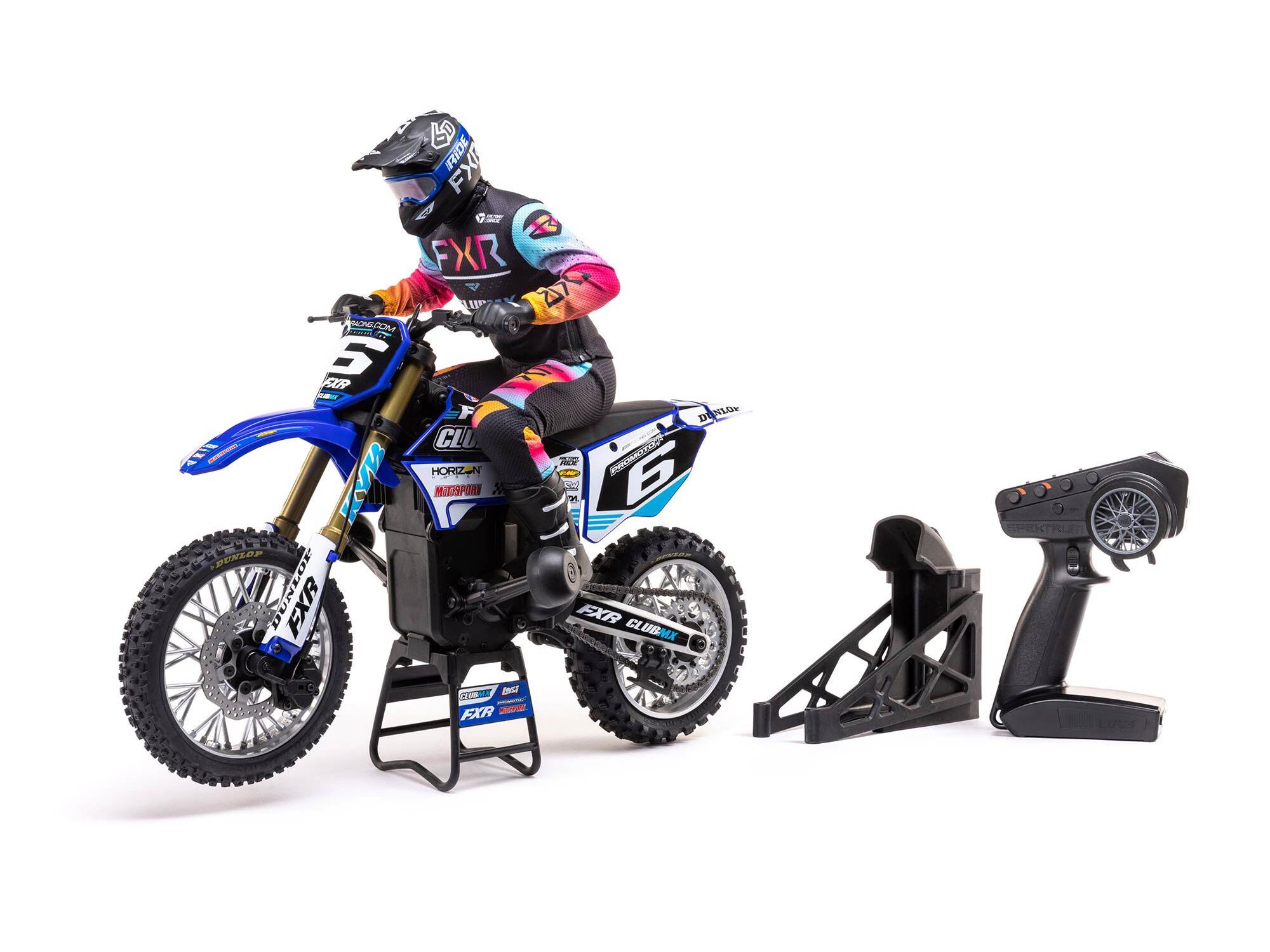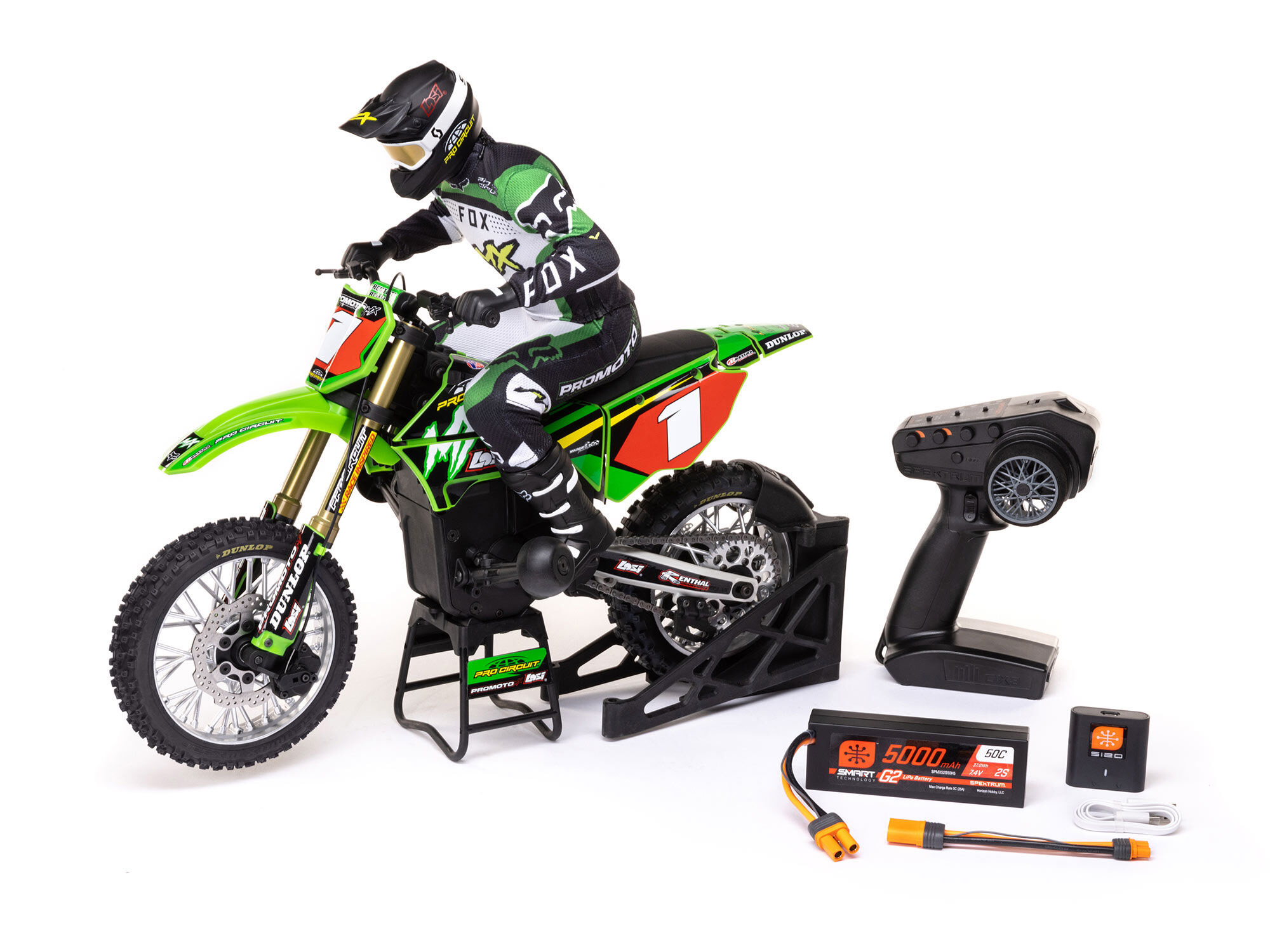 (1) Losi Promoto-MX Pro Circuit RTR Motorcycle
(1) Spektrum Smart DX3PM Transmitter
(4) AA Transmitter Batteries
(1) Spektrum 5000mAh 2S 7.4V Smart G2 50C LiPo Battery with IC5 Connector
(1) Spektrum Smart S120 USB-C Charger, 1x20W
(1) Starting Stand
(1) 1/4 Promoto-MX Motorcycle RTR Product Manual
(1) Quick Start Guide
Chain Lube
Tuning Parts
Fork and Shock Tools
LOS06002 - NEEDED TO COMPLETE
Nothing! Everything you need to start ripping the Promoto-MX RTR is included in the box!

Download an A4 factsheet to print off and display in store. No trade prices shown - just a summary of this issue of Logic RC News. Right click the image on the right and select 'Save link as...' to save the pdf locally so you can print at your convenience.