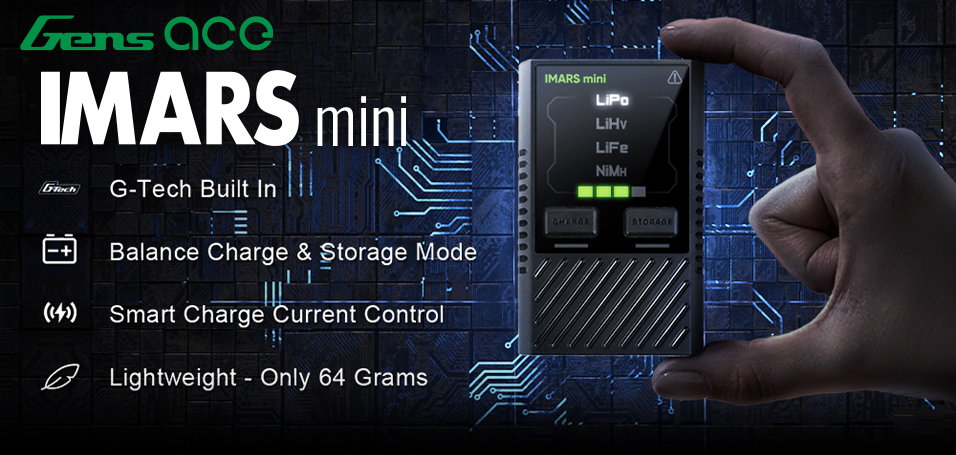 New
Gens Ace
Imars mini Smart Balance Charger
ETA: May
The Gens Ace Imars Mini charger is a palm-sized charging powerhouse that is capable of charging 2-4S LiPo, LiHV, LiFe and 2-12S NiMH batteries. Compact and lightweight in design makes it easy to store and transport to the track or field!

It is the first charger to feature the Gens Ace G-Tech connector system that allows for an intelligent connection between a G-Tech battery and G-Tech charger.

When the Gens Ace G-Tech battery is connected to the Imars Mini charger, the charger will automatically identify the battery type through the G-Tech Smart balance connector. The number of cells will be detected and the default charging current recommended by the battery manufacturer will be set. With all this data fed back to the charger it commences charging with these recommended settings ensuring the safe and efficient charging of the G-Tech battery.

The Imars Mini is also fully capable of charging non G-Tech cells too! However it is necessary to manually select the battery type and the required working mode to get it started. The charger can intelligently detect the cell count of the battery pack, and combined with the correctly selected battery technology will intelligently set the appropriate charge rate for the battery pack connected.

If you are planning on leaving your batteries for a period of time it is best practice to store them with a level of charge in, this is easily done by pressing the 'Storage' function button. The Imars Mini will then charger or discharge (depending on the condition of the battery) to a voltage that ensures your batteries will be in peak condition next time you go to use them.

The Imars Mini features Led illumination to show the 'Battery Type', 'Charge and Storage' and a handy battery 'Capacity Indicator' so you know when your nearly ready to go. For safety it has reverse connection protection with alarm, and a 'Abnormal battery' Led indication with alarm.

The Imars Mini is the perfect choice for a wide spectrum of pilots, bashers and racers alike who are looking for a simple and effective charging solution for a wide range of battery chemistry types.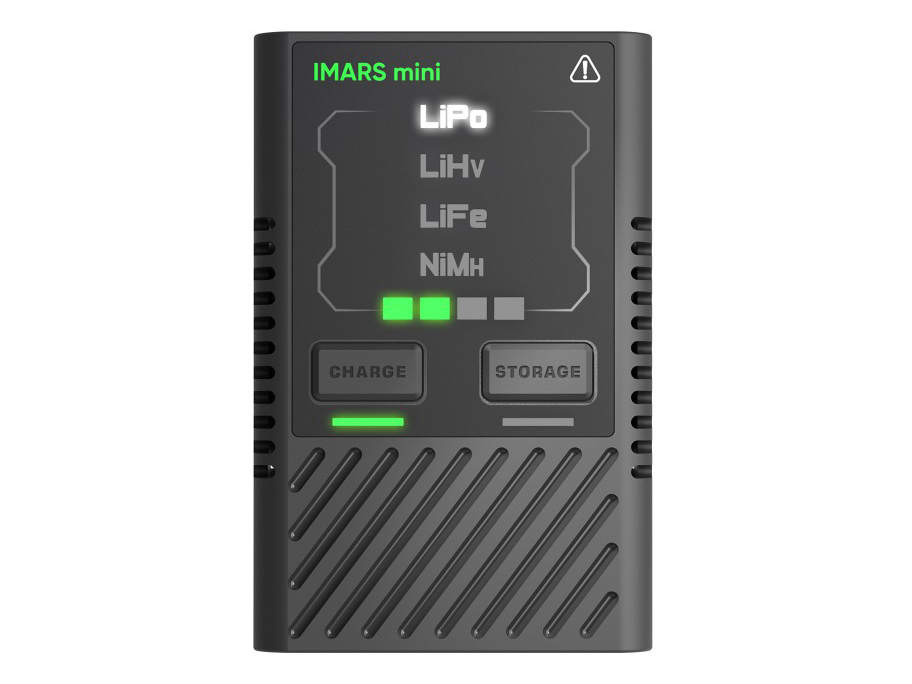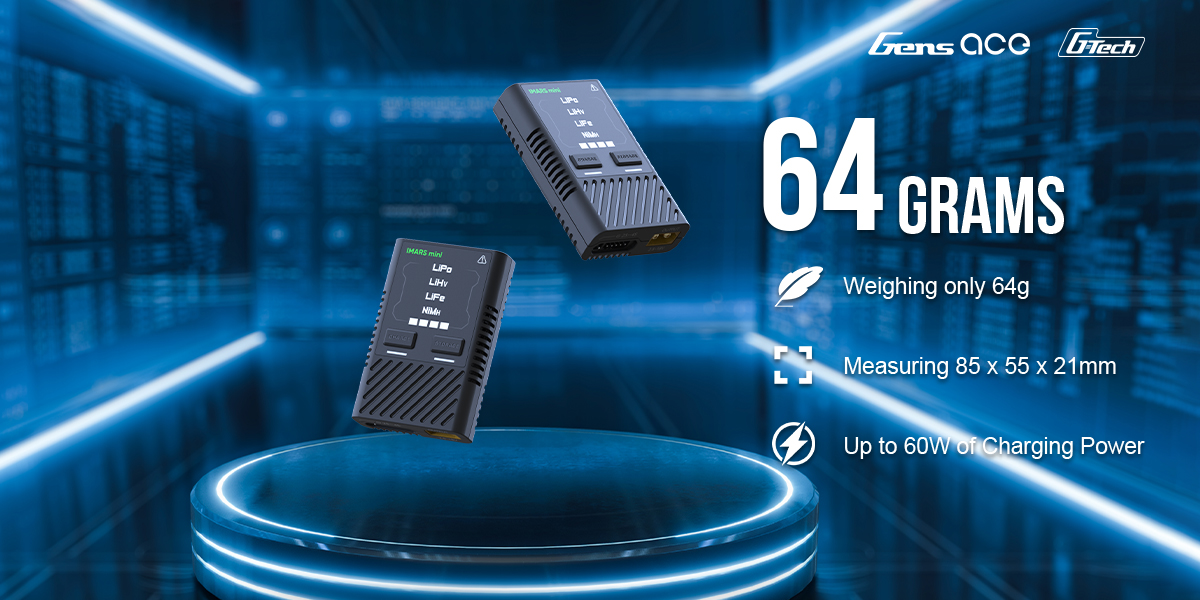 Charges 2-4S LiPo, LiHV, LiFe, and 2-12S NiMH batteries.
Intelligently recognizes G-Tech smart battery info through an IC chip for safe and easy charging.
Automatic storage function, it's the smallest charger with auto storage.
New interface design and increased balance connector durability.
Small & lightweight, portable design.
Max. Charge Power: 60W
Charge Current: 1-5A, Max. 5A(Auto Adjustment)
Max. Storage Power: 3W discharge, 60W charge
Input Voltage: 5-20V
Max. Input Current: DC 3A
Balance Current: 0.4A/Cell X 2
Input Port: QC/PD/BC1.2/USB-C V1.4/SDP/CDP/DCP/Apple 5V/2.4A (Does not support 5V/1A adapter input)
Abnormal Battery Voltage Alarm: Yes
Supported Battery Types: Lipo/LiHv/LiFe(2~4S), NiMH(2-12S)
Dimension: 85*55*21mm
Net Weight: Approx. 64g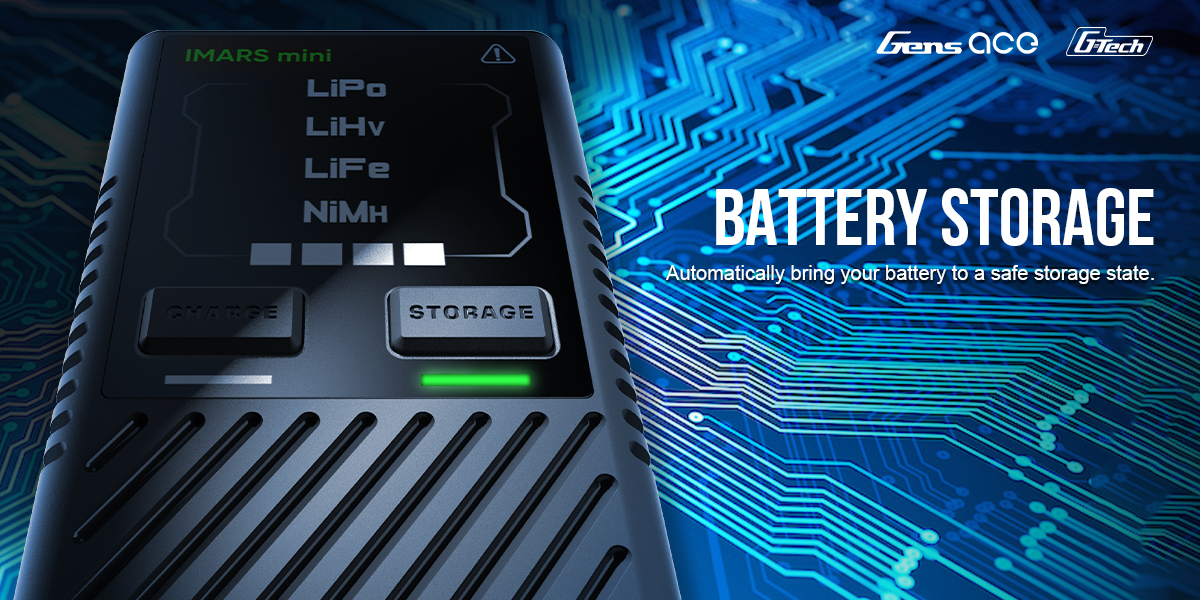 We offer 10% discount across the Gens Ace range of products when you purchase 10 or more Gens Ace batteries, chargers or power supplies.
(1) Imars Mini 60W Smart Charger
(1) 1m USB-C power cable
(1) XT60 female to EC3 male adapter
(1) XT60 female to Deans male adapter
(1) Product Manual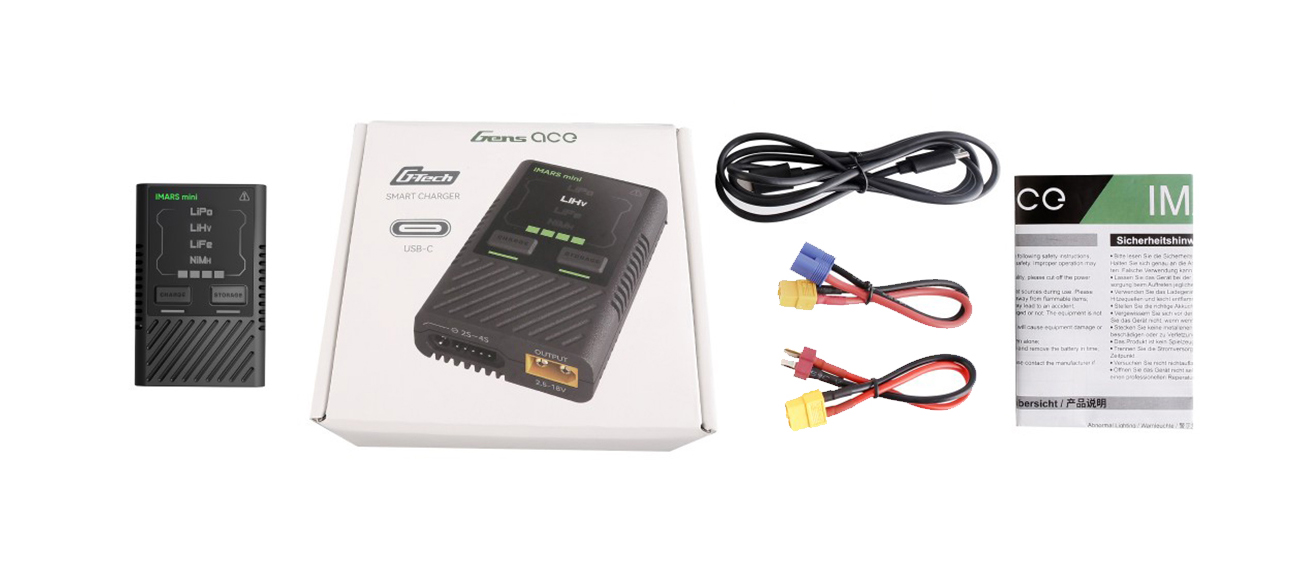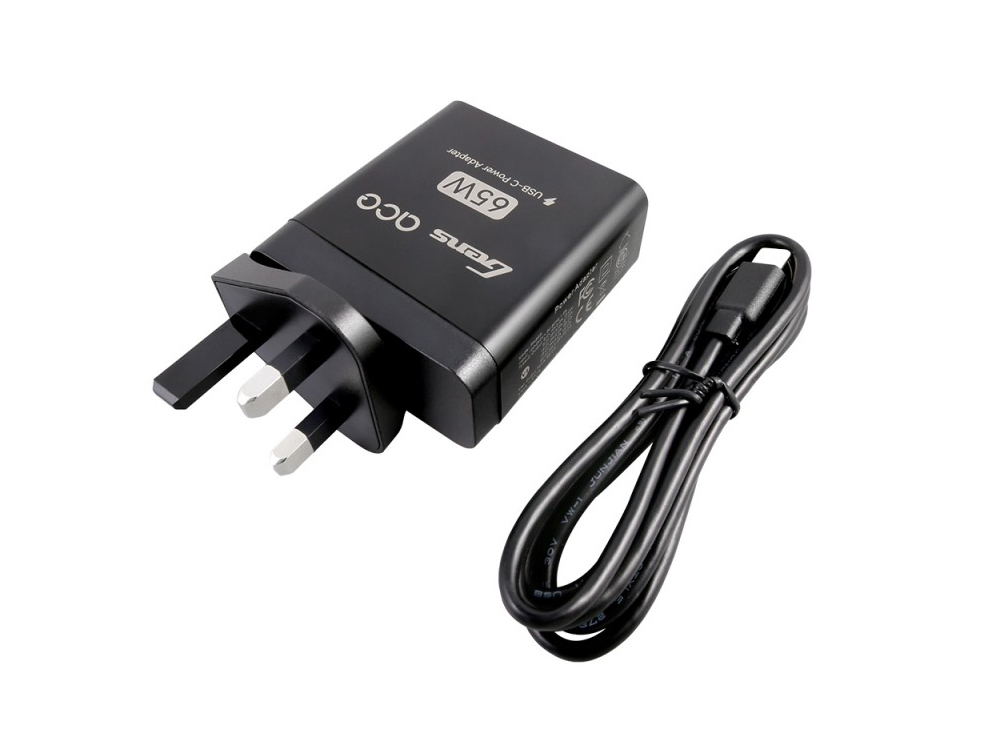 Gens Ace have you covered for a power supply for the Imars Mini too! A compact and convenient wall plug style power supply is available from Gens Ace being the perfect pairing with the new mini charger. With a USB-C lead that connects to the charger, and with 65watts of power it makes the perfect combination.
This power supply will also work perfectly with other chargers, and a multitude of other applications around your home too, making this handy power supply extremely versatile.

Download an A4 factsheet to print off and display in store. No trade prices shown - just a summary of this issue of Logic RC News. Right click the image on the right and select 'Save link as...' to save the pdf locally so you can print at your convenience.