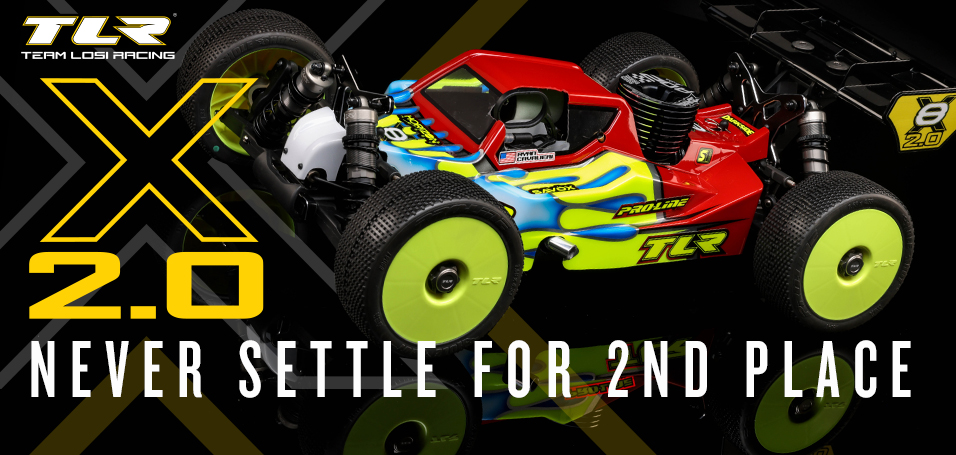 New
TLR
1/8th 8IGHT-X/E Nitro & Electric Buggy Combo Race Kit
ETA: August 2022
The original 8IGHT-X ushered in a new era of TLR 1/8 scale buggies. The Team Losi Racing 8IGHT-X/E 2.0 Race Kit takes everything we've learned and applied it to this new platform with incredible attention to detail to make this the fastest and easiest to drive TLR 1/8 buggy yet. With the 8IGHT-X/E 2.0, drivers achieve the next level of performance, drivability, and speed. This Team Losi Racing Race Kit has updated everything that made it a regular on the podium including the drivetrain, suspension geometry, and chassis layout. The 8IGHT-X/E 2.0 can be driven harder and with more pace and is a fantastic vehicle right out of the box for all levels of consumers. It includes all the desired factory team option parts and uses common metric hardware for worldwide appeal. Plus, it includes the parts needed to build the vehicle either as Nitro or Electric in a one-box purchase. Team Losi Racing is always pursuing excellence, the 8IGHT-X/E 2.0 Race Kit is the one to beat with features and performance destined for podium greatness.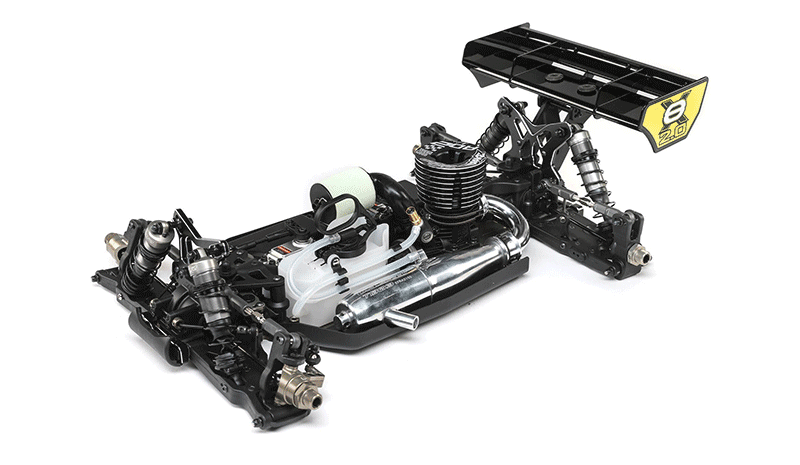 Rear Adjustable Hubs
Square Insert Pills and Narrower Rear Pivots
7075 3mm Aluminium Chassis
Centre Diff Setup offering more rigidity and is lighter
Brake Setup provide more consistent force and feel
Tunable Front and Rear Shock Tower
Cab Forward Style Body
Nitro and Electric Ready
Updated Front Spindles
Front and Rear Universals for smoother turns
Aluminium Wheel Hexes
Radio Tray updated for better balance
Adjustable Steering Rack
Adjustable Wing Mount
Optimized Shocks
Stronger Insert/Truss Suspension Arms
Updated Gear Differential
Updated Suspension Geometry
Larger Pinion Bearing
Adjustable Caster Blocks
Sway Bar System for consistent suspension
Updated Chassis Side Guards for more protection
Bleeder Shock Caps
Better Diff Access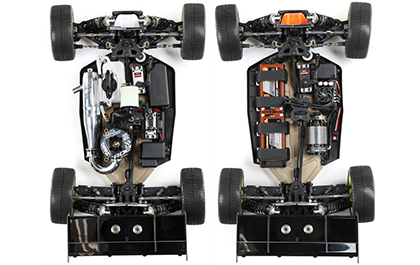 Nitro and Electric Ready
All of the parts needed to run either nitro or electric are included in one box.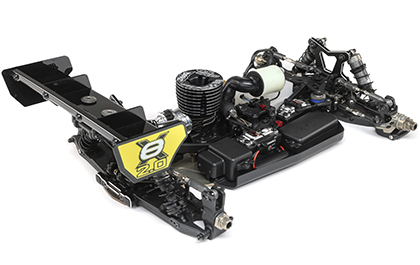 Suspension Geometry
The 8IGHT-X/E 2.0 next-generation suspension geometry has further been updated making a car that is fast, nimble, and even easier to drive. This includes a myriad of updates including, a wider front pivot with less scrub radius, narrower rear pivot, and updated hub offset, longer suspension arms, and more suspension mounting locations.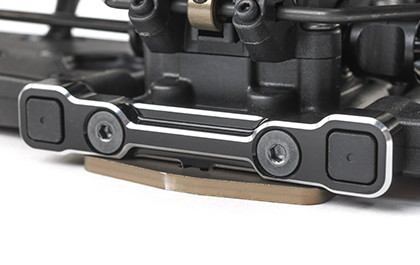 Square Insert Pills and Narrower Rear Pivots
All pivot mounts have been updated to use square pills to offer more tunability. The rear pivots are now narrowed to improve the front to rear roll of the car and provide more rear grip in all situations and better-balanced front to rear.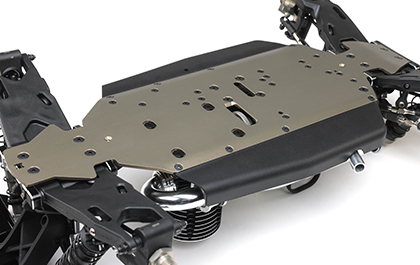 7075 3mm Aluminium Chassis
The chassis is new to the 8IGHT-X/E 2.0 and is made from 7075 3mm thick aluminium and hard anodized for the best wear possible. The chassis is also milled out deeper to allow for more flex and the lightest 1/8 chassis to date.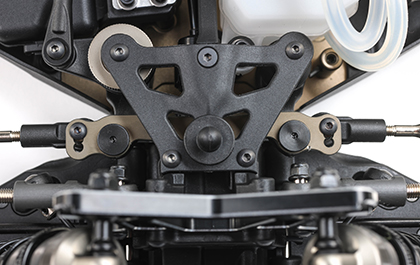 Steering Rack
The steering rack allows more Ackerman adjustments and an improved servo saver to eliminate bellcrank bind during high loads. Also, the rear mounting points moved in and back allowing the drag link to sway back for a more linear steering feel.

Front and Rear Shock Tower
The rear shock tower works with the new rear gearbox and pivots. The front shock tower is shorter to decrease the front chassis roll as well as lower the CG. Both have been lightened, new camber link mounting positions, as well as shock mounting positions to provide the tuneability and durability racers, are looking for.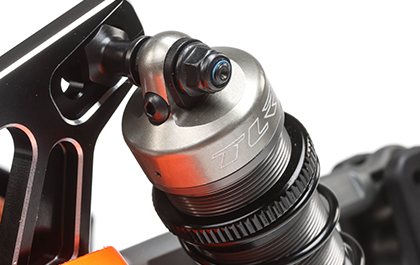 Bleeder Shock Caps
Machined aluminium shock caps with threaded bleeder holes for easy and consistent bleeding of oil. Bladders and Emulsion seals are included for tuning to your track conditions and driving style.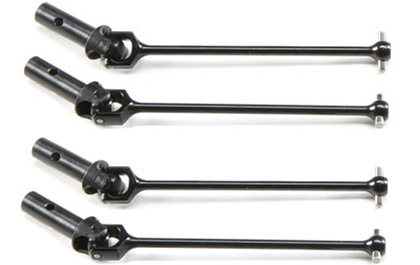 Front and Rear Universals
The 8IGHT-X/E 2.0 includes universals for the front and rear which are shorter and lighter which makes the car smoother in existing turns and aids in the flow in bumpy track conditions.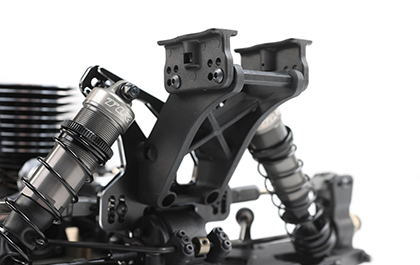 Wing Mount
8IGHT-X/E 2.0 uses the wing mount from the 8IGHT-X Truggy that offers different heights and positions for ultimate traction control.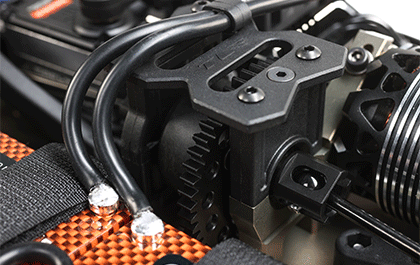 Centre Diff Setup
The centre diff mount is a new moulded composite piece offering more rigidity and the new integrated mount for the throttle servo is lighter. The E buggy side will be handled using an updated center diff setup from the 8XT.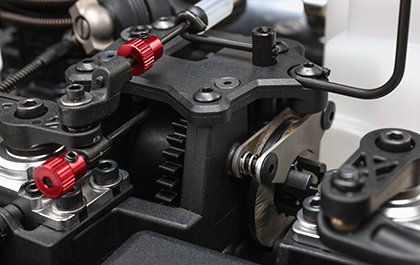 Brake Setup
The brake cams have been updated and the brakes are now freer and provide better and more consistent braking force and feel.

(1) Complete 1/8 8ight-X/E 4WD Kit
NEEDED TO COMPLETE BOTH PLATFORMS
(1) Transmitter and Receiver
(1) Steering Servo
(1) Compatible Battery Charger
(1) Tyre Glue
(4) Tyres
Polycarbonate Paint
Tools (Please reference the manual for more details)
NITRO BUGGY NEEDED TO COMPLETE
(1) Nitro Engine and Tuned Pipe
(1) Receiver Battery
(1) Receiver Switch
(1) Throttle Servo
(1) Fuel Bottle
(1) 20-30% Nitro Fuel
(1) Starter Box
E-BUGGY NEEDED TO COMPLETE
(1) Brushless Motor
(1) Brushless ESC
(1) 4S 14.8V LiPo Battery or
(2) 2S 7.4V LiPo Batteries with Jump Lead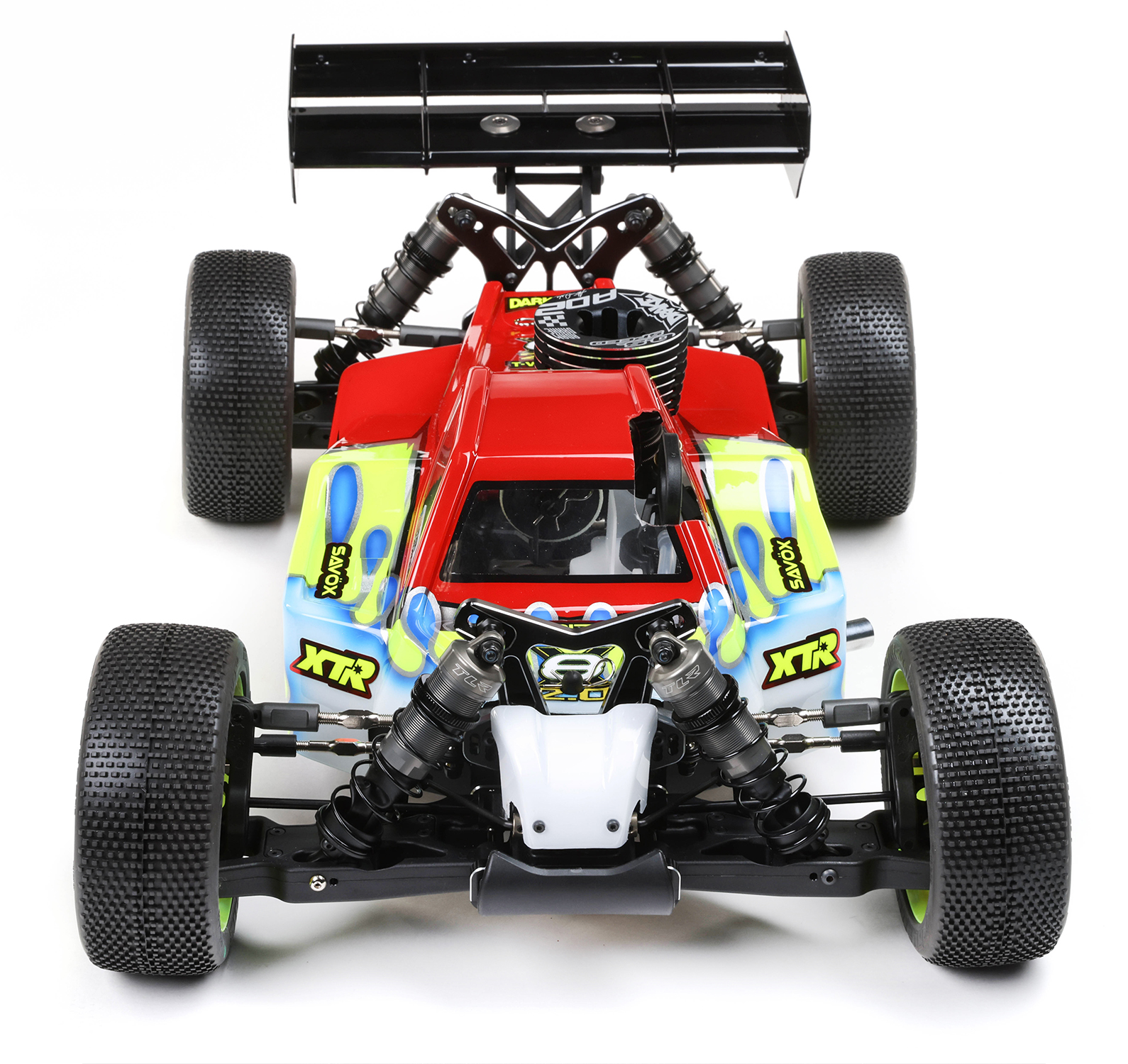 Download an A4 factsheet to print off and display in store. No trade prices shown - just a summary of this issue of Logic RC News. Right click the image on the right and select 'Save link as...' to save the pdf locally so you can print at your convenience.