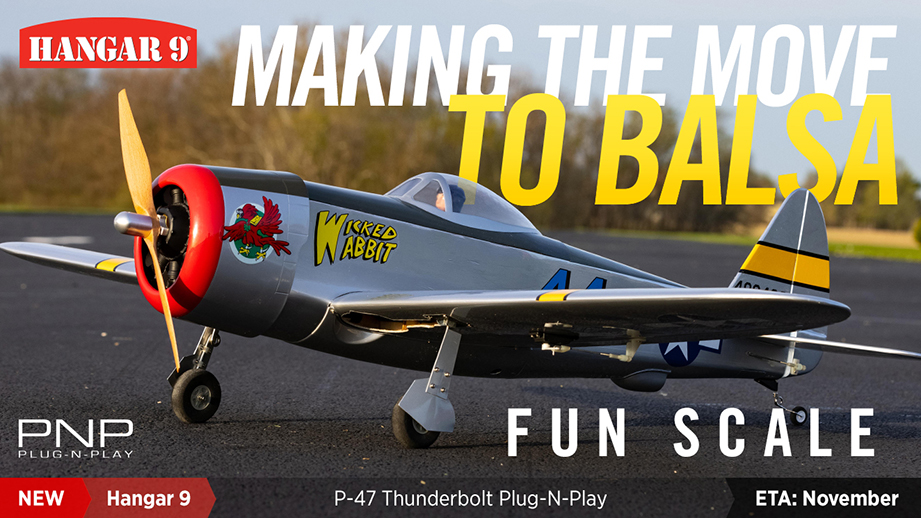 Product Overview
The Hangar 9 Fun Scale P-47 PNP bridges the gap between foam and balsa pilots perfectly! For the sport and club pilot looking to transition from a foam to balsa/wood aircraft, the new Fun Scale P-47 delivers a true Plug-N-Play completion Fun Scale model of one of the most popular WWII warbirds ever modeled. Foam RC pilots will be familiar with the P-47 brushless outrunner power system, wide variety of battery options and easy field assembly. It features lightweight, balsa and plywood construction with carbon fibre reinforcements and is finished in genuine UltraCote that's long lasting and easy to maintain. The two-piece plug-in wings allows for convenient transportation and set up. Pilots can be ready to fly in much less time than it takes to charge a battery. At the workbench, the P-47 assembly is easy with only common tools needed. All you need to do is bolt the model together, install the receiver, charge a battery and fly. Flying a balsa warbird aircraft has never been easier. The new Hangar 9 Fun Scale P-47 PNP makes it easy to fly and look good doing it.
Product Features
Expertly constructed with lightweight, laser-cut balsa and plywood
Plug-N-Play Completion Level
Fits a wide variety of battery options to provide a wide range of performance and flight times.
Two decal sets lets you customize the trim in "Wicked Wabbit" or "Hun Hunter" livery
No glue required for main assembly and can be ready to fly in much less time than it takes to charge a battery
Painted fibreglass cowl
Optional simulated radial engine included
60-amp Spektrum Avian Smart ESC provides real-time battery voltage, current, motor RPM and other data via compatible receivers and transmitters
Factory-installed 4250-600Kv Brushless Outrunner Motor
Landing gear doors and pilot increase realistic appeal
Four factory-installed Spektrum A391 servos
Large magnetic top hatch makes access to electronics and batteries convenient.
Two-piece plug in wings for easier transportation and field assembly
Factory-installed Hangar 9 electric main retractable landing gear
Covered in genuine Hangar 9 UltraCote film
Efficient 14 x 12 wood propeller included for 4S Lipo battery powered. (5S and 6S LiPo batteries require a propeller change).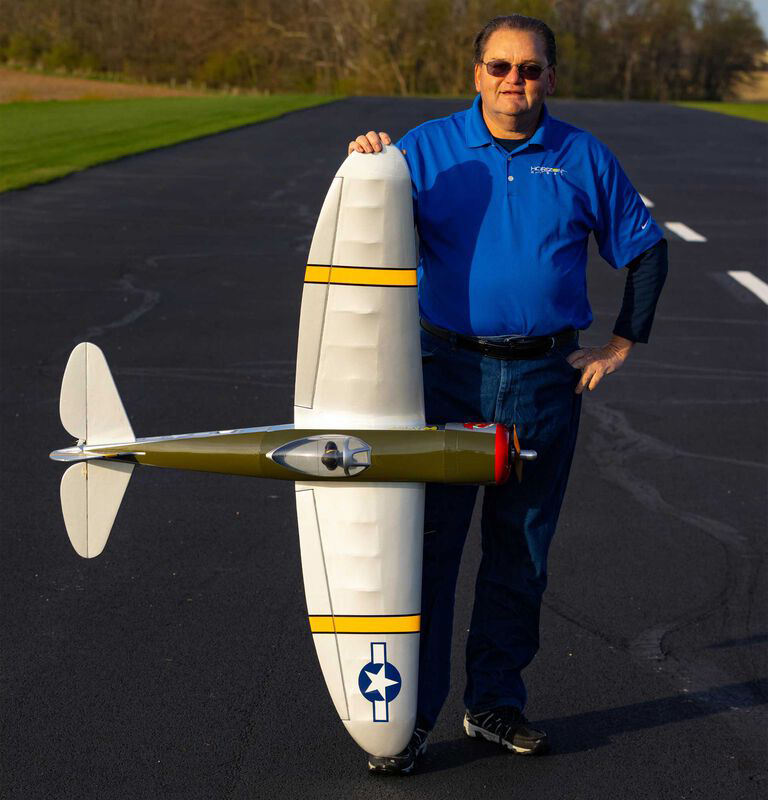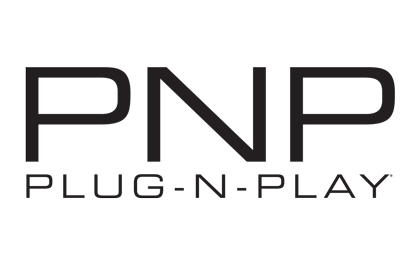 Plug-N-Play Completion Level
This Plug-N-Play (PNP) version comes out of the box with a factory-installed power system and servos that are ready to connect to the compatible receiver of your choice (sold separately). Simply install the receiver, finish any final assembly, and fly!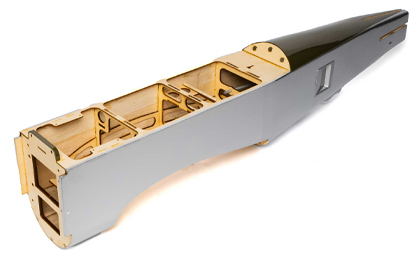 Lightweight Construction
Laser-cut, lightweight balsa and plywood construction that's expertly built to exacting standards gives the P-47 Thunderbolt design exceptional durability. Genuine Hangar 9 UltraCote covering, factory applied with precision, provides an easy-to-maintain finish that's vivid no matter how you look at it.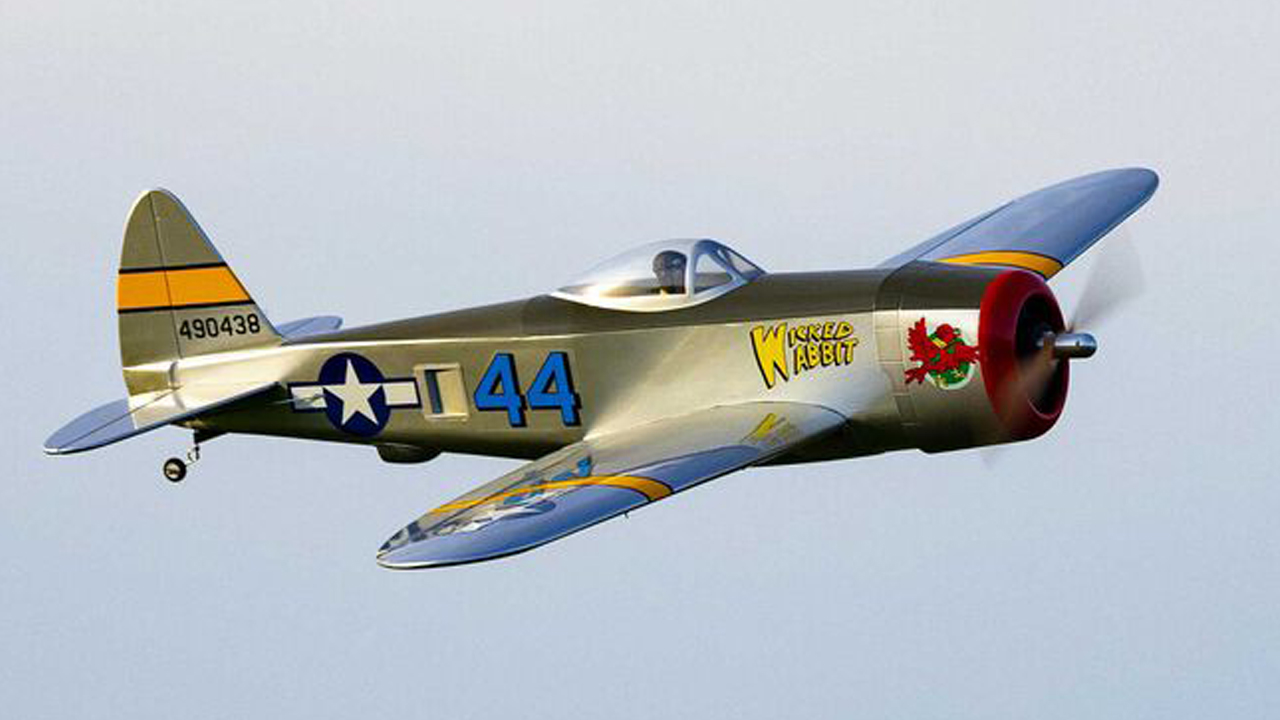 Easy Assembly
No glue is required for main assembly and you can have the P-47 Thunderbolt PNP ready to fly in less time than it takes to charge a battery! The wing design makes transport and storage as practical and convenient as possible.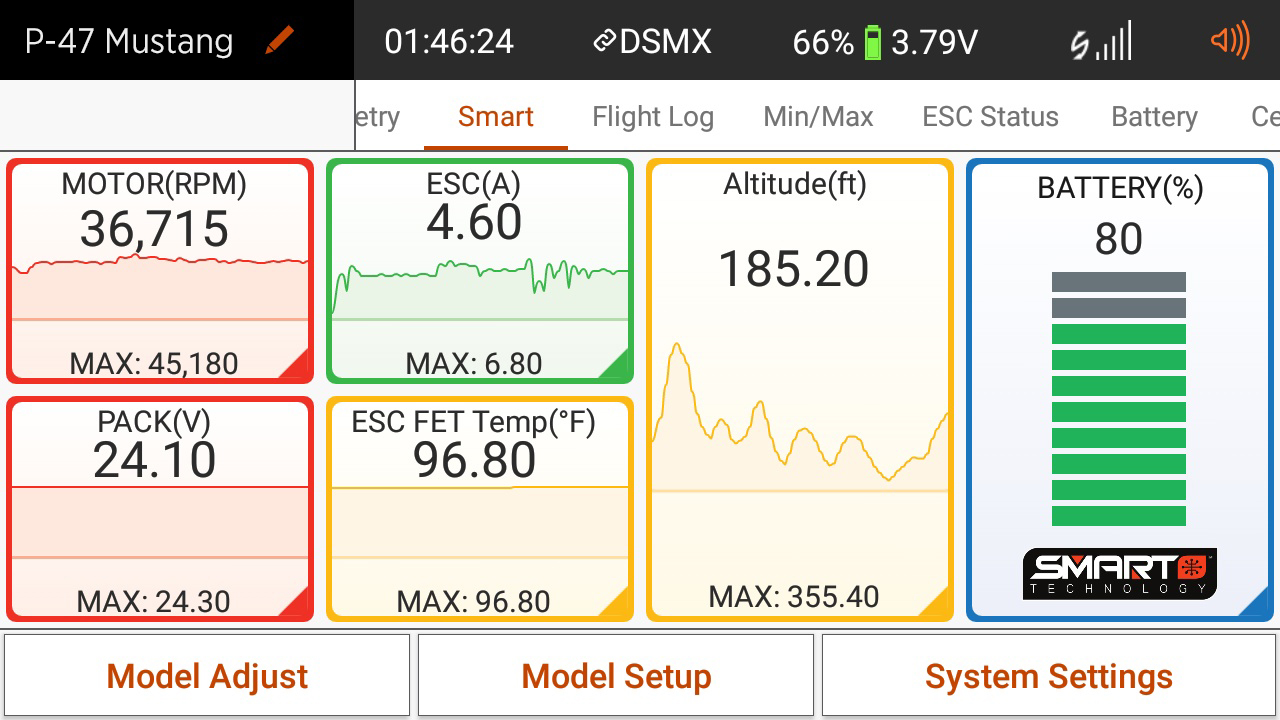 SMART Technology
The P-47 Thunderbolt PNP is equipped with an exclusive Spektrum Avian Smart ESC that can provide a variety of real-time power system related telemetry data including motor RPM, current, battery voltage and more via compatible receivers (including the SPMAR637T) and Spektrum AirWare equipped transmitters while you fly.

What's in the Box?
(1) Hangar 9 P-47 PNP
(1) Spektrum Avian 60 Amp Brushless Smart ESC (installed)
(1) 4250-600Kv Brushless Outrunner Motor (installed)
(4) Spektrum SPMSA391 39 gram Digital Servo (installed)
(1) 14x12 Wood Electric Propeller
(1) Main Retractable Landing Gear (installed)
(1) User Manual
Needed to Complete
(1) Full-range, 6+ channel transmitter and receiver
(1) 4S 14.8V to 6S 22.2V 4000-5000mAh LiPo Battery with EC5 or IC5 Connector
(1) Compatible LiPo charger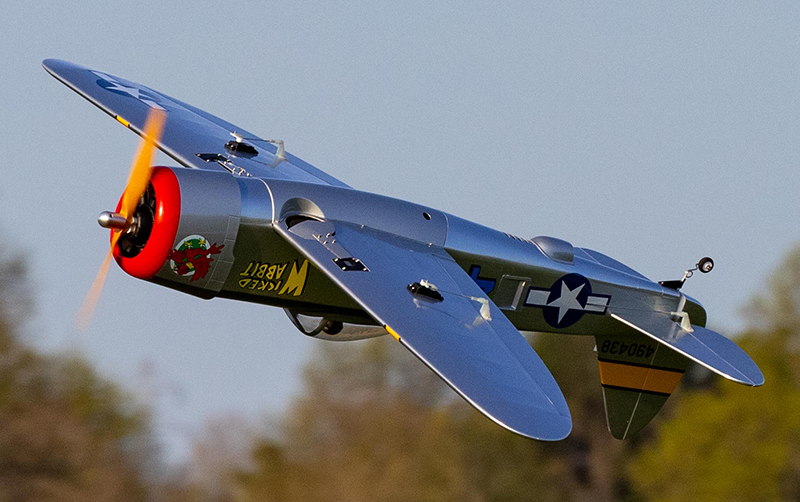 Upgrade Items and Accessories

Download a Factsheet
Download an A4 factsheet to print off and display in store. No trade prices shown - just a summary of this issue of Logic RC News. Right click the image on the right and select 'Save link as...' to save the pdf locally so you can print at your convenience.