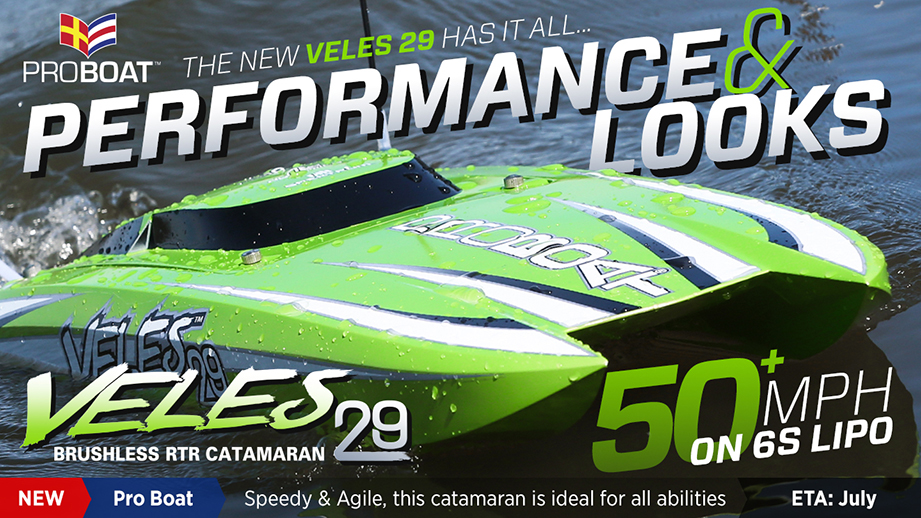 Product Overview
The Veles 29-inch Catamaran looks as good as it performs. It has much in common with the Blackjack 29, but has some new tricks up its sleeve-including an all-new hull and a 6-pole 2000Kv motor that is more efficient and powerful. On 4S Li-Po, the motor can propel the boat to 45+ miles per hour. With 6S power, this boat can hit speeds of 50+ miles per hour. The Veles 29 has an anodised, inline, adjustable propeller strut, offset rudder with water pick up, and stainless steel propeller. This boat is responsive and predictable, making it easy to drive. Whether this is your first RC watercraft or you've been driving boats for years, you'll love the speed, power and handling of this slick catamaran.
Product Features
Hand-laid fibreglass composite hull
Hand-laid fibreglass canopy
Removable composite interior
Powerful 2000Kv 6-pole marine motor
Adjustable aluminium propeller strut
Break-away rudder with water inlet
New propeller design
Spektrum SLT3 2.4GHz transmitter and receiver
High-torque waterproof steering servo
Water-cooled electronics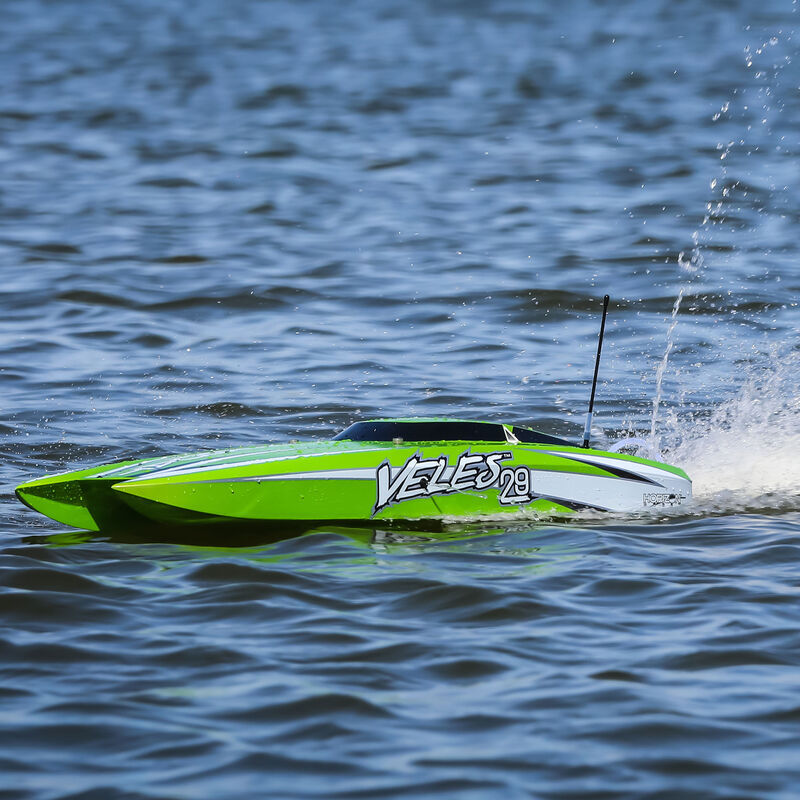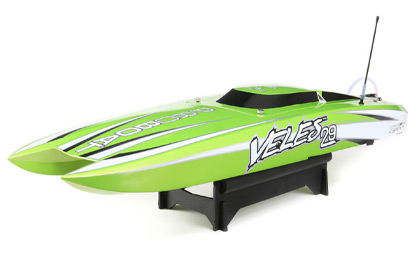 Fibreglass Composite Hull and Canopy
Laid in three layers of fibreglass and hardened with high-strength resin, the hull and canopy are built to last! The hull's stiffness allows it to be more predictable-it deforms far less than heat-molded hulls and can withstand speeds in which most heat-molded hulls would fold. Fibreglass constructed hulls are built for performance just like the real boats you see racing offshore.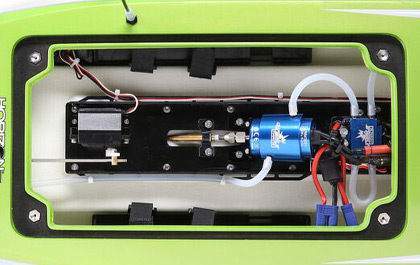 Removable Injection-Moulded Interior
Thanks to the interior's composite material, there's no need for an inner wood structure. To remove the interior, simply unbolt it for servicing.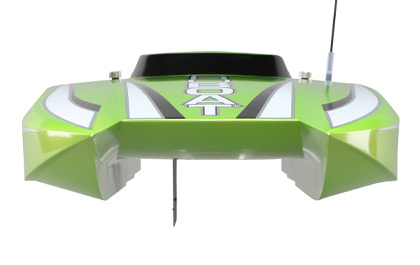 Optimised Hull Design
The new hull design features redesigned, stepped ride pads like real 1:1 catamarans. These steps give the boat a smoother ride along the water and ultimately provide more precise steering responses. The hull's design merges the best features of Pro Boat models such as the Miss Geico and Blackjack 29. The canopy has four thumbscrews that secure the hatch in case of a crash.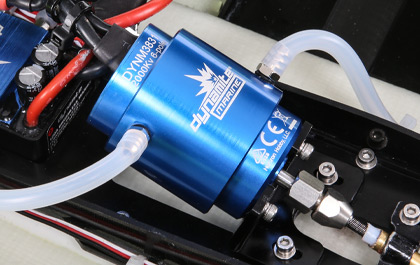 Powerful 2000Kv 6-Pole Marine Motor
This powerful 36x56 mm motor features the same Kv as the motors of our other 29-inch boats, but offers more speed on less voltage when paired with the new stainless steel propeller included with the boat. You no longer need to run 6S power to get 6S speeds.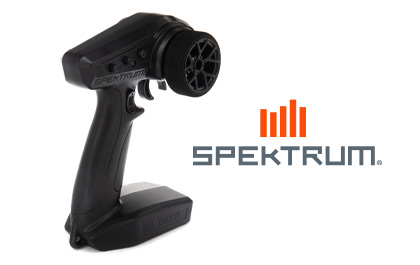 Spektrum SLT3 2.4GHz Radio
The 3-channel SLT3 transmitter offers all you need for dependable, confident control. User-adjustable features include steering and throttle trims, steering rate, and throttle limits. The control layout is amazingly intuitive - all controls are perfectly positioned to be quickly accessible when needed and out of the way when not in use.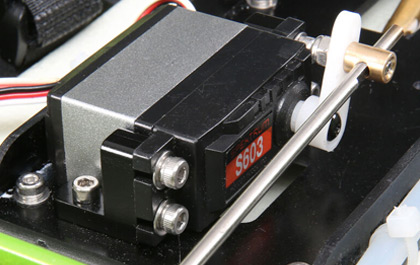 High-Torque Waterproof Steering Servo
The high-torque steering servo offers peace of mind because the boat will stay in the direction you point it despite tricky water conditions.

What's in the Box?
(1) Veles 29 Catamaran Boat
(1) Spektrum SLT3 2.4GHz Radio
(1) Spektrum SR315 DSMR 3-Channel Receiver (installed)
(1) Dynamite 120A Marine Brushless 2-6S ESC (installed)
(1) Dynamite Marine 2000Kv Brushless Motor (installed)
(1) Spektrum 3kg Plastic Gear Servo (installed)
(1) User Manual
Completion Items
(2) 2S-3S 5000mAh, 50C LiPo Batteries with EC5 Connector
(1) Compatible Lipo Battery Charger
(4) AA Batteries for Radio
(1) LiPo Safe Charging Bag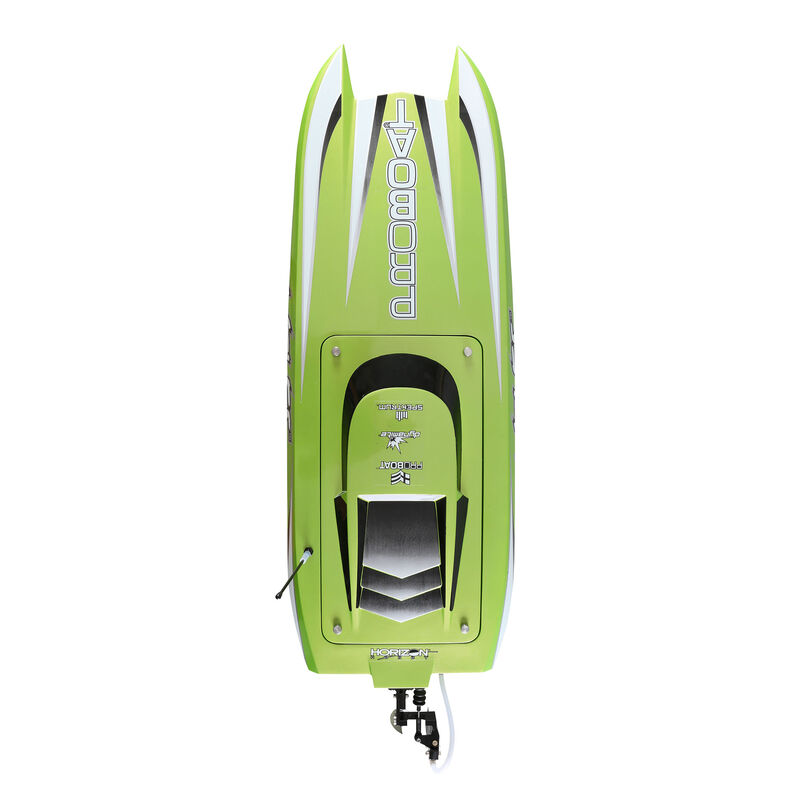 Download a Factsheet
Download an A4 factsheet to print off and display in store. No trade prices shown - just a summary of this issue of Logic RC News. Right click the image on the right and select 'Save link as...' to save the pdf locally so you can print at your convenience.