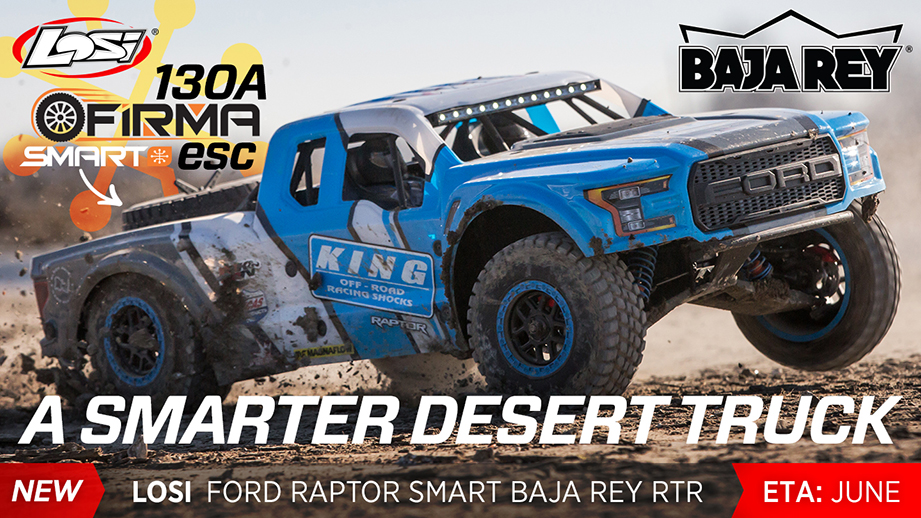 Product Overview
The Losi Ford Raptor Baja Rey is the most authentic desert truck on the market. Engineered to race, the Baja Rey's 4-link suspension and true-to-scale body make it supreme desert racer.
Officially licensed, it comes equipped with a Spektrum 3800Kv brushless power system, as well as a solid rear axle, independent front suspension, and roll cage with upright shocks, so you can tear across all types of rocky off-road terrain. And you'll do so with the full-throttle freedom that only AVC technology can provide. Just like the full-scale Ford Raptor, the onboard traction control allows you to fly across the desert at speeds in excess of 50mph all while in complete control and completely dialed in. You get an authentic off-road racing experience with injection molded details, light bars and two licensed trim schemes. The Ford Raptor Baja Rey has just raised the bar another level.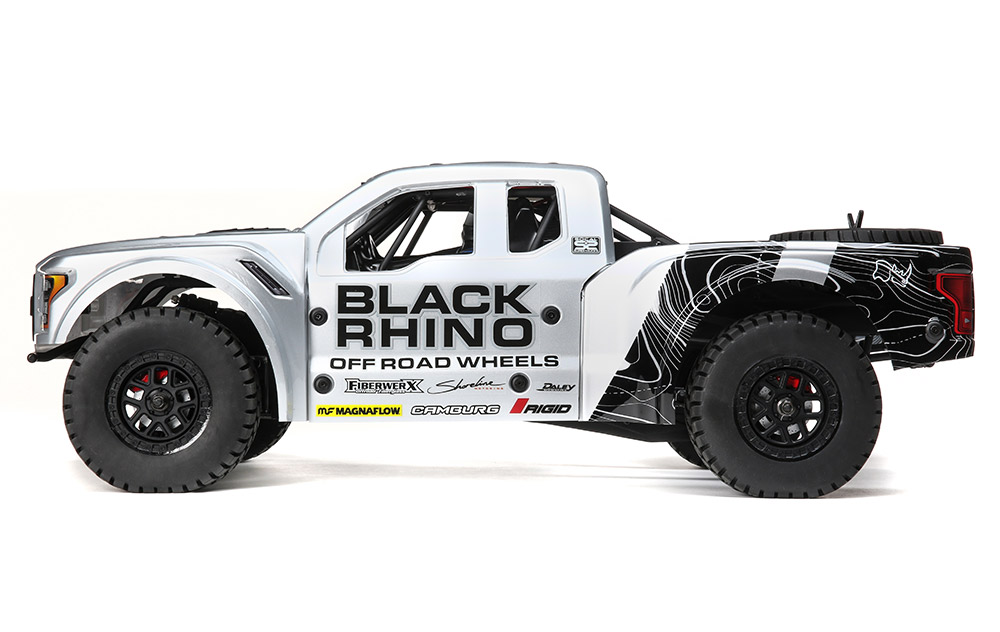 Officially Licensed Ford Body Panels and Trim Schemes
Over the top scale details including custom body, 4-link suspension and more.
Spektrum 3800Kv Brushless Power System
Spektrum Smart Firma 130A ESC with IC5 Connector
SR6200 AVC Receiver
S614 Steel Gear Servo
Long Travel 4-link Live Rear Axle
Long Travel Independent A-Arm Front Suspension
Easy-Access Motor
Rear-Loading Battery
Sealed Metal-Gear Transmission and Diffs
Coil-over Oil-Filled Shocks
Waterproof Electronics
Bolt-On Body Panels and Detailed Interior
LED Light Bar (Front and Rear)
Aluminium Chassis
Full-Size Spare Tyre
Spektrum DX3 3ch Transmitter with DSMR and Smart Technology
AVC Traction Control

Officially Licensed Ford Trim Schemes
Officially licensed Ford Raptor body panels, licensed Black Rhino Wheels and King Shocks trim schemes bring authentic scale details to the Ford Raptor Baja Rey. These will have racers doing double takes as they take on all comers.
Officially Licensed Ford Body Panels
The Ford Raptor Baja Rey has the look and feel of its real-world counterparts in ways you never imagined. The body panels capture the design of everything right down to the last detail.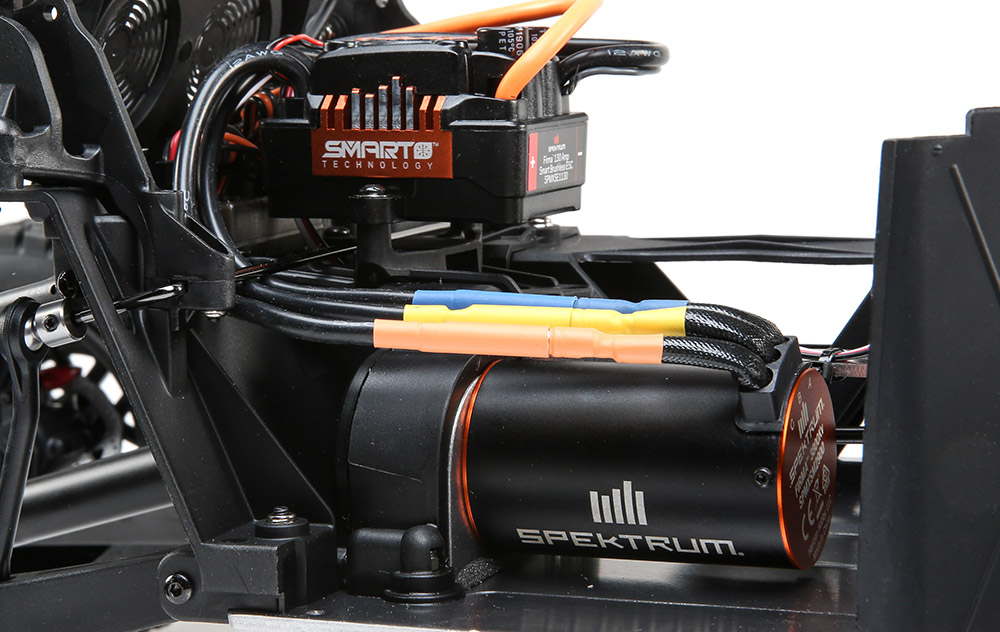 Spektrum Power System
The truck comes equipped with a Spektrum 3800Kv brushless motor and a brushless Spektrum Smart Firma 130A ESC. This potent combination can handle 2S or 3S LiPo batteries (sold separately) and will allow you to hurtle across the landscape at speeds of up to 50 mph.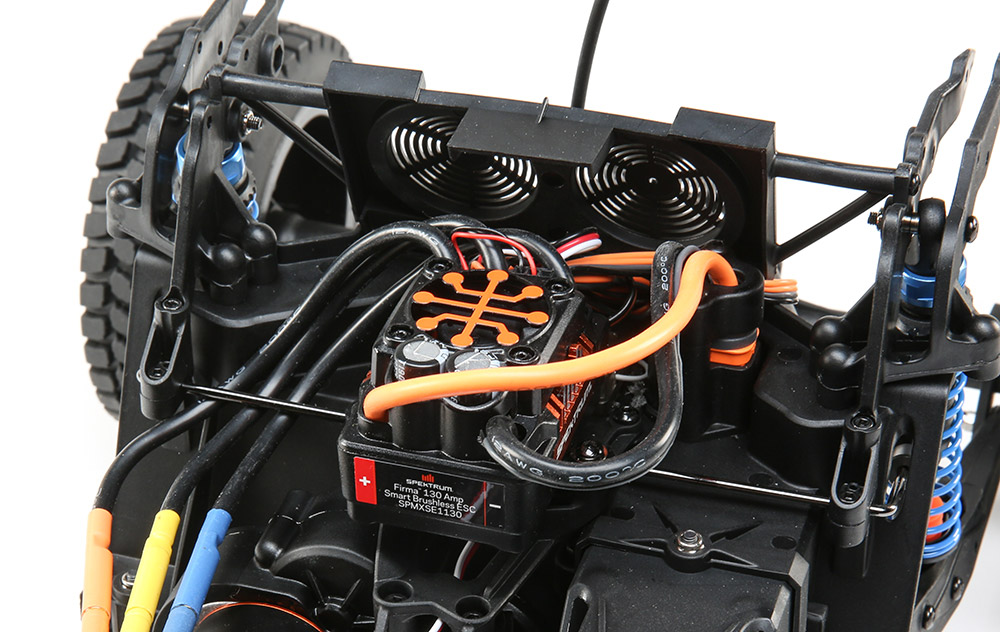 Waterproof Electronics
The Baja Rey desert truck is loaded with waterproof electronics including the receiver, servo and ESC. Everything is sealed against the elements allowing you to splash in the rain, spin in the mud and make tracks in the snow. It's full-throttle freedom to run anytime, rain or shine.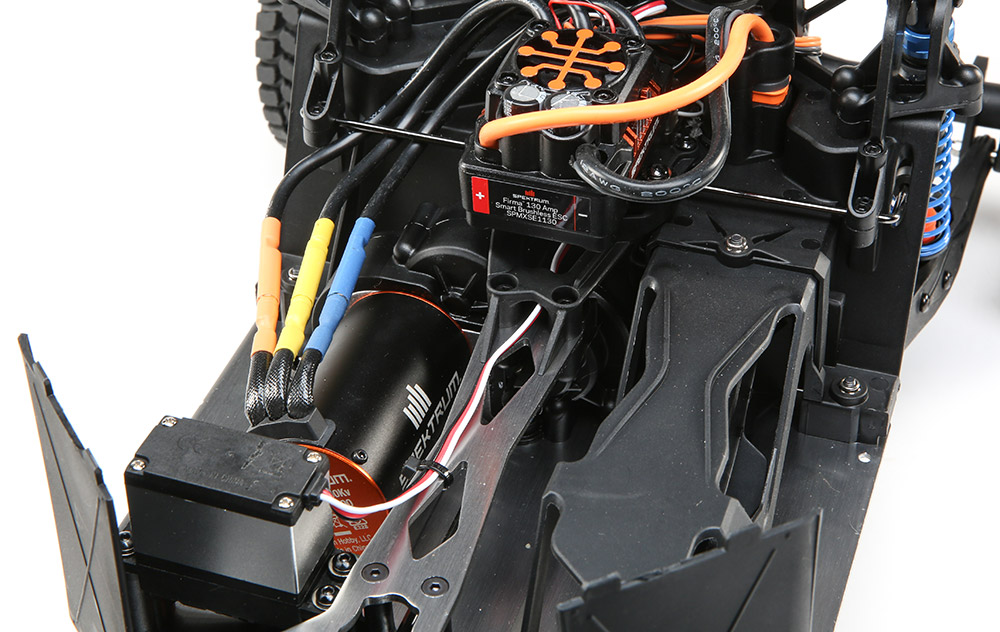 Functional Easy-Access Motor
The unique design of the chassis allows the Spektrum 3800Kv brushless motor to be accessed without difficulty. Drivers simply remove three screws in the bottom of the chassis, and they can then effortlessly make gear changes and service the motor.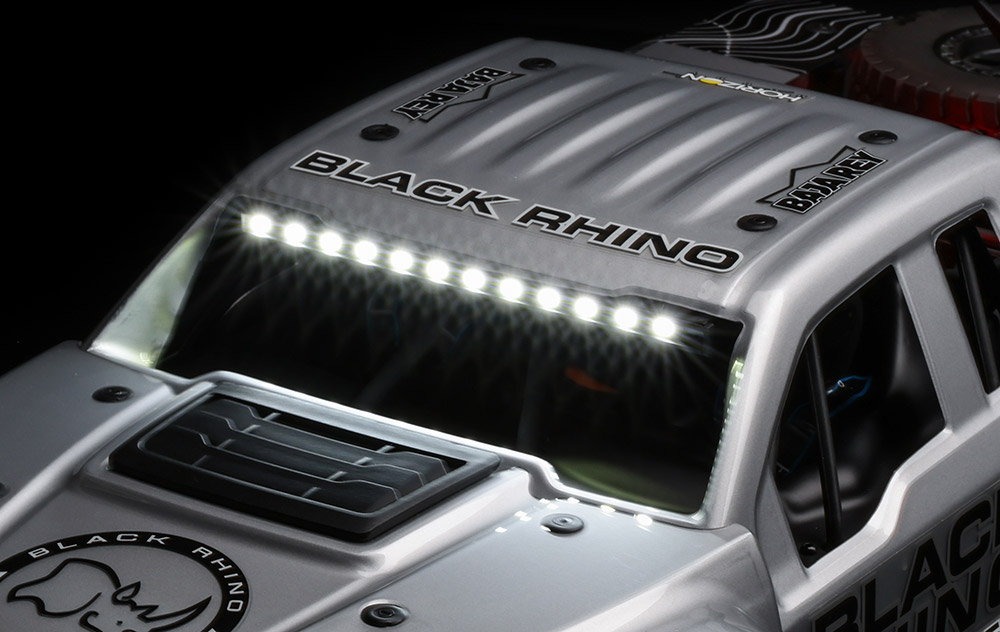 LED Lights
The fun doesn't stop even when the sun goes down with the Ford Raptor Baja Rey. A brilliant LED lights on the integrated light bar cast more than enough illumination for running at night. Plus, the body-mounted LEDs place only a small demand on the battery allowing you to stay out all night!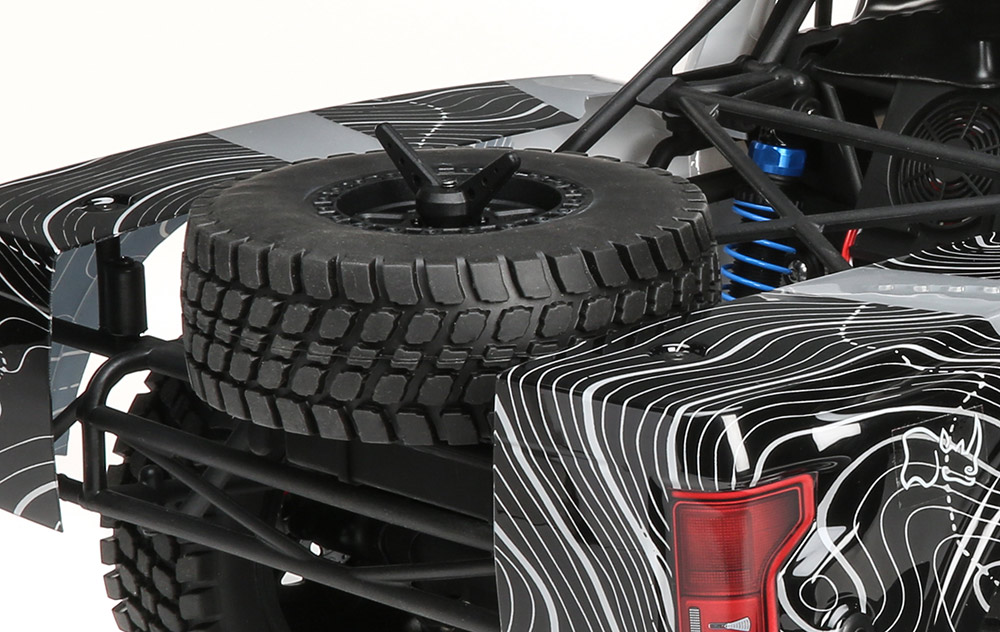 Full-Size Spare Tyre
Blow out a tire out on the desert? No worries. The fully functional spare tire not only adds an authentic scale look to the Ford Raptor Baja Rey but serves as a true spare. Easily add the tyre and get back to tackling the terrain.

Spektrum Smart technology is about offering a higher connection to your hobby. It's a connection that puts you in complete control, makes you more aware and more confident about the capability of your equipment-all while making vital components of your model easier to use than ever. The combined result is a sense that will make you wish everything about your hobby was smarter.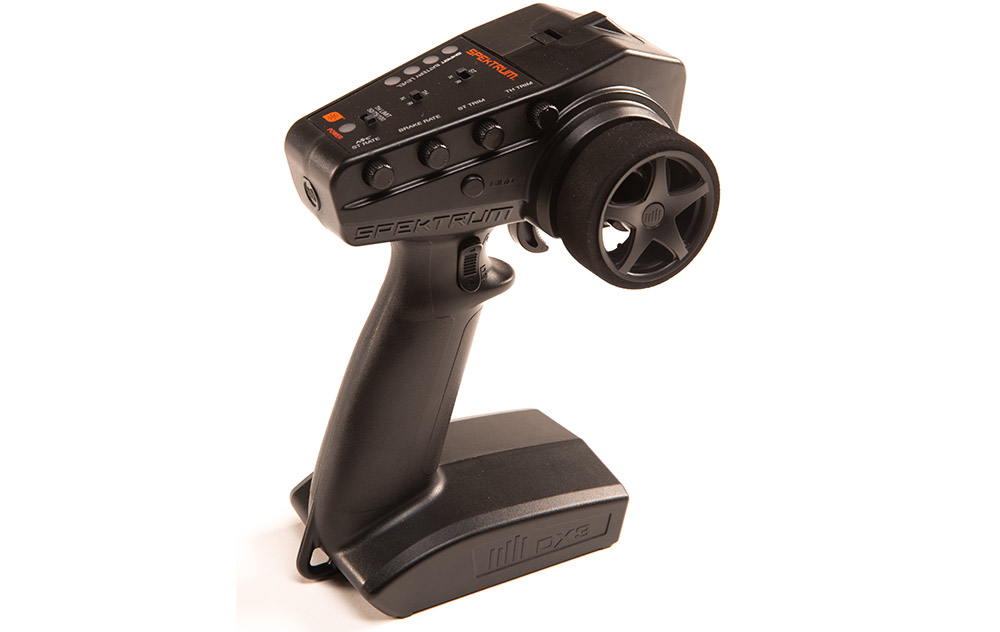 DX3 Radio System
The ergonomic design of the DX3 transmitter provides a feel that any driver will appreciate. Its overall low weight allows all-day driving with minimal fatigue. The control layout is amazingly intuitive - the servo reversing switches, steering and throttle trim dials, AVC/steering rate dial and 3-position throttle limiter are all perfectly positioned to be quickly accessible when needed and out of the way when not in use.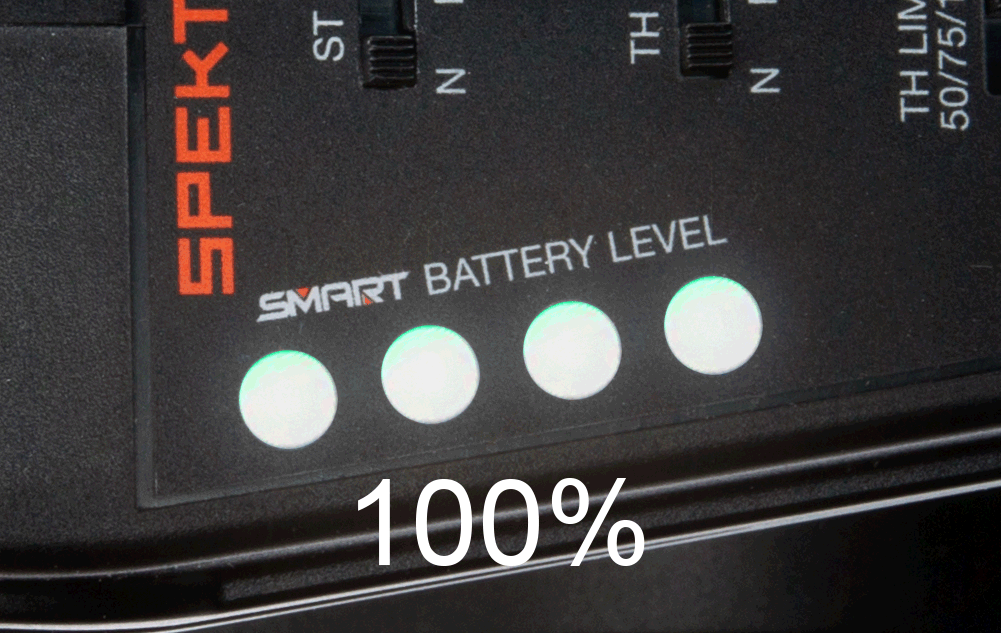 Smart Battery Level Indicator and Alarm
Integrated into the face of the DX3 Smart is a helpful Smart Battery voltage indicator. Drivers can easily find out the charge of their Smart battery with a quick glance and once the battery level gets low, an alarm will sound.(Smart Battery required).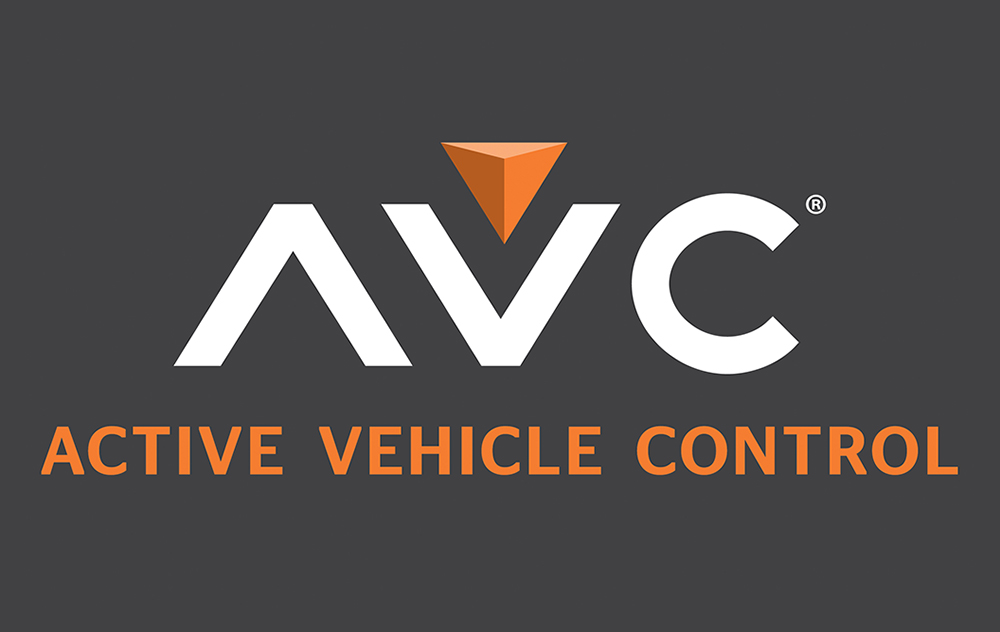 Active Vehicle Control
The receiver's built-in AVC (Active Vehicle Control) traction control system works behind the scenes, making hundreds of throttle and steering adjustments per second, so more of the motor's power is translated into ballistic speed and acceleration instead of just flying dirt. The patent pending AVC system adds a level of performance that simply cannot be found with any vehicle from any manufacturer other than Horizon Hobby. Like traction control in your full-scale vehicle, you can activate or deactivate the system on the fly and adjust the level of stability based on driving conditions. Any RC vehicle can go fast and with AVC you can go faster while maintaining optimum stability in all driving conditions.

What's in the Box?
(1) 1/10 Ford Raptor Baja Rey 4WD Brushless RTR with SMART
(1) SR6200 AVC Receiver
(1) Spektrum DX3 3ch Transmitter with DSMR and Smart Technology
(1) Spektrum 3800Kv Brushless Power System
(1) Spektrum Smart Firma 130A ESC with IC5 Connector
(1) Product Manual
Needed to Complete
2S or 3S Hardcase LiPo battery with EC5 or IC5 connector
Appropriate LiPo Charger
Recommended Completion Items

Download a Flyer
Download an A4 flyer to print off and display in store. No trade prices shown - just a summary of this issue of Logic RC News. Right click the image on the right and select 'Save link as...' to save the pdf locally so you can print at your convenience.