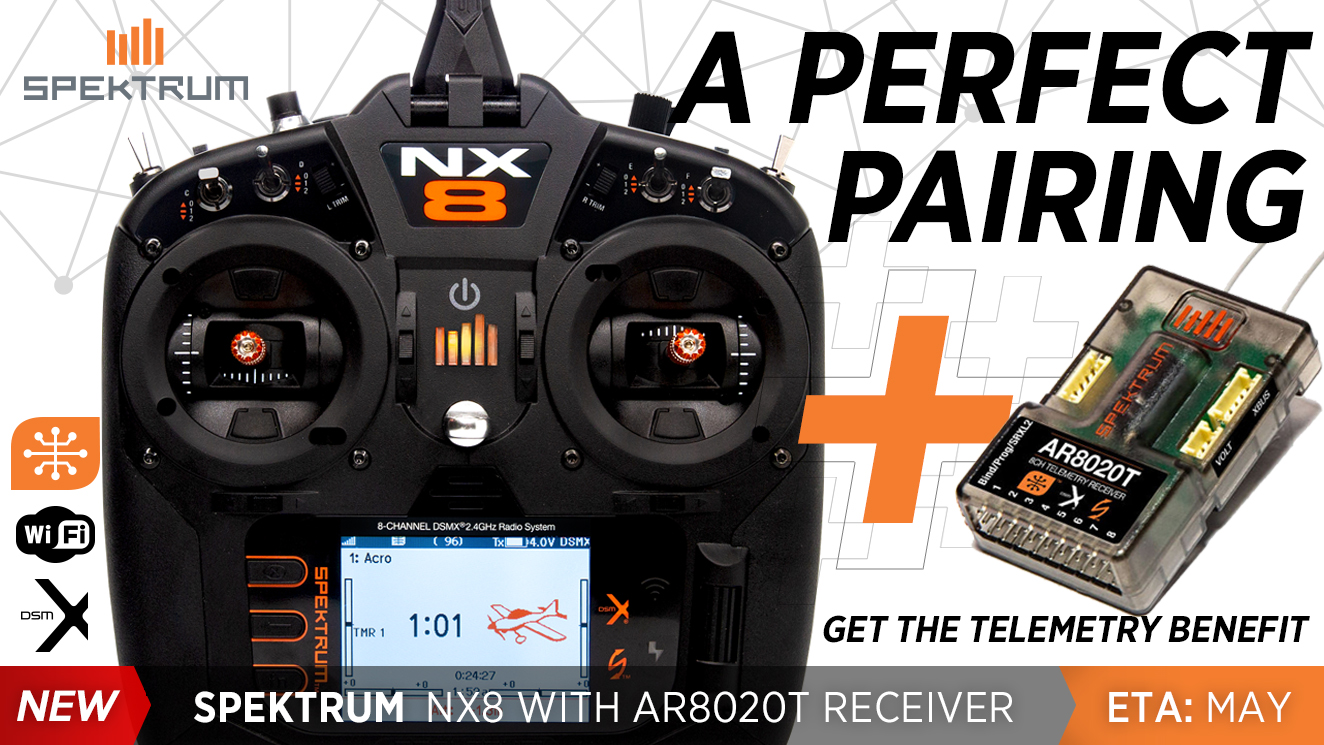 With the Spektrum NX8, you'll enjoy the 8-channel versatility needed to operate your models to their fullest potential and to fly complex aircraft such as EDF jets. And that's just where its next-generation "NX" series advantages begin. The NX8 also incorporates many of the latest exclusive Spektrum innovations for a level of ease, efficiency and performance you'll find in no other 8-channel transmitter.

Out of the box, the Spektrum NX8 transmitter and AR8020T receiver are compatible with and ready to support your Spektrum Smart batteries and Smart Avian ESCs - so you can receive essential telemetry data right at your fingertips in real time. The NX8 radio's Wi-Fi connectivity adds even more convenience. In addition to completing product registration straight from the transmitter, you'll be able to download firmware updates instantly. It's a totally modern user experience.

More proven Spektrum radio expertise can be found in the NX8 transmitter's ergonomic design. The contours, balance, and control positions combine to increase the accuracy of your inputs and provide unparalleled comfort. An easy-to-use roller wheel interface and easy-to-read menus simplify programming. The large 3.2" colour display also presents telemetry information in crisp, clear, high-resolution detail, and lets you choose from multiple colour palettes - or create your own. Even a long-lasting, rechargeable 1S 2000mAh Li-Ion transmitter battery and USB cable for convenient USB charging are included.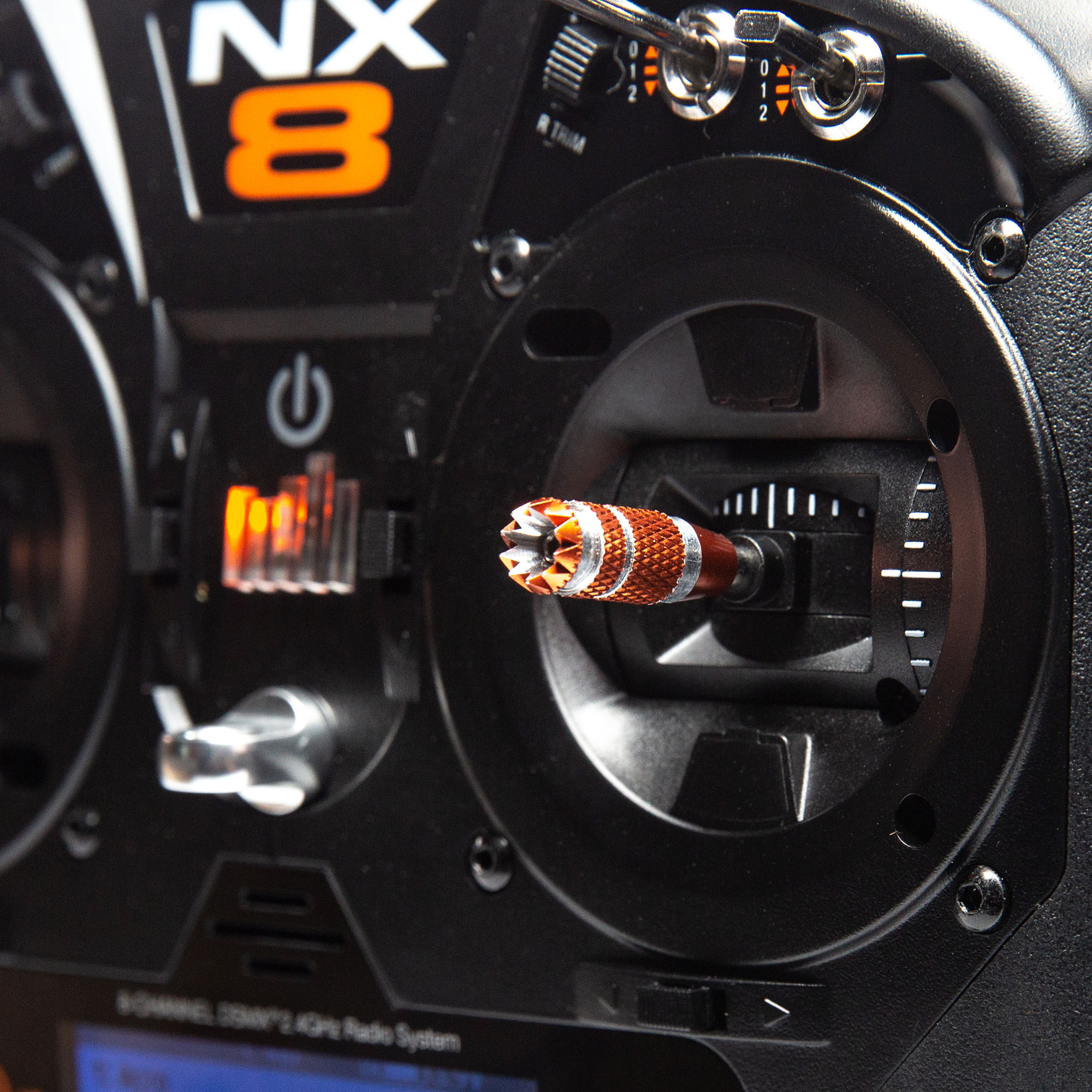 AR8020T Telemetry Receiver
The Spektrum AR8020T 8 Channel Receiver is a DSM2 and DSMX capable receiver with a compact footprint to fit in a wide range of aircraft. It features a full range telemetry, integrated barometer to provide altitude and vario telemetry data without additional purchase. Included XBUS and temperature ports can be used to add additional telemetry sensors available separately. The AR8020T also features a bind button for easy binding with no plugs necessary and offers both "SmartSafe" technology and Hold Last as well as preset failsafe types set through forward programming.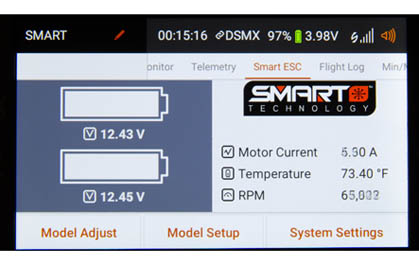 Smart Telemetry
Vital telemetry data such as current, voltage, temperature and RPM is sent directly to your transmitter in real time.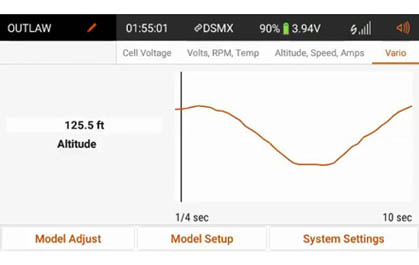 Intergrated Barometer
The integrated barometer provides altitude and vario telemetry data without the need to purchase additional sensor modules.
Includes NX8 transmitter plus full-range, 8-channel AR8020T DSMX compatible air receiver
Backlit 3.2", 320x240 resolution display screen with multiple colour palette choices and user customizable colours
Wi-Fi connectivity for easy product registration and firmware updates
Smart Technology compatibility out of the box
Airplane, sailplane, multi-rotor and helicopter programming
10 programmable mixes, 2 sequencers, and up to 10 different flight modes
250 model memory
Model templates for BNF⌐ aircraft
Superb ergonomics optimized for comfort and precise, fatigue-free control
3.7V 2000mAh 1S Lithium Ion transmitter battery and a USB cable for convenient USB charging
Large Colour Display
Navigating menus and viewing telemetry data is made easy by the NX8 transmitter's large, 3.2" backlit colour display that delivers information in crisp, 320x240 resolution detail. The display screen also allows you to choose from multiple colour palettes or create your own.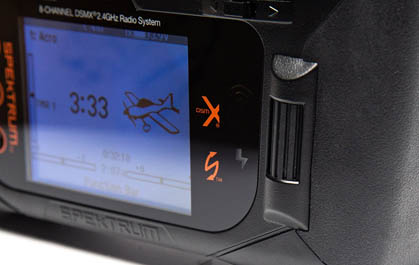 Easy Programming
The NX8 offers 10 programmable mixes, 2 sequencers, and up to 10 different flight modes. You can easily navigate program menus with the transmitter's roller-wheel scrolling interface with Clear, Back, and Function buttons. Function bar options include Telemetry Ticker Tape for following real-time telemetry data and "My List" to give you quick access to the menu items you select.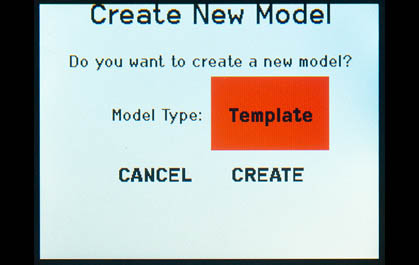 Model Templates
Model programming templates for BNF aircraft that include desired switch assignments, rates, curves and other details are already saved into the NX8 transmitter. You can also simplify the process of creating set-ups for new models by selecting Template and starting from a generic model template of the appropriate model type.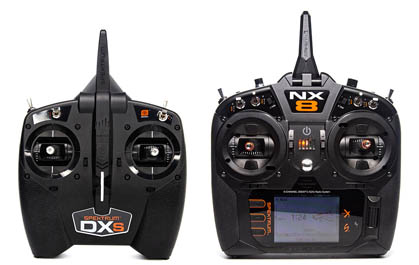 Wireless Trainer
The exclusive functionality of the Spektrum wireless trainer link gives NX8 users the ability to link up wirelessly with other Spektrum DSMX transmitters when teaching someone to fly. It's hassle-free. Once bound to another transmitter or component, ModelMatch technology will allow the NX8 to re-link without going through the bind process all over again.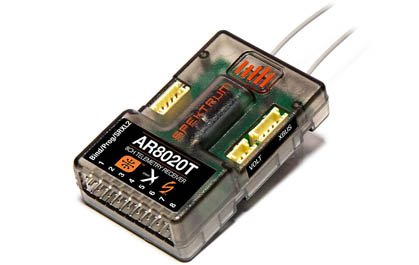 AR8020T Receiver
The AR8020T receiver included with the SpektrumT NX8 radio system is a full-range, 8-channel receiver with DSMX⌐ compatibility and compact, 1.93 x 1.18 x 0.59 inch (49 x 30 x 15mm) L/W/H dimensions to fit easily in a wide range of models. Built-in telemetry and Smart compatibility equip the receiver to deliver vital flight data from Smart components to the NX8 transmitter in real time.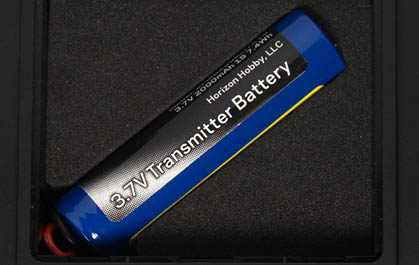 High Capacity Li-ION Battery
The NX8 transmitter includes a long-lasting 3.7V 2000mAh 1S Lithium Ion battery and a USB cable for convenient USB charging.
What's in the Box?
(1) Spektrum NX8 8-Channel DSMX Transmitter
(1) Spektrum AR8020T DSMX Full-Range 8-Channel Telemetry Receiver
(1) 2000mAh LiIon transmitter battery and cable for USB charging
(1) NX8 Transmitter Neck Strap
(1) Product Manual

Download a Flyer
Download an A4 flyer to print off and display in store. No trade prices shown - just a summary of this issue of Logic RC News. Right click the image on the right and select 'Save link as...' to save the pdf locally so you can print at your convenience.