SMAP:
Trade:
Barcode:
5052127038317
Product Details
EXB-hardened components throughout its fully assembled chassis give the 1/7 scale ARRMA MOJAVE EXtreme Bash Desert Truck 4WD the toughness to tackle any track. Just install your electronics and the finished EXB body - then bash without boundaries.
Key Features
7075 T6 Aluminum laser-etched chassis plate
EXB Large volume waterproof receiver box
EXB Heavy-duty steel turnbuckles and front upper steel hinge pins
Multi-terrain vented dBoots FORTRESS tyres
Roller Completion Level comes with chassis assembled and ready to customise with your favorite electronicsr
In The Box
(1) ARRMA MOJAVE EXtreme Bash 1/7 Desert Truck 4WD Roller
(1) Product Manual
Needed to Complete
Transmitter and Receiver
Steering Servo
Electronic Speed Control
Motor, Pinion and Motor Screws
4S or 6S LiPo Battery
Compatible Charger
LiPo Charging Bag
Overview
Experience the speed and durability of ARRMA® bashing in a big way with the 1/7 scale, 6S capable MOJAVE™ EXtreme Bash Desert Truck 4WD Roller. ARRMA® adds extra toughness everywhere it counts, making this chassis the perfect platform for high-speed bashing whether you're blasting through coastal sand dunes or thrashing across concrete sidewalks. It's fully assembled and ready to accept your choice of powerful electronics.
The tough-as-nails anodised aluminium chassis has been reinforced with aluminium front and rear chassis braces and a tower-to-tower center brace for maximum durability. Bumpers and nerf bars supply impact protection on all sides. Thanks to an independent suspension with bump-soaking oil-filled shocks, the truck handles equally well over wicked or well-travelled tracks.
Its drivetrain is a masterpiece of heavy-duty design, featuring steel driveshafts, metal gears, and all-metal diff outdrives. The MOJAVE™ EXtreme Bash Desert Truck 4WD Roller's list of EXB EXtreme Bash components also includes the following — and more — to give this big machine uncompromising durability:
EXB Aluminium Chassis
EXB Anodised Aluminium Suspension Towers
EXB Anodised Aluminium Servo Mount
EXB Large Volume Waterproof Receiver Box
EXB Heavy-Duty Steel Turnbuckles
EXB Plated Limited-Slip Differentials
EXB Heavy-Duty Front Upper Steel Hinge Pins
Vented, multi-terrain dBoots® FORTRESS™ tyres on multi split-spoke wheels give your MOJAVE™ EXtreme Bash Desert Truck 4WD Roller the grip to get up, over, or through anything in your way. And it doesn't just perform like a winner. It looks like one, too, with the included, exclusive EXB matte and gloss finish desert truck body, color-coordinated roll cage and roof rails, and even a detailed cockpit.
Features
7075 T6 Aluminium EXB laser-etched chassis plate
Anodised aluminium front and rear chassis braces
Center brace for maximum durability
Aluminium front upper hanger and top plate
EXB Anodised aluminium servo mount
EXB Large volume waterproof* receiver box
Strong composite chassis side pods
Heavy-duty front and rear suspension arms with aluminium strengthening cap
Independent suspension for superior handling
Steel rear suspension mounts
EXB Heavy-duty steel turnbuckles
EXB Heavy-duty front upper steel hinge pins
Oil-filled adjustable shocks
7075 T6 Anodised aluminium shock towers front and rear
Heavy-duty drivetrain
Durable steel driveshafts
All-metal diff outdrives and gearbox internals
Limited-slip differentials front and center
SAFE-D input gears
EXB Plated limited slip differential
Exclusive EXB matte and gloss effect body
Realistic cockpit detail and ultra-detailed decals
Center roll hoop interfaces with body roll cage for enhanced body durability
Nerf bars for body and side impact support
Realistic front and rear bumper protection
Flexible front bumper valance
Super-durable wheel hubs for increased strength
Colour-coordinated multi split-spoke wheels
Multi-terrain vented dBoots® FORTRESS™ tyres
* For details on waterproof standards, please refer to the instruction manual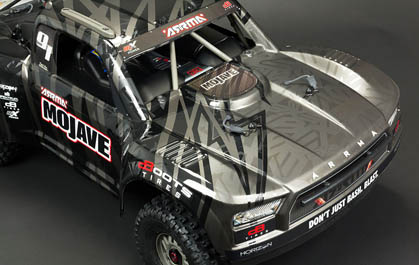 EXCLUSIVE EXB MATTE & GLOSS EFFECT BODY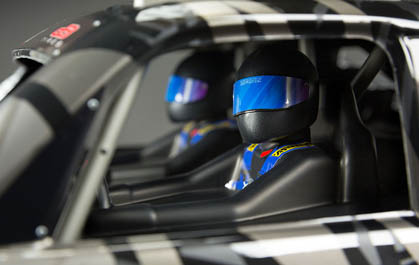 REALISTIC DETAIL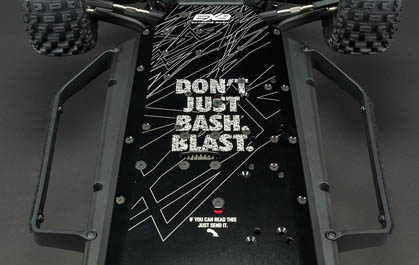 ETCHED TO PERFECTION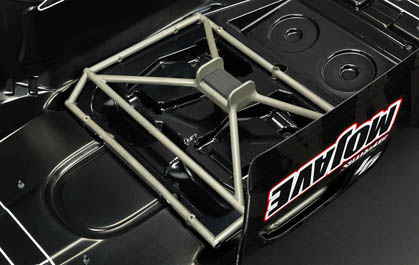 ALL-IN-ONE INTEGRATED ROLL CAGE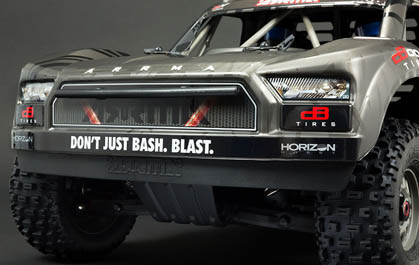 FRONT BODY PROTECTION BAR & RUBBER VALENCE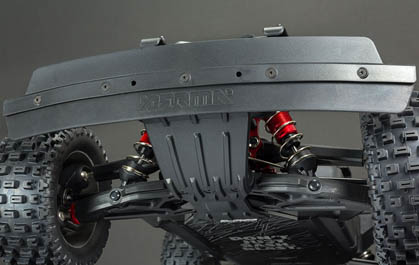 WIDE FRONT BUMPER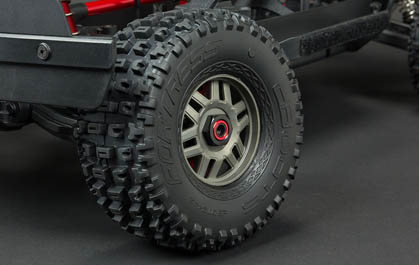 COLOUR COORDINATED MULTI-SPOKE WHEELS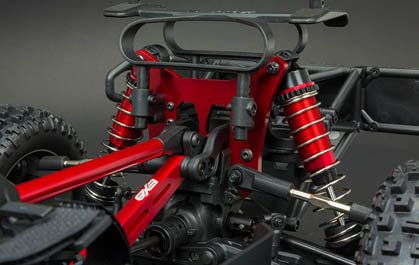 EXB 7075 T5 ALUMINIUM SHOCK TOWERS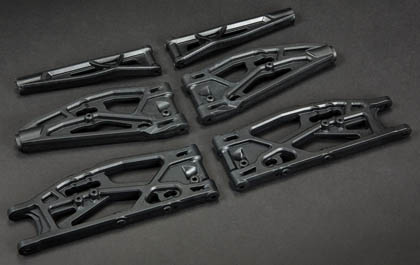 HEAVY-DUTY FRONT & REAR ARMS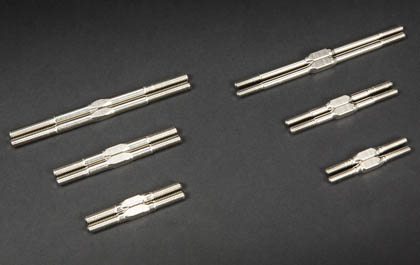 EXB HEAVY-DUTY STEEL TURNBUCKLES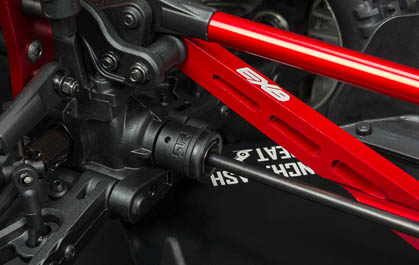 SAFE-D FIRST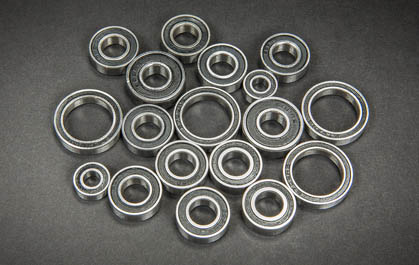 RUBBER SHIELDED BEARINGS THROUGHOUT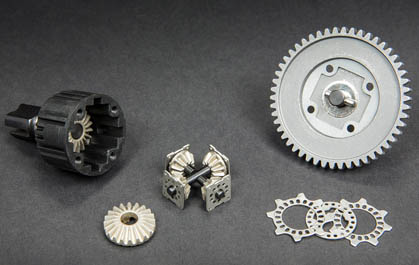 EXB PLATED LIMITED SLIP DIFFERENTIAL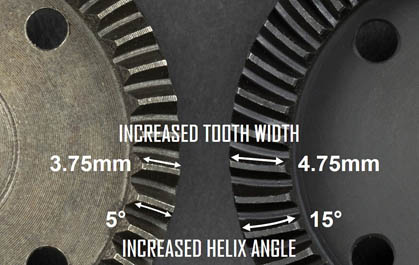 WIDER TOOTH PROFILE = STRONGER GEARS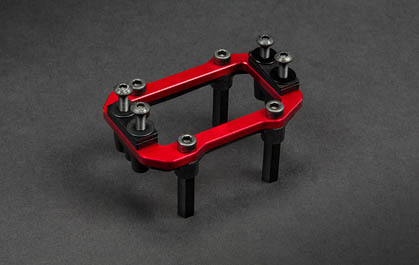 EXB ANODISED ALUMINIUM SERVO MOUNT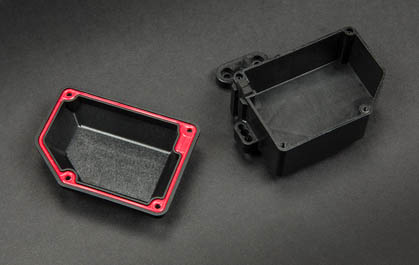 LARGE VOLUME WATERPROOF RECEIVER BOX
Video Gallery
Support
Exploded Views
Click here to view available exploded views.
---
Related Items
4S Completion Guide
6S Completion Guide
Optional Parts
Pit/Field Tools
Replacement Parts
Used In
Optional Parts
Image
Item Id
Name
Trade
SSP
Order
Now
G-ARA550065
DBOOTS 'Fortress' Tire Set Glued (Red) (2pcs)
£39.99
G-ARA840000
Arrma Foam Pit Mat, 24" x 68"
£19.99
G-PRO10163-00
1/7 Hyrax Front/Rear All Terrain Unlimited Desert Racer Tire
£32.50
G-PRO10189-10
1/7 Dumont Fr/Rr Sand/Snow Mojave Tires Mounted 17mm Blk Whl
£42.50
M-SPMXSM1000
Firma 3150Kv Brushless Motor
£59.99
O-DYN1405
LiPo Charge Protection Bag, Large
£22.50
O-SPMX40002S50H3
4000mAh 2S 7.2V Smart LiPo Battery 30C; IC3
£44.99
O-SPMX50002S100H3
5000mAh 2S 7.4V 100C Smart LiPo Hardcase; IC3
£69.99
O-SPMX50002S100H5
5000mAh 2S 7.4V 100C Smart LiPo Hardcase; IC5
£69.99
O-SPMX50002S30H3
5000mah 2S 7.4V 30C; HC, IC3
£59.99
O-SPMX50002S30H5
5000mah 2S 7.4V Smart LiPo 30C; Hardcase, IC5
£49.99
O-SPMX50002S50H3
5000mAh 2S 7.4V 50C Smart LiPo Hardcase; IC3
£59.99
O-SPMX50002S50H5
5000mAh 2S 7.4V 50C Smart LiPo Hardcase; IC5
£59.99
O-SPMX52S100H5
7.4V 5000mAh 2S 100C Smart G2 Hardcase LiPo Battery: IC5
£79.99
O-SPMX52S30H3
5000mAh 2S 7.4V SMART G2 30C IC3
£54.99
O-SPMX52S30H5
5000mAh 2S 7.4V SMART G2 30C IC5
£54.99
O-SPMX52S50H3
5000mAh 2S 7.4V SMART G2 50C IC3
£59.99
O-SPMX52S50H5
5000mAh 2S 7.4V SMART G2 50C IC5
£59.99
O-SPMXC1000
Spektrum Smart S1200 DC Charger, 1x200W
£79.99
O-SPMXC1050
S1500 DC Smart Charger 1 x 500W
£149.99
O-SPMXC2010I
S2200 Smart G2 AC Charger 2x200W
£249.99
O-SPMXC2020I
S1200 Smart G2 AC Charger, 1x200W EU
£169.99
O-SPMXC2040I
S1400 Smart G2 AC Charger 1x400W
£229.99
O-SPMXCA501
IC5 Battery Connector (2)
£8.99
O-SPMXCA502
IC5 Device and Battery Connector (1 of each)
£9.99
O-SPMXCA503
IC5 Device Connector (2)
£10.99
O-SPMXPS4I
Spektrum Smart PowerStage Bundle 2 x 2S 5000mAh IC5
£299.99
O-SPMXPS6I
Spektrum Smart PowerStage Bundle 2 x 3S 5000mAh IC5
£339.99
P-SPM2340
DX3 3Ch DSMR Radio w/SR315
£99.99
P-SPM5025
DX5 Pro 2021 DSMR TX w/SR2100
£374.99
P-SPMR5025
DX5 Pro 2021 DSMR TX Only
£309.99
P-SPMR5200GEU
DX5 Rugged 5ch DSMR Tx Only. Green
£219.99
P-SPMS614S
S614S 15kg Steel Gear WP Servo 23T
£27.50
P-SPMS652
18Kg Servo, Steel Gear
£49.99
P-SPMSLT300
SLT3 3-Ch Radio System w/SR315 Dual Protocol (SLT/DSMR) Rx
£69.99
P-SPMSLT350
SLT3 3CH 2.4Ghz with SLR300 RX
£49.99
P-SPMSR2100
SR2100 DSMR Micro Race Rx Antenna-Less
£89.99
P-SPMSR215
SR215 DSMR 2 Ch Sport Rec
£29.99
P-SPMSR515
SR515 DSMR 5 Ch Sport Rec
£59.99
P-SPMSR6100AT
SR6100AT 6 Channel AVC/Telemetry Surface Receiver
£79.99
P-SPMSR6110AT
SR6110AT 6ch AVC/Tele Surf RX
£99.99
P-SPMSR6200A
6200A 6CH AVC Surface RX
£74.99
P-SPMSS6170
S6170 Mid Torq Mid Speed Digital WP Servo-Plastic Gear
£32.50
P-SPMSS6230
S6230 Ultra Torq Mid Speed Digital WP Servo-Metal Gear
£94.99
P-SPMSS6240
S6240 High Torq High Speed Digital WP Servo-Metal Gear
£94.99
P-SPMSS6245
S6245 High Speed/Torque Servo
£159.99
P-SPMSS6250
S6250 Ultra Torque High Speed Digi WP Servo-Metal Gear
£104.99
P-SPMSS6260
S6260 High Torque High Speed Digi HV Servo-Metal Gear
£109.99
P-SPMSS6280
S6280 Standard Digital HV Ultra Torque High Speed Waterproof
£149.99
P-SPMSS6290
S6290 Ultra Torque High Speed HV WP Metal Servo
£139.99
P-SPMXC10202I
16A 380W POWER SUPPLY (includes UK Plug)
£139.99
T-DYN2814
Hex Driver: 1.5mm
£6.50
T-DYN2815
Hex Driver: 2mm
£6.50
T-DYN2816
Hex Driver: 2.5mm
£6.50
T-DYN2900
Machined Hex Driver, Red: 1.5mm
£11.99
T-DYN2901
Machined Hex Driver, Red: 2.0mm
£11.99
T-DYN2902
Machined Hex Driver, Red: 2.5mm
£11.99
T-DYN2904
Machined Hex Driver Metric Set, Red
£24.99
T-LOSB4603
4-Way Wrench Steel(17mm,10mm,8mm,1/4)LST2,XXL/2
£12.99
Z-AR310473
Steel Pinion Gear 12T Mod1 5mm
£13.99
Z-AR310474
Steel Pinion Gear 13T Mod1 5mm
£13.99
Z-AR310475
Steel Pinion Gear 14T Mod1 5mm
£13.99
Z-AR310476
Steel Pinion Gear 15T Mod1 5mm
£13.99
Z-AR310477
Steel Pinion Gear 16T Mod1 5mm
£13.99
Z-AR310478
Steel Pinion Gear 17T Mod1 5mm
£13.99
Z-AR320335
Body Clip LBent (4)
£5.99
Z-AR330206
Shock Ball 3x6.8x6.3mm (4)
£22.50
Z-AR330216
Ball 3x5.8x10.8mm (4)
£14.99
Z-AR330217
Ball 3x5.8x4.8mm (4)
£13.99
Z-AR330508
Shk Sprng 95mm 0.87n/mm (5.0lb/in) 6S (2)
£9.99
Z-AR340061
Servo Horn Aluminum Black (25t)
£22.50
Z-AR340122
Servo Saver Spring 12x20mm Hard
£6.50
Z-AR390139
ADS-15M V2 15kg Waterproof Servo Red
£47.50
Z-AR390205
BLX4074 2050kV 4 Pole 6S Brushless Motor
£169.99
Z-AR610006
Bearing 6x10x3mm (4)
£13.99
Z-ARA310479
18T Mod1 Pinion Gear
£12.99
Z-ARA310480
19T Mod1 Pinion Gear
£12.99
Z-ARA310481
20T Mod1 Pinion Gear
£12.99
Z-ARA310482
21T Mod1 Pinion Gear
£12.99
Z-ARA310961
14T Mod1 Safe-D5 Pinion Gear
£16.99
Z-ARA310962
15T Mod1 Safe-D5 Pinion Gear
£16.99
Z-ARA310963
16T Mod1 Safe-D5 Pinion Gear
£16.99
Z-ARA310964
17T Mod1 Safe-D5 Pinion Gear
£16.99
Z-ARA310965
18T Mod1 Safe-D5 Pinion Gear
£16.99
Z-ARA310966
19T Mod1 Safe-D5 Pinion Gear
£16.99
Z-ARA310967
20T Mod1 Safe-D5 Pinion Gear
£16.99
Z-ARA310968
21T Mod1 Safe-D5 Pinion Gear
£16.99
Z-ARA310969
22T Mod1 Safe-D5 Pinion Gear
£16.99
Z-ARA310970
23T Mod1 Safe-D5 Pinion Gear
£16.99
Z-ARA310971
24T Mod1 Safe-D5 Pinion Gear
£16.99
Z-ARA311052
12T Mod1 Safe-D5 Pinion Gear
£15.99
Z-ARA311053
13T Mod1 Safe-D5 Pinion Gear
£15.99
Z-ARA311061
Metal Diff Case (29mm)
£24.99
Z-ARA311066
Open F/R Diff Set GP4 5mm 10K
£84.99
Z-ARA311067
Aluminum Wheel Hex 17mm - 14.6mm Thick, Black (2)
£12.99
Z-ARA311094
Diff Shim Set (Fits 29mm Diff Case) (3 Diffs)
£13.99
Z-ARA311114
Rear Brake Module Set Including Servo
£74.99
Z-ARA311115
Rear Brake Module Part Set, Composite
£18.99
Z-ARA311116
Rear Brake Module Part Set, Metal
£18.99
Z-ARA311117
Aluminum Wheel Hex 17mm, 16.5mm Thick, Black (2)
£15.99
Z-ARA311118
Aluminum Center Diff Set, 50T 200K
£84.99
Z-ARA320522
Battery Strap Set (Long)
£22.50
Z-ARA320573
Super Basher Front Bumper
£22.50
Z-ARA320575
Front Shock Tower CNC 7075 T6 Aluminum RS Red
£44.99
Z-ARA320576
Front Shock Tower CNC 7075 T6 Aluminum M Red
£44.99
Z-ARA320577
Front Shock Tower CNC 7075 T6 Aluminum L Red
£44.99
Z-ARA320578
Rear Shock Tower CNC 7075 T6 Aluminum RS Red
£49.99
Z-ARA320579
Rear Shock Tower CNC 7075 T6 Aluminum M Red
£49.99
Z-ARA320581
Rear Shock Tower Aluminum Black
£27.50
Z-ARA320647
Sliding Motor Mount Black
£27.50
Z-ARA320648
Sliding Motor Mount Plate Black
£16.99
Z-ARA320649
Aluminum Servo Mount Plate Black
£12.99
Z-ARA320650
Aluminum Servo Mount Plastic Holder Set
£6.50
Z-ARA320651
Aluminum Servo Mount Posts (4)
£9.99
Z-ARA330254
Narrow Sway Bar 2.2mm
£7.50
Z-ARA330257
Narrow Sway Bar 2.6mm
£7.50
Z-ARA330601
Steel Turnbuckle M4x60mm (Black) (2pcs)
£7.50
Z-ARA330602
Steel Turnbuckle M5x65mm (Black) (2pcs)
£10.99
Z-ARA330606
Front Lower Suspension Arms 100mm (1 Pair)
£14.99
Z-ARA330636
Narrow Sway Bar 2.9mm
£7.50
Z-ARA330637
Shock Springs: 70mm 1.13N/mm (6.5lbf/In) (2)
£8.99
Z-ARA330638
Shock Springs: 70mm 1.23N/mm (7lbf/In) (2)
£8.99
Z-ARA330639
Shock Springs: 70mm 1.42N/mm (8.1lbf/In) (2)
£8.99
Z-ARA330640
Shock Springs: 70mm 1.5N/mm (8.6lbf/In) (2)
£8.99
Z-ARA330641
Shock Springs: 110mm 0.6N/mm (3.4lbf/In) (2)
£12.99
Z-ARA330642
Shock Springs: 110mm 0.63N/mm (3.6lbf/In) (2)
£12.99
Z-ARA330727
Machined Shock Piston, Tapered, 6x1.2mm Hole (2)
£9.99
Z-ARA330728
Machined Shock Piston, Tapered, 8x1.2mm Hole (2)
£9.99
Z-ARA330729
Shock Seal Guide Set
£5.50
Z-ARA330737
Suspension Arm Metal Shim Set
£6.50
Z-ARA330768
Aluminum Shock Cap, Black (2)
£15.99
Z-ARA330774
Suspension Arm End Cap Black
£7.50
Z-ARA330775
Front Hub Nut Includes O-Rings, Aluminum, Black (4)
£13.99
Z-ARA330776
Shock Body 16x54mm, Aluminum, Black (2)
£27.50
Z-ARA330777
Shock Body 16x62mm, Aluminum, Black (2)
£27.50
Z-ARA330779
Shock Set 16mm Bore, 134mm Length, 1000cSt Oil
£84.99
Z-ARA340180
Aluminum Servo Horn 23T Spline (Spektrum)
£19.99
Z-ARA340185
Steering Rack CNC 7075 Aluminum - TLR
£22.50
Z-ARA340186
Steel Steering Post 6x42mm Black (2)
£12.99
Z-ARA340187
Aluminum Servo Saver Hub Set Black
£9.99
Z-ARA340188
Aluminum Steering Plate Black (2)
£7.50
Z-ARA340193
Steering Rack, Aluminum. Black
£12.99
Z-ARA340194
Aluminum Steering Plate B, Black (2)
£12.99
Z-ARA390211IC
BLX185 Brushless 6S ESC (IC5)
£134.99
Z-ARA411001
MOJAVE 6S BLX Clear Bodyshell (Inc. Decals)
£99.99
Z-ARA411002
MOJAVE 6S BLX Finished Body (Black/Green)
£149.99
Z-ARA411004
MOJAVE 6S BLX Finished Body (Black/Red)
£149.99
Z-ARA411005
MOJAVE 6S BLX Finished Body (Sliver/Red)
£149.99
Z-ARA480029
Roll Cage (Red)
£27.50
Z-ARA480030
Roof Rails (Red)
£14.99
Z-ARA480031
Roll Cage Green
£32.50
Z-ARA480032
Roof Rails Green
£16.99
Z-ARA550068
dBoots 'Fortress' Tyre Set Glued Green (Pair)
£54.99
Z-ARA550073
DBOOTS HOONS 53/107 2.9 White Belted 5-Spoke (wide rear)
£39.99
Z-ARA550084
DBOOTS HOONS 53/107 2.9 Silver Belted 5-Spoke (wide rear)
£39.99
Z-ARA550085
DBOOTS HOONS 53/107 2.9 Gold Belted 5-Spoke (wide rear)
£39.99
Z-ARA610050
Ball Bearing 6x10x3mm 2RS (4)
£13.99
Z-ARA711003
X-Ring 4x7.5mm (8)
£7.50
Z-LOSA99172
Camber Gauge
£16.99
Z-LOSA99173
Ride Height Gauge
£16.99
Z-SPMS614
S614 Metal Gear Servo 23T WP
£29.99
Z-TLR76006
Tire Glue, 1oz, THIN
£14.99
Z-TLR76007
Tire Glue 1oz STANDARD
£14.99
Z-TLR76008
Tire Glue,.5oz, THIN
£8.99