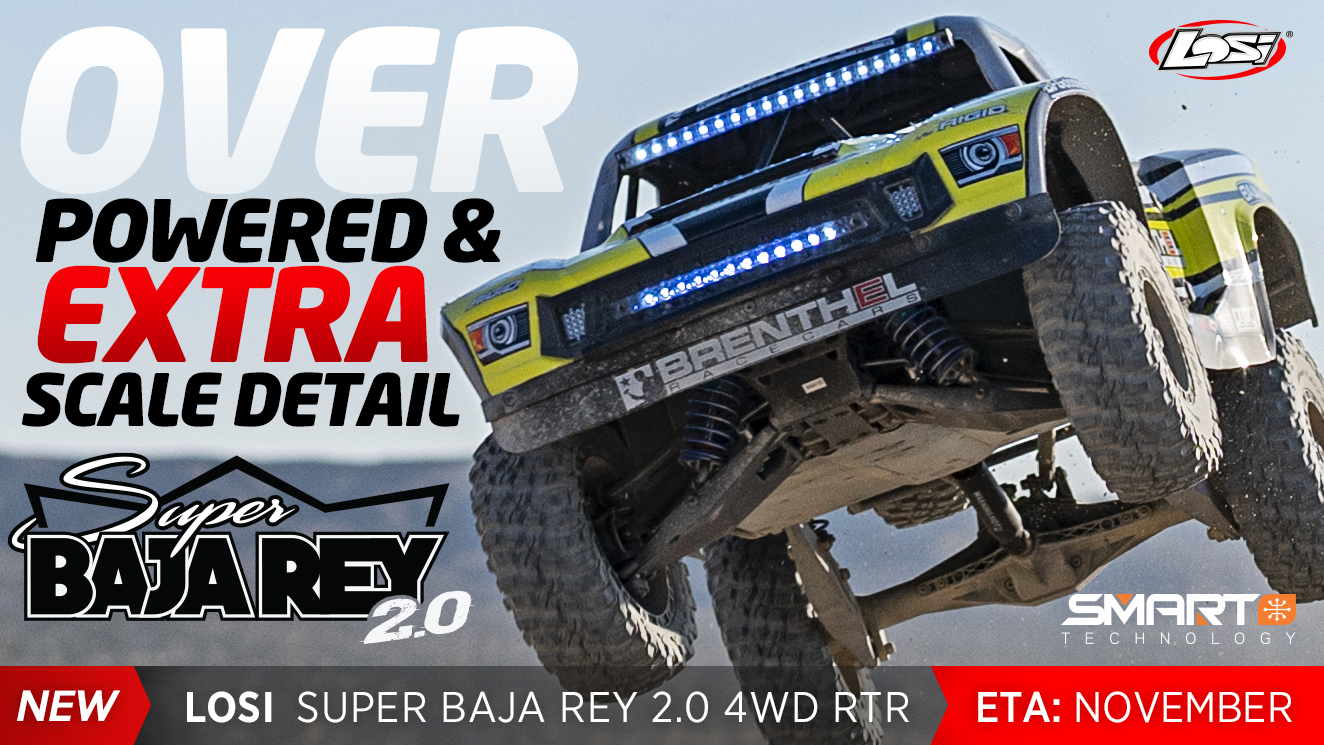 Product Overview
The Losi Super Baja Rey 2.0 with Spektrum Smart is the new standard in 1/6th-scale desert trucks. Overpowered and over-the-top, the SBR 2.0 takes it to the next level of performance and scale detail.
With powerful performance and incredible scale looks, the SBR 2.0 takes it to the next level! Taking the Super Rock Rey chassis, adding about an inch to the wheelbase and morphing it with the front end from the Super Baja Rey gets you the all new and improved Super Baja Rey 2.0! You get the best of both worlds! The Spektrum Firma SMART 160 Amp 8S ESC and 750kv Firma 1/6th 5687 brushless motor allow you to unlock blazing speeds. The bottom loading chassis makes battery changes a breeze. Front and rear LED light bars keep everything nice and bright for off-road adventures at night. Drivers stay in control with a DX3T transmitter, a Spektrum 6100AT AVC receiver with steering priority, and officially licensed Method Racing Beadlock Wheels and BFGoodrich Mud-Terrain T/A KM3 tyres. The new Brenthel Trophy Truck body is modeled after their actual race truck providing an aggressive, scale-detailed look. The Losi Super Baja Rey 2.0 is the ultimate desert truck with scale looks, insane speeds, performance and Spektrum Smart.
Features
Licensed Method Racing Beadlock Wheels
Licensed BFGoodrich Mud-Terrain T/A KM3
Bottom Loading Battery Tray
New Brenthel Body and Cage work with dual spare tyres
AVC - Active Vehicle Control System
New Front Suspension Arms and Slider Front driveshafts
Long Travel Suspension
King Coil-Over Oil Filled Shocks with new springs
8S Capable Motor and ESC
Longer Rear Trailing arm with increased wheelbase
Shaft Driven 4wd Drivetrain
Updated HV capable S905 Lage Scale Steering Servo
New Front Bumper with realistic lower valance and Brenthel logo
New stiffer front sway bar
LED Lights
Scale Details
Spektrum DX3 Radio System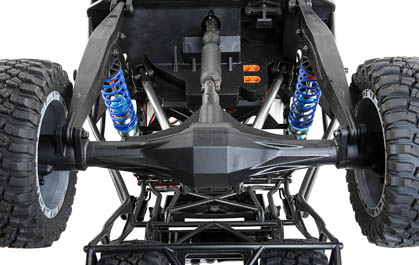 Officially Licensed Brenthel Trophy Truck Body
New Brenthel Trophy Truck body modeled after their actual race truck. The hood scoop and fender vents will provide an aggressive off-road look.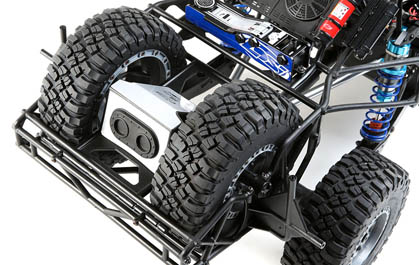 Dual Spare Tyres
Blow out a tyre out on the flats? No worries. The SBR 2.0 comes equipped with functional dual spare tyres. Easily add the tyre and get back to tackling the terrain.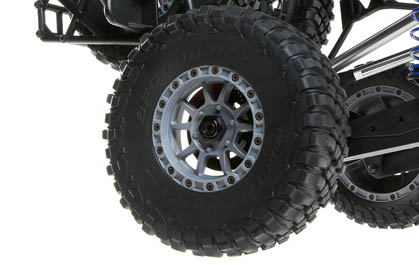 Offocoally Licensed Wheels and Tyres
New 17mm hex licensed Method Racing Bead Lock Wheels allow you to replace and update the tyre or foam inserts without damage to the tyre or wheel. New licensed bead-lock BFGoodrich Mud-Terrain T/A KM3 tyres! It doesn't get any more official!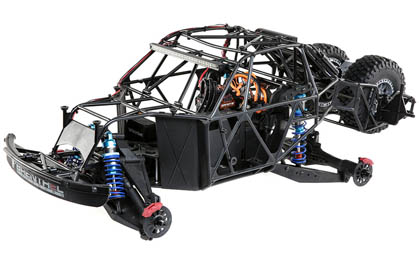 Full Bodied Roll Cage
Just like the 1:1 desert trucks, the Super Baja Rey 2.0 comes with a super-rigid roll cage made of super-tough composite material that enhances the truck's scale looks and durability. It is integrated with the 4mm anodized aluminium chassis plate providing the ultimate protection for your truck and electronics.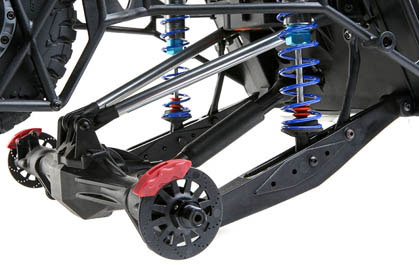 Long Travel 4-link Rear Axle
The Super Baja Rey 2.0 rear suspension allows it to soak up massive whoops and bumps with the same realistic handling and movement of a full-scale desert truck. You get better control and a more locked-in feel regardless of the terrain.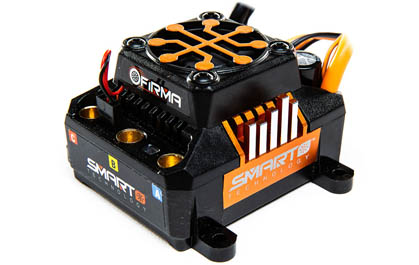 Spektrum Firma Smart 8S
Firma Smart ESCs do much more than regulate power. They function like a virtual engineer inside your model, providing a direct path to the vital operating data you need to reach peak performance. Firma Smart ESCs give you an extra layer of confidence that your electronics are all operating at their best.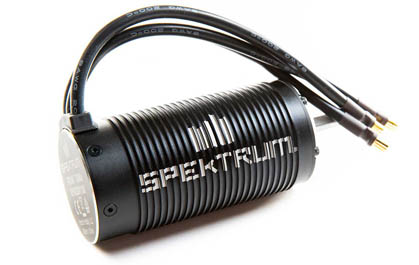 Spektrum Firma 8S 750Kv Motor
The brushless Spektrum Firma 4-Pole 750Kv 550 Motor will provide excellent power (50+ MPH) on 8S LiPo (not included).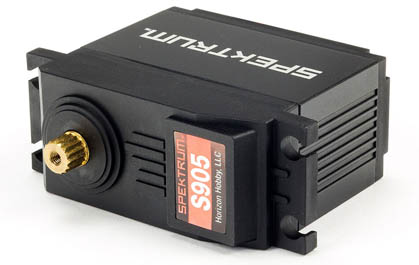 Large Scale Steering Servo
The new Spektrum S905 HV capable waterproof servo updates the SBR 2.0. The massive torque from this servo keeps you headed in the right direction.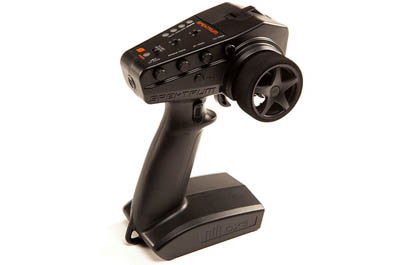 Spektrum DX3 Radio System
The Spektrum DX3 radio system offers advanced features like AVC control, a 3-position throttle limiting switch and travel adjust.
Needed to Complete
8S Surface LiPo Battery
Compatible LiPo Charger
LiPo Safety Charging Bag
What's in the Box?
(1) 1/6 Super Baja Rey 2.0 4WD Brushless Desert Truck
(1) Spektrum Firma ESC and Motor
(1) Spektrum DX3 Radio System
(1) Product Manual
Recommended Completion Items and Accessories
Download a Flyer
Download an A4 flyer to print off and display in store. No trade prices shown - just a summary of this issue of Logic RC News. Right click the image on the right and select 'Save link as...' to save the pdf locally so you can print at your convenience.