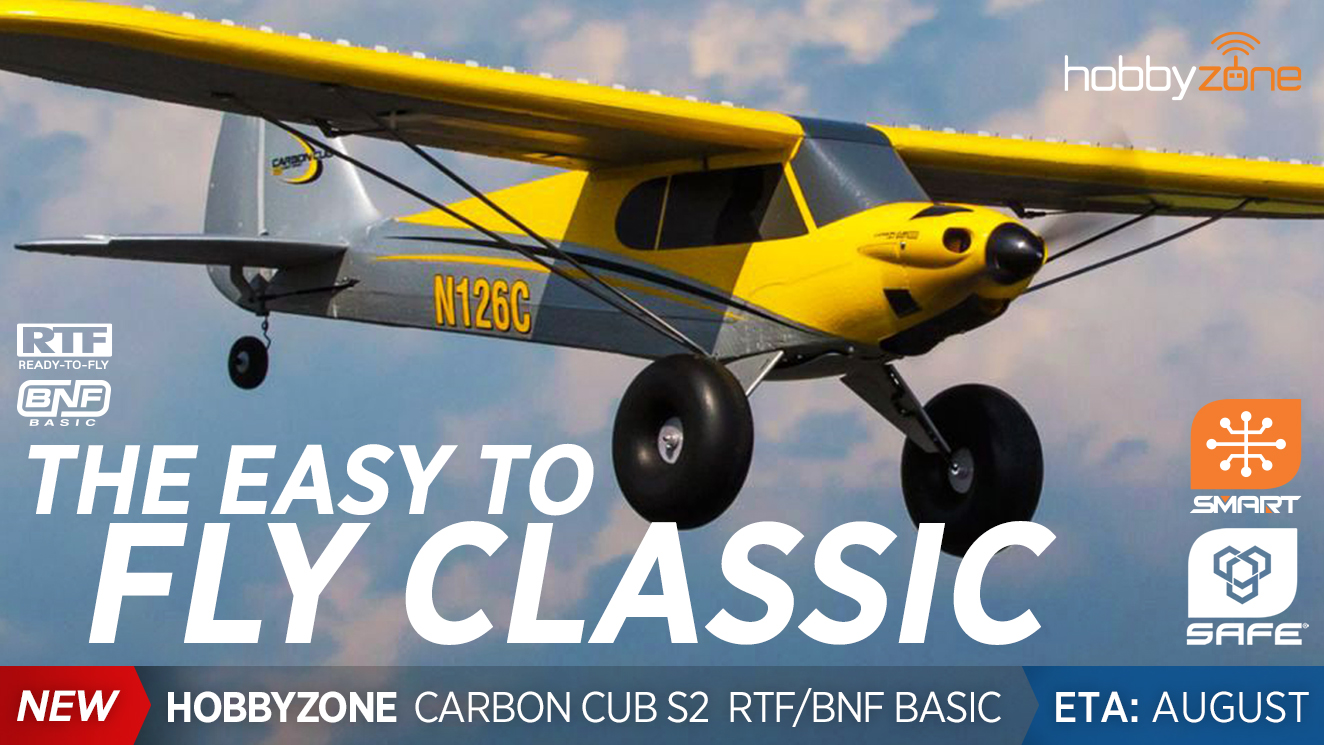 Product Overview
Even if you've never flown a radio controlled (RC) aircraft before, the Carbon Cub S 2 is the most versatile, capable and easiest to fly scale RC airplane yet! Based on the Carbon Cub by CubCrafters, an upgraded and thoroughly modern iteration of the classic Super Cub, and equipped with Horizon Hobby's exclusive and innovative SAFE technology, this scale reproduction makes it possible for almost anyone to learn to fly successfully. And the addition of telemetry-capable and Smart components including an ESC, battery and charger (battery and charger sold separately for the BNF Basic version), along with the option to add SAFE Plus GPS-enabled technology and the Landing Assist Sensor (LAS), makes learning to fly even easier than ever before!
Features
The most capable, versatile and easiest to fly scale trainer based on the iconic Carbon Cub from CubCrafters
Equipped with exclusive SAFE® technology that helps prevent crashes and makes it easy to learn how to fly
Beginner, Intermediate and Experienced flight modes you can easily change between at the flip of a switch
Panic Recovery mode at the push of a button to prevent loss of control and crashes
Easily upgrade to SAFE Plus GPS-enabled technology to add AutoLand, Virtual Fence and Holding Pattern features
Optional and easy to install Landing Assist Sensor (LAS) available for smoother landings
100% complete including a controller/transmitter, battery and charger so there's nothing extra to buy or provide (RTF version only)
Spektrum DXS controller/transmitter with industry-leading DSMX® 2.4GHz technology for reliable control without interference (RTF version only)
Spektrum 2200mAh 3S 11.1V Smart LiPo battery delivers long flight times up to 10-15+ minutes (RTF version only)
Spektrum S120 Smart charger works with a variety of USB power sources (RTF version only)
Factory-installed servos, Spektrum flight controller and serial receiver
Powerful and efficient brushless power system including a 30A telemetry-capable ESC
Capable of aerobatic maneuvers including loops, rolls and upside down (inverted) flight
Robust landing gear with oversized tires for operation from a variety of surfaces
Quick and easy assembly-no glue or special tools required
Durable EPO construction that's tough yet lightweight
Durable Design
Construction with advanced EPO material delivers a lightweight yet durable airframe that's tough enough to handle everyday flying punishment without getting bent out of shape. And in the unfortunate event you damage any airframe parts or components and can't repair them, a full line of replacement parts is readily available.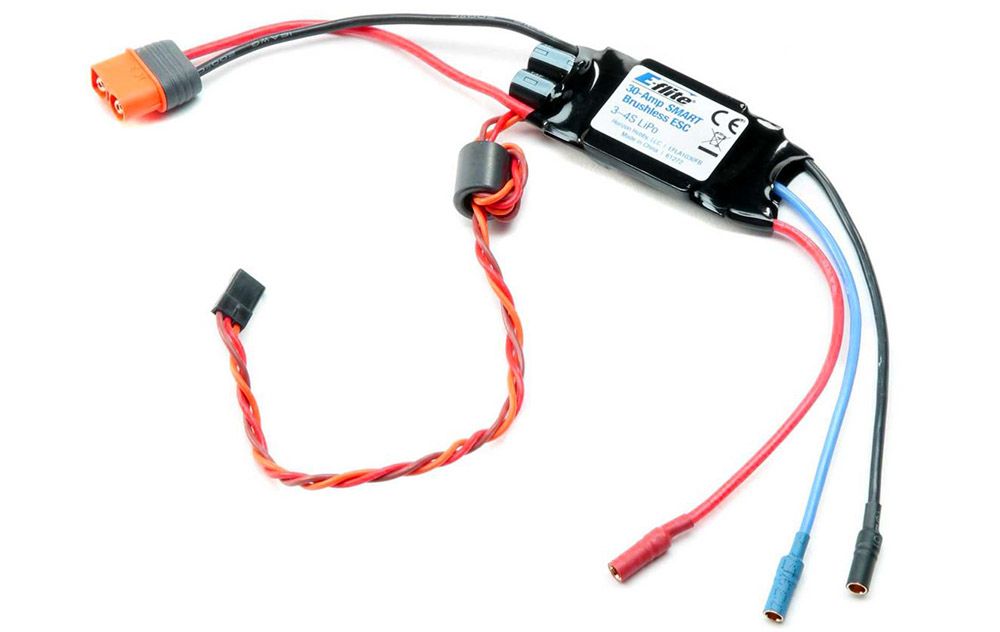 Telemetry Capable
The Carbon Cub S 2 is equipped with an ESC that can provide a variety of real-time power system related telemetry data including motor RPM, current, battery voltage and more to compatible Spektrum AirWareT equipped transmitters (including the DX6e and 8e, DX6 G2/G3 and 8 G2, the DX9, iX12, iX20 and others) while you fly.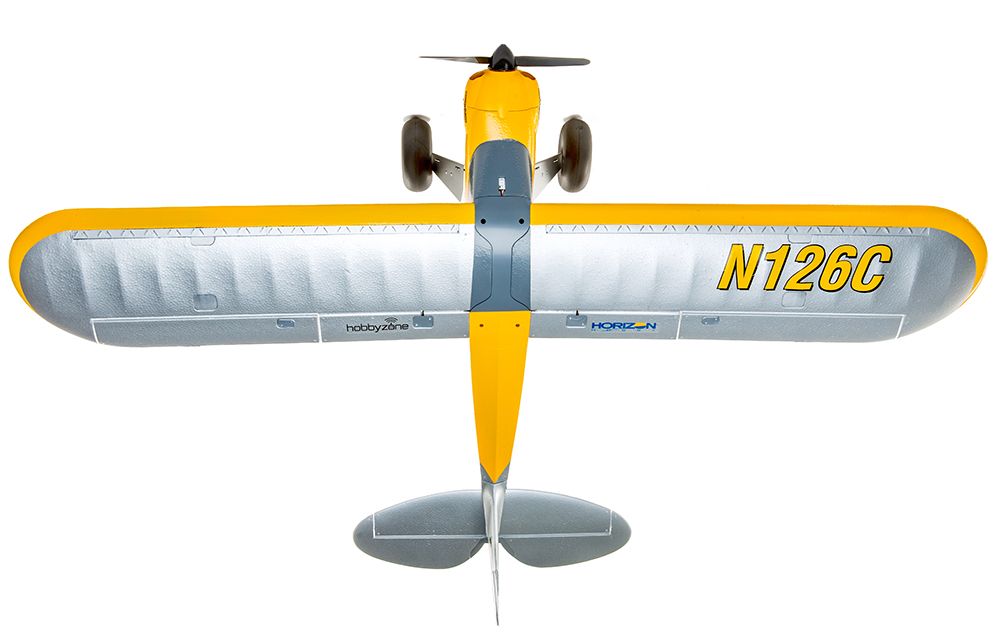 Optional Flaps
Functional flaps are an option for improved slow speed handling and even shorter takeoffs and landings. This feature requires a 7+ channel computer transmitter plus a flap servo and a servo extension (sold separately).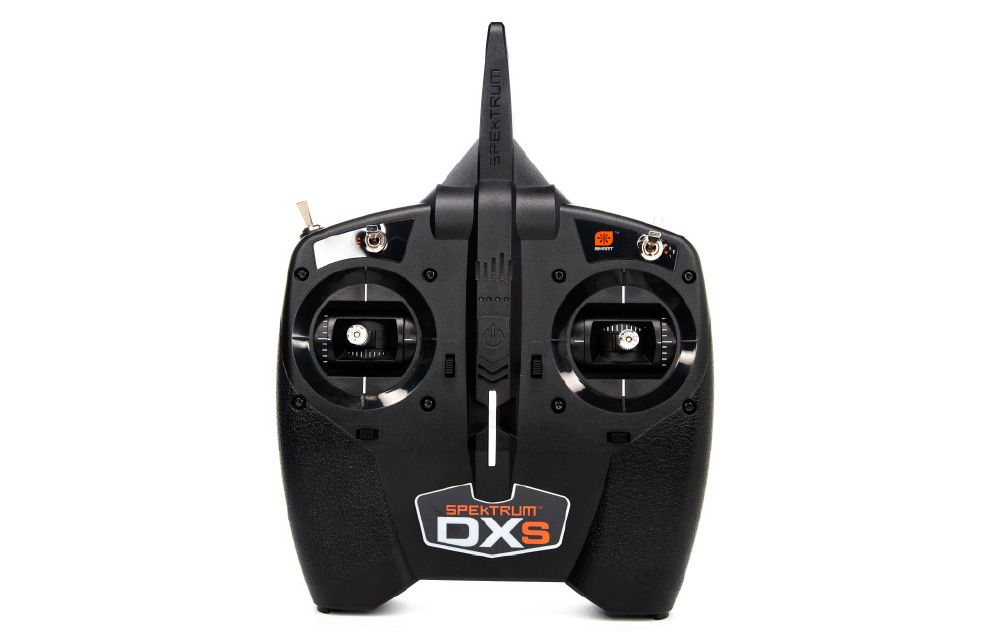 Ready-To-Fly Convenience
This Ready-To-Fly (RTF) version includes a Spektrum DXS controller/transmitter equipped with industry-leading DSMX 2.4GHz technology and everything else you need to fly including AA batteries for the transmitter, a Spektrum Smart rechargeable lithium polymer battery for the airplane and a Smart USB charger. That means there's nothing extra to buy or provide so you can fly! The included transmitter, battery and charger can also be used with other Bind-N-Fly (BNF) Basic RC aircraft.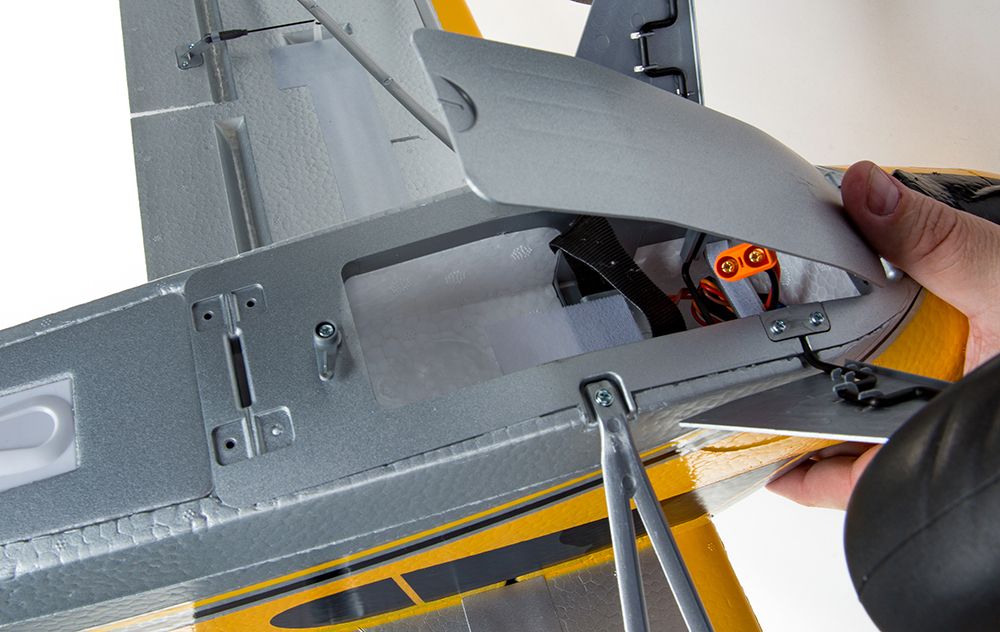 Easy Assembly
The Carbon Cub S 2 arrives mostly factory-assembled with the power system, servos plus the flight controller and receiver installed. All you need to do is finish some quick and easy final assembly, without the use of glue or special tools, and you'll be ready to fly in less time than it takes to charge a battery!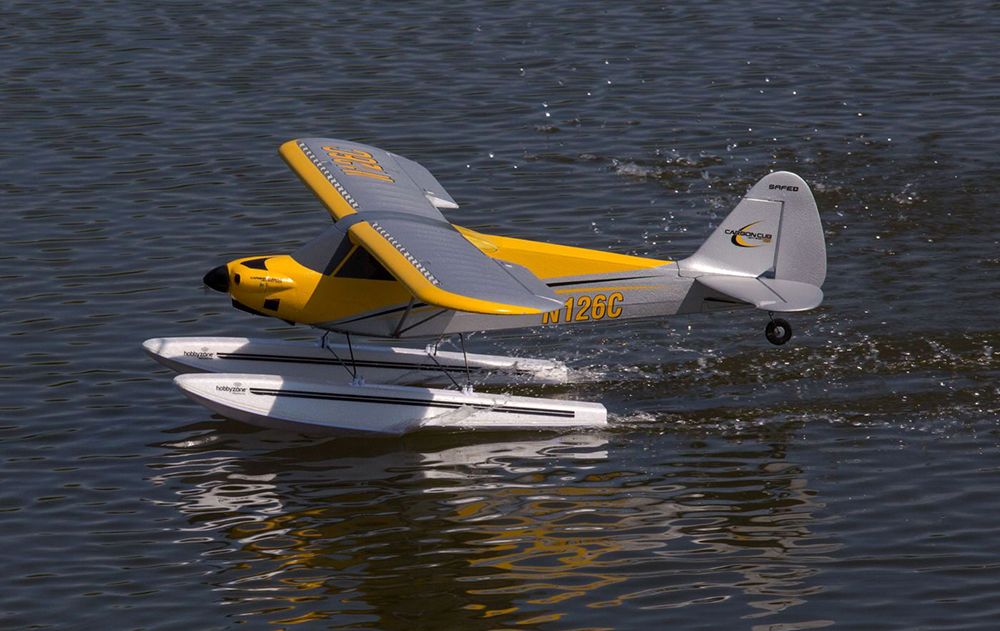 Versatile Gear Option
Thick grass, gravel paths, dirt trails; you can fly from these and many other surfaces that are impossible for most models of this size to handle. The robust landing gear is equipped with oversized tires that soak up the bumps of rough surfaces and provide excellent prop clearance. The optional float set (sold separately) takes just a few minutes to install and all the necessary hardware is included with the aircraft and float set so you can fly from lakes and ponds.
Needed to Complete
RTF Version
Nothing! Everything you need to fly is included
BNF Basic Version
Full-range 6-7+ channel Spektrum DSMX compatible transmitter
3S 11.1V 1300-2200mAh LiPo with EC3 or IC3 Connector
Compatible LiPo charger
What's in the Box?
(1) HobbyZone Carbon Cub S 2 with:

(1) Brushless Outrunner Motor (installed)
(1) 30A Brushless ESC (installed)
(4) Servos (installed)
(1) Spektrum Flight Controller (installed)
(1) Spektrum 4650 Serial Receiver (installed)

(1) Spektrum DXS DSMX 2.4GHz Transmitter (RTF version only)
(1) Spektrum 2200mAh 3S 11.1V Smart LiPo Battery (RTF version only)
(1) Product Manual
Recommended Completion Items and Accessories
Download a Flyer
Download an A4 flyer to print off and display in store. No trade prices shown - just a summary of this issue of Logic RC News. Right click the image on the right and select 'Save link as...' to save the pdf locally so you can print at your convenience.