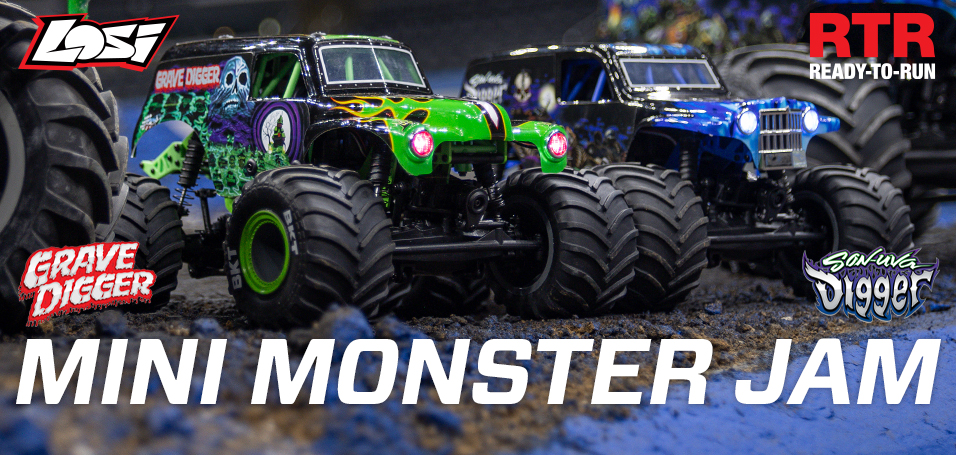 New
Losi
1/18th Mini LMT Monster Truck RTR
ETA: December 2023
Introduced in 2020, the original, standard sized Losi LMT platform set a high bar for solid-axle RC monster truck performance. The LMT gave RC drivers and Monster Jam enthusiasts the power and durability for authentic, arena-shaking monster truck action, whether racing head-to-head or making jaws drop with backflips and donuts in freestyle competition.

Now even more fans can join the monster truck fun - at less cost and in more places - with Losi Mini LMT 4WD monster trucks. Losi's leadership in the development of off-road mini RC vehicles shines through in these smaller 4X4 versions of the LMT. Mini LMT 4WD monster trucks are small enough to fit in a backpack, but capture the original LMT's heart and soul by preserving its power-to-weight ratio, giving them the same easy handling when racing and the same ability to wheelie and flip in freestyle.

Losi Mini LMT 4WDs are the ideal entry into RC for any full-scale automotive enthusiast. In radio control form, they provide the perfect foundation for doing everything you love most - competing, customizing, and upgrading.

Losi raised the bar for mini scale realism, too. The officially licensed bodies represent two of the best-known and most admired names in the sport of monster trucks. Audiences packed into arenas around the world to catch the exploits of Dennis Anderson's Grave Digger, and now they're doing the same to watch his son Ryan's Son-uva Digger. The officially licensed tyres are also reproductions of the BKT tyres used by pro drivers in real Monster Jam competitions. Expect to be the centre of attention when you show off your Losi Mini LMT 4WD at Monster Jam tailgates!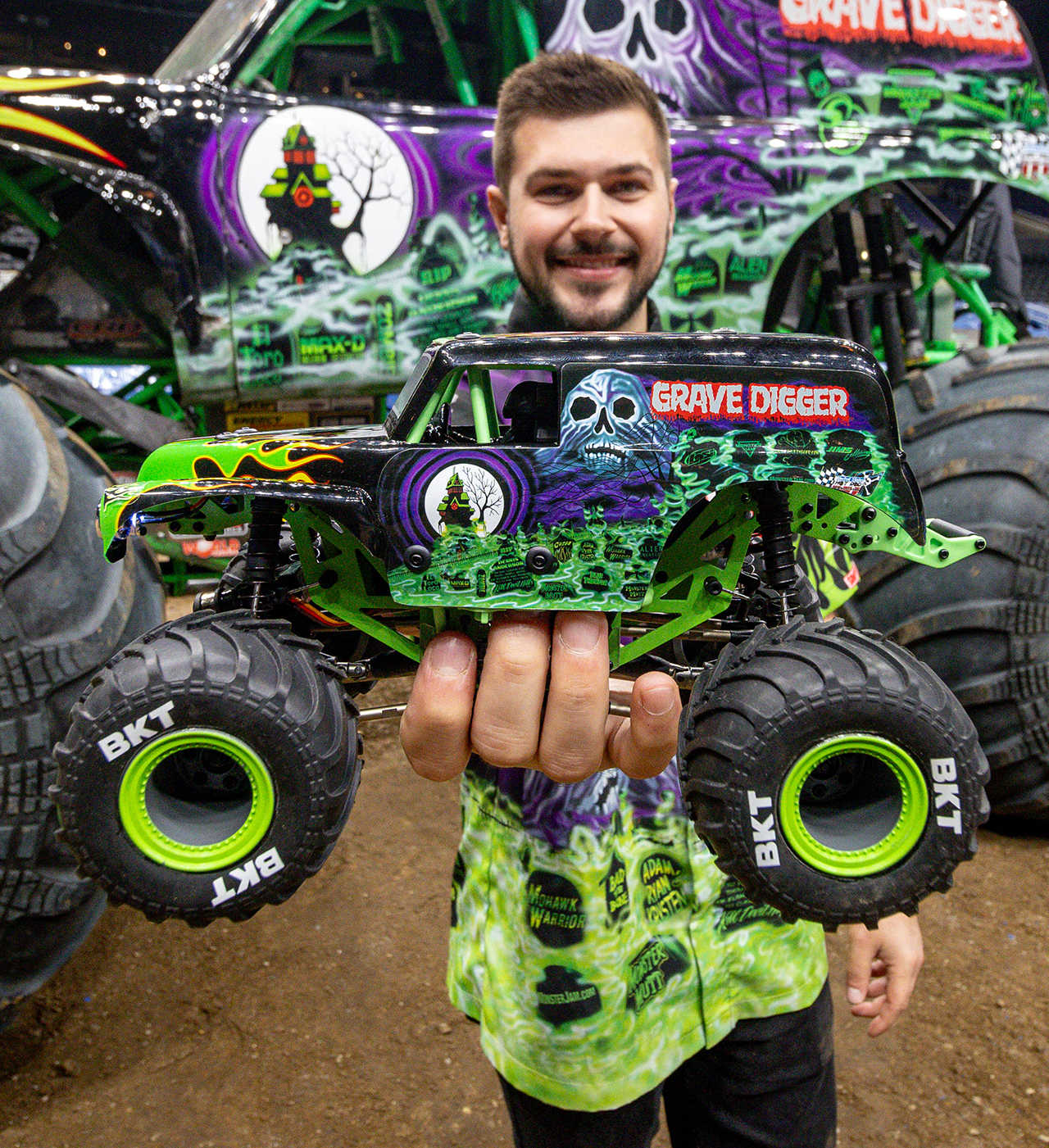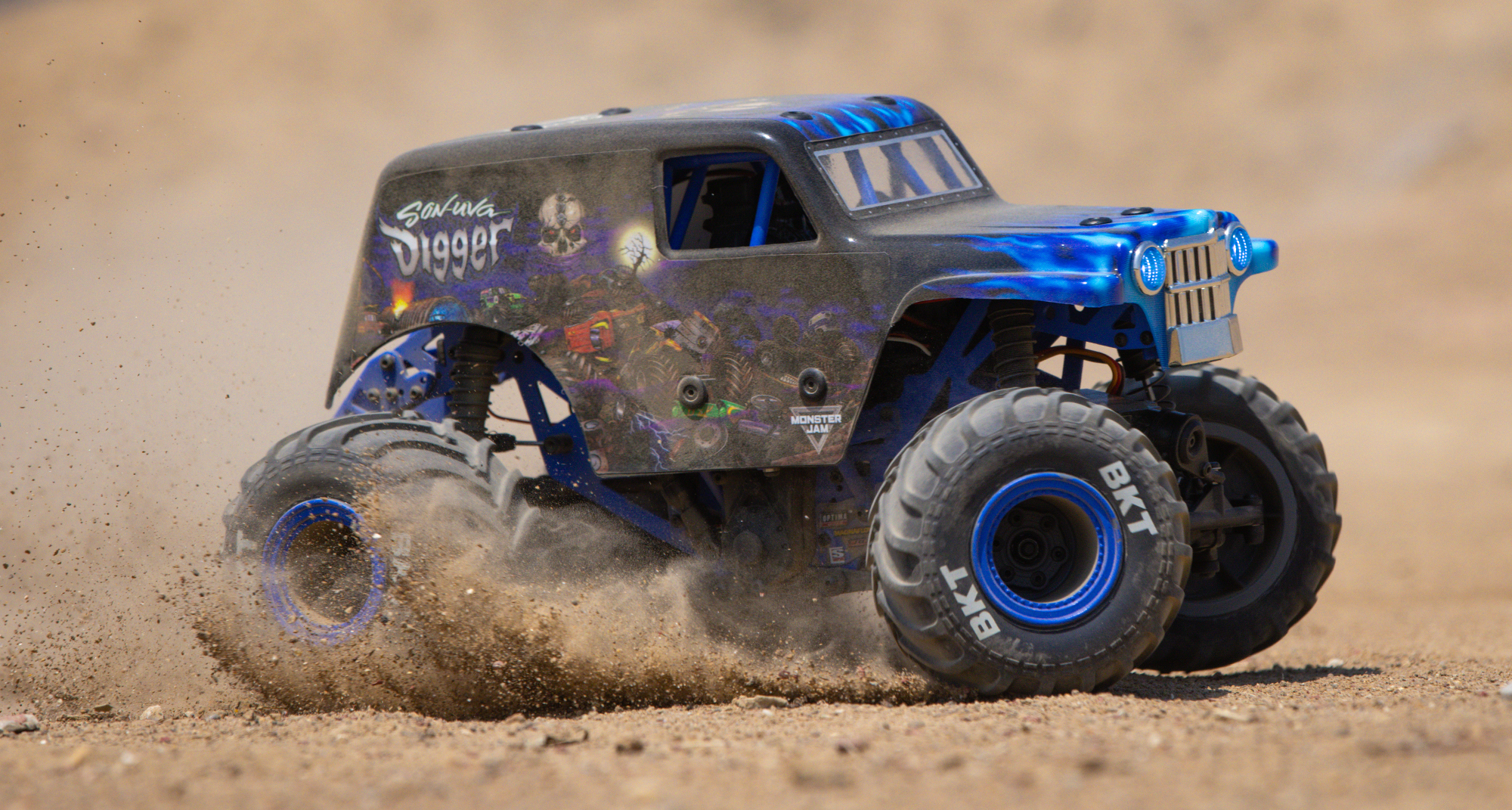 No previous RC experience is needed to enjoy the versatility, easy handling, and unstoppable 4X4 traction of Losi Mini LMT 4WD monster trucks. Their compact size lets you race and freestyle almost anywhere. Run them indoors on garage floors, tiled and hardwood surfaces, or low-pile rugs and carpets. Take them outdoors on concrete driveways, smooth dirt fields, baseball diamonds, and tennis courts. Create jumps out of cardboard or household items. Take them along in a backpack on family outings for Monster Jam fun at the park or campsite.

Losi Mini LMT 4WD monster truck comes factory-built and finished, with everything required for operation in the box - including a high-quality Spektrum SLT2 radio for interference-free 2.4GHz control, and a high-capacity Spektrum Smart LiPo battery and charger for long run times and effortless recharging.
Fully ready-to-run
Officially licensed bodies
Solid axle 4-wheel drive
Functional LED headlights
Realistic BKT tyres
Aluminium powder-coated chassis plates
Metal front and rear differentials
Metal driveline yokes
Aluminium links
Suspension sway bars
Threaded oil-filled shocks
High-capacity Spektrum Smart G2 810mAh 2S LiPo battery
Spektrum Smart G2 2S LiPo USB-C battery charger
25A 2-in-1 ESC
Spektrum SLT2 2.4GHz radio
Spektrum SX108 Micro Digital Metal Gear Servo
Oversized 25T 380 brushed motor
Moulded roll cage
Twist lock composite flip top cage
Elastomer battery mounting
Two-position wheelie bar
Full ball bearings
Option parts available

Official Licensed Bodies
Audiences packed into arenas around the world to catch the exploits of Dennis Anderson's Grave Digger, and now they're doing the same to watch his son Ryan's Son-uva Digger. Live your own Monster Jam dreams through Losi! The Mini LMT 4WD is available with officially licensed scale versions of those truck bodies, featuring a screen-printed nose and decals on the side body for maximum realism.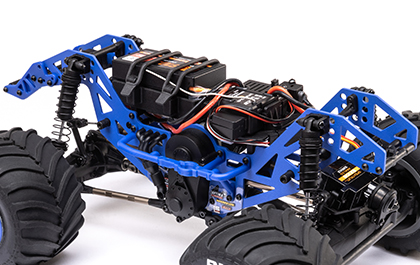 Aluminium Powder-Coated Chassis Plates
The 1.5mm, powder-coated 6061-T6 aluminium chassis plates complement the monster truck's scale looks while adding durability for racing and freestyle fun.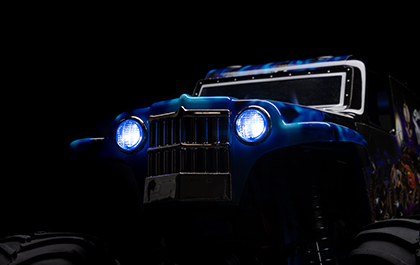 LED Lights
The Losi Mini LMT 4WD captures a huge amount of authentic detail in a size that's small enough to fit in a backpack. These functional headlights add another level of realism to the officially licensed Grave Digger and Son-uva Digger bodies. Coloured lenses complete the look by adding some monster attitude!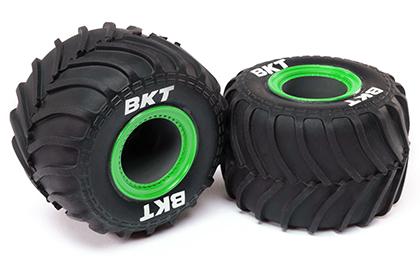 BKT Tyres
BKT are the tyres that pro drivers use at Monster Jam competitions around the world, and they've been officially licensed for reproduction on the Mini LMT 4WD. The tyres feature a Chevron tread design that provides excellent traction. The smooth sidewall transition keeps the tyres from grabbing and causing rollovers.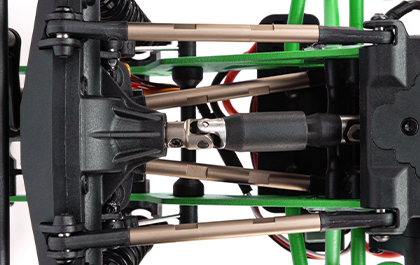 Metal Driveline Yokes & Aluminum Links
Anyone who loves working on full-scale cars and trucks will enjoy maintaining and upgrading the Losi Mini LMT 4WD, just as they would a real vehicle. For example, these durable metal yokes allow the driveline to be serviced and repaired easily whenever necessary.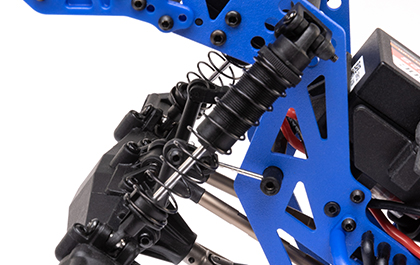 Treaded Oil-Filled Shocks
The Mini LMT 4WD's oil-filled shocks provide superior handling during jumps and harsh landings. The shocks are threaded for easy ride height adjustments. They also allow optional tuning using different spring rates and TLR shock oil weights (available separately).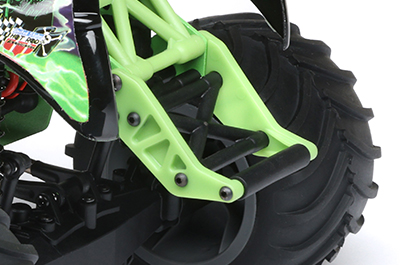 Two-Position Wheelie Bar
The Losi Mini LMT 4WD includes a wheelie bar with two fixed positions and a wide roller. Select your preferred wheelie angle and put on a show!

(1) 1/18 Losi Mini LMT 4X4 Monster Truck RTR
(1) Spektrum SLT2 2.4GHz Transmitter
(1) Spektrum 2-in-1 SLT Receiver / 25A Brushed ESC
(1) Spektrum Smart G2 2S LiPo Battery
(1) Spektrum Smart G2 2S LiPo USB-C Battery Charger
(1) Spektrum SX108 Metal Gear Steering Servo
(1) Losi 25T 380 Brushed Motor
(4) AA Transmitter Batteries
(1) Mini LMT 4X4 Monster Truck Product Manual
Miscellaneous Tools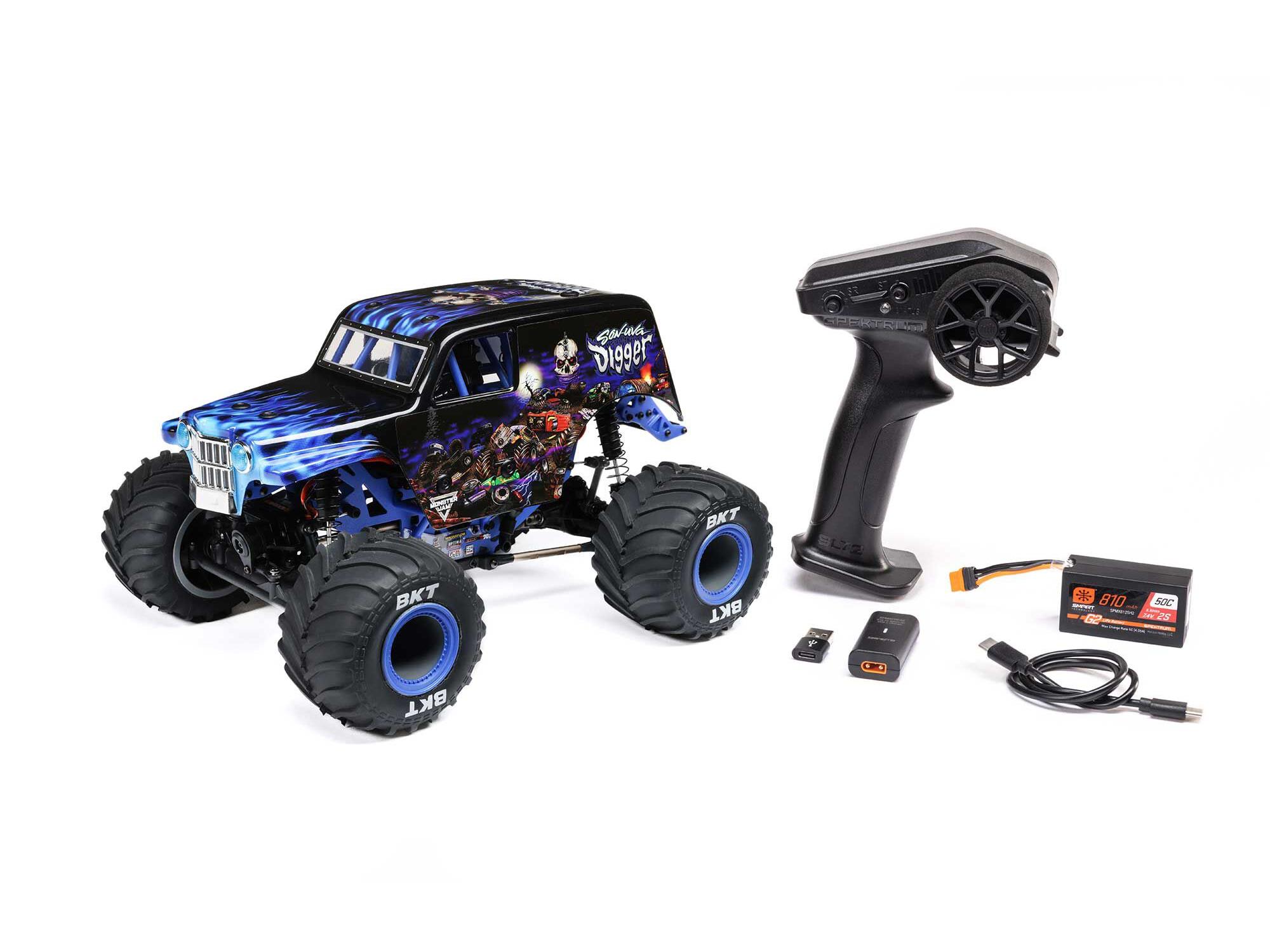 Download an A4 factsheet to print off and display in store. No trade prices shown - just a summary of this issue of Logic RC News. Right click the image on the right and select 'Save link as...' to save the pdf locally so you can print at your convenience.