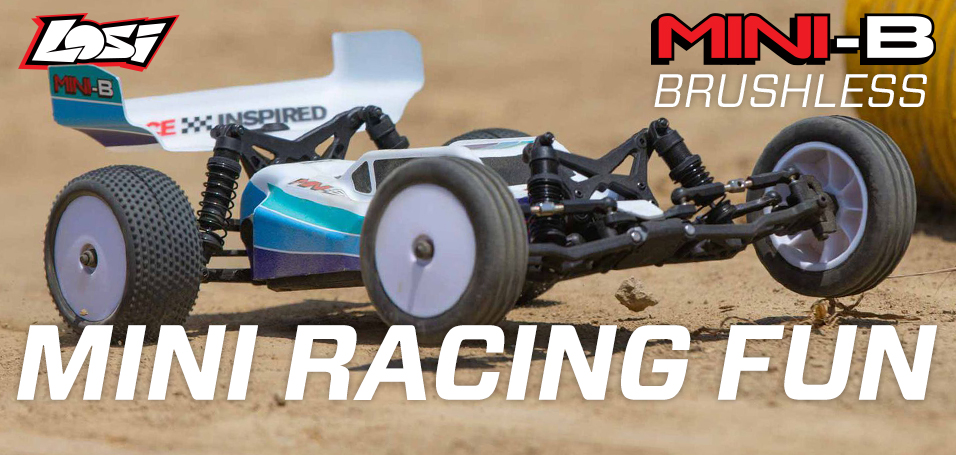 New
Losi
1/16th Mini-B Brushless 2WD Buggy RTR
ETA: November 2023
Ever since introducing the first Mini-T stadium truck in 2003, Losi has been setting the bar higher and higher for mini-size RC racing performance. While growing numbers of Losi mini RC fans honed their skills on makeshift tracks built in their driveways and backyards, Losi kept pushing the limits of what mini RC vehicles can do - adding suspension engineering from the top-of-the-line TLR 22, for example, and installing powerful brushless electronics. It has all led to this, the Losi Mini-B 2WD brushless racing buggy. Versatile, affordable, fast, and fun, the Mini-B makes an excellent starting point for any aspiring RC racer.

Straight out of the box, the Mini-B brushless is completely assembled and ready-to-run with everything you'll need to hit the track. Though mini in size, the Mini-B offers the performance capabilities of larger RC racing buggies. Its efficient 2-in-1 brushless motor and ESC system can send it at 30 mph speeds on the back straight, complementing its predictable handling with the power to dive into a corner to make a pass and hit the jumps consistently. The Mini-B offers the durability to withstand crash impacts with other competitors. And with a suspension inspired by the prestigious TLR 22 - a vehicle often seen on the podium at the most competitive 1/10 scale buggy races - the Mini-B handles like a high-end machine, agile in the corners and easy to jump.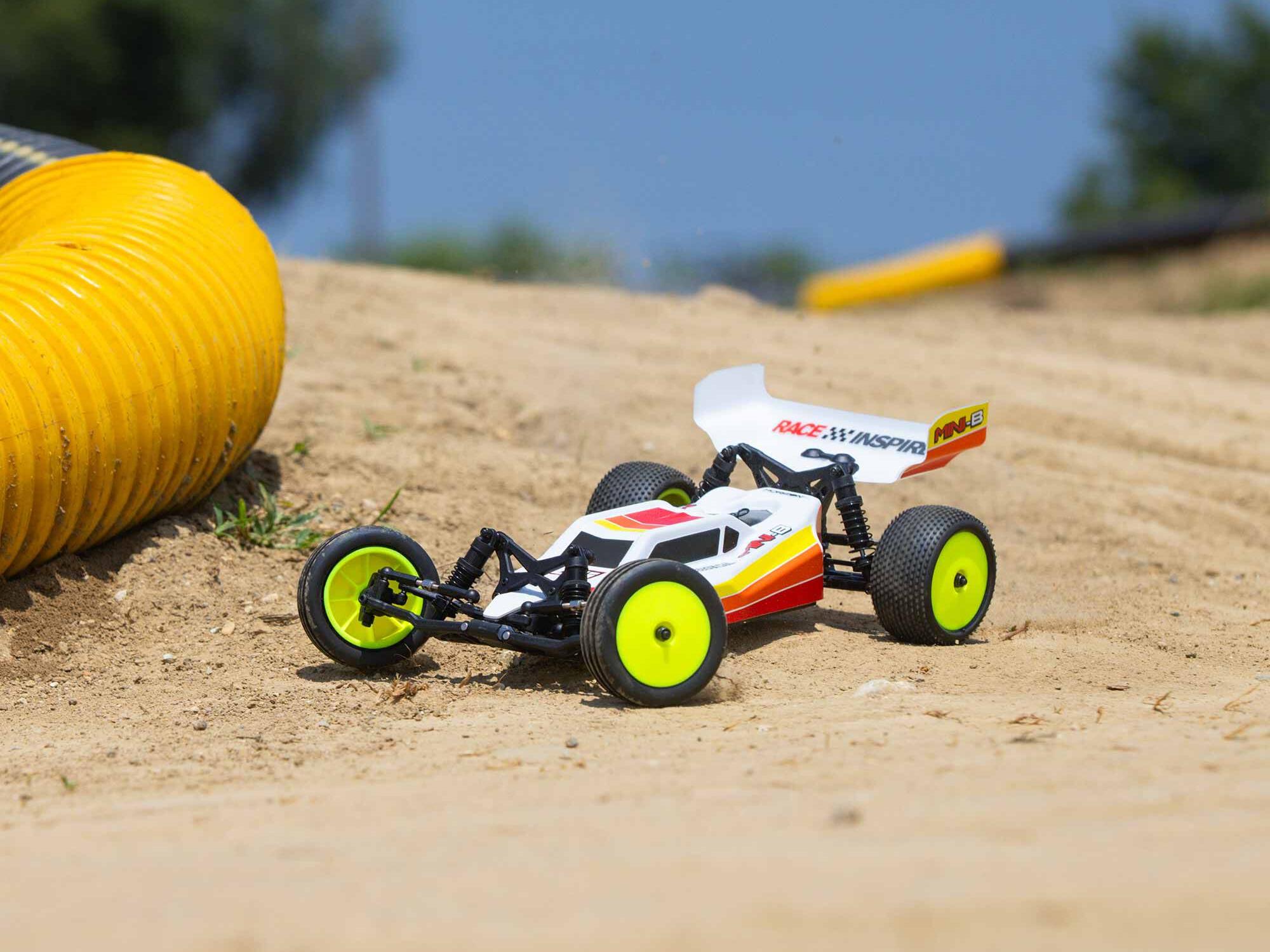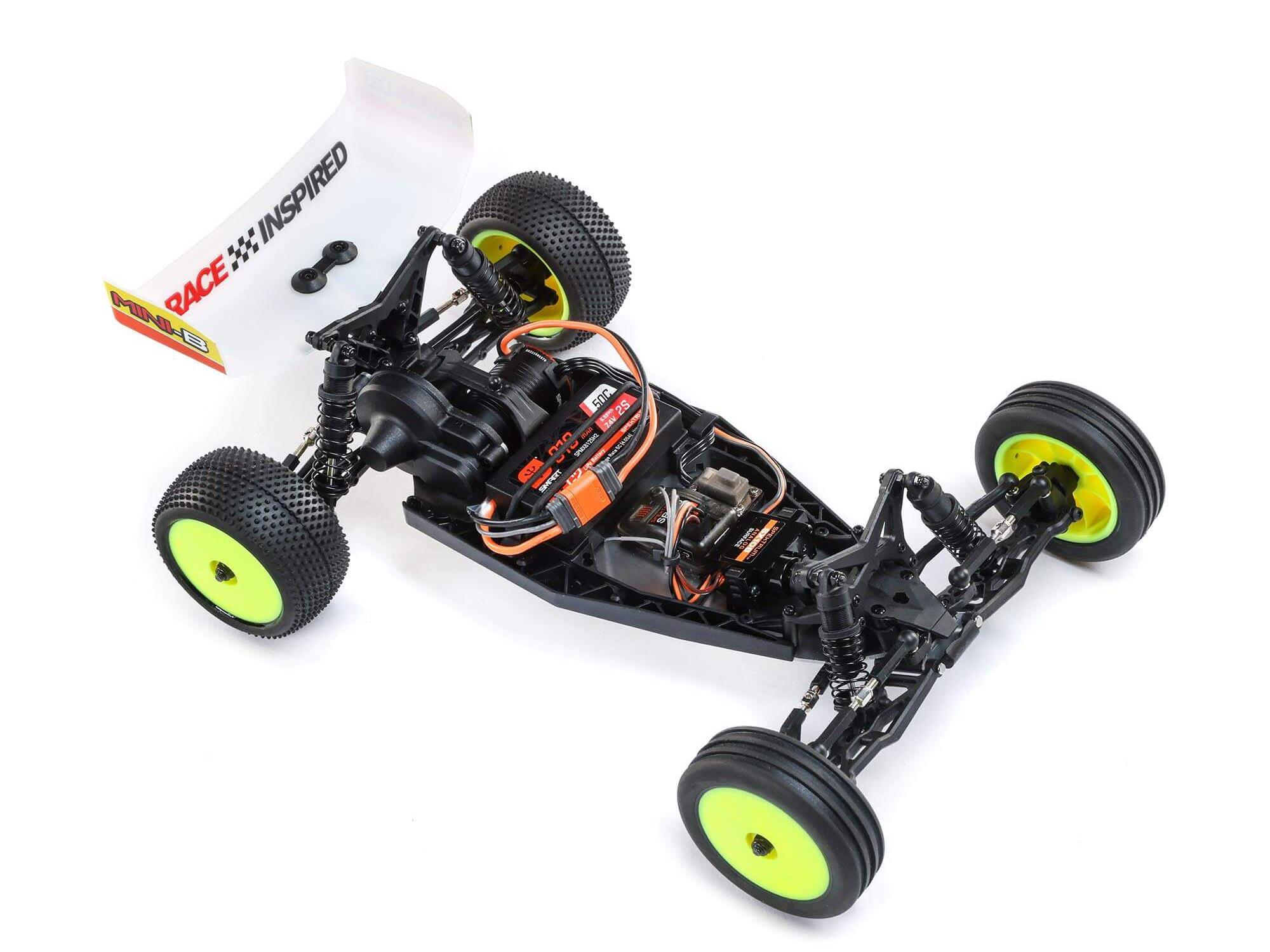 Many improvements have been made to even small details, and they combine to make a major difference on the track. The transmission case now accepts sway bars. The front bulkhead has been thickened for improved durability. An updated servo saver increases consistency, and updated shock cartridge spacers add smoothness. That's just to name a few. The Mini-B 2WD brushless racing buggy also comes with a high-capacity Spektrum Smart 810mAh 2S LiPo battery and a Smart USB charger for long run times and easy, accurate recharging.

Losi has outfitted the Mini-B with Wide Body Rib front tyres and Big Shot rear tyres - recreations of highly popular Losi treads from the early 2000s.

The Mini-B chassis is tunable and option parts are also available, so as your racing experience grows, you'll be able to fine-tune your mini buggy's performance to keep seeing better racing results. Make your move into RC racing today with the Losi Mini-B 2WD brushless racing buggy. Whether at your local track or on a PVC pipe track set up in your basement, it's sure to fire up your competitive spirit.
Brushless powered
Fully ready-to-run
Track-ready with refined features
Mid-motor chassis configuration
Strong aluminium chassis
Threaded oil-filled shocks
Spektrum 2-in-1 brushless motor/ESC system
High-capacity Spektrum Smart G2 810mAh 2S LiPo battery
Spektrum Smart G2 2S LiPo USB-C battery charger
Metal gear transmission
Big Shot rear tyres and Wide Body Rib front tyres
Full ball bearings (less steering)
Spektrum SLT2 2.4GHz radio and SR315 receiver
Spektrum SX108 Micro Digital Metal Gear Servo
Option parts available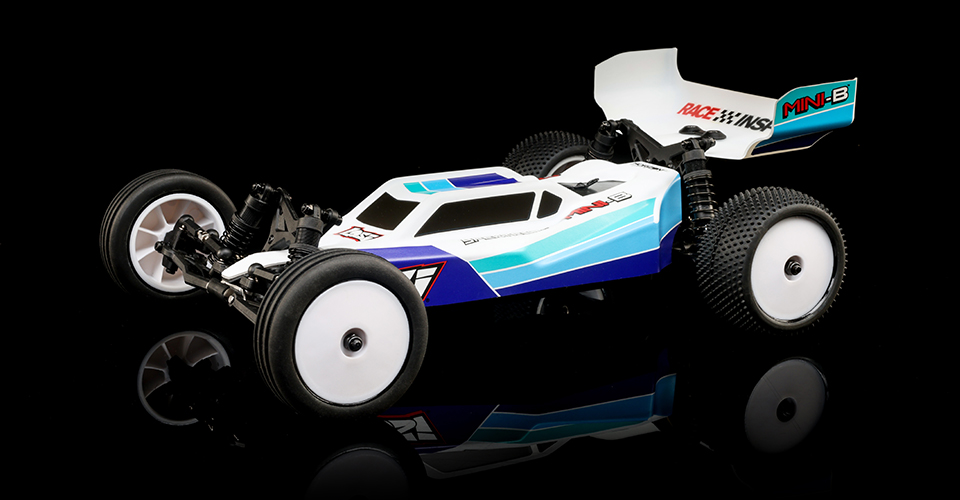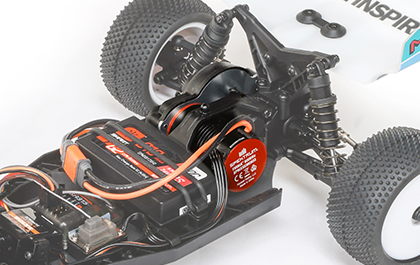 Mid-Motor Configuration
The mid-motor configuration of the Losi Mini-B 2WD brushless racing buggy creates a well-balanced chassis on high-traction surfaces, allowing for better performance on multiple racing surfaces and also balancing out steering and traction.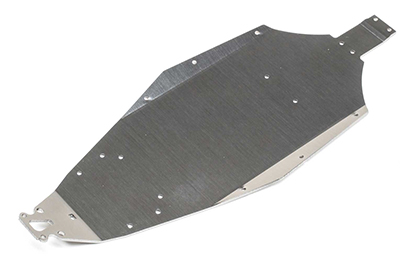 Aluminium Chassis
The Mini-B has been designed with a 1.5mm thick, 6061-T6 aluminium chassis plate that provides strength and durability along with rigidity that vastly improves racing performance.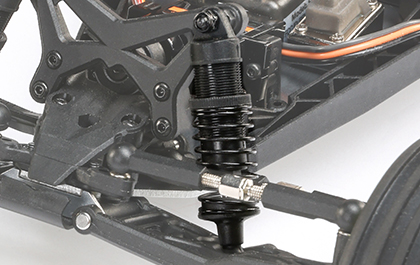 Threaded Oil-Filled Shocks
The injection-molded oil shocks have threaded shock collars that allow for easy preload and ride height adjustments to quickly adjust to the track after your warm up laps. The shock bodies also feature a bottom-loading, rebuildable shock cartridge with dual O-rings that help to keep the oil in the shocks.
Race-Proven Tyres
The tyres included with the Mini-B 2WD brushless racing buggy recreate Losi's popular Big Shot rear tyres and Wide Body Rib front tyres from the early 2000s.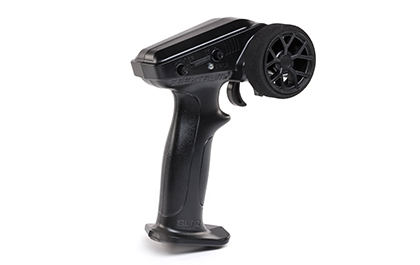 Spektrum SLT2 Radio
The Spektrum SLT2 2.4GHz transmitter offers many useful features including steering trim, steering rate, and steering reversing. With its throttle limiting switch, beginners can limit their access to the buggy's full speed potential from 50% to 75% to 100% - perfect for learning RC control skills gradually and safely.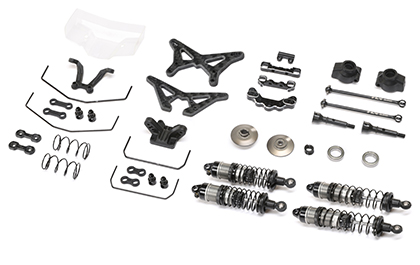 Option Parts
Competing, customizing, upgrading - you can do it all, RC style, with the Losi Mini-B 2WD. A full line of option parts is available for making this racing buggy all your own.

(1) 1/16 Losi Mini-B 2WD Brushless Racing Buggy RTR
(1) Spektrum SLT2 2.4GHz Transmitter
(1) Spektrum SR315 2.4GHz Dual Protocol Receiver
(1) Spektrum SX108 Steering Servo
(1) Spektrum FIRMA 6000Kv Brushless Motor & ESC 2-in-1 Combo
(1) Spektrum Smart G2 2S LiPo Battery
(1) Spektrum Smart G2 2S LiPo USB-C Battery Charger
(4) AA Transmitter Batteries
(1) Mini-B 2WD Brushless Product Manual
USB Power Adapter with QC 2.0/3.0 18W+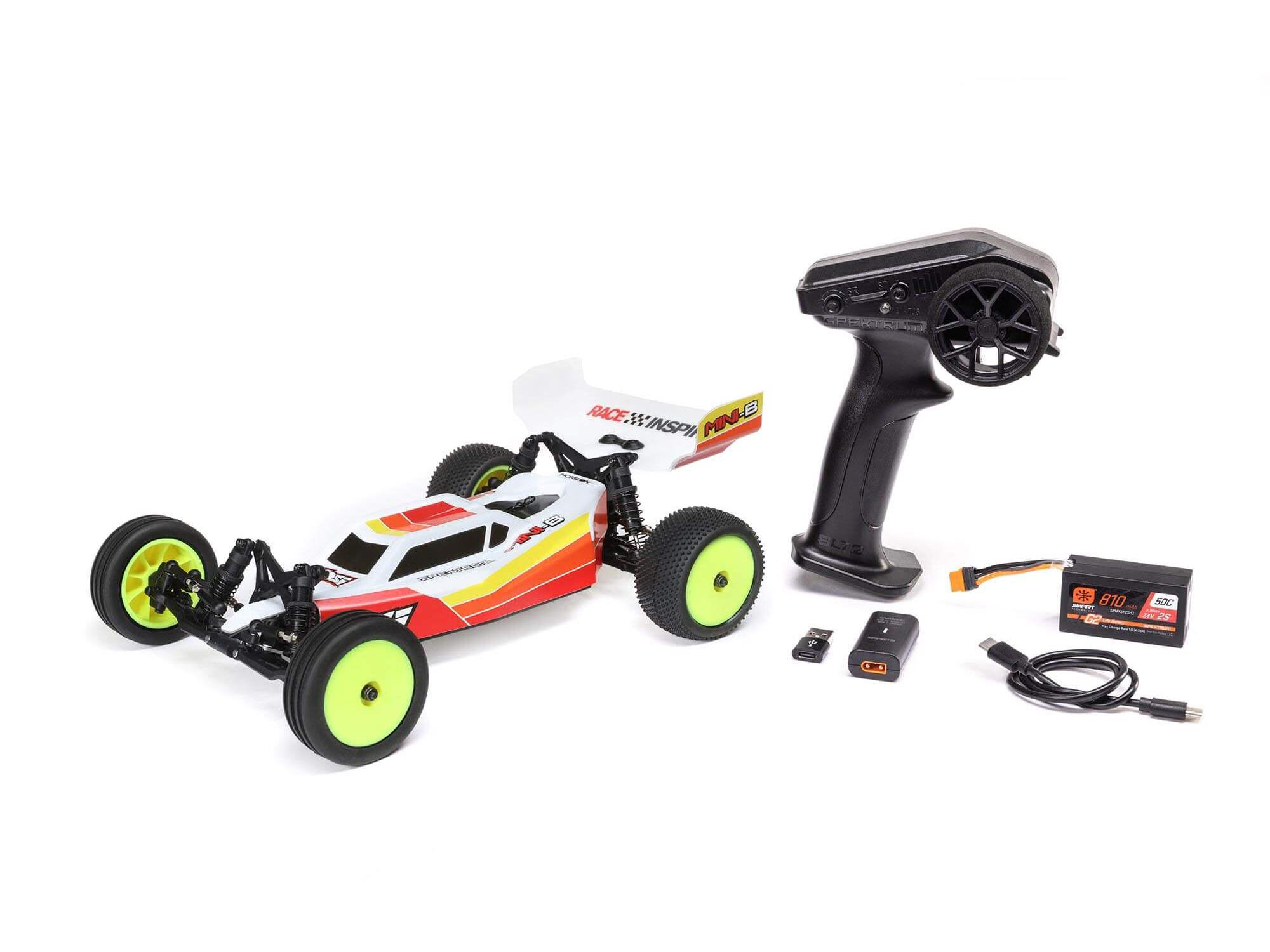 Download an A4 factsheet to print off and display in store. No trade prices shown - just a summary of this issue of Logic RC News. Right click the image on the right and select 'Save link as...' to save the pdf locally so you can print at your convenience.