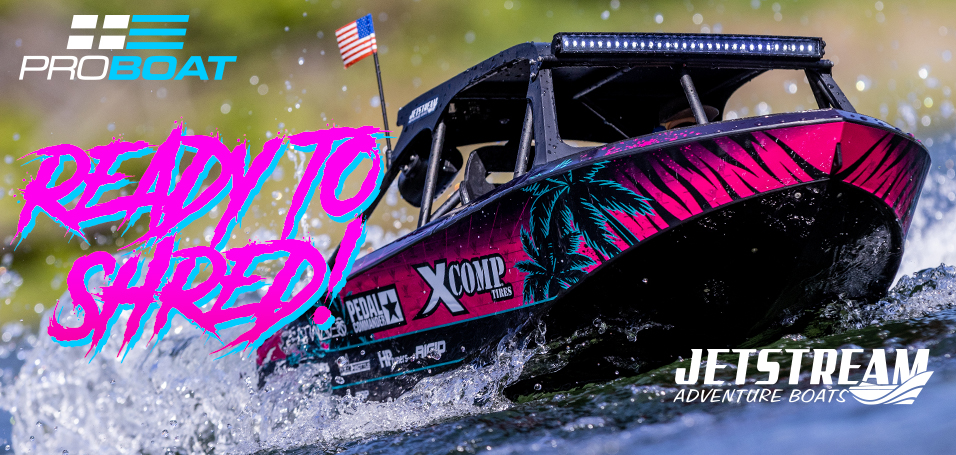 New
Pro Boat
1/6 Scale 24 Inch Jetstream Jet Boat RTR
ETA: TBC
Pro Boat brings to RC what the real kits bring to full-size jet boating - the freedom to send it almost anywhere, and the thrill of always coming out on top. This is the first RC jet boat built for bashing. It's meant to be thrown around in rough water, whether two inches or two hundred feet deep. Bring on the whitewater, streams, and jumps. You're ready for anything with the raddest RC boat on the planet!

Stem to stern, the 24-inch Jetstream is engineered to outmatch any other RC boat that tries to do the same feats. The jet pump propulsion system's reverse gate is just one example. Use it to back your Jetstream off a trailer or as a quick braking function out on the water. It's one of many features that perfectly capture the scale look and feel of a full-size boat.

A high-performance, water-cooled brushless system powers your Jetstream up the biggest streams and provides the muscle you need for manoeuvring. The built-to-bash design also includes a sturdy, rigid ABS main hull with an armor-plated underside, and a replaceable stainless steel wear ring for the jet pump housing. Downtime's always a drag, but with the SSL (Strap/Slide/Lock) quick battery swap system, you can plug in a fresh pack and be back in action in the blink of an eye.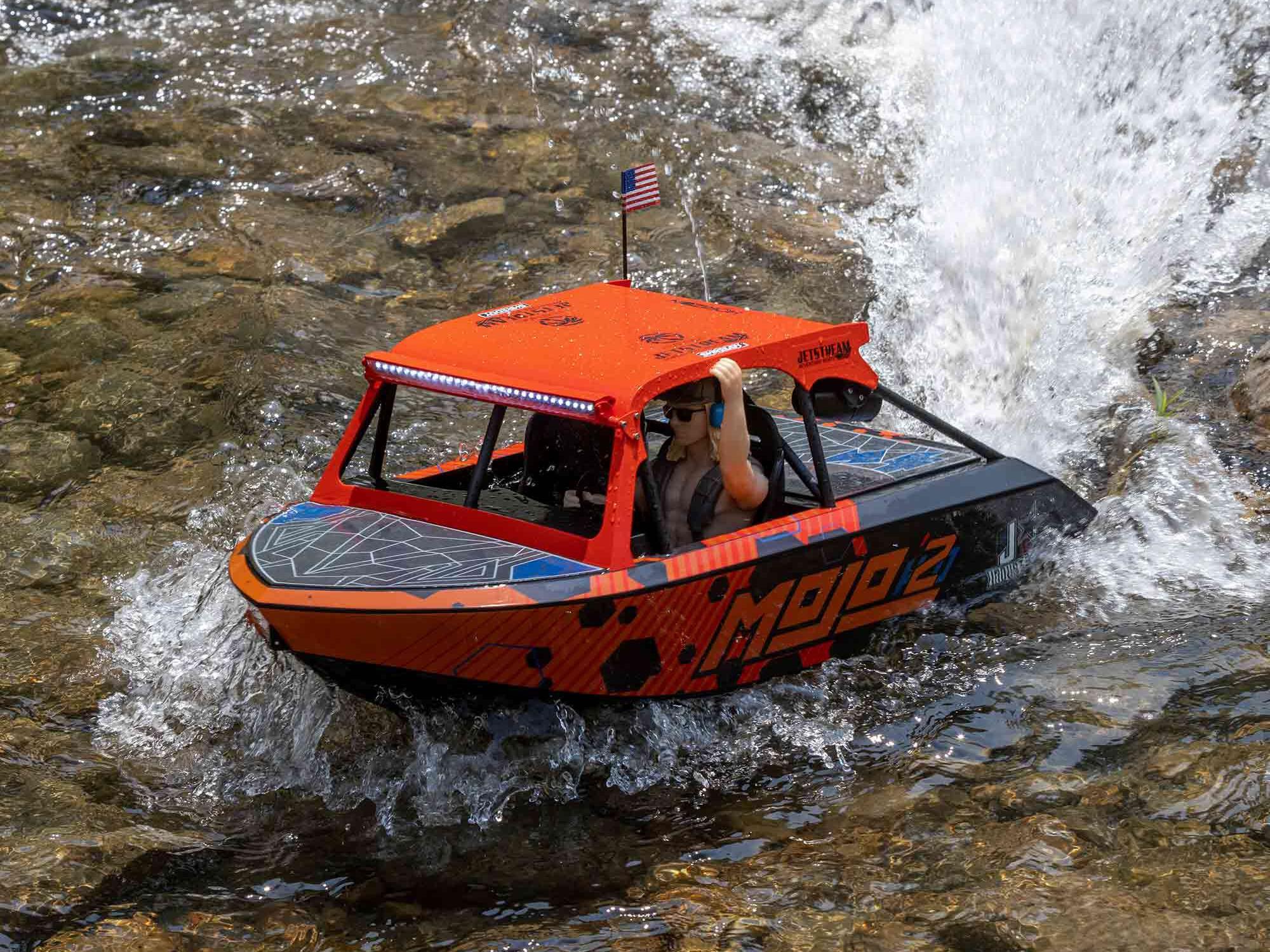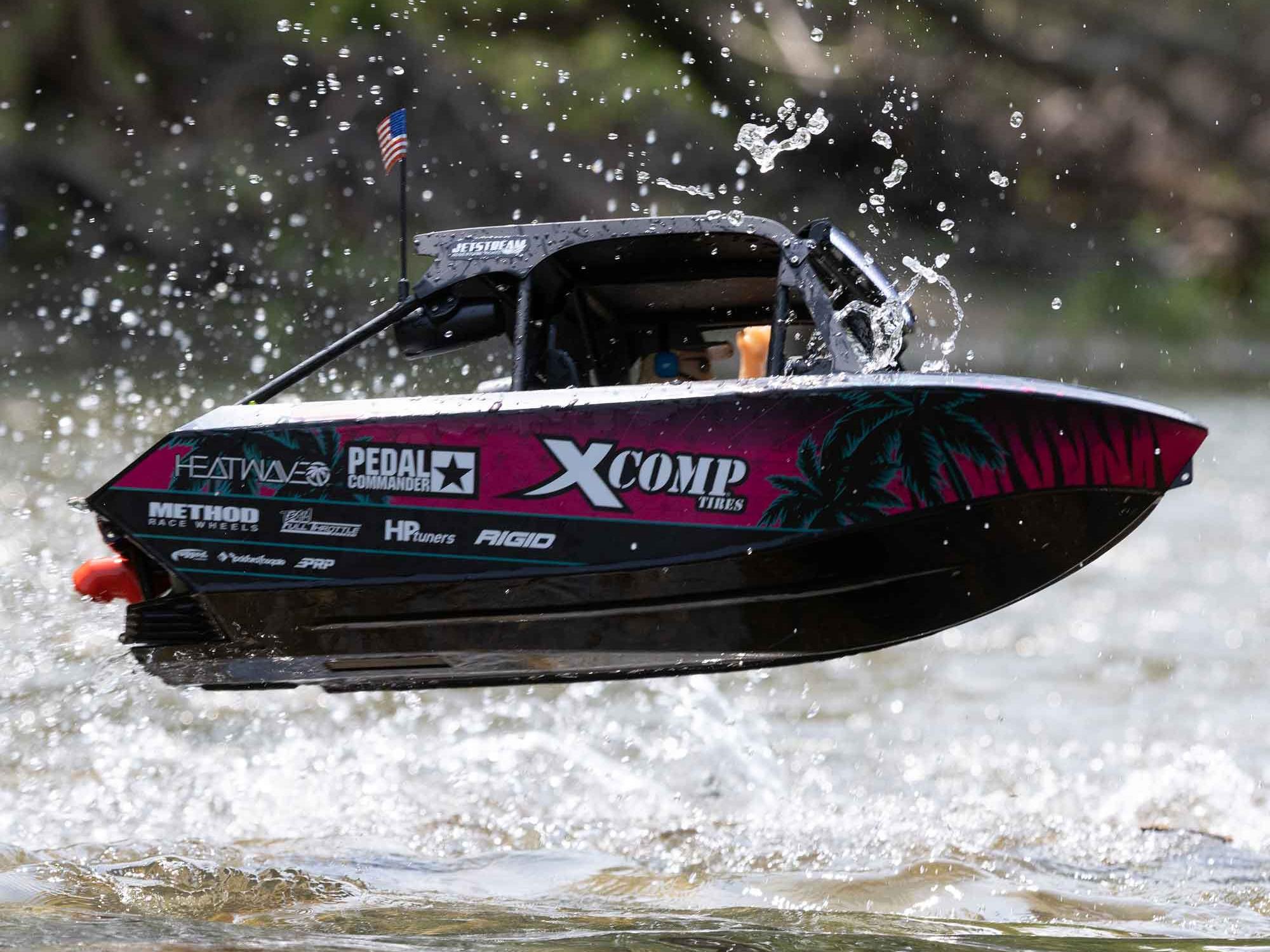 Choose from two officially licensed liveries for your Jetstream. One reproduces the awesome Blake Wilkey Death Boat. The other has the custom, high-impact graphics of the MoJo H2O livery. Check out all the realistic details included with both - roll cage, full cockpit, steering wheel, simulated speakers, and more. You can easily turn on or off the front and rear LED lighting bars, and position the pilot figure (also inspired by Mini Boat Mafia's Blake Wilkey) in casual or driving poses. It all adds up to give your Jetstream the raddest scale looks in RC boating.

As an RC jet boat with no propeller or rudder, the Pro Boat Jetstream can run where no prop-driven RC boat can. It's equally at home on a small pond or on a big lake launching off of 1:1 boat wakes. Kids will have a blast bashing their Jetstream, and experienced RC boaters will want to push it to the limits pulling tricks off of waves and other crazy manoeuvres. For dependable control, the RTR package comes with a high-quality Spektrum SLT3 radio and electronics. Upgrades are available for adding even more durability and enjoying full Smart telemetry.

The 1/6 scale Pro Boat Jetstream RTR has arrived. Boaters, start your shredding!

High-performance, water-cooled brushless system
Durable composite impeller and intake grate
Powerful jet pump with adjustable nozzle trim
Full length stern ride plate with adjustable trim tabs
Reverse gate for realistic manoeuvring
Stainless steel wear ring for extreme durability
SSL (Strap/Slide/Lock) quick battery swap system
Officially licensed liveries from Shreddy and MoJo
Roll cage, full cockpit, steering wheel, deck material, and simulated speakers
Scale poseable driver figure inspired by Blake Wilkey
Waterproof front and rear LED light bars
Sturdy, rigid ABS main hull with armor-plated underside
Rust-resistant stainless steel hardware
High-quality Spektrum SLT3 radio and electronics
Optional upgrades available
Officially Licensed Trim Scheme
The Jetstream is available with a choice of officially licensed trim schemes from Shreddy and MoJo, giving the boat wicked styling right out of the box.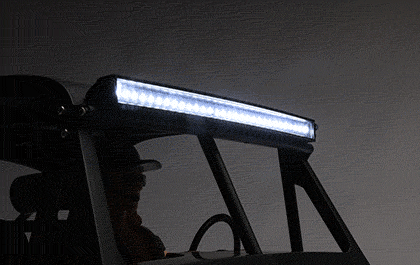 Front & Rear LED Light Bars
The Jetstream's roof rack has a forward-facing light bar with super-bright LEDs and rear-facing sequenced LED racing lights. Both light bars are waterproof and can easily be turned on or off.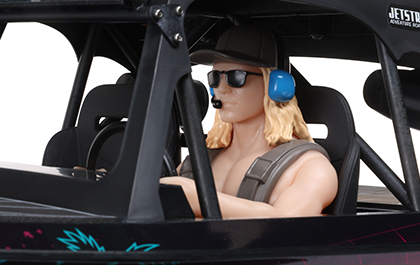 Scale Posable Driver
The Jetstream's scale driver figure can be posed casually grabbing the roof rack or with both hands on the wheel. Inspired by Mini Boat Mafia driver Blake Wilkey, the figure includes such details as a hat, sunglasses, and a pair of coms.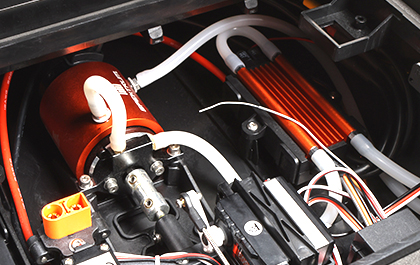 High-Performance Water-Cooled Brushless System
This water-cooled brushless system sends your Jetstream up the biggest streams while also providing the power you need to correct and manoeuvre your boat. The dual stage motor cooler keeps it running at the coolest of temps while you bash up and down the toughest obstacles.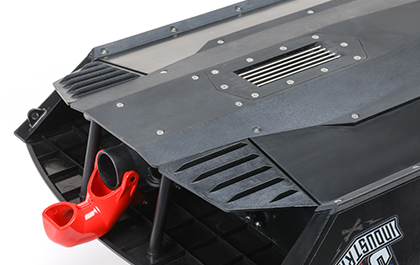 Durable Composite Impeller & Intake Grate
This durable composite impeller and intake grate provide efficient, powerful propulsion. The intake grate is designed to pull in as much water as needed while maintaining the less than 2" of water required to keep the Jetstream on plane.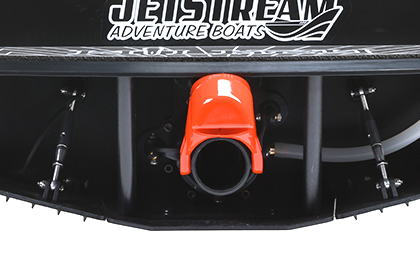 Jet Pump Protection & Adjustability
The powerful jet pump with adjustable nozzle trim is protected by a full-length stern ride plate that has replaceable and adjustable trim tabs. Armor plating for both the stern and two side rails, made from high-strength and impact resistant glass-filled nylon, provides the ultimate in under hull protection. Two scale aluminium turnbuckles make trim tab adjustment a breeze, just like the real thing. Stainless steel pins on the intake prevent damage by stopping debris and rocks from entering the impeller.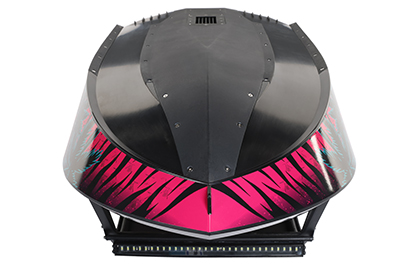 Dual Material Hull Construction
The main hull is built from sturdy and rigid ABS for strength, while the underside includes long lasting, replaceable armor plating made of durable nylon glass fiber composite. The plating is located down the centre of the hull as well as the two chines. The armor plates also extend back past the hull to protect the jet pump during extreme use.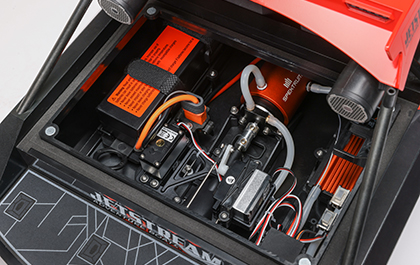 High-Quality Electronics
The Jetstream arrives loaded with electronics you can trust. Two Spektrum servos control the steering and reverse gate. For maintaining a rock-solid connection to the shore, the ready-to-run package also includes a Spektrum SLT3 transmitter and SLR300 3-channel receiver.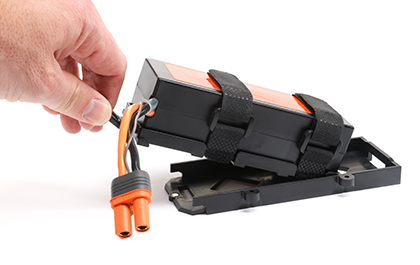 SSL Quick Battery Swap
This Pro Boat SSL (Strap/Slide/Lock) battery tray system lets you swap batteries in the blink of an eye! No more struggling to get a battery strap tightened in the small confines of a boat. Buy additional battery trays and you can have extra batteries ready to slap in and keep the fun going.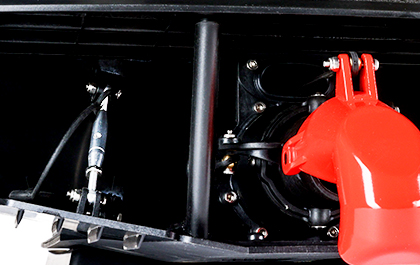 Stainless Steel Hardware
The Jetstream is equipped with all stainless steel hardware to prevent rust in wet conditions. This keeps your boat looking fresh and clean without the need to change out rusty screws.

(1) 1/6 24" Jetstream Jet Boat RTR
(1) Spektrum SLT3 3-Channel Transmitter
(1) Spektrum SLR300 3-Channel Receiver (installed)
(1) Spektrum 100A Brushless Watercooled Marine ESC (installed)
(1) Spektrum Firma 4068 1600KV Brushless Marine Motor (installed)
(1) Spektrum S603 Standard Analog Waterproof Servo (installed)
(1) 1/6 24" Jetstream Jet Boat Product Manual
(1) AA Transmitter Batteries
(1) Boat Stand
(1) 14.8V 5000mAh 4S 50C Hardcase LiPo Battery with EC5 or IC5 Connector
(1) LiPo Battery Charger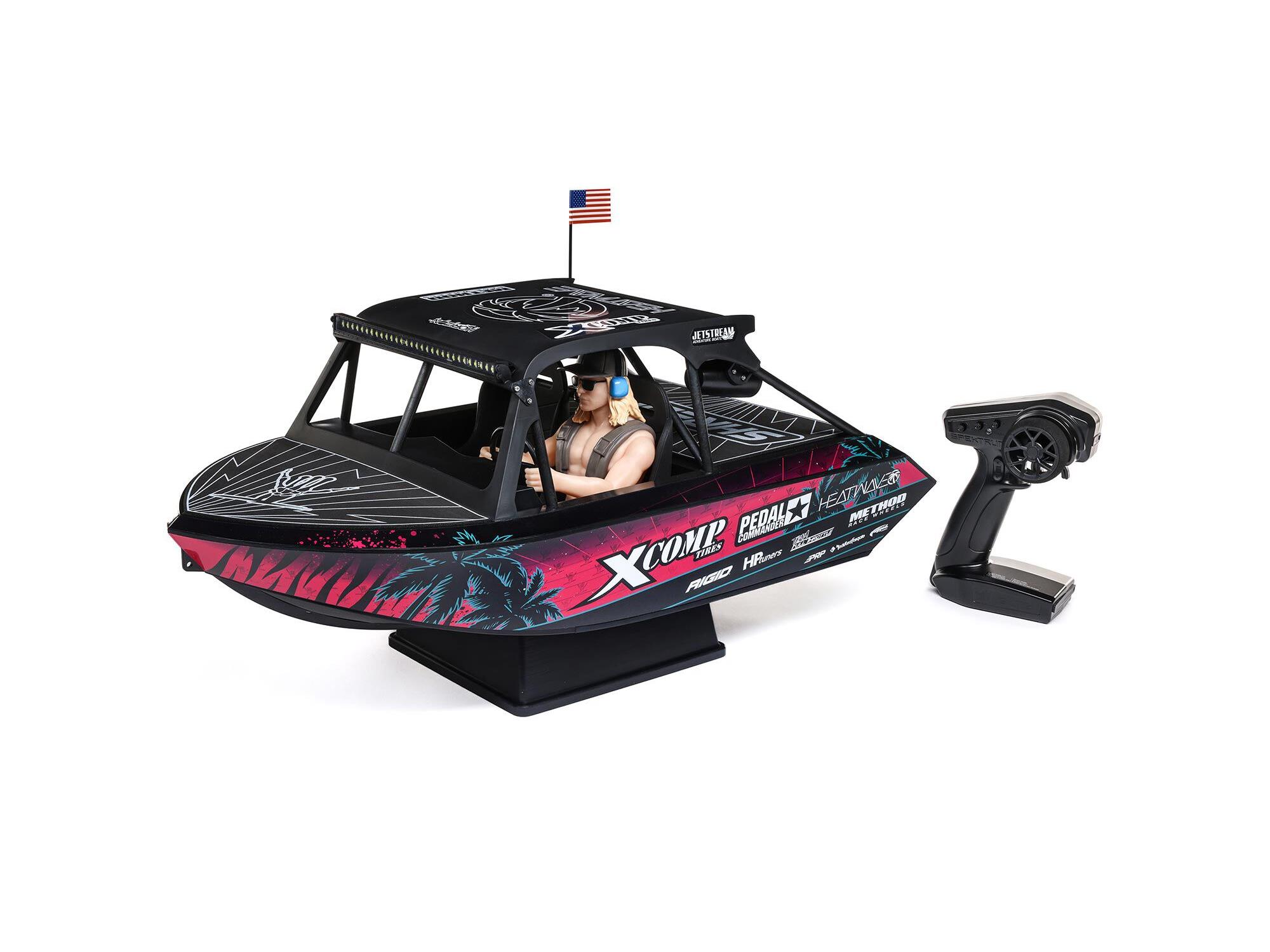 Download an A4 factsheet to print off and display in store. No trade prices shown - just a summary of this issue of Logic RC News. Right click the image on the right and select 'Save link as...' to save the pdf locally so you can print at your convenience.