New
Axial
SCX10 III Base Camp 1982 Chevy K10 RTR
ETA: TBC
Even casual automotive enthusiasts instantly recognize the Chevy K10 pickup. Although its straight-lined appearance earned it the "square body" nickname, the iconic truck was also among the first C/K generations to be optimized by computers and wind tunnels for lower drag and improved fuel economy. The result was a beautiful and rugged classic that you can now drive for yourself with the Axial SCX10 III Base Camp 1982 Chevy K10.

Offered in a proven ready-to-run package, the Base Camp K10 is easy to get going and goes almost anywhere - just like the full-size truck, which could be found driving over country roads, farm fields, and wooded trails before ending the day parked on Main Street. Designed more for Americana-inspired off-road fun than performing technical climbs and precarious sidehills, the Base Camp K10 is ideal for anyone. It's a great first crawler and a fantastic addition to every longtime Axial fan's fleet.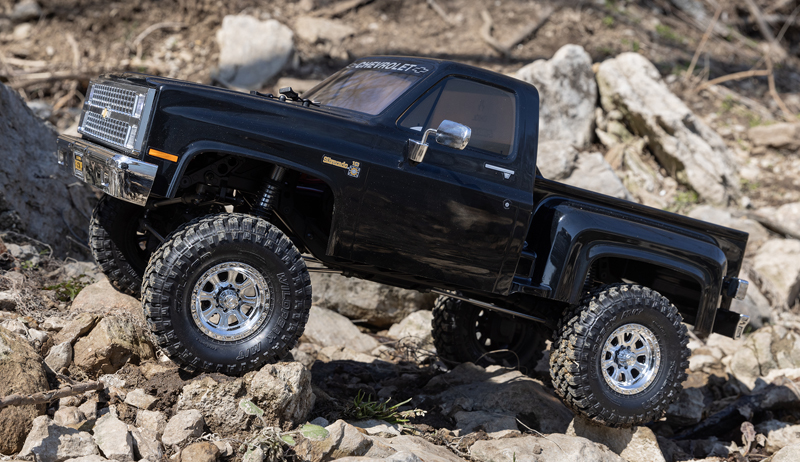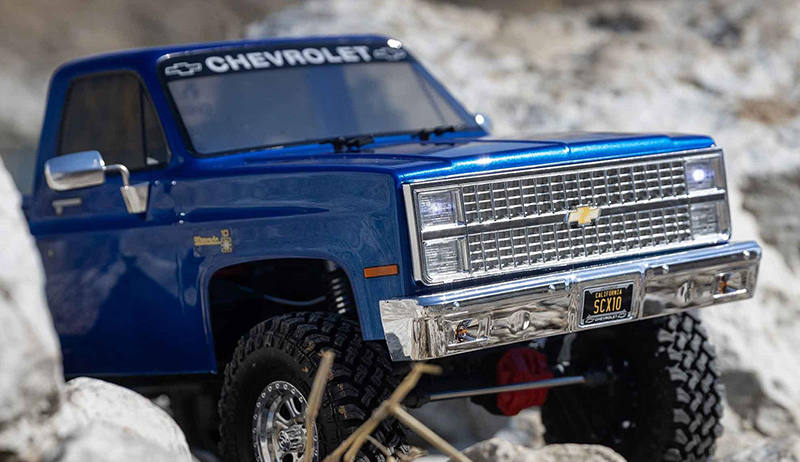 The officially licensed Proline Chevy K10 stepside body comes expertly factory-painted and detailed. Axial matches the accurate scale looks with equally impressive durability and performance. The SCX10 III steel C-channel chassis is strong, realistic, and easy to maintain. Included AR45 portal axles add high ground clearance. The rugged LCXU transmission, with full ball bearings and all-metal internal gears, works with portal or standard axles. And the list goes on, with an optimized suspension, tunable oil-filled shocks, a trail-tough drivetrain, and much more.

For more RTR convenience, the Base Camp K10 power system - featuring a Dynamite 35T brushed motor and Spektrum 40A brushed ESC - also arrives factory-installed, and the supplied Spektrum SLT3 radio is ready to deliver dependable 2.4GHz control. Just add your choice of 2S or 3S LiPo battery and take the wheel of this classic American truck!

Factory assembled and ready to run
Strong SCX10 III steel C-channel chassis
High clearance AR45 portal axles
Durable LCXU transmission
All-metal pivot balls
All-metal gears
Full ball bearings
Tunable oil-filled shocks
Officially licensed 1982 Chevy K10 stepside body
Officially licensed Falken Wildpeak TYREs
Dynamite 35T brushed motor
Spektrum 40A brushed ESC
Spektrum SLT3 3-channel 2.4GHz radio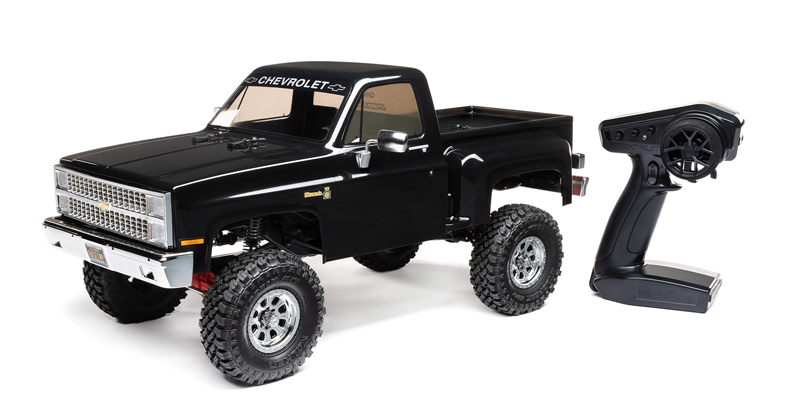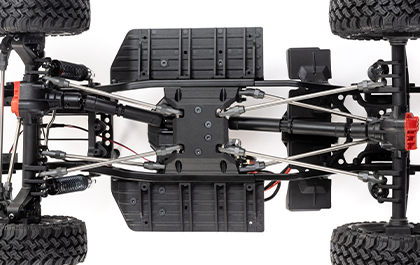 Optimised Suspension Geometry
The front suspension geometry of the Base Camp K10 is optimized to reduce bump steer, while the rear 4-link reduces torque twist.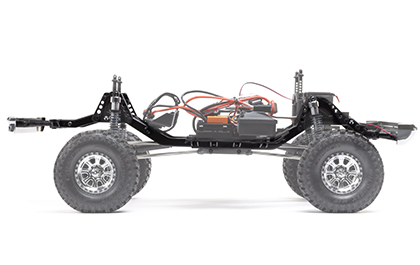 Steel C-Channel Chassis
Strong and stiff, the SCX10 III steel C-channel chassis reduces frame flexing and increases the precision of suspension movement.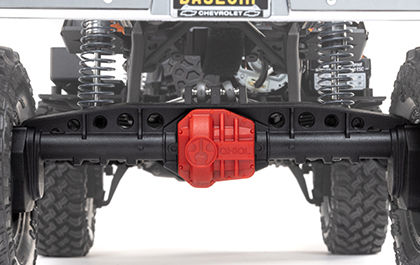 AR45 Portal Axels
Included AR45 portal axles provide extra ground clearance at the differential for easier off-road manoeuvring.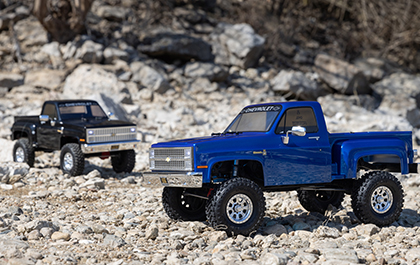 Detailed Scale ProLine Chevy K10 Body
Factory-painted and detailed, the officially licensed 1982 Proline Chevy K10 stepside body captures the instantly recognizable "square body" lines of the iconic truck.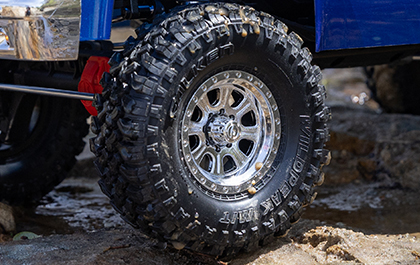 Falken Wildpeak Tyres
The new 4.19" Falken Wildpeak M/T R35 compound tyres on one-piece Raceline 928 Monster wheels included with the Base Camp K10 provide optimized ground clearance and grip on dirt, rocks, and all other off-road trails.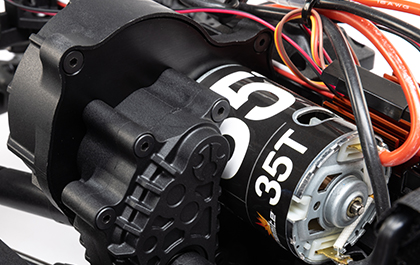 LCXU Transmission
The LCXU 4-wheel drive transmission is durable, simple, and works with standard and portal axles. The transmission includes a full set of ball bearings and all-metal internal gears for strength and durability.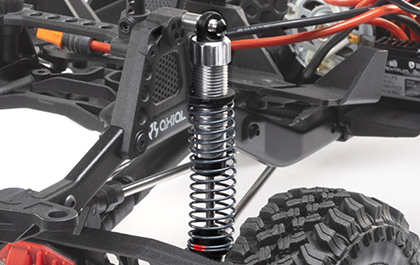 Adjustable Aluminium Coilover Shocks
The oil-filled shocks have aluminium threaded bodies and a single coilover spring. The shocks are tunable for achieving the best dampening rate.
Spektrum SLT3 Radio Sytem
The included SLT3 3-channel radio provides dependable 2.4GHz control plus user-adjustable features including steering and throttle trims, steering rate, and throttle limits.

(1) 1/10 SCX10 III Base Camp 1982 Chevy K10 4X4 RTR
(1) Dynamite 35T 540 Brushed Motor
(1) Spektrum SLT3 3-Channel SLT Radio
(1) Spektrum SR315 DSMR 3-Channel Receiver
(1) Spektrum S614 15kg Steel Gear WP Servo 23T
(1) Spektrum 40A Waterproof Brushed ESC
(4) AA Transmitter Batteries
(1) SCX10 III Base Camp 1982 Chevy K10 Product Manual
(1) 2S or 3S LiPo Battery with EC3 or IC3 Connector
(1) Compatible LiPo Charger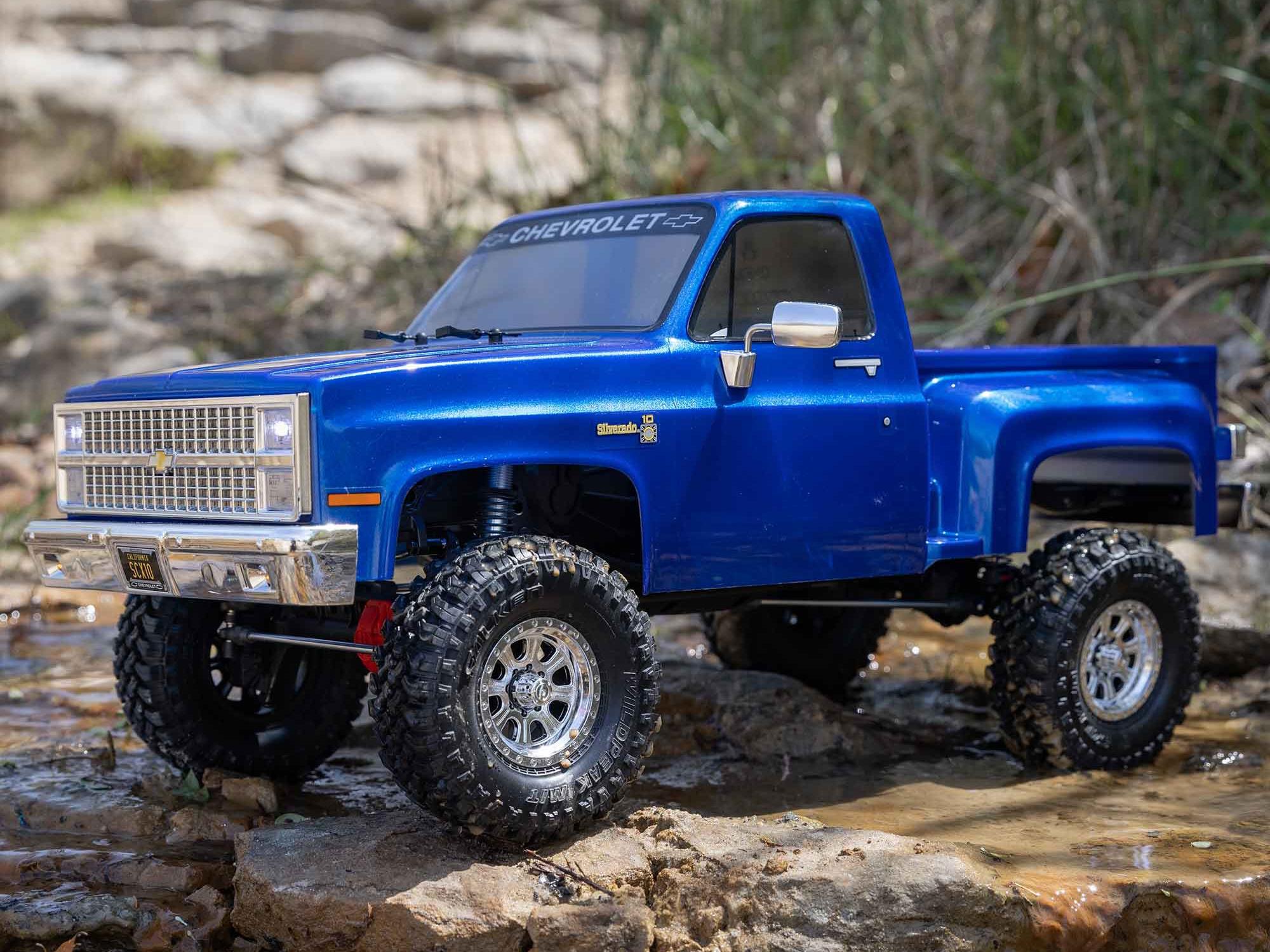 Download an A4 factsheet to print off and display in store. No trade prices shown - just a summary of this issue of Logic RC News. Right click the image on the right and select 'Save link as...' to save the pdf locally so you can print at your convenience.