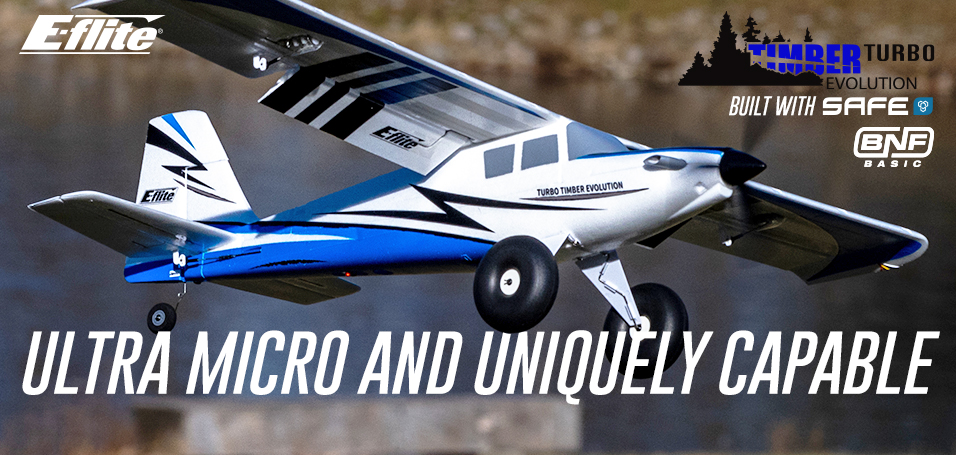 New
E-flite
UMX Turbo Timber Evolution BNF Basic
ETA: April 2023
For low-time to experienced pilots interested in an ultra-micro sized version of the incredibly popular Turbo Timber Evolution 1.5m, the E-flite UMX Turbo Timber Evolution is an easy-to-fly, smooth handling, STOL (Short Take Off and Landing) capable airplane with unmatched fly-anywhere versatility! It's also an updated and upgraded version of the UMX Turbo Timber that now features a 2S and 3S compatible power system for added power and capability - especially when using popular and affordable 3S 300mAh batteries for unlimited vertical performance! Plus it can perform inverted flight, knife edge, snaps, spins and other advanced aerobatic maneuvers with ease. Functional oversized flaps, along with the optional-use leading-edge slats, offer improved STOL and slow flight performance. Equipped with oversized tundra-style tires like its predecessor, the UMX Turbo Timber Evolution can take off and land on grass and other rough surfaces due to the landing gear design that secures the fairings to the fuselage. Experienced pilots can fly it indoors in spaces as small as a single basketball court, and almost anyone who's mastered flying at least one other airplane before can fly it successfully outdoors in large yards, small parks, sports fields, at RC flying fields and almost anywhere else! Install the optional floats (sold separately) and you can add large pools, small ponds, and lakes to your flying site options. Included LED landing, navigation and simulated strobe lights add to the fun and make it possible to fly from earlier to even later in the day. Best of all, the reinforced airframe with stronger ball-link equipped linkages arrives 100% factory-assembled - and is ready to fly as soon as you charge up a battery and bind the installed Spektrum receiver to your compatible transmitter!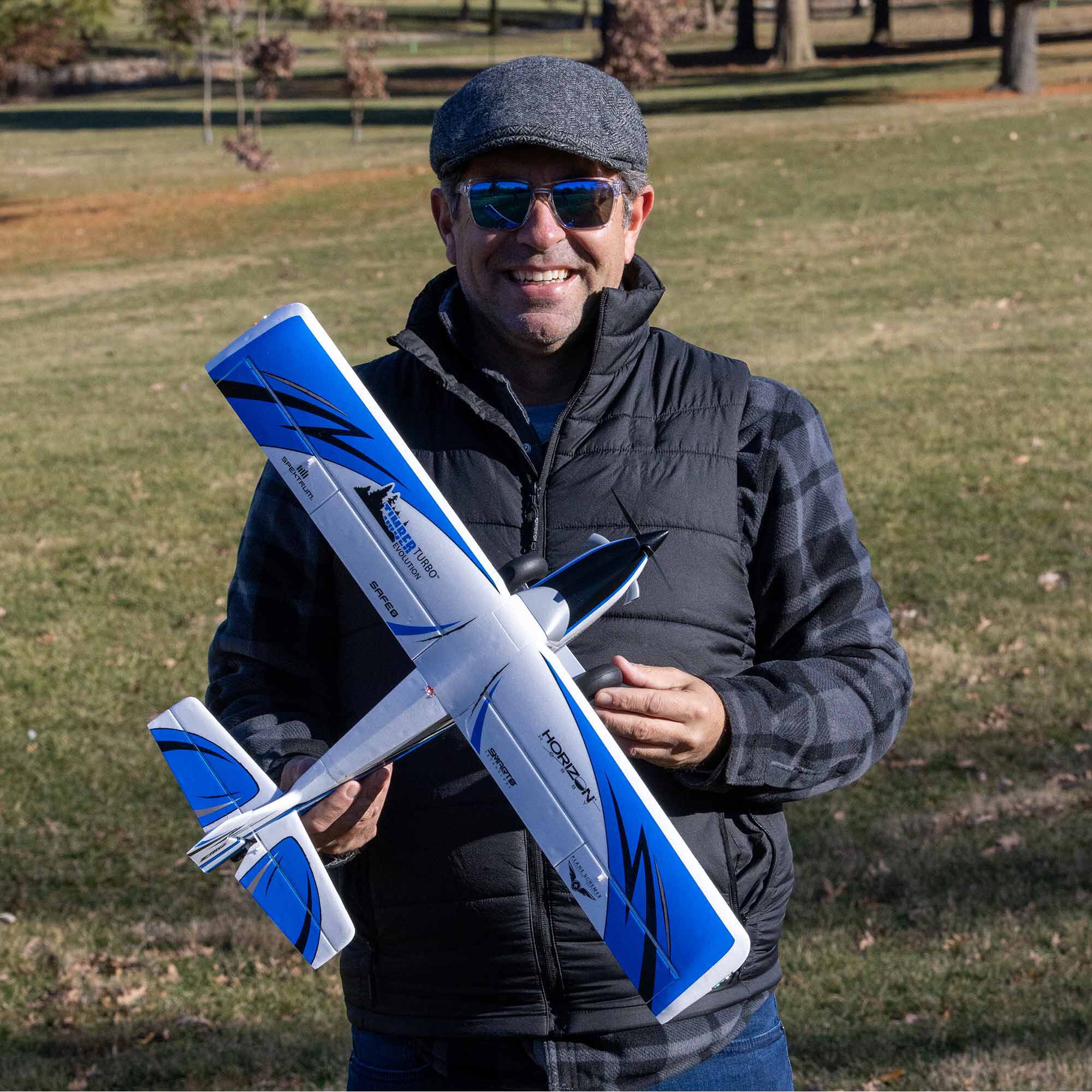 Incredible Short Takeoff and Landing (STOL) plus sport flying and aerobatic capabilities
Uniquely capable and versatile so it can be flown in more places and smaller spaces
2S and 3S compatible motor and ESC for a wide range of performance
Reinforced airframe with stronger and more precise ball-link equipped linkages
Compatible with the Spektrum DXS transmitter included with many RTF models
Real-time battery voltage telemetry with compatible Spektrum transmitters
Spektrum receiver with industry-leading 2.4GHz DSMX technology
Easier to fly with optional-use SAFE Select flight envelope protection
Easier to fly with optional-use SAFE Select flight envelope protection
Unmatched stability and locked-in feel of AS3X technology for smoother performance
Optional-use leading edge slats for improved STOL and slow flight performance
Functional and factory-installed LED landing, navigation and strobe lights
Oversized tires for the ability to take off and land on a variety of surfaces
Optional floats (sold separately; EFLUA1190) for flying from water
Functional oversized flaps for shorter takeoffs and landings
Fully factory-assembled and ready to fly right out the box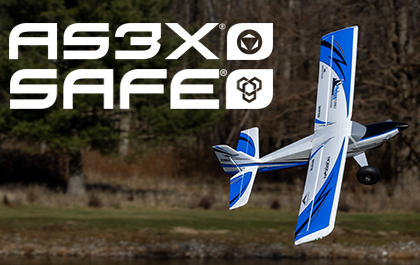 Exclusive Technologies
This ultra-micro Turbo Timber Evolution is equipped with exclusive Spektrum AS3X and SAFE Select technologies. AS3X works behind the scenes to smooth out the effects of wind and turbulence to deliver a locked-in feel that makes it seem like you're flying a much larger airplane. Optional-use SAFE Select offers pitch and bank angle limits along with automatic self-leveling that can be turned on and off at the flip of a switch to make it easier to fly!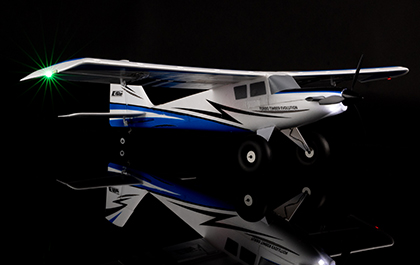 LED Lights
Like the UMX Timber models that came before it, the Turbo Timber Evolution comes with realistic-looking LED landing, navigation and simulated strobe lights that are factory-installed and powered from the flight battery.

Fully Factory-Assembled
The UMX Turbo Timber Evolution arrives 100% factory-assembled and ready to fly right out of the box! It's equipped with industry leading Spektrum 2.4GHz technology that binds to your 6+ channel DSMX equipped transmitter so you can be flying within minutes of opening the box.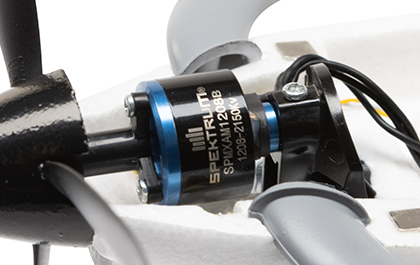 Flexible Power
The factory-installed brushless outrunner motor is 2S and 3S compatible to offer a wide range of "mild to wild" performance - from slow cruising to maximize flight time, to hovering and unlimited vertical performance!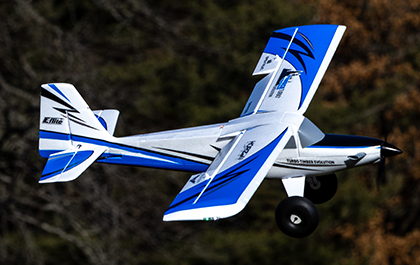 STOL Capable
The UMX Turbo Timber Evolution's wing is designed with features like drooped wingtips, functional oversized flaps, and to accept optional-use leading edge slats (included) for improved slow flight and STOL performance. These features, along with the lightweight design and high-power brushless motor, make it possible to spring into the air or float down to land in less distance than any other similar class model!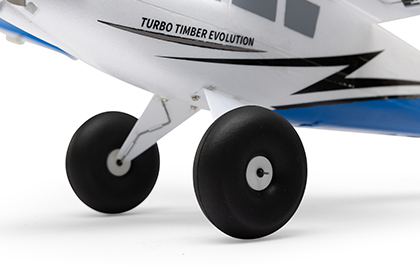 Versatile Gear Options
Fly off surfaces that are impossible for most models of this size to handle: grass, gravel paths, dirt trails, paved surfaces - even pools, ponds and lakes using the optional floats (EFLUA1190, sold separately). The landing gear has fairings that are secured to the fuselage and oversized, tundra-style tires soak up bumps and provide excellent prop clearance.

(1) E-flite UMX Turbo Timber Evolution with

(5) Linear Servos (installed)
(1) Brushless Outrunner Motor (installed)
(1) Spektrum Receiver with (1) Brushless ESC (installed)
(1) Set of Optional-Use Leading Edge Slats (included)

(1) Product Manual
Full-range 6+ channel Spektrum DSMX compatible transmitter
2S 7.4V or 3S 11.1V 280-300mAh LiPo with JST-RCY Connector (or JST-PH connector plus a suitable JST-RCY to JST-PH adapter, including SPMXCA327, sold separately)
Compatible LiPo charger


Download an A4 factsheet to print off and display in store. No trade prices shown - just a summary of this issue of Logic RC News. Right click the image on the right and select 'Save link as...' to save the pdf locally so you can print at your convenience.