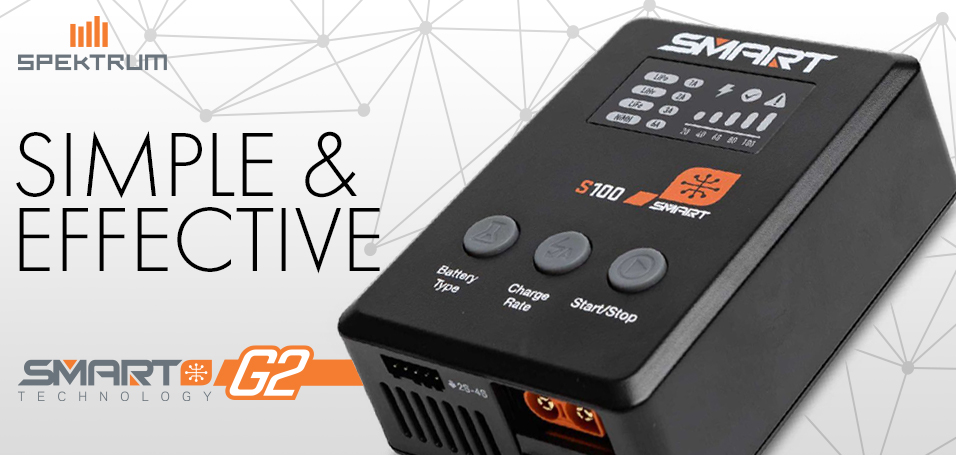 New
Spektrum
S100 1x100W USB-C Smart Charger
ETA: January
With its up to 100W power, new user interface, and ability to fast charge Smart batteries on either the IC3⌐ or IC5⌐ integrated output port, the S100 charger offers a versatile and truly hassle-free charging experience. You can charge virtually any RC battery with the S100 charger. Use it together with Smart batteries, and you'll be amazed by its incredible functionality and performance.

The S100 Smart USB-C Charger makes battery charging the easiest it has ever been. Its Auto Charge feature recognizes your Smart battery's parameters, such as chemistry type and charge rate, and begins safe, correct charging automatically when the charge lead is connected.

Balancing Smart batteries is just as simple. The S100 charger will balance your Smart G2 packs through the same single IC connection used for charging. No separate, confusing balance leads are required.

Powered by an included USB-C cable, the S100 is a convenient charging solution for those new to RC. All you need is a common USB-C power adapter, and you're ready to go.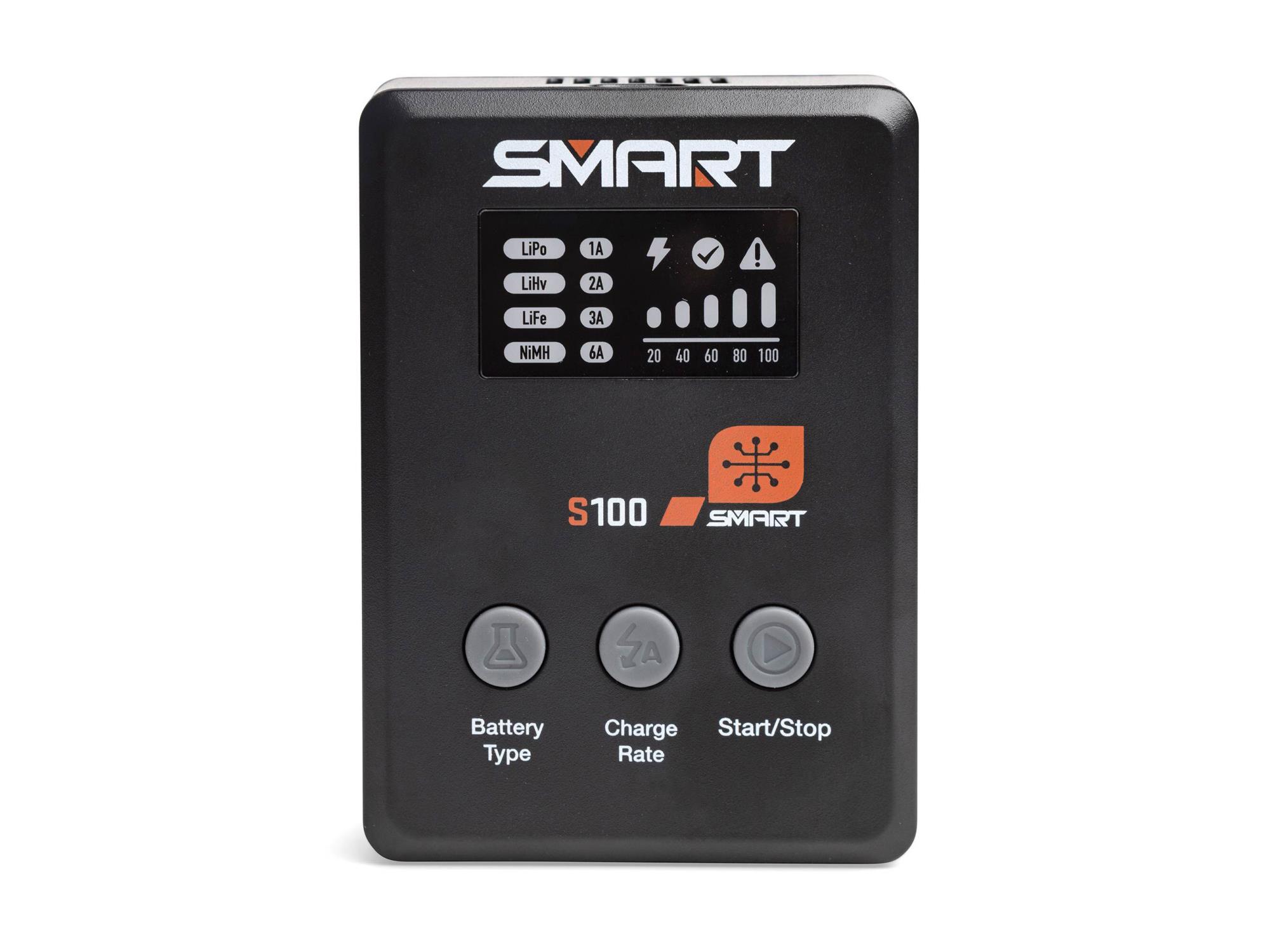 Advanced, user-friendly Smart charging technology that fits into any hobby budget
Meter display shows available wattage on startup, making it easy to know how much power your USB power supply can deliver
Delivers up to 100W of charging power with appropriately rated power supply and USB-C cable
Charges AND balances Smart G2 batteries with one simple IC3 or IC5 connection - no separate balance lead needed
Auto Charge recognizes Smart battery charging parameters and begins safe, accurate charging automatically when connected
Charges virtually any RC LiPo battery (use Smart batteries to benefit from all charger features)
Smart software tracks and stores numerous smart battery data
Includes IC3 and IC5 charging output ports - eliminating the need for a separate IC3 or IC5 adapter to charge Spektrum Smart batteries
Charges up to 4S LiPo/LiFe/LiHV batteries
Includes an efficient, low-noise cooling fan
Sleek, sturdy case fits well on a workbench and in pit or field bags
IC3 and IC5 connectors are backward compatible with EC3 and EC5 connectors

Select IC3 or IC5 Charging Output
The S100 Smart USB-C Charger includes IC3 and IC5 output ports for charging your standard Smart batteries without adapters. Use the slider to select either the IC3 or IC5 port and then charge your battery with up to 100W power. You can charge AND balance Smart batteries with one simple IC3 or IC5 connection - no separate balance lead is required.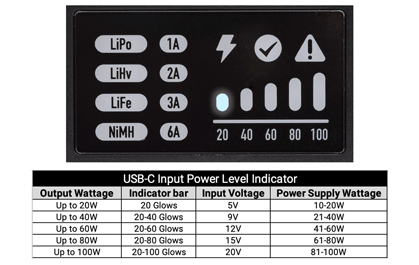 USB-C Input Power Indicator
The S100 Smart Charger can be powered by any conventional USB-C cable and USB power supply. The S100 Smart Charger uses USB-C Power Delivery technology to get the most power out of your USB-C Power Supply. During initial power up, the S100 battery level indicator bars will illuminate, indicating the amount of power available from your USB-C power supply. The more wattage from your USB-C, the more powerful your S100 Smart Charger. (USB-C Power Supply not included).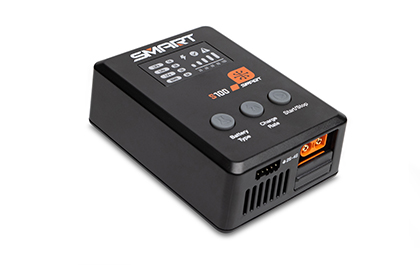 Compact Case Design
The charger's sleek case fits perfectly on your workbench and in your pit or field bag. Its power cord is detachable for easy transport. Rubber bottom grips help the charger stay in place as you connect, charge, and disconnect your RC batteries. Update the charger's firmware through the same USB-C power port on the back of the S100 charger.
(1) S100 1x100W USB-C Smart Charger
(1) 60W USB-C Cable to USB-C Cable
(1) Product Instruction Manual
(1) 10W minimum USB-C power supply adapter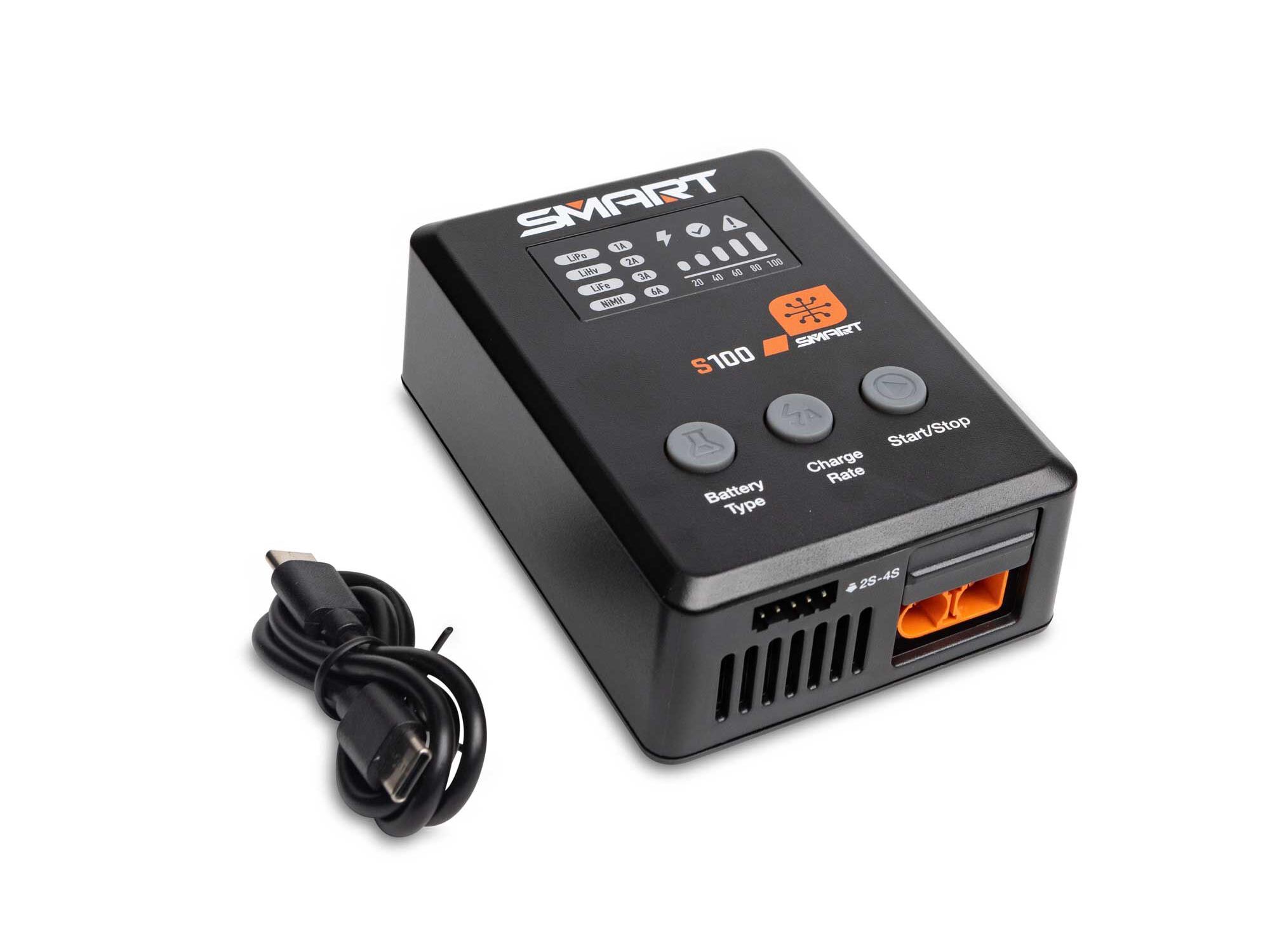 Download an A4 factsheet to print off and display in store. No trade prices shown - just a summary of this issue of Logic RC News. Right click the image on the right and select 'Save link as...' to save the pdf locally so you can print at your convenience.