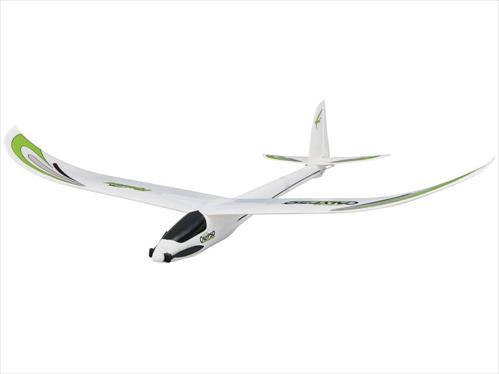 £79.99
The Micro Calypso is the ideal model with which to learn glider flying. This model is charactericed by well-balanced flight behavior and ease of control! It takes less than 5 minutes to get the model ready and enjoy extended flights! When you cut off the motor, the propeller blades fold flat along the fuselage aff ording an excellent gliding ability. The light but strong AeroCell construction gives the model the stability to stand up to the usual everyday rigours for a long time. On the other hand, the models extremely light weight does not make it prone to damage should you or lose control.
Small dimensions and good transportability make the Micro Calypso an ideal travelling companion! Enjoy many relaxing flights with the Micro Calypso.
Features:
- Easy-to-fly electro-glider with excellent flight characteristics
- Less than 5 minutes assembly time thanks to low number of components
- Light but sturdy AeroCell construction
- Low-drag ready-fitted folding airscrew enhances gliding performance
- The wing fixing is secure and fast-fitting, and can be just as quickly removed from the fuselage, simplifying transport
- The flight battery can be charged directly on the transmitter, eliminating the need for an additional charger
- The transmitter can simply be changed from mode 2 to mode 1 without the need for complicated rebuilding
- Easily understandable assembly and operating instructions with
valuable operating tips
Technical specifications:
Wingspan: 630 mm
Length: 485 mm
Wing Area: 4.27 dm²
Weight RTF: 54 g
Wing Loading: 12.65 g/dm²
RC functions:
Motor, rudder, elevator
Required:
All components necessary for operation are
included in the box.

Includes
- Fully assembled model
- 2.4GHz SLT RC-system with integral fl ight battery charger
- 200mAh LiPo battery for long fl ight time
- AA transmitter batteries
- Comprehensive building and operating instructions
| | |
| --- | --- |
| | Download the aircraft fact sheet |

Click here to view the instruction manual